Op zoek naar een eenvoudig maar smaakvol gerecht? Dan is deze Mexicaanse rijstschotel met chorizo en eieren misschien wel iets voor jou.
Dit recept combineert rijst, chorizo, groene paprika en reepjes maïstortilla. Voeg er geraspte cheddar, wat eieren en kruiden aan toe, gratineer dan in de oven voor een smaakbom die je avond zal veranderden in een Tex-Mex feest. Deze ovenschotel heeft niets meer nodig om het een volwaardige maaltijd te noemen. Hoewel een eenvoudige groene salade altijd welkom is.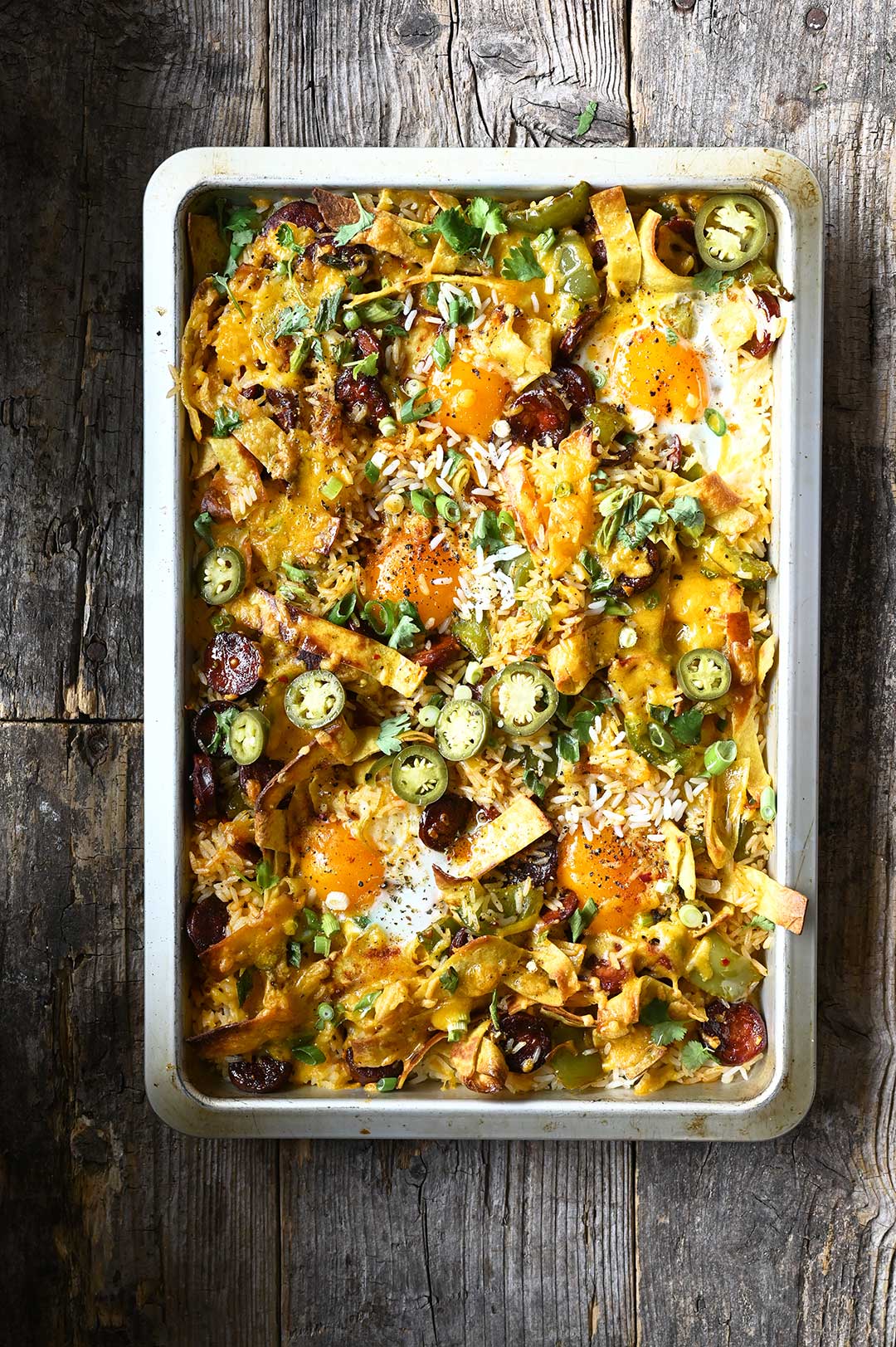 Voor dit eenvoudig recept kan je ook restjes gekookte rijst gebruiken. Meng het gewoon met de andere ingrediënten en je hebt een lekkere maaltijd die je snel op tafel kan zetten. Serveer met verse koriander en tomatensalsa om dit gerecht tot leven te brengen, en met jalapeños voor wat extra pit. Voeg wat aioli toe, en je hebt een gerecht dat indruk zal maken op al je gasten. 
Je kan eindeloos combineren en een persoonlijke toets toevoegen door kip of rundergehakt te gebruiken. Je kan het ook maken met zoete aardappelen, zwarte bonen of maïs. En dan nog avocado of verkruimelde fetakaas voor de perfecte afwerking.
Ga naar mijn Instagram Highlights om te zien hoe makkelijk je deze kan maken!
3 andere gerechten met een Mexicaans tintje:
Gevulde paprika's met gehakt en chorizo
Geroosterde zalm met pittige zwarte bonen salsa
Krokante chicken fingers met nachos, jalapeños en aïoli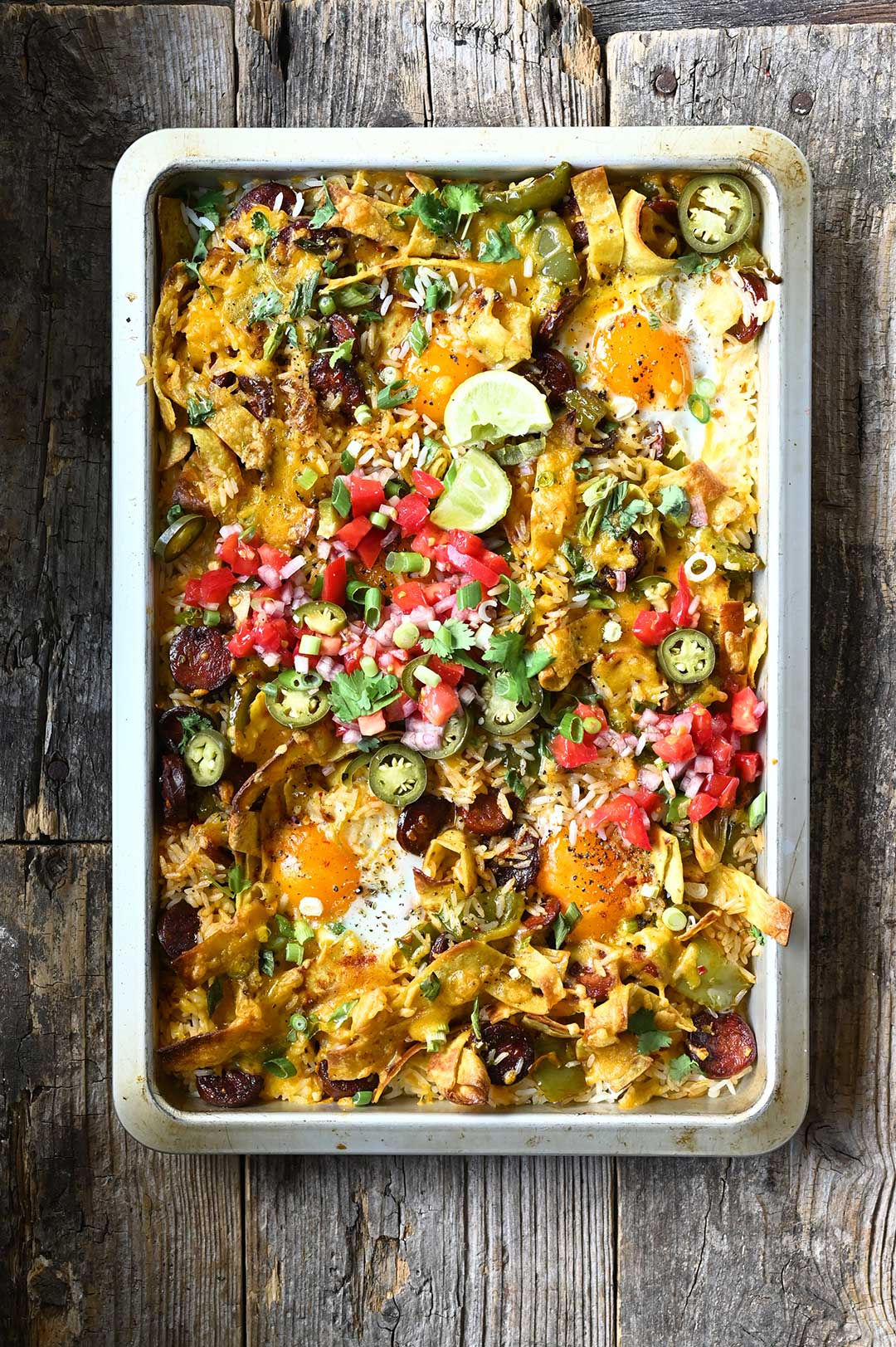 Dit heb je nodig
250 g ongekookte rijst (of 500 g gekookte rijst)
200 g chorizo, in plakjes
3 maïstortilla's, in reepjes
1 groene paprika, in blokjes gesneden
150 g geraspte cheddar
4 eieren
olijfolie of plantaardige olie
1 el boter
1 kleine ui, dun gesneden
2 tenen knoflook, fijngehakt
4 lente-uitjes, gehakt
2 tl chilipoeder
1 tl komijn
1 tl oregano
1 tl gerookte paprika
zeezout + zwarte peper
+
gehakte koriander
jalapeños
tomatensalsa (tomaat + ui + jalapeño + limoensap + koriander + z&p)
feta
aioli
Zo maak je het
Kook de rijst in gezouten water of gebruik restjes gekookte rijst.
Verwarm de oven voor op 220°C.
Verwarm in een koekenpan 2 el olie op middelmatig vuur. Voeg de reepjes maïstortilla toe en bak knapperig, roer regelmatig, gedurende ongeveer 5 minuten. Haal uit de pan. Plaats op een met keukenpapier bekleed bord.
Verhit 3 el olie en boter in dezelfde koekenpan. Voeg chorizo toe en bak 3 minuten op hoog vuur. Voeg paprika, knoflook en ui toe. Fruit gedurende 3 minuten. Kruid met oregano, chilipoeder, komijn, gerookte paprika, peper en zout. Haal de pan van het vuur.
Vet een ovenschaal in met olie. Voeg de gekookte rijst, het chorizo-mengsel (met alle olie), de helft van de geraspte cheddar en gebakken tortilla toe. Meng het geheel. Breek de eieren over de rijst. Bestrooi met de resterende cheddar. Werk af met lente-ui, breng op smaak met zout en peper, en eventueel wat extra gedroogde chilipeper.
Zet de rijstschotel in de oven en bak gedurende 8-10 minuten of tot het eiwit gestold is en de eidooiers nog zacht zijn. Werk af met extra lente-ui en koriander. Dien onmiddellijk op.
Serveer met tomatensalsa, jalapeños en aioli. En verkruimelde feta. Heerlijk!
Ga naar mijn Instagram Highlights om te zien hoe makkelijk je deze kan maken!