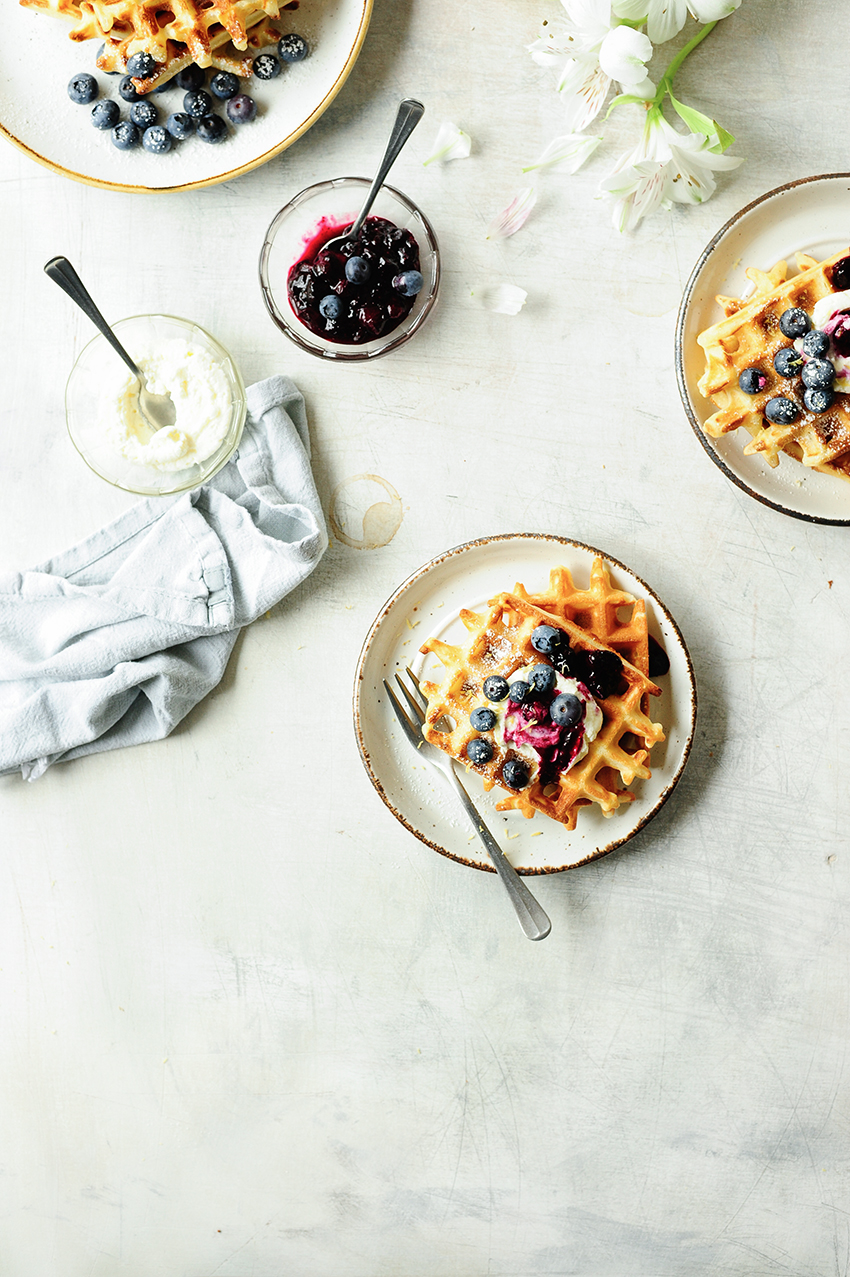 Kan je ook zo genieten van een zalige zondagsbrunch! Momenteel  zijn deze heerlijke wafels gecombineerd met zure room en een zelfgemaakt bosbessensausje onze favoriet. Ze zijn knapperig, licht en boterachtig. Zo lekker!
Dit heb je nodig
wafels
2 biologische eieren
4 el suiker
2 el vanillesuiker
250 g bloem
2 tl bakpoeder
200 ml melk
120 g volle Griekse yoghurt
70 ml water
160 g roomboter, gesmolten
snuifje zout
bosbessensaus
200 g bosbessen
50 g suiker
1 tl citroenzeste
alsook
zure room
of
250 ml volle room opgeklopt met een theelepel bloemsuiker
bosbessen en bloemsuiker
Zo maak je het
Split de eieren en klop de eidooiers op met suiker. Voeg aan de eiwitten een snuifje zout toe en klop stijf, voeg eierdooiers toe en meng voorzichtig met een spatel. Voeg melk, yoghurt, water en vanillesuiker toe. Zeef de bloem en het bakpoeder, roer met een spatel. Roer tot slot de gesmolten boter erdoor. Laat 10 minuten rusten.
Bak luchtige goudbruine wafels in je wafelijzer.
Doe de bessen in een pan, voeg suiker en citroenzeste toe. Breng op een laag vuurtje aan de kook totdat de bessen het sap lossen en de suiker opgelost is.
Serveer de wafels warm met zure room of slagroom en bosbessensaus. Bestrooi met verse bosbessen en bloemsuiker. Een fijne zondag!