Met marmercake heb je verschillende opties. Of je nu kokos gebruikt of gewoon chocolade met vanille, het is een klassieker die iedereen kan maken en waar je niet vanaf kan blijven. 
Luchtige vanille-chocolade marmercake met een vleugje kokos, gemaakt met kokosolie in plaats van boter.
Om die mooie marmerlook te bekomen maak je best swirls met een mes, maar doe dit niet te lang, want anders zal het donkere en het lichte beslag in elkaar vloeien.

Dit heb je nodig
210 g bloem
225 g kokoolie, gesmolten
225 suiker
4 eieren
50 g kokospoeder
2 el kokosroom
1 tl bakpoeder
1 tl vanille-extract
25 g cacaopoeder
50 g zwarte chocolade
1 tl oploskoffie
+
20 g gehakte zwarte chocolade, voor de afwerking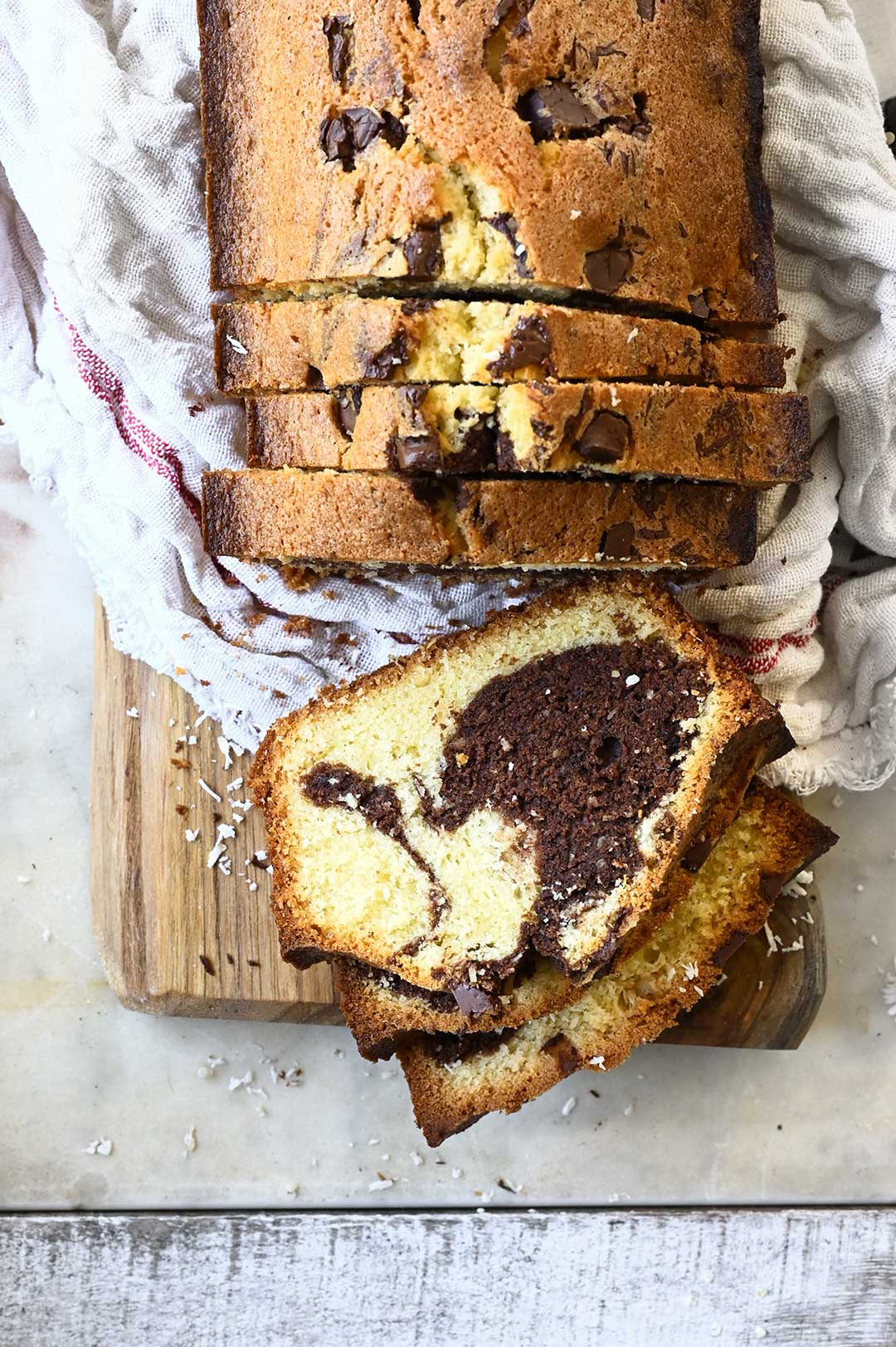 Zo maak je het
Verwarm de oven op 160°C. Vet een bakvorm goed in met boter.
Smelt de chocolade au bain-marie. Roer de oploskoffie erdoor en zet opzij.
Mix in een grote kom de eieren met de suiker. Voeg gesmolten kokosolie, vanille-extract en kokosroom toe. Zeef de bloem en het bakpoeder erbij, mix alles een keer goed door. Spatel vervolgens kokospoeder eronder.
Doe de helft van het beslag in een andere kom. Roer het cacaopoeder en de gesmolten chocolade door het beslag van 1 van de kommen. Schep de helft van het lichte mengsel in je bakvorm. Doe dan lepel per lepel van het donkere mengsel erop. Dek af met het resterende lichte mengsel. Ga met je mes doorheen het beslag en maak swirls. Doe dit niet te lang, anders zal de lichte en de donkere kleur in elkaar vloeien. Bestrooi met gehakte chocolade.
Bak gedurende 70-80 minuten.
Haal het gebak uit de oven en laat 10 minuten afkoelen, ontvorm de cake en laat volledig afkoelen op een rooster.