Soep het hele jaar door?! Absoluut! Ik weet niet hoe het met jullie zit, maar ik ben dol op soep, en laat me je vertellen, ik eet het bijna elke dag.
Deze soep is perfect voor deze tijd van het jaar. Boordevol groenten en ongelooflijk veel smaak van de verse tuinkruiden, gebakken knoflook en witte miso. Met de knapperige radijsjes en pistou van basilicum is dit een echte aanrader.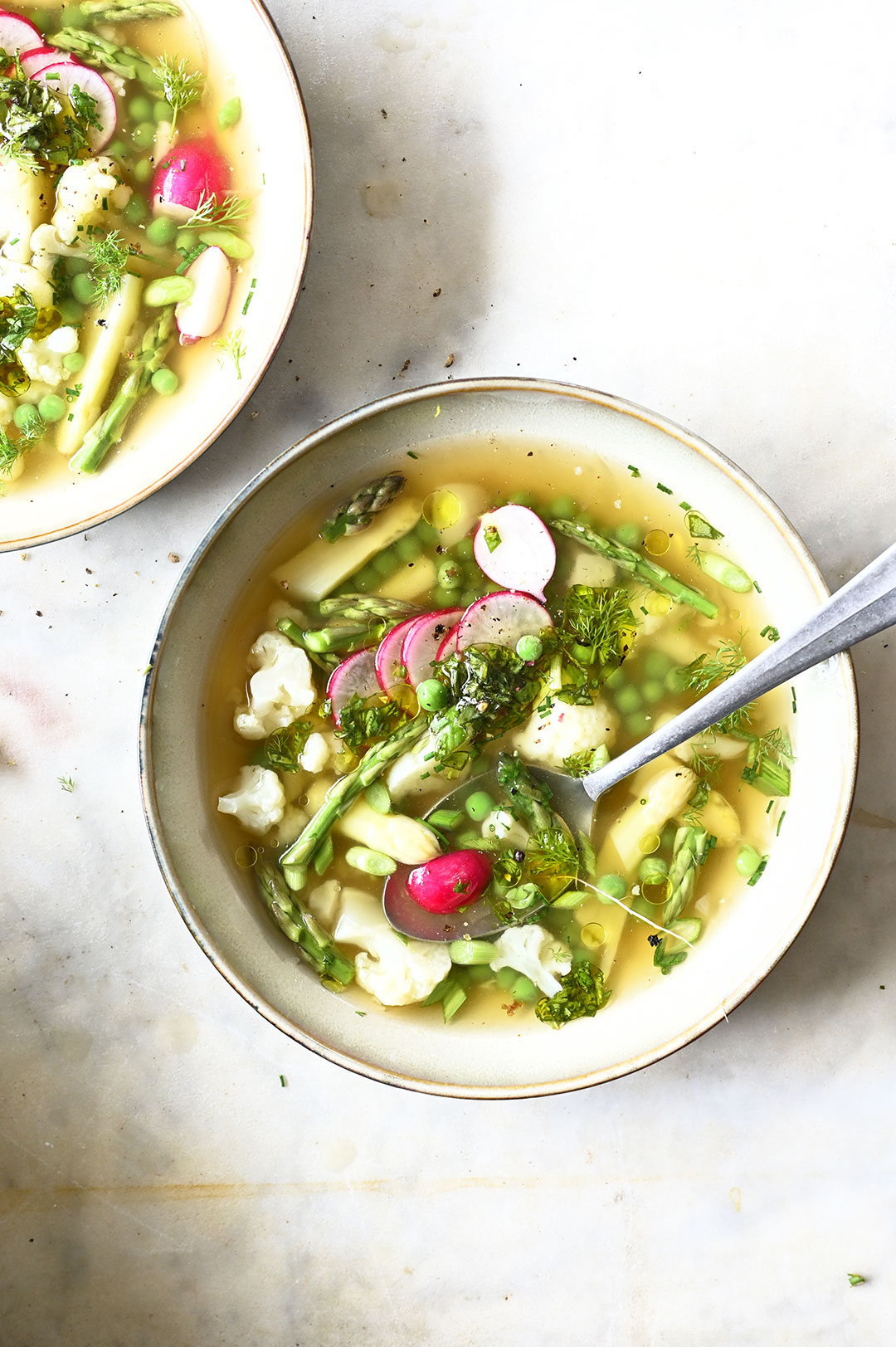 De basis van deze soep is een heerlijke bouillon die gemaakt wordt met aspergeschillen. Hou er dus rekening mee dat je de schillen niet weggooit. Een zelfgemaakte bouillon is zeker de moeite, serieus lekker en zijn gewicht in goud waard.
Hoewel bloemkool en erwten echt heerlijk zijn, kunnen deze groenten vervangen worden door bv. suikererwten of broccoli.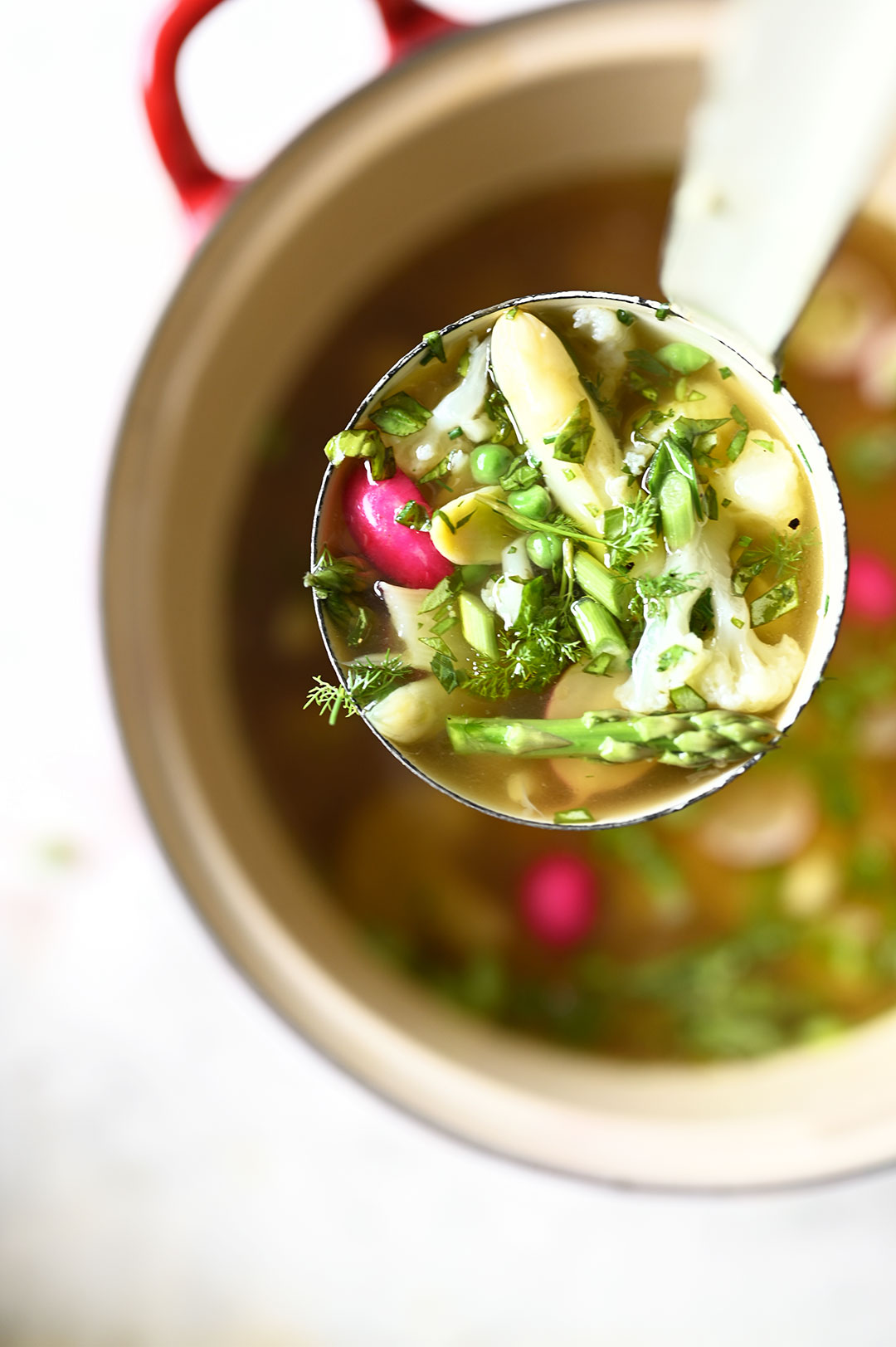 Wil je op de hoogte blijven van mijn nieuwe recepten? Abonneer je dan op mijn NIEUWSBRIEF.
Dit heb je nodig
bouillon
3 el olijfolie
4 tenen knoflook, grof gehakt
1 ui, grof gesneden
schillen van witte asperges
1 wortel, in blokjes gesneden
1 groene selder, gesneden
1 preiwit, dun gesneden
4 lente-uitjes, enkel het donkergroene gedeelte  (houd de rest voor de afwerking)
4 takjes peterselie
1 el witte miso (of citroensap)
2 el sojasaus
zeezout + zwarte peper
groenten
100 g groene asperges
150 g witte asperges
1/2 kleine bloemkool
100 g erwten
pistou
2 el fijngesneden basilicumblaadjes
1 el fijngesneden peterselieblaadjes
5 el olijfolie
1/4 teentje knoflook, uitgeperst
1/4 tl zeezout
+
8 radijzen, dun gesneden
dille + gehakte lente-ui voor de afwerking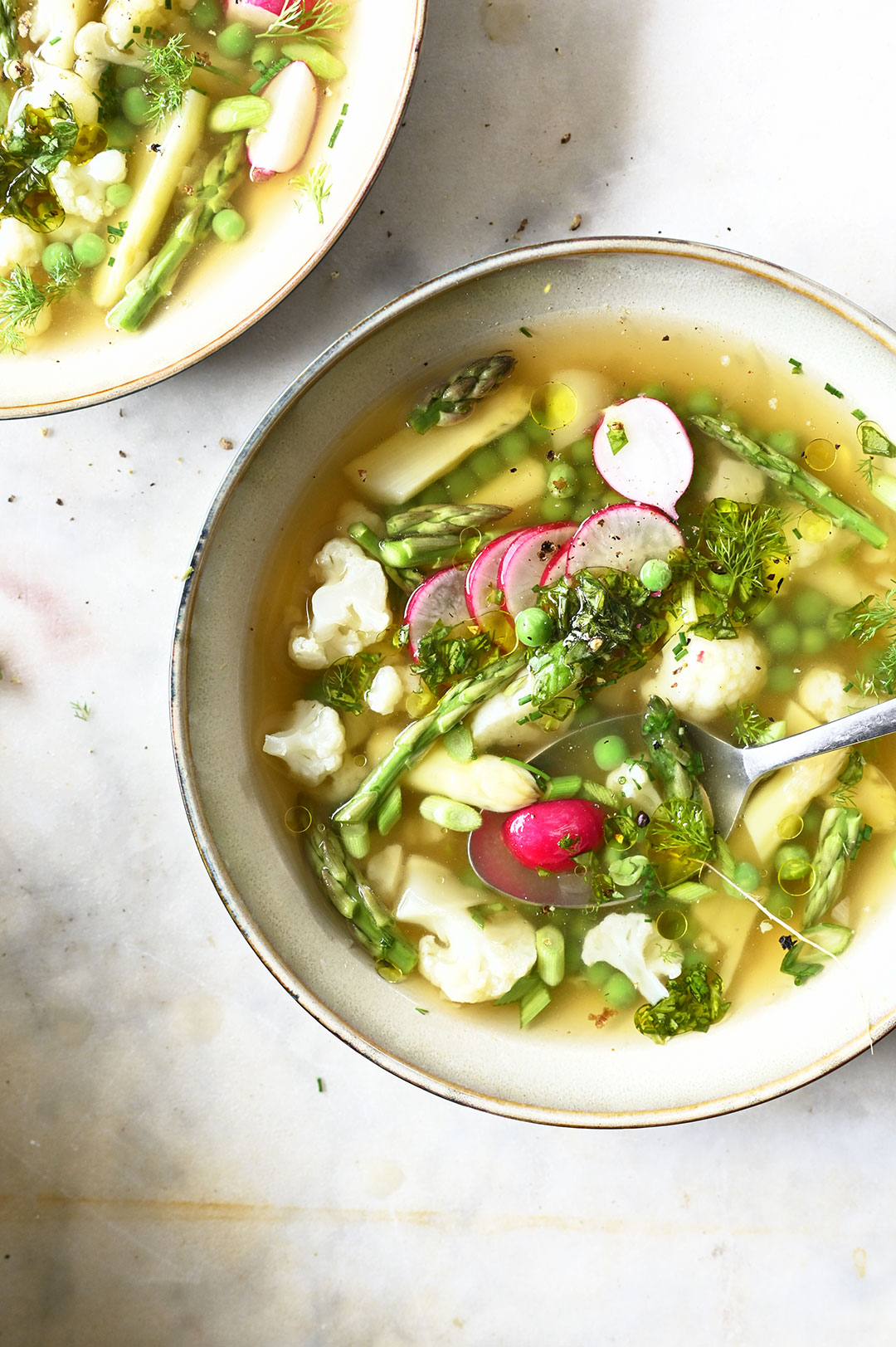 Zo maak je het
Schil de witte asperges en snij de uiteinden eraf. Houd de schillen opzij.
Verhit de olie in een grote pot en voeg knoflook, ui, prei en lente-ui toe. Stoof gedurende 5 minuten. Voeg de aspergeschillen toe en laat ze nog 3 minuten meestoven, terwijl je af en toe roert. Blus met 2 L water, voeg selder, wortel en peterselietakjes toe. Breng op smaak met zout en peper. Breng het geheel aan de kook en laat afgedekt 20 minuten sudderen.
Meng ondertussen de ingrediënten voor de pistou in een kleine kom. Zet opzij.
Snijd de witte en groene asperges in stukken van 3 cm. Snijd de bloemkool in kleine roosjes.
Zeef de bouillon in een andere pot en voeg vervolgens de asperges, bloemkool en erwten toe aan de bouillon. Breng aan de kook, voeg miso en sojasaus toe. Laat 5 minuten sudderen. Proef en breng op smaak met zout en peper.
Serveer met radijsjes, pistou, veel dille en lente-uitjes. Smakelijk!
Als je dit recept uitprobeert, laat dan hieronder een reactie achter of deel je foto's op Instagram en vergeet niet om mij te taggen @anna_s_table. Ik kijk ernaar uit!