Frisse lentesalade met knapperige groentjes, gebakken kikkererwten, feta en een romige citroen-honingdressing. Met deze salade zet je meteen het voorjaar op je bord, ze is hartelijk, lekker en supermooi met veel groenten en vooral veel smaak.
Goede salades wisselen kleur, smaak en textuur met elkaar af. Zorg daarom dat je de asperges en broccoli niet te lang kookt, zodat ze knapperig blijven, hun smaken en mooie levendige kleuren behouden. Ook verse bio eitjes, maken een groot verschil en hebben de meest lekkere gouden dooiers.
Deze frisse lentesalade werkt als bijgerecht of lichte maaltijd bij elk diner of barbecue. Ik maak het graag als lunch, met in de oven geroosterde zalm, deze combo is een echte aanrader!

Dit heb je nodig
salade
1 kleine broccoli, in roosjes gesneden
100 g witte asperges, geschild en in partjes gesneden
50 g veldsla
50 g feta
6 radijzen
1 avocado, doormidden gesneden
gekruide knapperige kikkererwten
100 g kikkererwten uit blik, uitgelekt en gespoeld
1 tl aardappelzetmeel
1/2 tl gerookte paprika
1/2 tl gemalen komijn
olijfolie
zwarte peper + zeezout
citroenhoning dressing
5 el olijfolie
2 el zelfgemaakte mayo
2 el kefir
2 tl citroensap
2 tl mosterd
1 el honing
1 teentje knoflook, fijngehakt
zwarte peper + zeezout
to finish
geroosterde pompoenzaden
geroosterde zonnebloempitten
zeezout + zwarte peper
2 bio hardgekookte eieren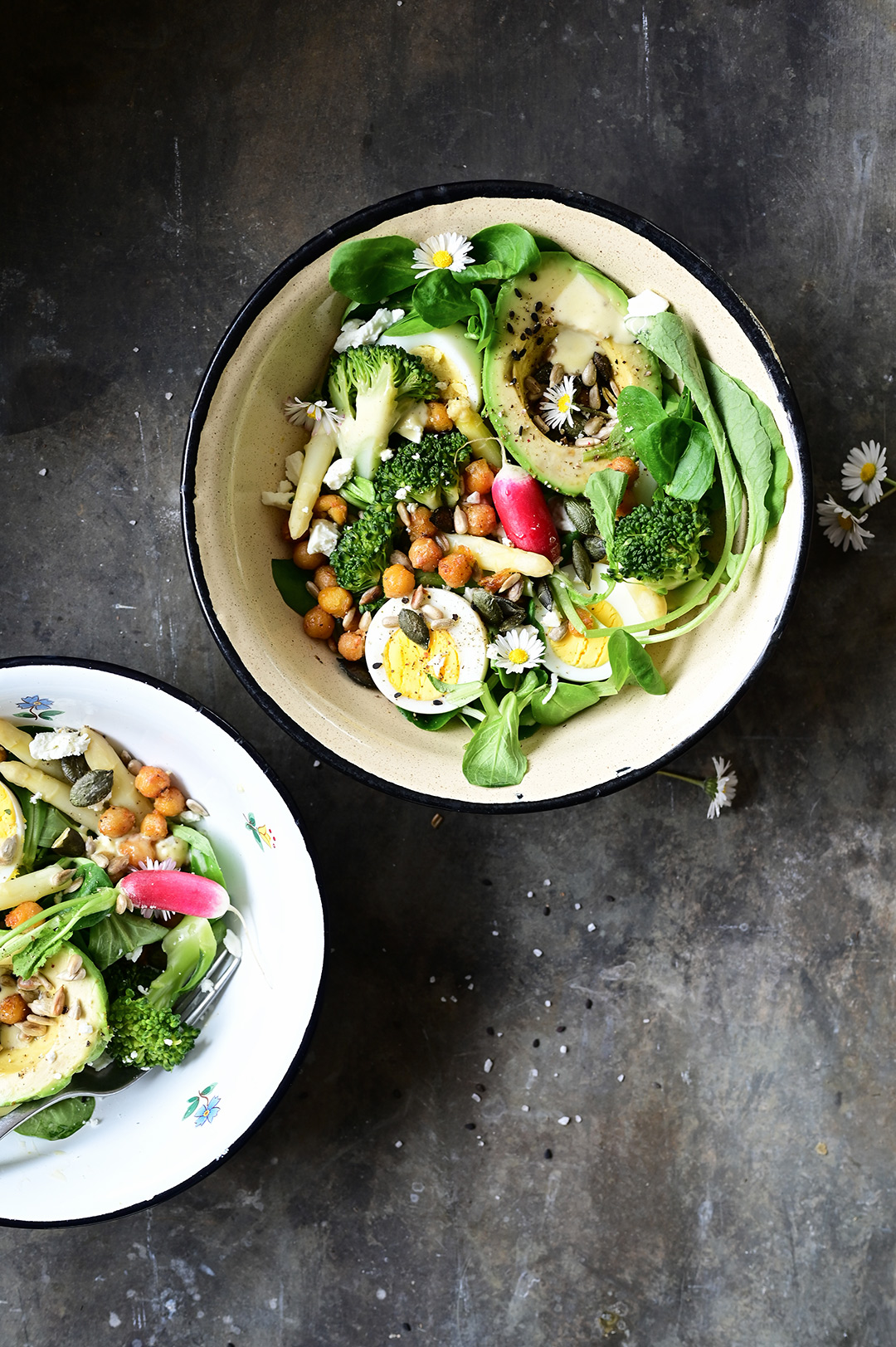 Zo maak je het
Breng gezouten water aan de kook, doe de broccoliroosjes in de pot en laat ongeveer 3 minuten koken. Schep ze met een schuimspaan uit het water, laat ze uitlekken en volledig afkoelen.
Voeg de asperges aan het kokend water toe en laat 3 minuten koken. Giet af en spoel met koud water om het kookproces te stoppen.
Om de gekruide krokante kikkererwten te maken, meng het aardappelzetmeel, de gerookte paprika en de gemalen komijn in een middelgrote kom. Voeg de kikkererwten toe en breng op smaak met zout en peper. Verhit 1 el olie in een grote koekenpan op een middelhoog vuur. Bak de kikkererwten 4-5 minuten of tot ze knapperig en goudbruin zijn. Laat uitlekken op keukenpapier.
Meng alle ingrediënten voor de dressing in een kom.
Doe de broccoliroosjes en asperges in een grote kom, voeg de veldsla, avocado en radijs toe. Werk af met eieren, knapperige kikkererwten, verkruimelde feta, pompoenzaadjes en zonnebloempitten.  Besprenkel met de citroendressing, breng op smaak met zeezout en zwarte peper. Serveer meteen.