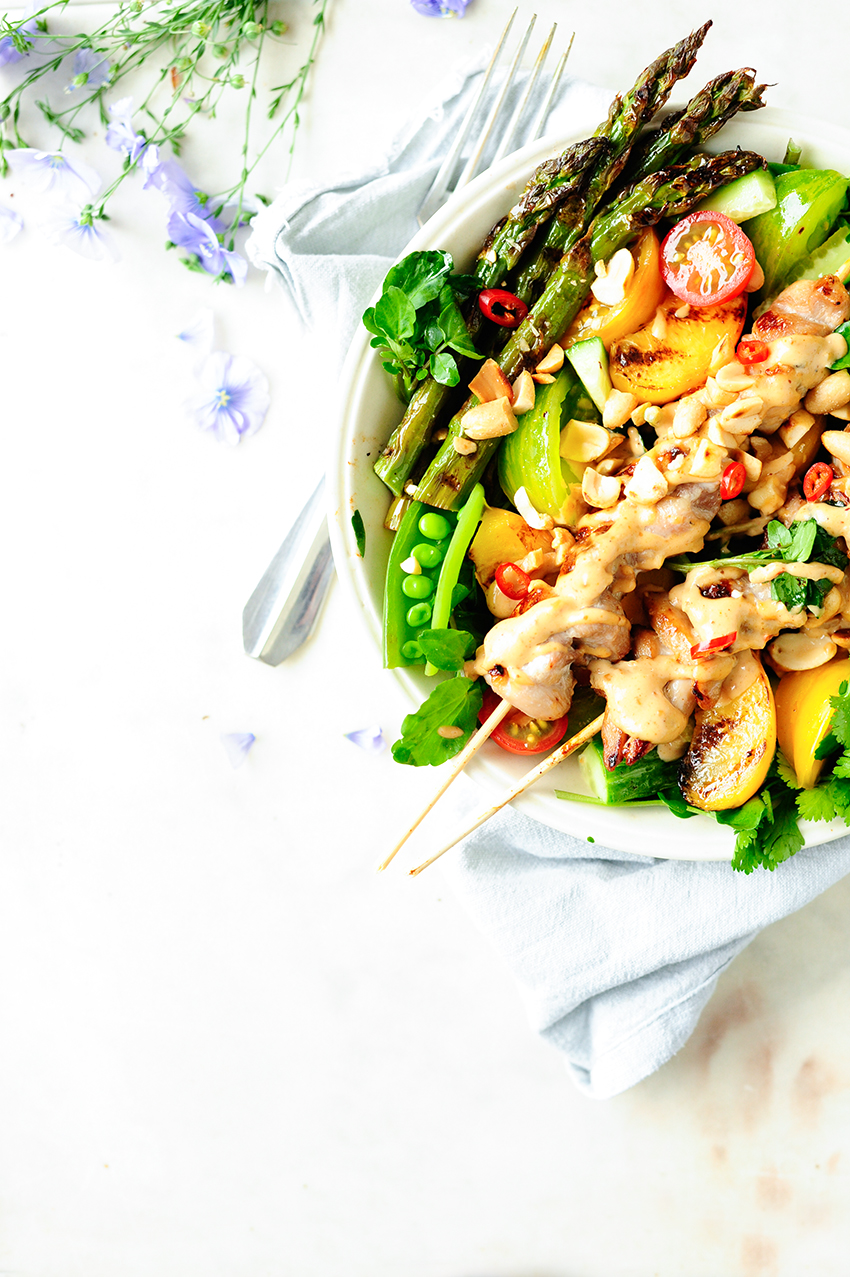 Een lichte en gezonde salade met veel groentjes, gegrilde nectarines, kipsatés en pindasaus.
Deze salade is geweldig, het is simpel maar tegelijkertijd is het ook een beetje ongewoon. De combinatie van zoete nectarines met kip en knapperige pinda's is fantastisch. Deze moet je zeker proberen, het is heerlijk, ik beloof het!
Dit heb je nodig
1 kippenborstfilet
50 g waterkers
2 nectarines
8 groene asperges
1/2 komkommer
2 tomaten of 10 kerstomaten
50 g sugar snaps
2 el gehakte verse koriander
1/2 rode chili peper, gehakt (optioneel)
2 el geroosterde pinda's
2 el olie
de marinade
40 ml sojasaus
2 el vissaus
sap en zeste van 1/2 limoen
1 el honing
1 teentje knoflook, fijngehakt
de pindasaus
1 teentje look, fijngehakt
1/2 tl gehakte chili peper
1 el geraspte gember
1 el kokosolie
sap en zeste van een 1/2 limoen
200 ml kokosmelk
100 g pindakaas
2 el Thaise rode currypasta
zwarte peper en zout
Zo maak je het
Meng alle ingrediënten voor de marinade in een kom.
Snijd de kip in dunne plakjes, plaats in een kom en meng met 3/4 van de marinade. Zet in de koelkast.
Snijd de nectarines in kleine stukken en meng met de rest van de marinade.
Verhit de kokosolie in een kleine pan, fruit de knoflook en de gember op een laag vuurtje. Voeg de chili peper toe en roer, voeg dan de kokosmelk toe en breng aan de kook. Meng met de rest van de ingrediënten en kook op een laag vuurtje totdat de pindakaas oplost en de saus glad is. Kruid met peper en zout.
Verwarm de grillpan op een hoog vuur. Spoel de asperges onder koud water en verwijder de houtachtige delen. Wrijf in met olie en bestrooi met zout, grill de asperges gedurende 10 minuten.
Grill de nectarines gedurende 2-3 minuten of tot er lichte grillstreepjes verschijnen, draai om en rooster 2-3 minuten.
Maak de kipsateetjes en grill totdat er lichte grillstreepjes op de kip verschijnen en het vlees gaar is, draai de satés van tijd tot tijd zodat het vlees niet kan aanbranden.
Verdeel de waterkers over de borden, voeg de komkommer, de tomaten en sugar snaps toe. Leg de gegrilde asperges en nectarines erbovenop en bedek met de kipsatés. Bestrooi met de gehakte pinda's, chili peper en verse koriander. Smakelijk!