Dit in de oven gebakken eenpansgerecht met kip zou best wel eens een blijvertje kunnen worden op je maaltijdplanner. De kippendijen worden samen met kikkererwten gebakken in een romige saus die we op smaak brengen met knoflook, verse kruiden en gemalen zwarte peperkorrels.  
We nestelen een ongepelde knoflookbol tussen de boutjes kip zodat deze traag kan mee roosteren in de botersaus. Hierdoor wordt hij zacht en zal de ietwat scherpe typische looksmaak net dat tikkeltje zoeter worden, en een heerlijke smaak aan ons gerecht toevoegen. De overgebleven teentjes kan je gebruiken om lekker krokante knoflookbroodjes te maken.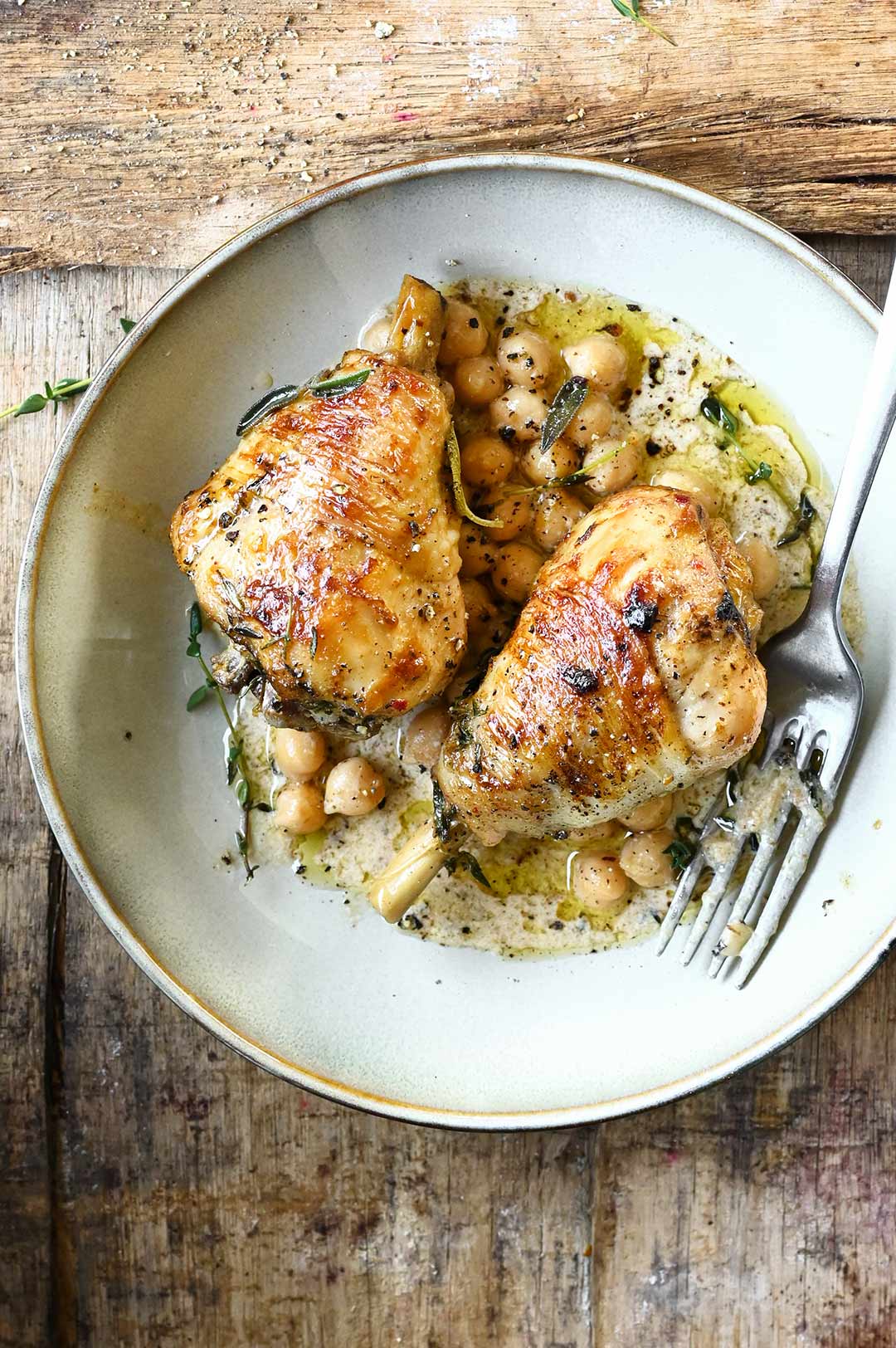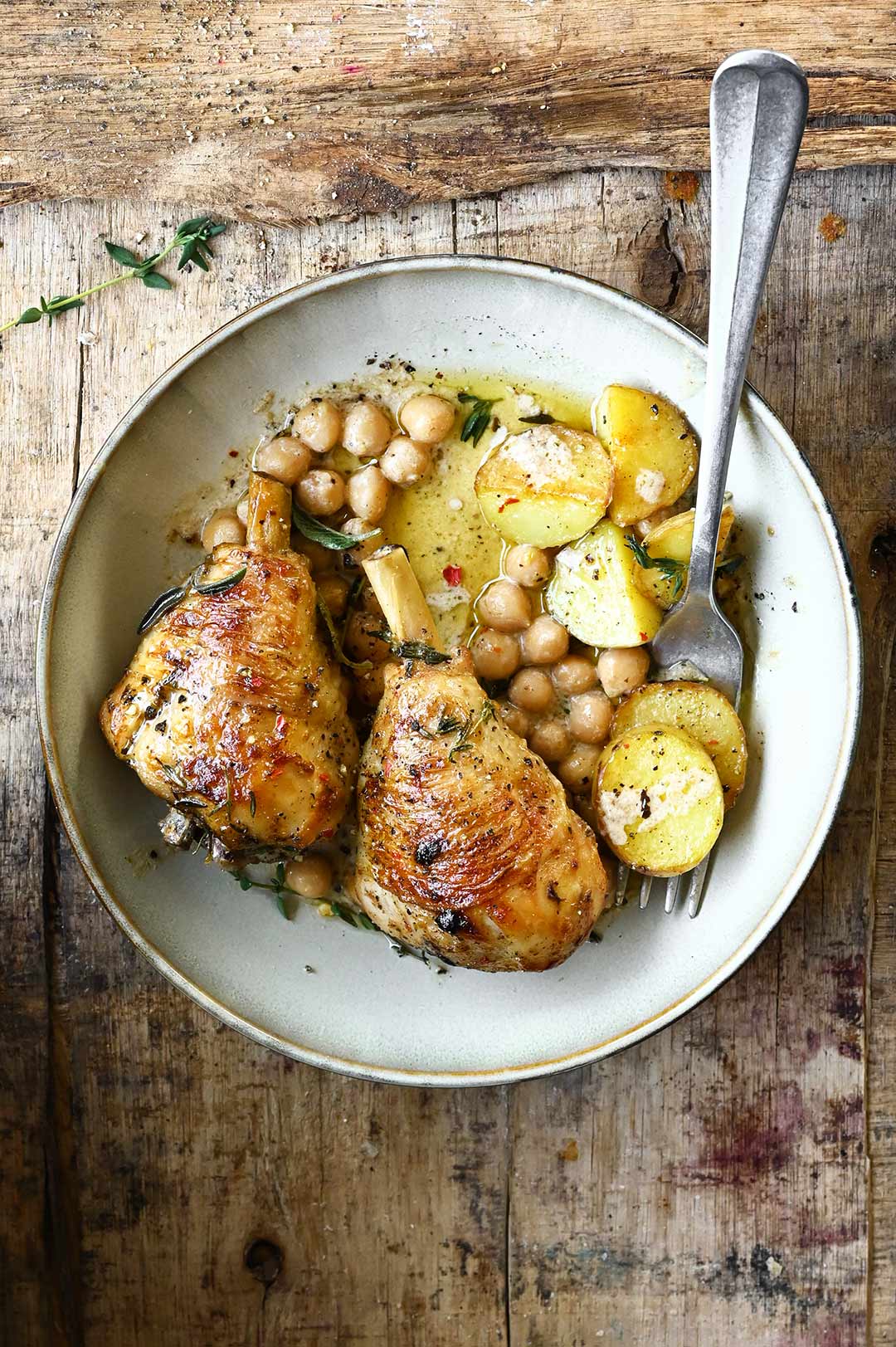 Het gerecht is makkelijk te maken en het recept is super flexibel.
Je kan de kip serveren met orzo, gebakken aardappelen of met brood, en een eenvoudige salade erbij.
Je kan gefileerde kippendijen of kipfilets gebruiken. Verminder dan gewoon de baktijd met ongeveer 10 minuten.
Je kan ook meer groenten toevoegen, zoals spinazie of bloemkool, of de kikkererwten ruilen voor bonen.
Bekijk mijn VIDEO om te zien hoe makkelijk je dit gerecht kan maken.

Meer gerechten met kip:
Kip in pindasaus
Honing knoflook kip
Kipfilet met Parmezaan, spinazie en orzo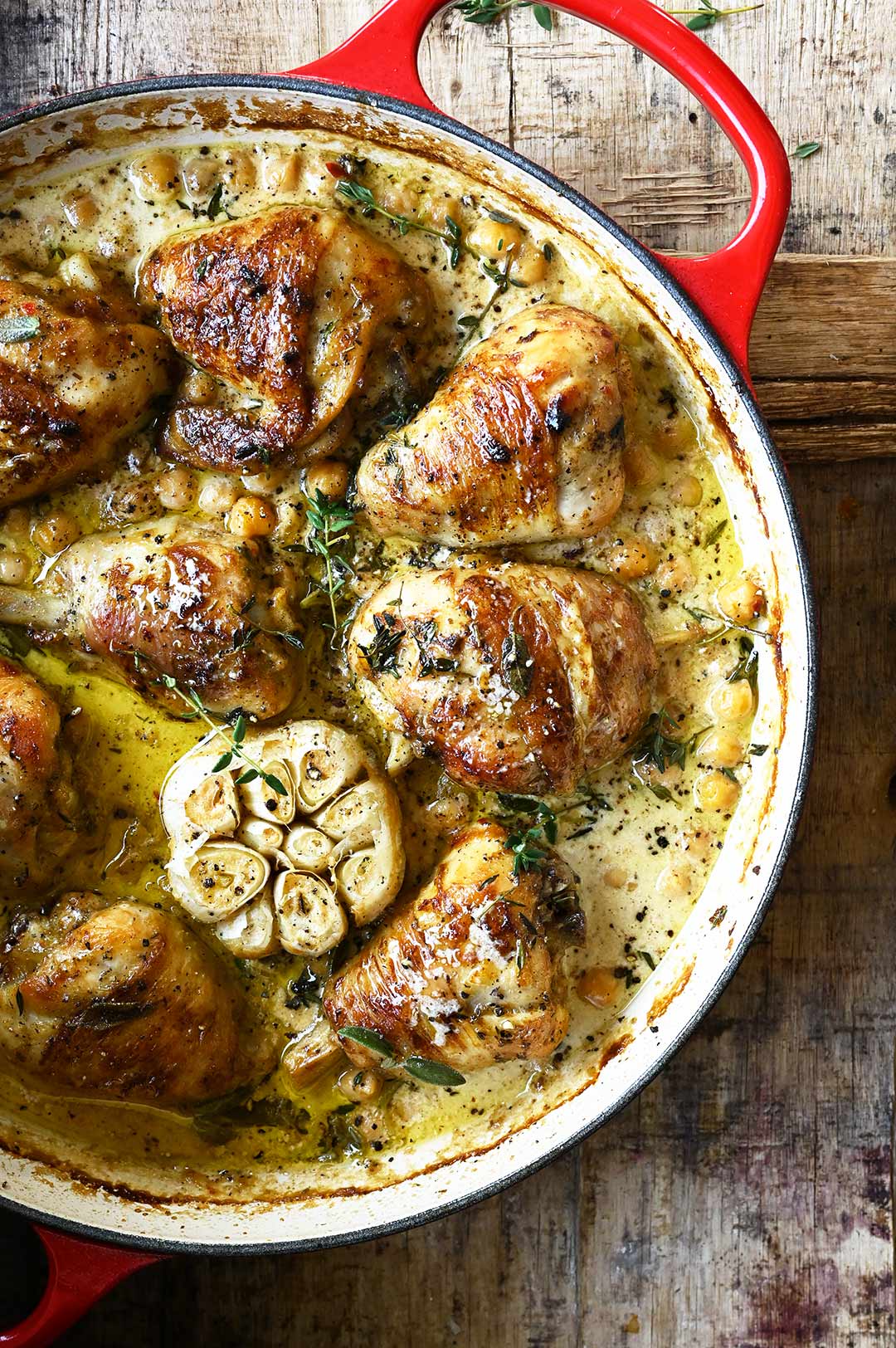 Dit heb je nodig
8 kippendijen
1 blik (400 g) kikkererwten, afgegoten
3 tenen knoflook, fijngehakt
1 hele bol knoflook
100 ml droge witte wijn
100 ml kippenbouillon
200 ml light room 20%
40 g geraspte parmezaan
1 tl milde mosterd
3 el olijfolie
1 klontje roomboter
zout
2 tl versgemalen zwarte peperkorrels
5 takjes tijm, of 1 tl gedroogd
10 salieblaadjes, of 1 tl gedroogd
kruidenmengsel voor de kip
1/2 tl elk: gerookte paprika, gemalen komijn, gedroogde tijm, gedroogde salie, gedroogde rode peper, zout, zwarte peper
1 el olijfolie
1 teentje knoflook, fijngehakt
Zo maak je het
Bekijk mijn VIDEO om te zien hoe makkelijk je dit gerecht kan maken.
Verwarm de oven voor op 200°C.
Doe het kruidenmengsel in een kom, leg de kip erin en wrijf de dijen in met de kruiden.
Verhit olijfolie in een grote ovenvaste koekenpan. Voeg de kippendijen toe en schroei aan beide kanten goudbruin, ongeveer 5 minuten per zijde. Leg op een bord.
Verhit in dezelfde pan de boter, 2 tl versgemalen zwarte peper en fijngehakte knoflook. Hou het vuur laag, roer af en toe tot de boter gesmolten is, maar niet gebruind, ongeveer 2 minuten. Blus met witte wijn en laat tot de helft inkoken, ongeveer 3 minuten. Voeg kippenbouillon en mosterd toe. Breng aan de kook. Voeg room toe, roer de kikkererwten en parmezaan erdoor. Kruid met zout.
Leg de kip terug naar de pan. Bestrooi met tijm en salie. Snij de bovenkant van de bol knoflook af om de teentjes bloot te leggen en nestel deze tussen de kip.
Plaats de pan in de oven en bak tot de kip helemaal gaar is, ongeveer 30 minuten. Knijp 2 of 3 geroosterde knoflookteentjes uit en voeg ze toe aan de saus, plet met een vork. Smakelijk!