Kipfilet met  parmezaanse kaas en jalapeño's. Een makkelijk eenpansgerecht met geroosterde knoflook, tijm, knapperige aardappelen en zachte kerstomaatjes. Het enige wat je nodig hebt is een pan en ongeveer 30 minuten. Fantastisch, is het niet?!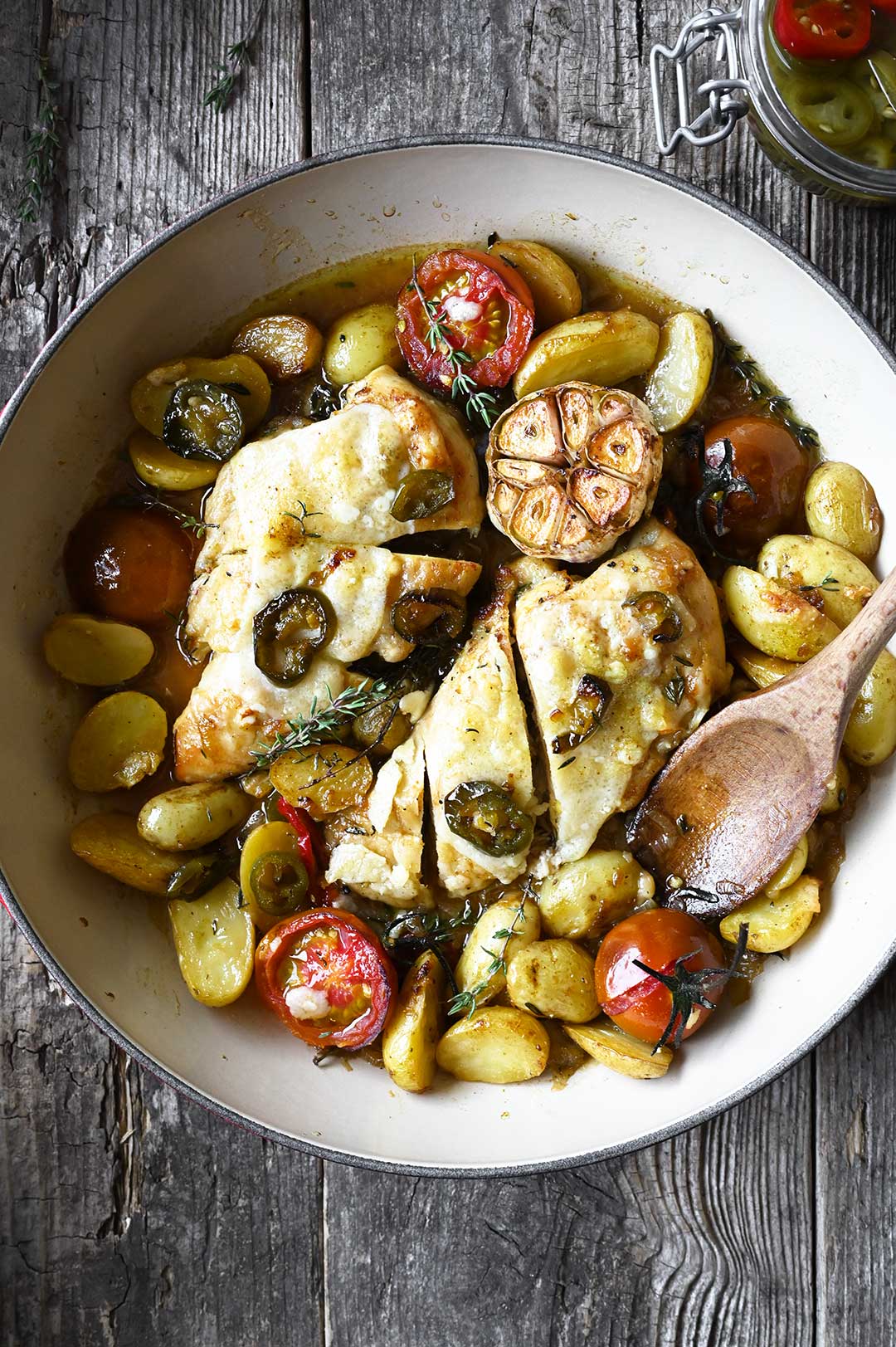 Het lijkt of ik de laatste tijd alleen maar eenpansgerechten maak, maar deze heeft een leuke twist. En ik kan je verzekeren, it's mind-blowing. Parmezaanse kaas en jalapeño's samen, is een echte verrassing! Absoluut.
De gepekelde jalapeños voegen een subtiel pittige smaak toe, terwijl de Parmezaanse kaas smelt en zorgt voor een lekker korstje.
Hier krijg je alles-in-één. Je moet enkel de kip even bakken, dan gaan de aardappelen erbij, blussen met bouillon en dan de parmezaanse kaas met jalapeño's erover. In de oven en bakken. Klaar.
Dit heb je nodig
2 enkele kipfilets
50 g geschaafde parmezaan
1 à 2 el gehakte ingelegde jalapeños
300 g krielaardappelen, in tweeën gesneden
100 g kerstomaten
100 ml kippenbouillon
30 ml witte wijn
4 tenen knoflook, fijngehakt
1 sjalot, fijngehakt
4 el olijfolie
1 klontje boter
zeezout + zwarte peper + gerookte paprikapoeder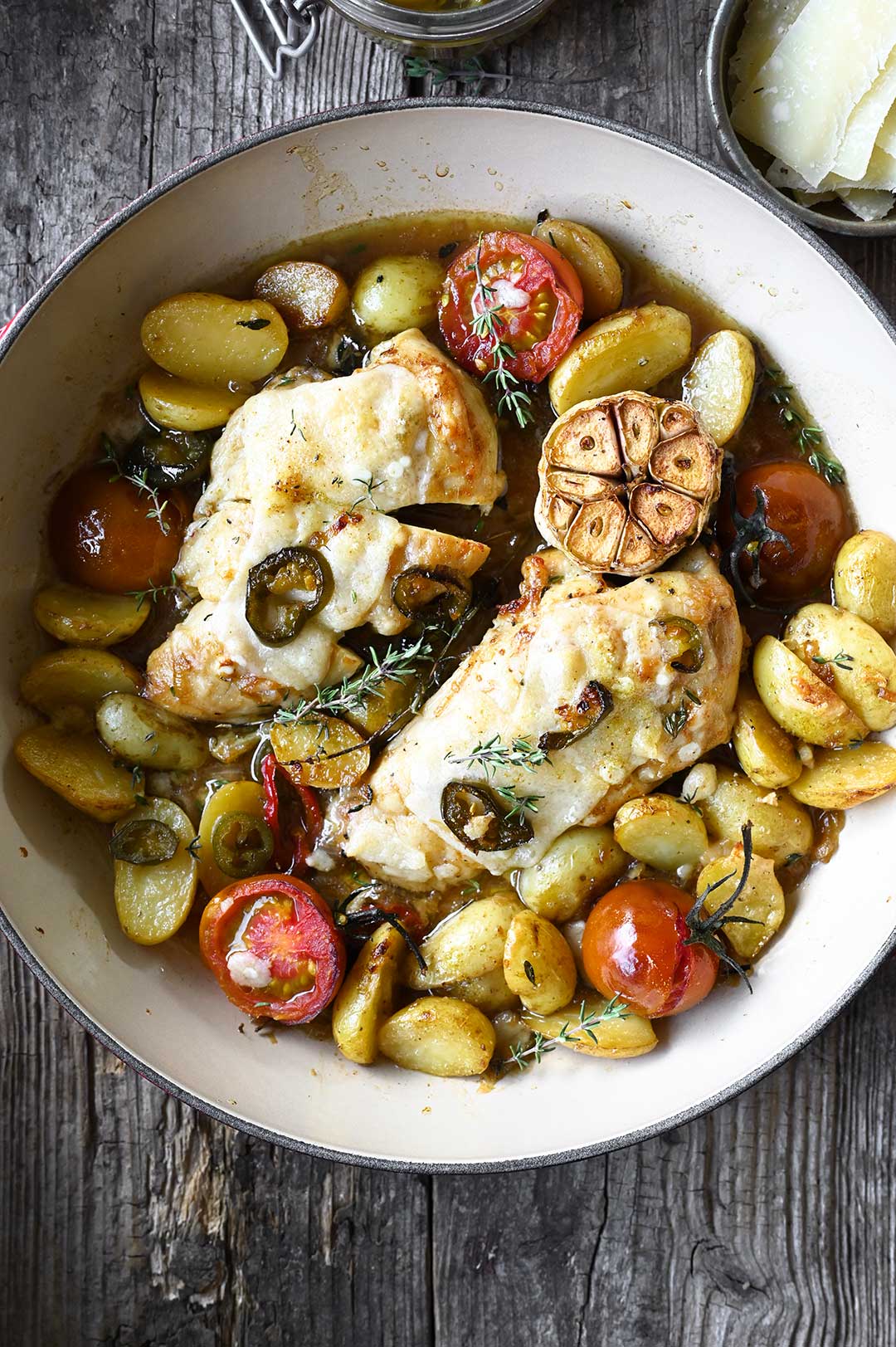 Wil je op de hoogte blijven van mijn nieuwe recepten? Abonneer je dan op mijn NIEUWSBRIEF.
Zo maak je het
Verwarm de oven voor op 190°C.
Kruid de kip met zout, peper en paprikapoeder. Verhit de olie en boter op hoog vuur in een grote ovenvaste koekenpan. Leg de kip erin en bak gedurende 5 minuten, draai om en bak nog 3 minuten verder goudbruin. Voeg knoflook en sjalot toe, roer en voeg dan de aardappelen toe. Roer en bak gedurende 5 minuten, nog steeds op hoog vuur.
Blus met witte wijn en laat het geheel 1 minuut koken. Voeg dan de kippenbouillon toe en breng het aan de kook. Leg de kerstomaten rond de kip en voeg de tijm toe. Verdeel de parmezaan over de kip en bestrooi met jalapeño's. Zet het geheel in de oven en rooster gedurende 15-20 minuten, totdat de kaas smelt en de aardappelen gaar zijn. Smakelijk!
Als je dit recept uitprobeert, laat dan hieronder een reactie achter of deel je foto's op Instagram en vergeet niet om mij te taggen @anna_s_table. Ik kijk ernaar uit!