Parmezaanse kaas, kip en orzo, een maaltijd die makkelijk, snel klaar en super smaakvol is. En je hebt er slechts één pan voor nodig. Echt een van die all-in-one-dinners waar zowat iedereen dol op zal zijn.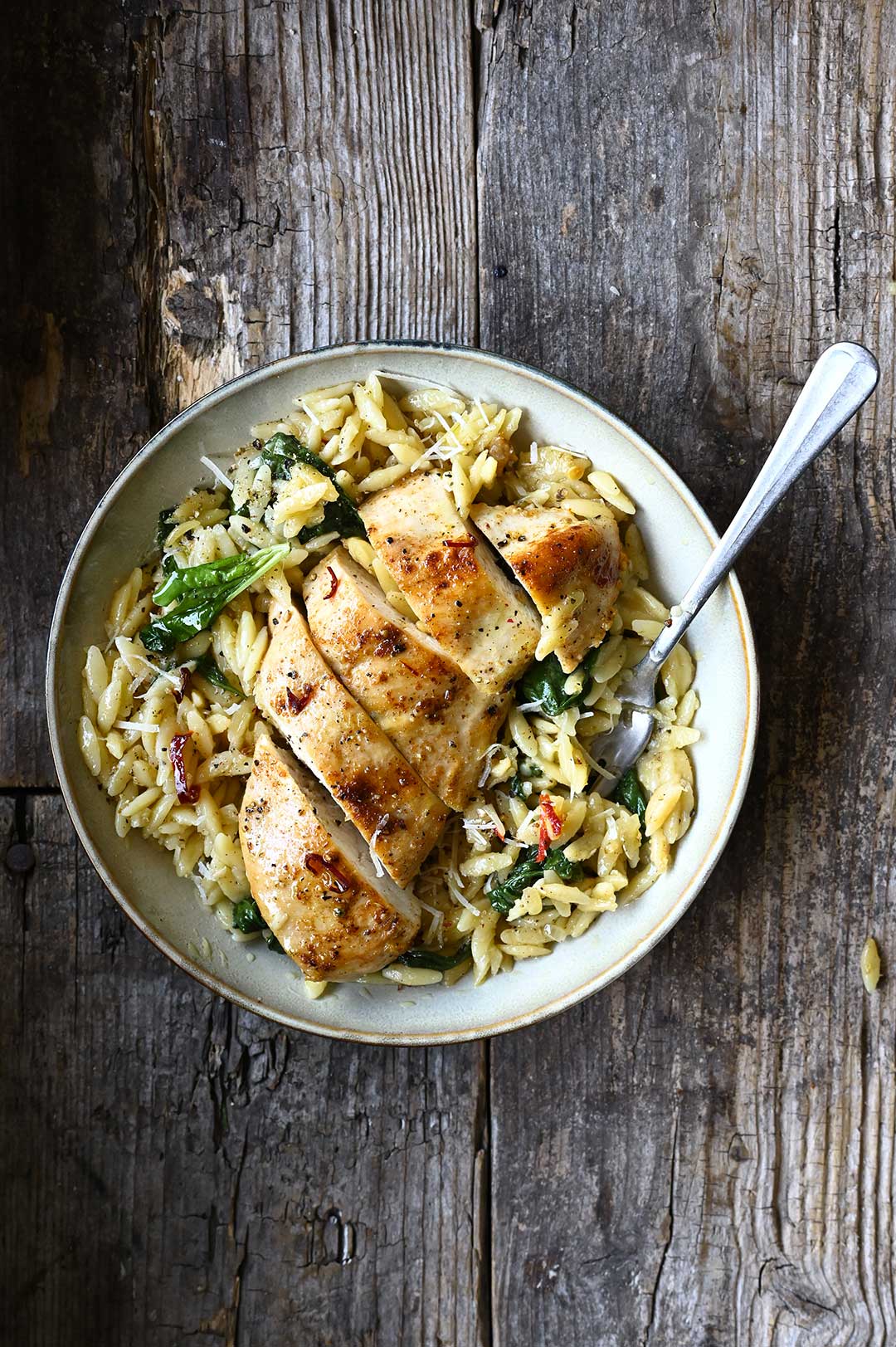 Een hartelijk gerecht dankzij de kaas, spinazie en orzo, maar ook met een vleugje aciditeit van de witte wijn en een scheutje citroensap. 
Deze maaltijd maak je als een snel gerecht op een doordeweekse avond, maar ook voor je familie in het weekend of om je vrienden te verrassen. Het is zeker geen zwaar gerecht, zodat iedereen aan tafel zich nog voldoende fit voelt voor een dessert.
En de smaken zijn fantastisch.
We houden het deze keer eenvoudig. En als we de kip hebben gebakken, doen we de orzo in de pan en laten het sudderen tot deze zacht geworden is. Dan voegen we wat spinazie en Parmezaanse kaas toe. Dit gerecht kost je ongeveer 30 minuten om te maken.
Als je het gerecht extra gezond wilt houden, ruil dan de orzo voor quinoa of farro, beide zouden dezelfde kooktijden moeten hebben.
Ga naar mijn Instagram Highlights om te zien hoe makkelijk je deze kan maken!
3 andere heerlijke recepten met kip:
Orzo met geroosterde kip en druiven
Gnocchi met kippenragout
Kipfilet met parmezaanse kaas en jalapeño's
Wil je op de hoogte blijven van mijn nieuwe recepten? Abonneer je dan op mijn NIEUWSBRIEF.
Dit heb je nodig
150 g orzo
2 kipfilets
100 g spinazie
2 el olijfolie
1 el gezouten boter
1 sjalot, fijngehakt
2 tenen knoflook, fijngehakt (of meer als je van knoflook houdt)
50 ml droge witte wijn
50 g geraspte Parmezaan
350 ml kippenbouillon, meer indien nodig
1 el citroensap
1/2 tl cayennepeper
1 tl gerookte paprikapoeder
zeezout + zwarte peper
Zo maak je het
Kruid de kip met zout, peper, gerookte paprika en cayennepeper.
Verhit de olijfolie en de boter in een grote koekenpan op middelhoog vuur. Voeg de kip toe en bak aan beide kanten goudkleurig, ongeveer 8 minuten per zijde. Haal de kipfilets uit de koekenpan. Leg op een bord en dek het af om ze warm te houden.
Doe in dezelfde koekenpan sjalot en knoflook. Fruit op een laag vuur, gedurende ongeveer 2 minuten. Verhoog het vuur, voeg de witte wijn en het citroensap toe en breng aan de kook. Roer de orzo erdoor. Voeg de kippenbouillon toe en breng het geheel aan de kook op een hoog vuur. Zet het vuur lager en laat het geheel sudderen terwijl je af en toe roert, gedurende ongeveer 10-15 minuten of tot de orzo gaar is.
Roer de parmezaanse kaas en spinazie erdoor. Proef en breng op smaak met zout en peper. Voeg indien nodig meer bouillon toe, de orzo moet plakkerig en romig zijn, niet droog. Doe de kipfilets terug de pan. Serveer. Smakelijk!
Als je dit recept uitprobeert, laat dan hieronder een reactie achter of deel je foto's op Instagram en vergeet niet om mij te taggen @anna_s_table. Ik kijk ernaar uit!