Deze kipfilets in een romig tomatensausje zien er misschien wel wat 'fancy' uit, maar dit gerecht is super makkelijk te bereiden en klaar in een handomdraai. Beeld je in, een heerlijke tomatensaus op smaak gebracht met feta en knapperig gebakken pancetta, geserveerd met orzo of wat krokante sneetjes brood. Boem! O ja, je hebt maar één pan nodig en het is klaar in ongeveer 30 minuten.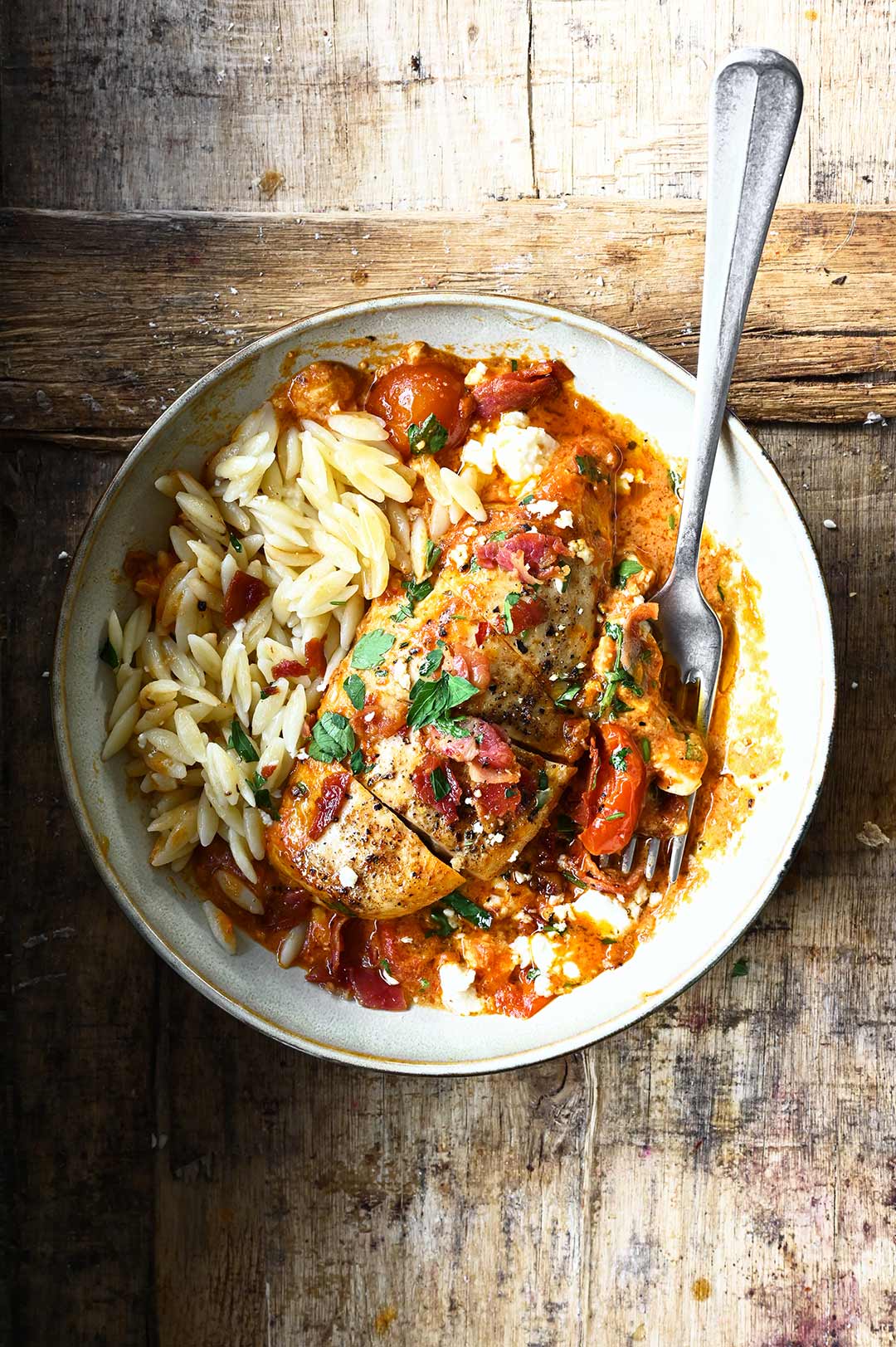 Dit eenpansgerecht heeft het allemaal, veel smaak en een hemelse saus. De zongedroogde tomaten doen dubbel werk, want we gebruiken ook hun smaakvolle olie om de kip te bakken en de knoflook samen met de kerstomaatjes te fruiten. Voor wat extra temperament werken het geheel af met zoute feta en knapperige pancetta.
Bekijk mijn VIDEO om te zien hoe makkelijk je dit gerecht kan maken.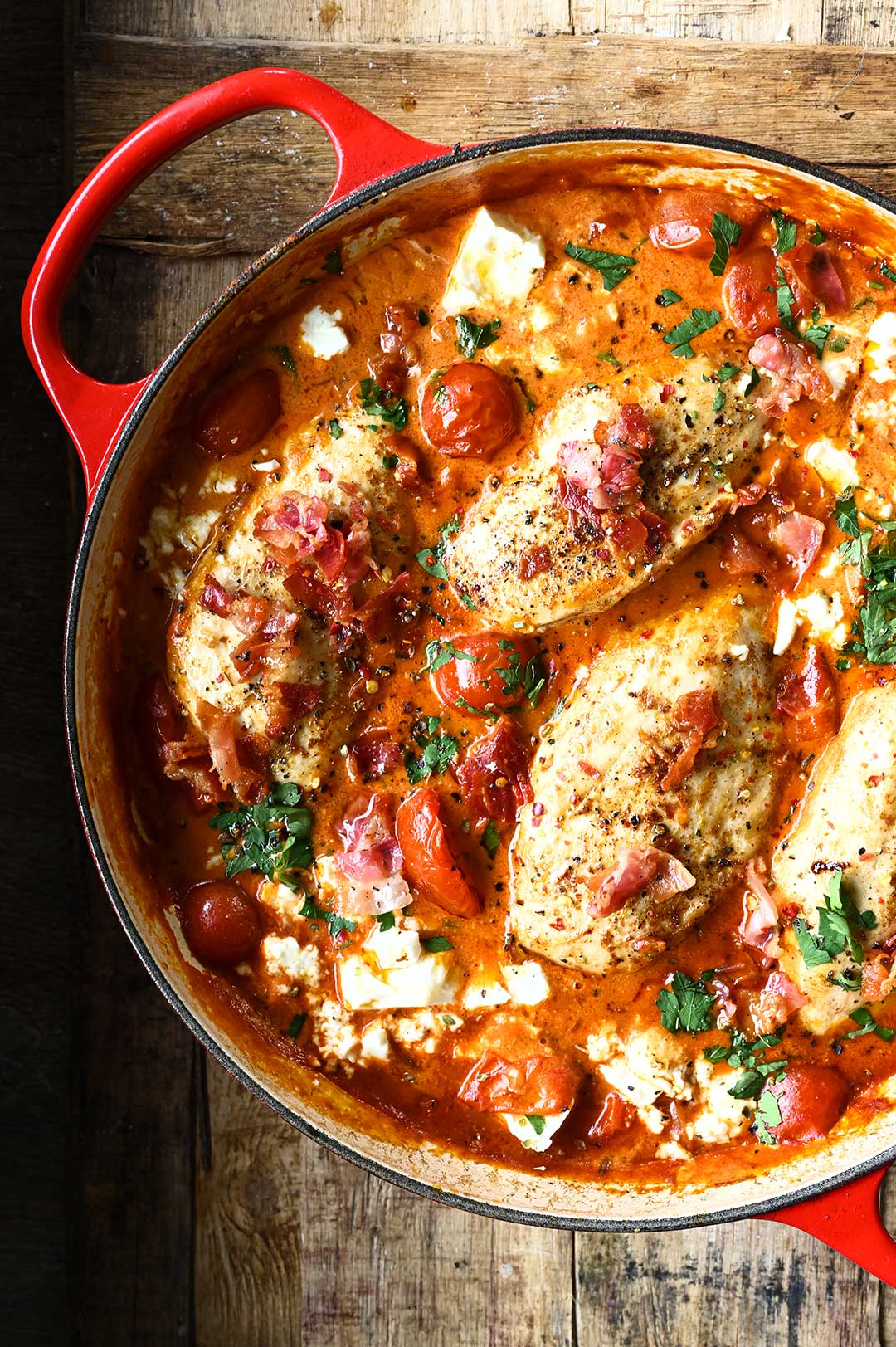 TIPS
– in plaats van kipfilets, kan je kippendijfilets gebruiken
– serveer met pasta, orzo, rijst of wat knapperig brood en een eenvoudige salade
– voeg champignons, spinazie, erwten of sperziebonen toe
– als je geen feta fan bent, gebruik dan halloumi of mozzarella voor een mildere smaak
More chicken, please! 
Drumsticks uit de oven in zwarte pepersaus
Kipfilet met Parmezaan, spinazie en orzo
Thaise kippenballetjes met kokoscurry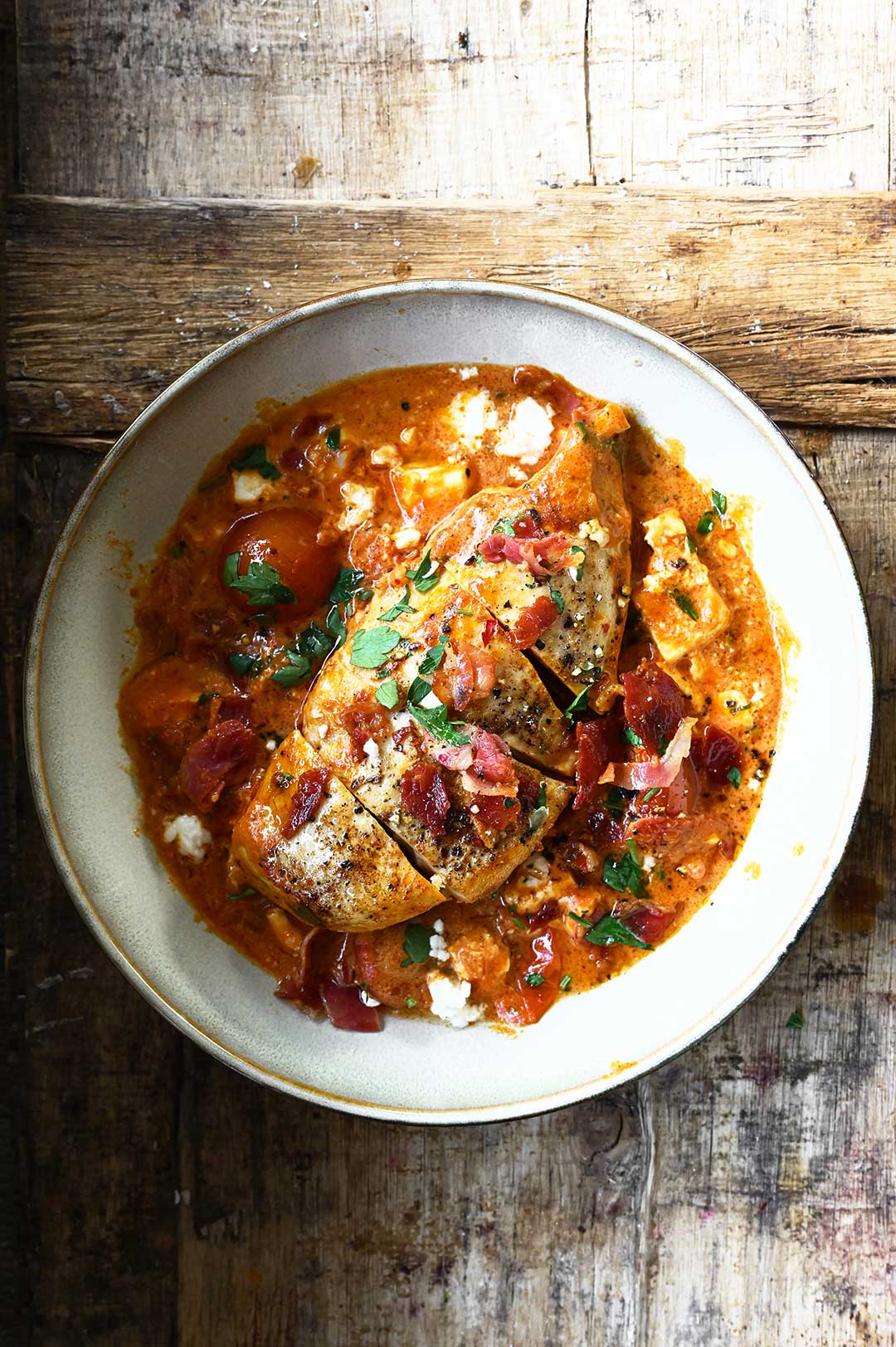 Dit heb je nodig
4 enkele kipfilets
100 g pancetta
1 el boter
2 teentjes knoflook, geplet en fijngehakt
1 kleine ui, fijngehakt
120 g semi-zongedroogde tomaten, olie bewaard om te bakken
200 g kerstomaatjes, gehalveerd
50 ml witte wijn
125 ml room 20%
100 g tomatenconcentraat
150 ml kippenbouillon
1 tl gedroogde oregano
1 tl paprikapoeder
zout + zwarte peper
100 g feta
3 el gehakte peterselie
rode chilivlokken, voor de afwerking
Zo maak je het
Bekijk mijn VIDEO om te zien hoe makkelijk je dit gerecht kan maken.
Verhit een grote koekenpan met antiaanbaklaag op een hoog vuur. Giet 3 eetlepels olie van de zongedroogde tomaten erin en voeg de pancetta toe. Bak terwijl je regelmatig roert, gedurende 2-3 minuten. Haal de pancetta eruit, laat de olie achter in de pan.
Breng de kipfilets op smaak met paprikapoeder, zout en peper.
Smelt in dezelfde pan de boter. Voeg de kip toe en bak op middelhoog vuur, gedurende 5 minuten per zijde of totdat de kip helemaal gaar en mooi gebruind is. Haal de kip uit de pan en leg hem op een bord. Dek af met folie.
Voeg in dezelfde pan de ui en knoflook toe. Fruit op een laag vuur, ongeveer 2 minuten. Voeg de kerstomaatjes toe en bak nog 2 minuten mee. Giet de witte wijn erbij en laat het 2 minuten koken. Roer de tomatenconcentraat erdoor en breng op smaak met zout, peper en oregano. Giet de kippenbouillon erbij en breng het geheel aan de kook. Voeg zongedroogde tomaten en room toe. Roer en doe de kip weer in de pan. Verkruimel de feta en laat nog 5 minuten koken of tot de kip gaar is en de saus lichtjes ingedikt. Serveer met peterselie en krokante pancetta. Bestrooi met wat rode chilivlokken. Smakelijk!