Kipfilets in een romig sausje met rode pesto en kerstomaatjes. Dit fail-proof eenpansgerecht heeft het allemaal! Hartig, romig, knapperig en bovenal overheerlijk. Geserveerd met een frisse salade en wat brood is dit een echte aanrader.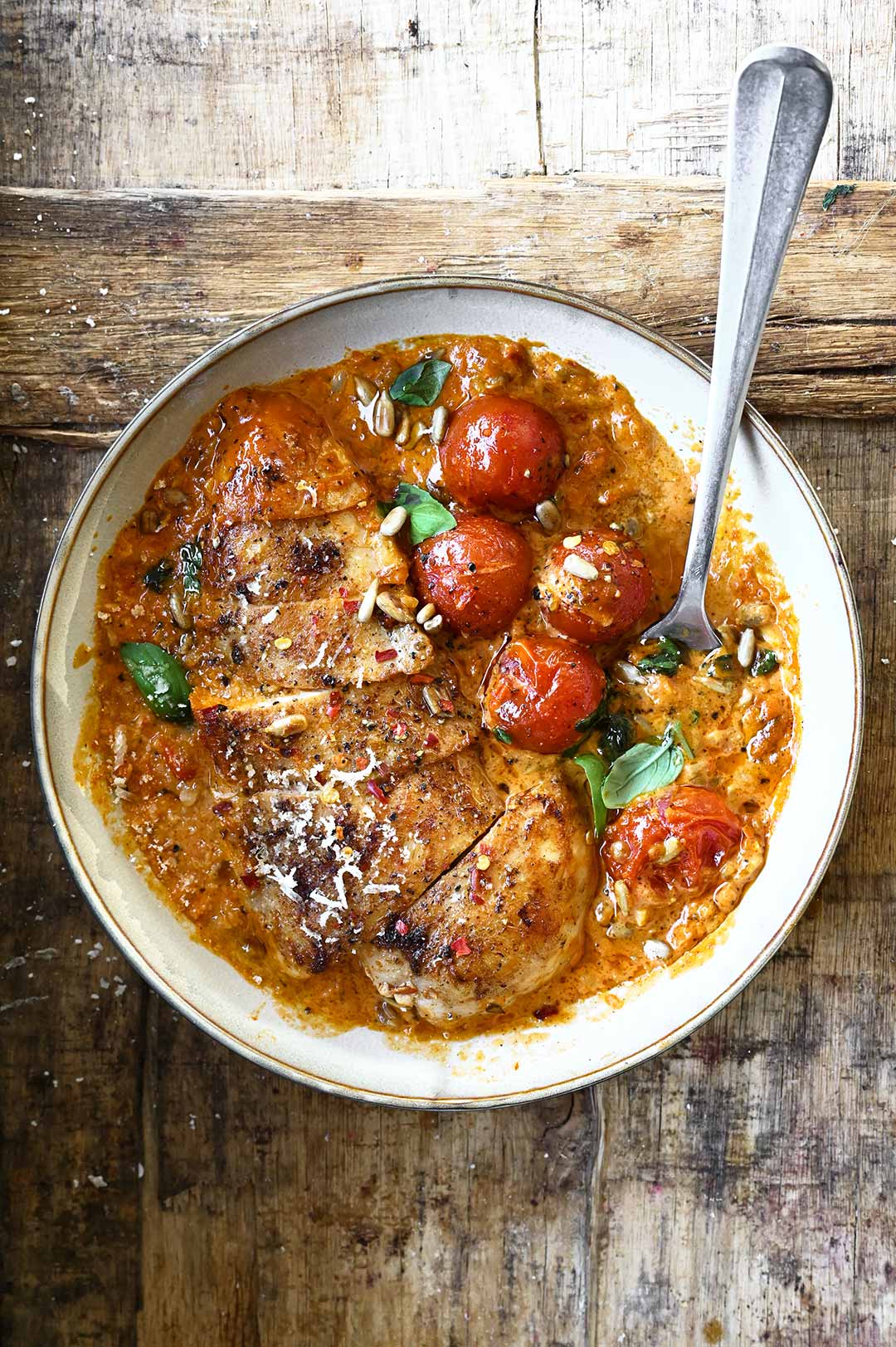 De kip is goudbruin van buiten, mals van binnen en smaakt als een droom in combinatie met die overheerlijke rode pestosaus. Dit gerecht voelt aan als een feestmaal maar is klaar in een handomdraai, waardoor het ideaal is voor een doordeweekse avond of voor een last-minute dinner party.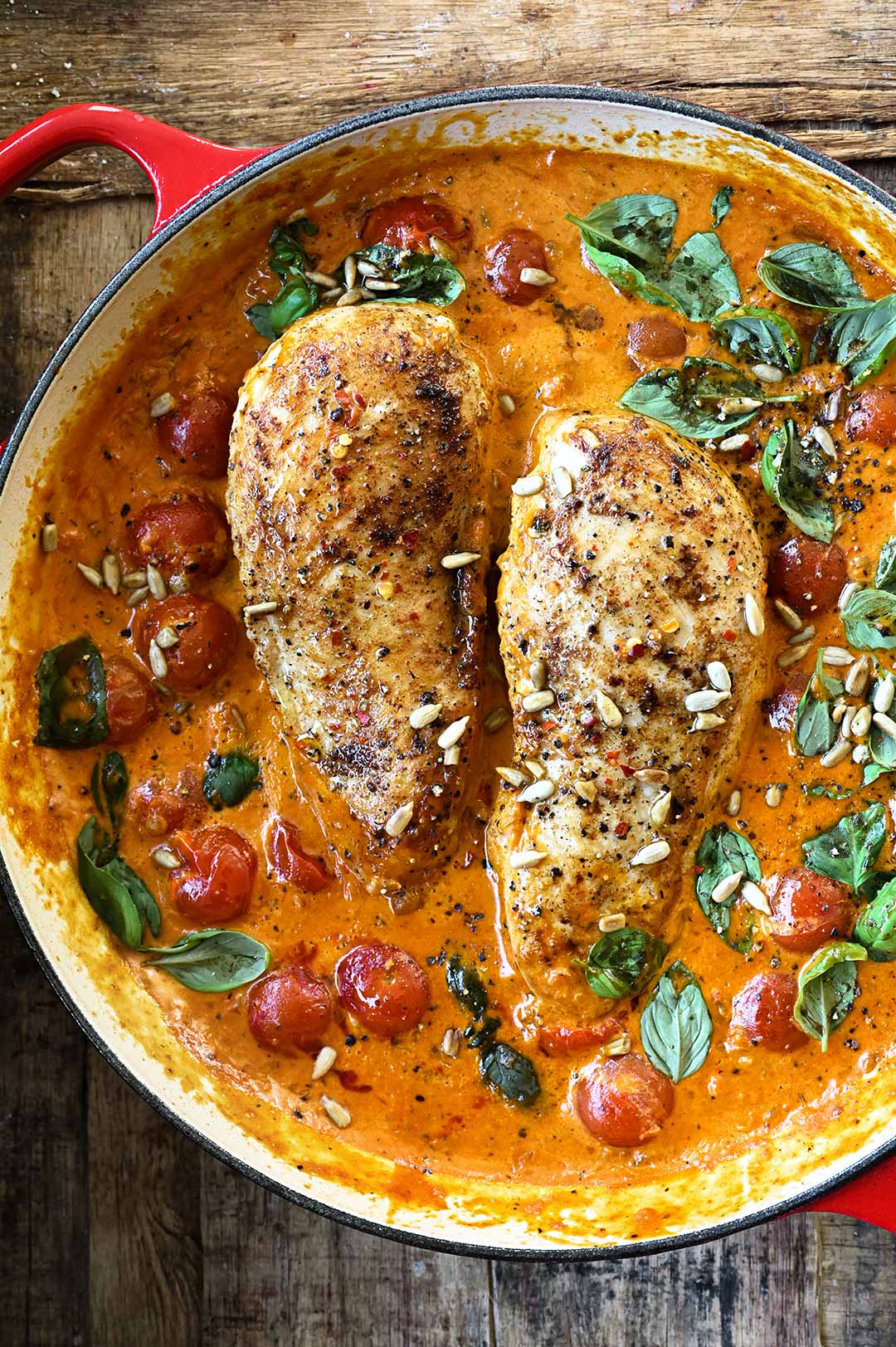 We brengen de saus op smaak met veel knoflook en een zelfgemaakte pesto van zongedroogde tomaten. De geroosterde zonnebloempitjes zorgen op hun beurt dan weer voor een extra knapperige bite. Ben je er klaar voor?
Bekijk mijn VIDEO om te zien hoe makkelijk je dit gerecht kan maken.
TIPS
– in plaats van kipfilets, kan je kippendijfilets gebruiken
– serveer met aardappelpuree, orzo, rijst of knapperig brood en een eenvoudige salade
– voeg meer groenten toe aan de saus zoals zongedroogde tomaten, paprika's of spinazie
More chicken, please! 
Drumsticks uit de oven in zwarte pepersaus
Kipfilet met Parmezaan, spinazie en orzo
Kipfilet in romige tomatensaus met feta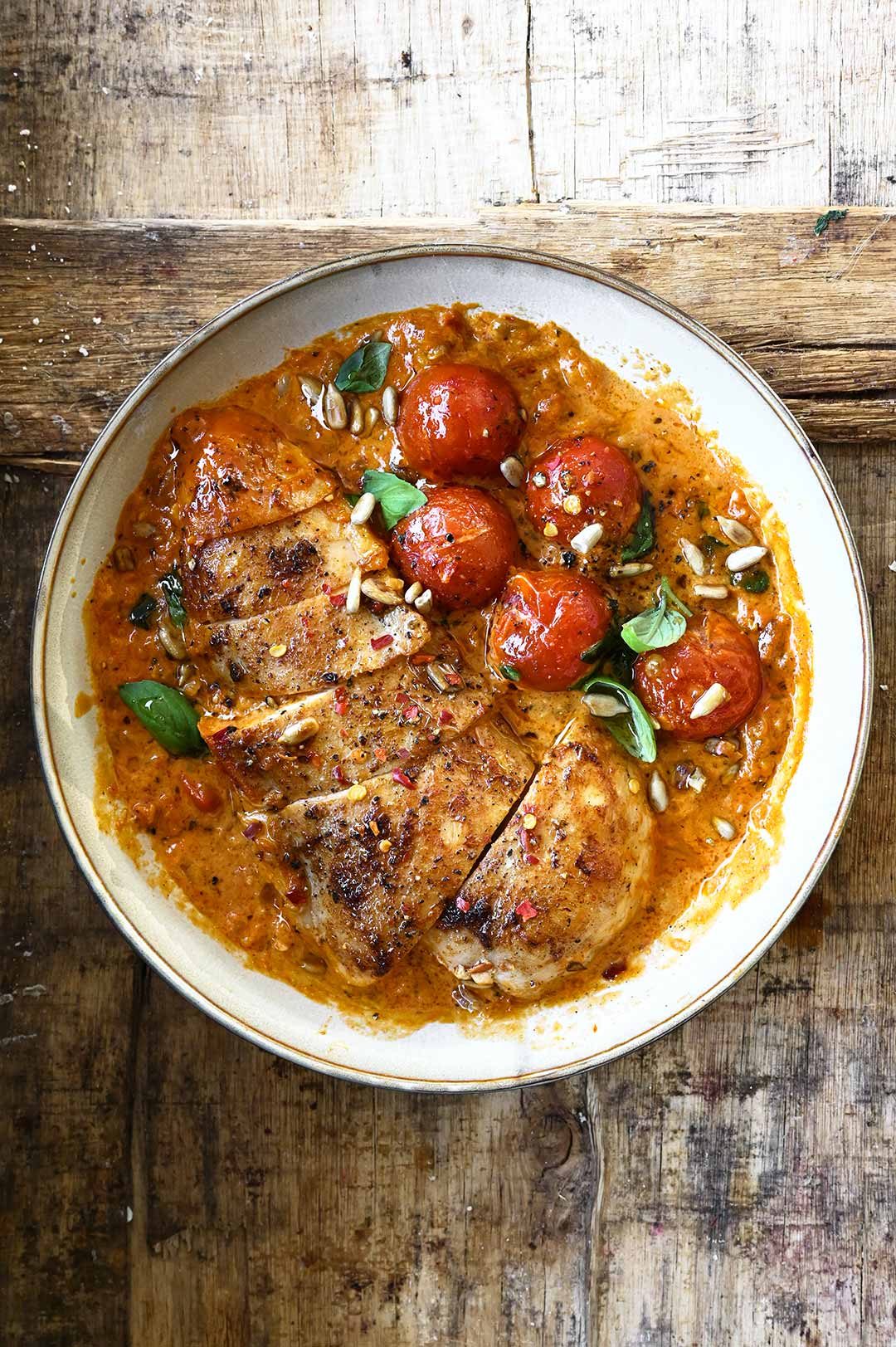 Dit heb je nodig
2 enkele kipfilets
250 g kerstomaatjes
2 el boter
2 el olie van zongedroogde tomaten
4 teentjes knoflook, geplet en fijngehakt
1 kleine ui, fijngehakt
zout + zwarte peper
snufje zoete paprikapoeder
1 tl rode chilivlokken
2 el tomatenconcentraat
125 ml room 20%
125 ml kippenbouillon
20 blaadjes basilicum
geraspte Parmezaanse kaas, om te serveren (optioneel)
geroosterde zonnebloempitten, om te serveren
rode pesto (gelijk aan 1/2 potje kant-en-klare pesto)
40 g geroosterde zonnebloempitten, of geroosterde pijnboompitten
10 semi-zongedroogde tomaten
3 el olie van zongedroogde tomaten
1 tl gedroogde basilicum
30 g geraspte Parmezaanse kaas
1 el tomatenconcentraat
Zo maak je het
Bekijk mijn VIDEO om te zien hoe makkelijk je dit gerecht kan maken.
Maak de pesto. Doe de ingrediënten in een keukenmachine of blender. Mix tot alles goed gemengd is, maar nog wel wat textuur heeft.
Breng de kipfilets op smaak met paprikapoeder, zout en peper.
Verhit de olie en boter in een koekenpan met antiaanbaklaag. Doe de kip in de pan en bak  gedurende 5-8 minuten per zijde. Haal de kip uit de pan en leg op een bord. Dek af met folie.
Fruit in dezelfde pan ui en knoflook, ongeveer 2 minuten. Deglaceer de pan met 2 eetlepels water. Voeg kerstomaten toe, bak ongeveer 2 minuten of totdat de tomaten beginnen te barsten. Druk op de achterkant van de tomaten met een vork om de sappen eruit te duwen. Roer tomatenconcentraat erdoor en breng op smaak met zout, peper en rode chilivlokken. Giet kippenbouillon erbij en breng het geheel aan de kook. Roer de rode pesto erdoor en voeg dan de room toe. Doe de kip weer in de pan. Laat nog 5 minuten koken of totdat de kip gaar is en de saus iets ingedikt is. Roer de basilicumblaadjes erdoor en werk af met geroosterde zonnebloempitten. Bestrooi met wat rode chilivlokken en geraspte Parmezaanse kaas. Smakelijk!