Wanneer je dit eenpansgerecht met kip op tafel zet, bestaat er veel kans dat er spontaan een fanclub ontstaat. Beeld je in… een witte wijnsaus gecombineerd met champignons, balsamico azijn, look en Parmezaan. Proef je het al? Een ware smaakexplosie! Geserveerd met wat brood, aardappelpuree of kroketjes en natuurlijk een heerlijk frisse salade. Een echte aanrader!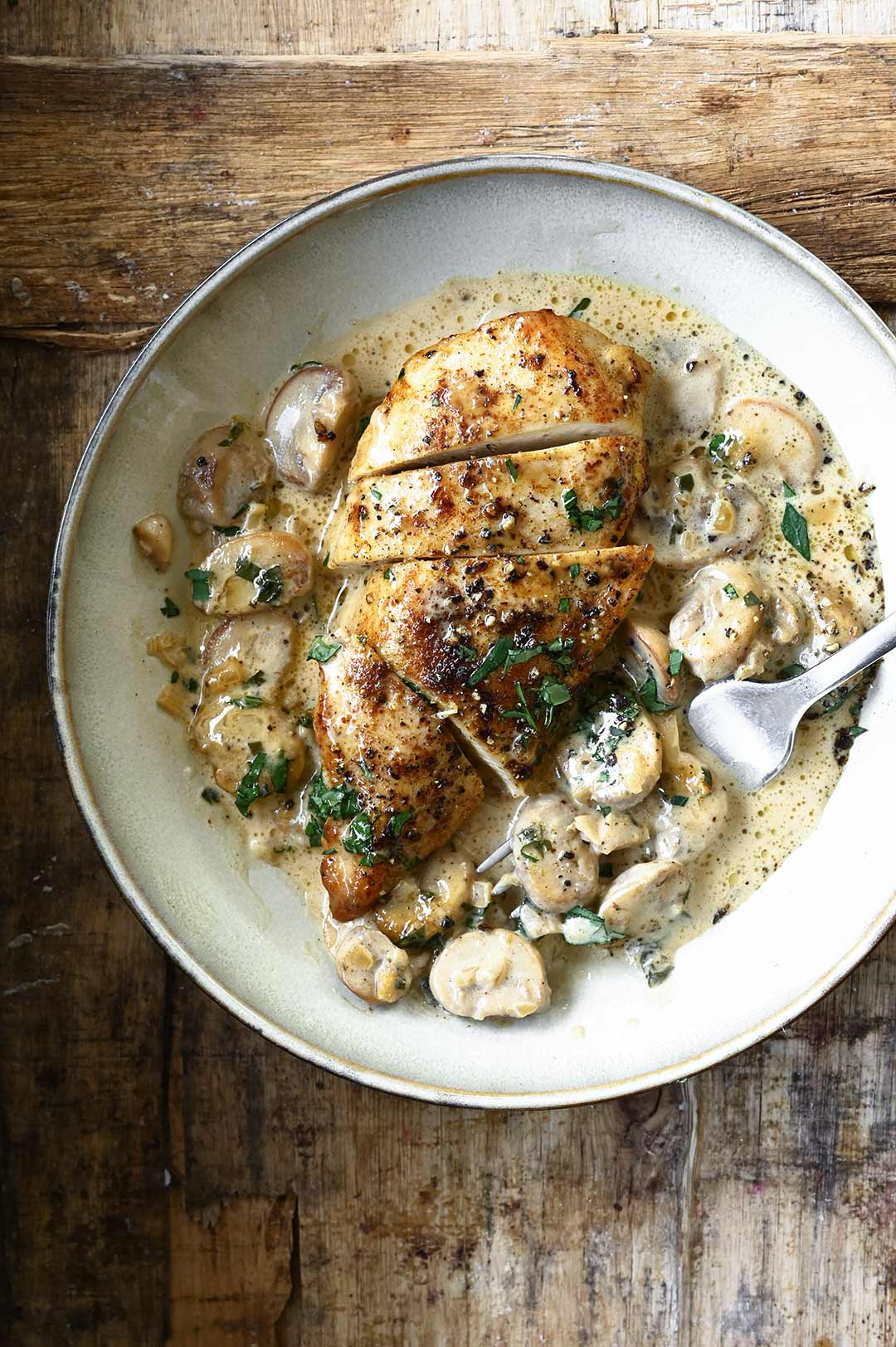 De ster van dit gerecht is zonder twijfel de saus. Hij is romig met lekker veel knoflook en een handvol Parmezaanse kaas. De champignons op hun beurt samen met de zoete smaak van balsamicoazijn zorgen voor een flinke smaak-boost. En de wijn dan… deze voegt een serieuze twist toe aan de saus, maar no worries, de smaak is helemaal niet dominant. Puur genot!
Bekijk mijn VIDEO om te zien hoe makkelijk je dit gerecht kan maken.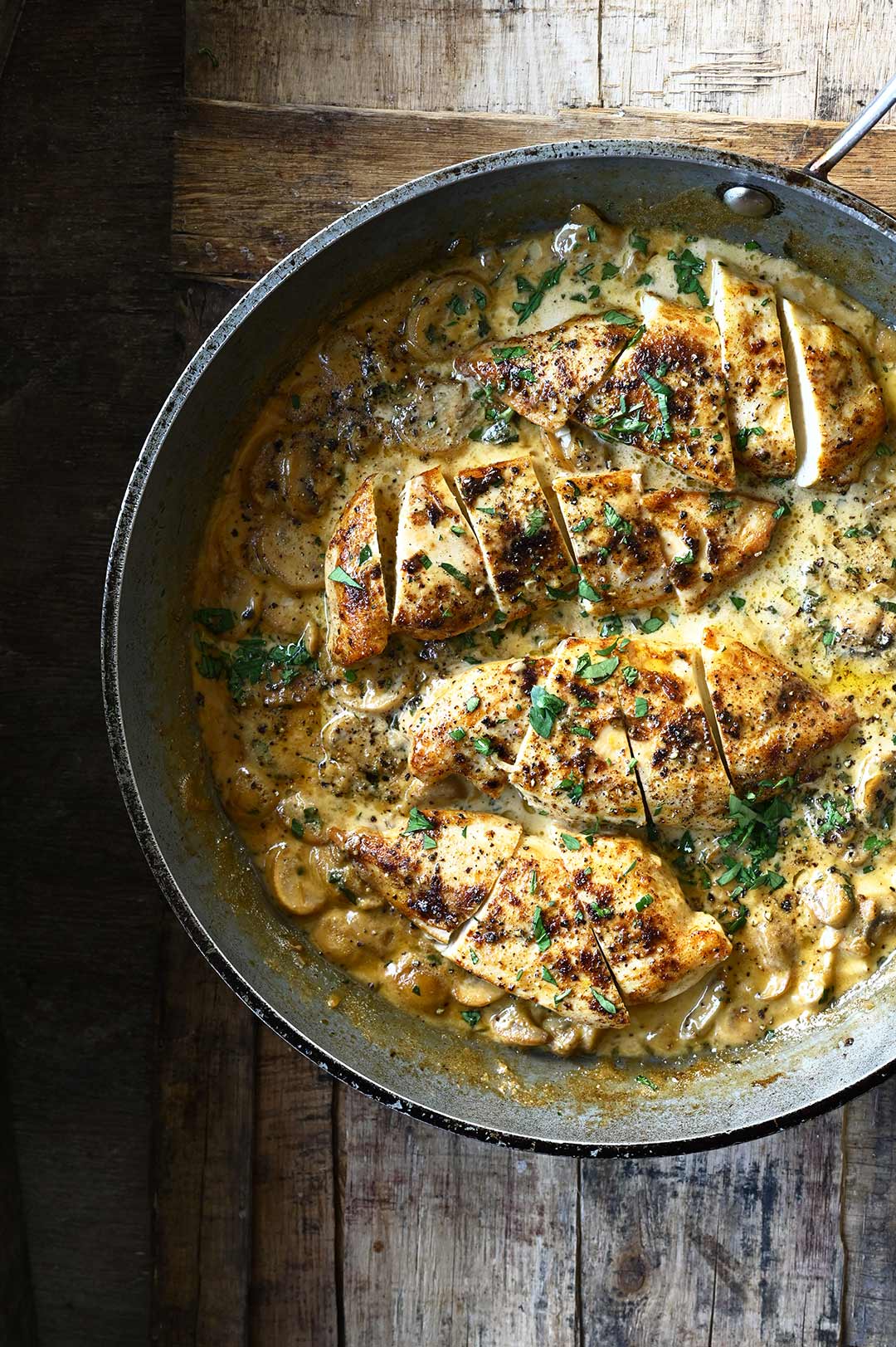 TIPS
-serveer met een romige polenta, aardappelpuree, kroketten, frieten of lekker knapperig brood en een eenvoudige salade
-snij grotere kipfilets in de lengte doormidden in dunne, gelijke stukken. Op deze manier wordt het vlees sneller en gelijkmatiger gaar
More chicken, please! 
Drumsticks uit de oven in zwarte pepersaus
Kipfilet met Parmezaan, spinazie en orzo
Kipfilet in romige rode pestosaus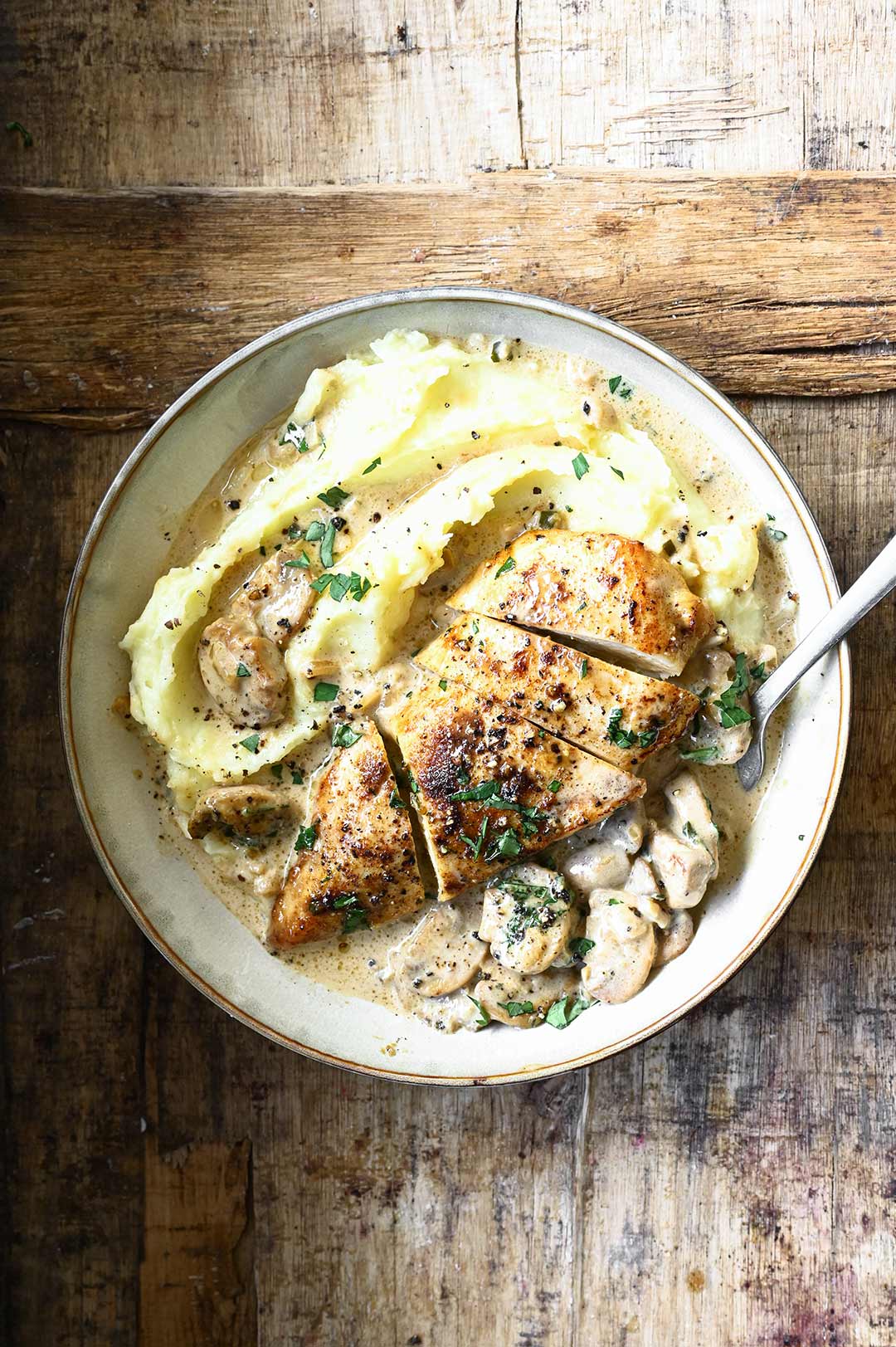 Dit heb je nodig
4 kleine kipfilets, (of 2 grote in de lengte doormidden gesneden)
250 g champignons, in plakjes gesneden
1 kleine ui, fijngehakt
4 teentjes knoflook, geplet en fijngehakt
2 el olijfolie
1 el boter
150 ml droge witte wijn
200 ml room
30 g geraspte Parmezaanse kaas
1 el balsamicoazijn
zout + zwarte peper
1 tl zoete paprikapoeder
2 el gehakte peterselie
How to
Bekijk mijn VIDEO om te zien hoe makkelijk je dit gerecht kan maken.
Breng de kipfilets op smaak met paprikapoeder, zout en peper.
Verhit de olie en boter in een koekenpan met antiaanbaklaag. Doe de kip in de pan en bak  ongeveer 5 minuten per zijde. Haal de kip uit de pan en leg op een bord. Dek af met folie.
In dezelfde koekenpan. Voeg de champignons toe en bak op hoog vuur, ongeveer 5 minuten. Voeg ui en knoflook toe en stoof aan, 3 minuten. Voeg balsamicoazijn toe en breng op smaak met zout en peper. Blus af met witte wijn en laat inkoken, ongeveer 3-5 minuten.
Voeg de room toe, roer de Parmezaanse kaas en de peterselie erdoor. Breng aan de kook. Doe de kip weer in de pan. Laat nog 5 minuten koken of totdat de kip gaar is en de saus iets is ingedikt. Voeg zout naar eigen smaak toe.
Serveer met aardappelpuree of brood en een salade besprenkeld met olijfolie en balsamicoazijn. Garneer met gehakte peterselie en extra zwarte peper. Smakelijk!