Kipfilets in een pindasaus met Thaise rode curry, geserveerd met jasmijn rijst en knapperige groenten. De lente-uitjes, verse koriander en geroosterde cashewnoten vervolledigen dit pittig gerechtje. Een heerlijke maaltijd die je misschien weleens wilt uitproberen.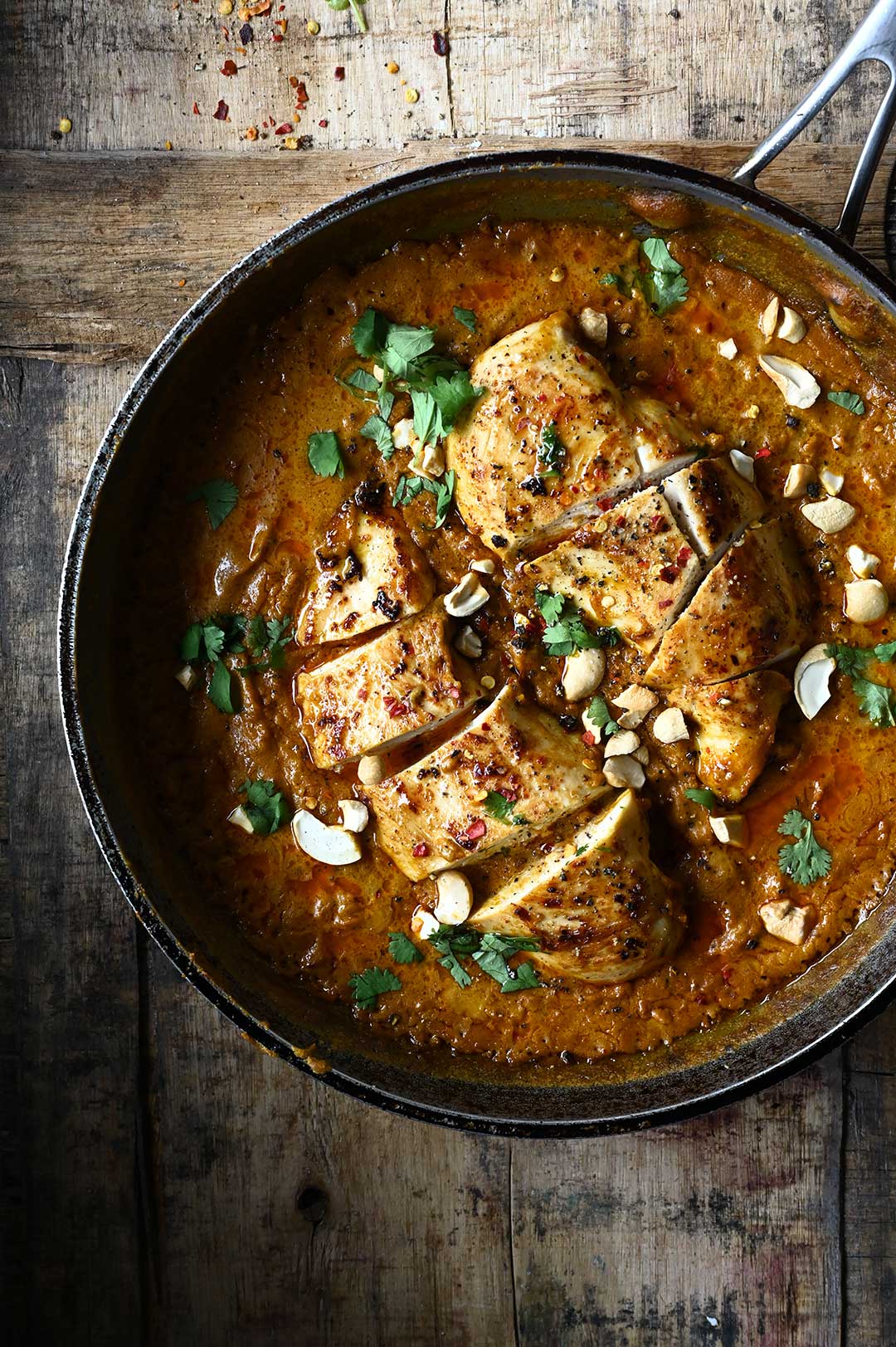 Alleen maar heerlijke smaken. Een rijke pindasaus met gember, veel knoflook, kokosmelk en natuurlijk rode currypasta. Romig, een beetje pittig en zeer hartelijk. U kan er al induiken na ongeveer 30 minuten koken.
Eerst maken we de pindasaus en marineren we de kip erin voordat deze wordt gebakken. Daarna fruiten we de knoflook met gember, laten we de saus sudderen, leggen we de kip terug in de pan en laten we alles samen nog een paar minuten verder sudderen. Het resultaat is een echte smaakbom.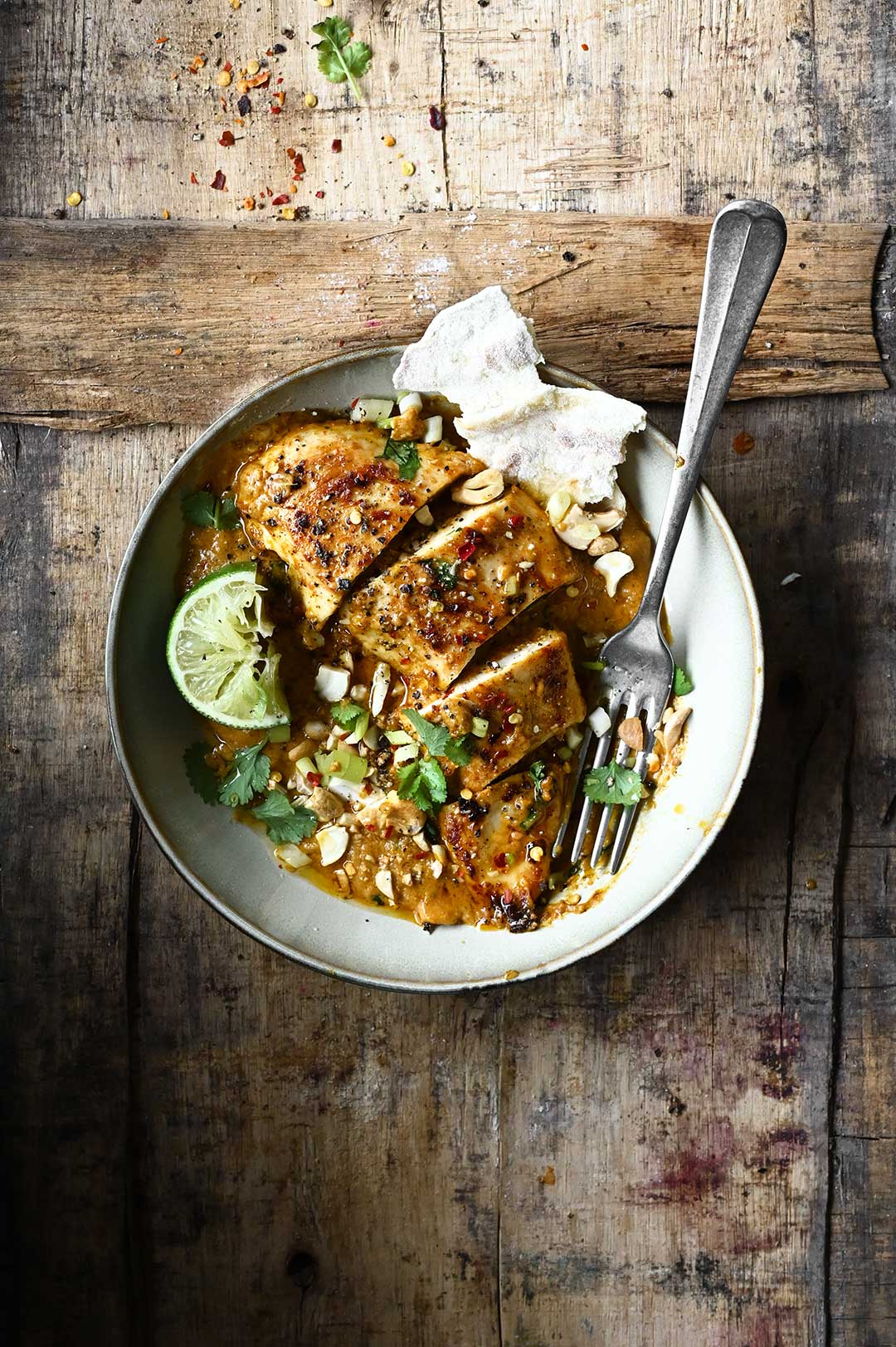 Je kan het recept een beetje naar je hand zetten. Bijvoorbeeld, kippendijen gebruiken in plaats van kipfilets. Of gehakte pinda's in plaats van cashewnoten. Serveren met komkommer, geroosterde broccoli of sperziebonen. De rijst inruilen voor naan. Wat je ook doet, vergeet zeker niet af te werken met de lente-uitjes, noten, koriander en wat extra gedroogde chili.
Ga naar mijn WEB STORY om te zien hoe makkelijk je dit gerecht kan maken!
Andere makkelijke recepten met kip:
Honing knoflook kip
Kipfilet met Parmezaan, spinazie en orzo
Kipsalade met kikkererwten en parmezaan dressing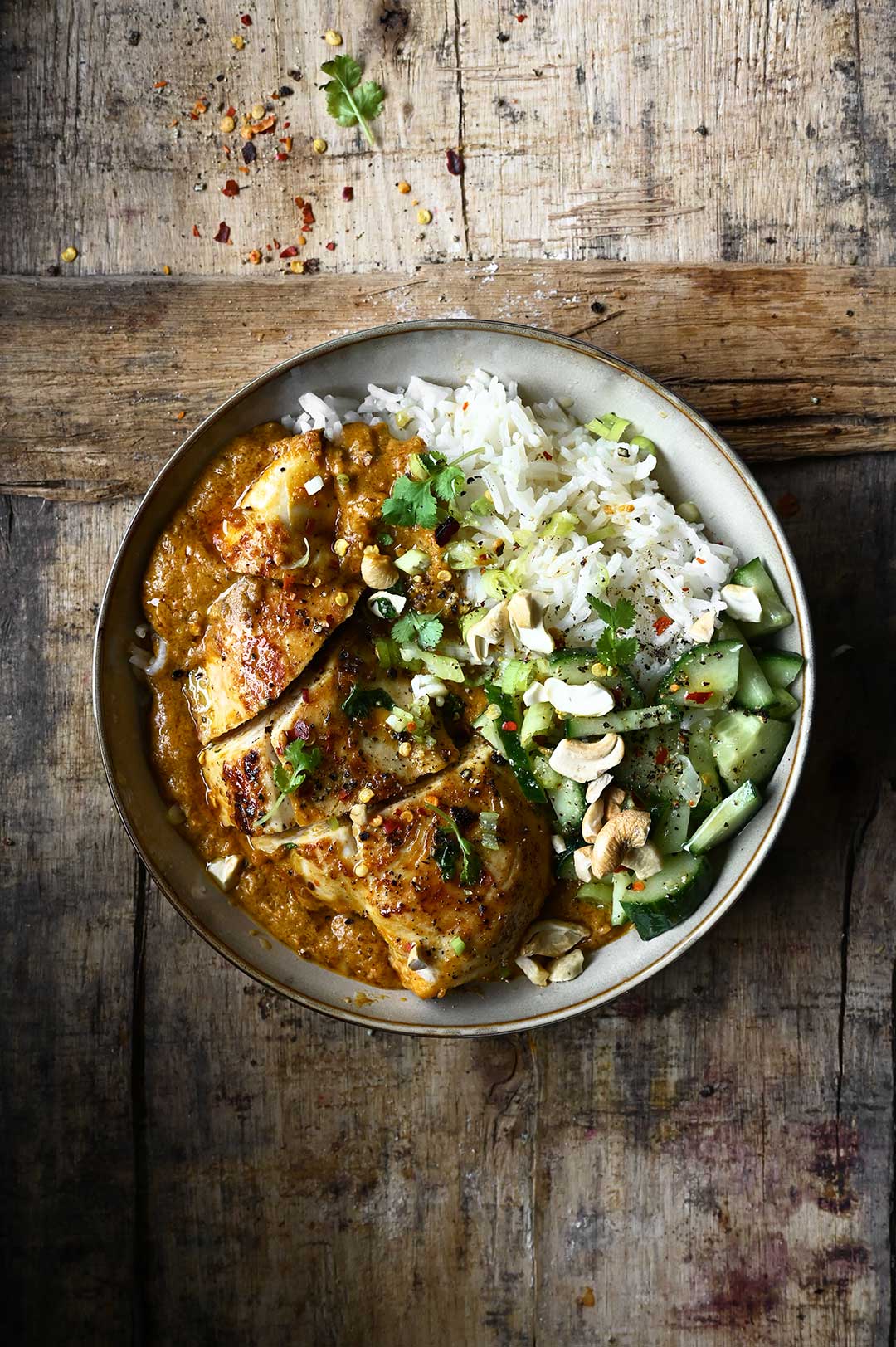 Wil je op de hoogte blijven van mijn nieuwe recepten? Abonneer je dan op mijn NIEUWSBRIEF. 
Dit heb je nodig
2 enkel kipfilets
250 ml ongezoete kokosmelk
100 g natuurlijke pindakaas
2 el sojasaus
1 el vissaus
2 el rode currypasta
1/2 tl kurkuma
1 el sesamolie
1 tl honing
sap van 1/2 limoen
3 el arachideolie
120 ml kippenbouillon
4 tenen knoflook, fijngehakt
1 el geraspte gember
1 tl van elk: gemalen komijn, gemalen koriander, gedroogde rode chilipeper
+
geroosterde cashewnoten of pinda's
verse koriander
jasmijn rijst, of naan
fijngehakte lente-uitjes
Zo maak je het
Meng in een grote kom kokosmelk, pindakaas, sojasaus, vissaus, rode currypasta, kurkuma, sesamolie, honing en limoensap.
Leg de kipfilets in de saus. Zet opzij.
Hak ondertussen de knoflook fijn en rasp de gember.
Kook de rijst, indien je deze gebruikt.
Verhit de olie in een koekenpan en voeg de kipfilets toe. Bak op matig vuur, 4-5 minuten aan elke kant of totdat de kip volledig gaar en gebruind is. Haal de kip uit de pan en leg op een bord. Dek af met aluminiumfolie.
Doe knoflook, gember, komijn, chili en koriander in dezelfde koekenpan. Fruit op een laag vuur, gedurende 2 minuten. Voeg de pindasaus toe en breng aan de kook. Voeg kippenbouillon toe, laat het geheel 5 minuten sudderen of tot de saus licht ingedikt is. Voeg meer kippenbouillon toe als de saus te dik geworden is.
Plaats de kip terug in de pan. Laat alles sudderen tot de kip is opgewarmd, 2-3 minuten.
Serveer met rijst of naan. Werk af met cashewnoten, lente-ui, verse koriander en wat extra gedroogde rode chilipeper. Smakelijk!
Ga naar mijn WEB STORY om te zien hoe makkelijk je dit gerecht kan maken!
Als je dit recept uitprobeert, laat dan hieronder een reactie achter of tag mij in je foto's op Instagram met @anna_s_table of met #servingdumplings. Ik kijk ernaar uit!
AND… IF YOU LOVE THESE RECIPES … please consider supporting my work for just the cost of a cup of coffee.