Butter Chicken-style kip in een romige tomatensaus. Ontzettend lekker en klaar in 30 minuten. Wat denk je van deze boterzachte kip in een romige tomatensaus, een heerlijke mix van intense smaken en tal van texturen? Het is funky, snel-klaar en overheerlijk, vooral met lente-uitjes en gehakte pistachenoten als topping. Serveer met basmatirijst of naan, succes verzekerd!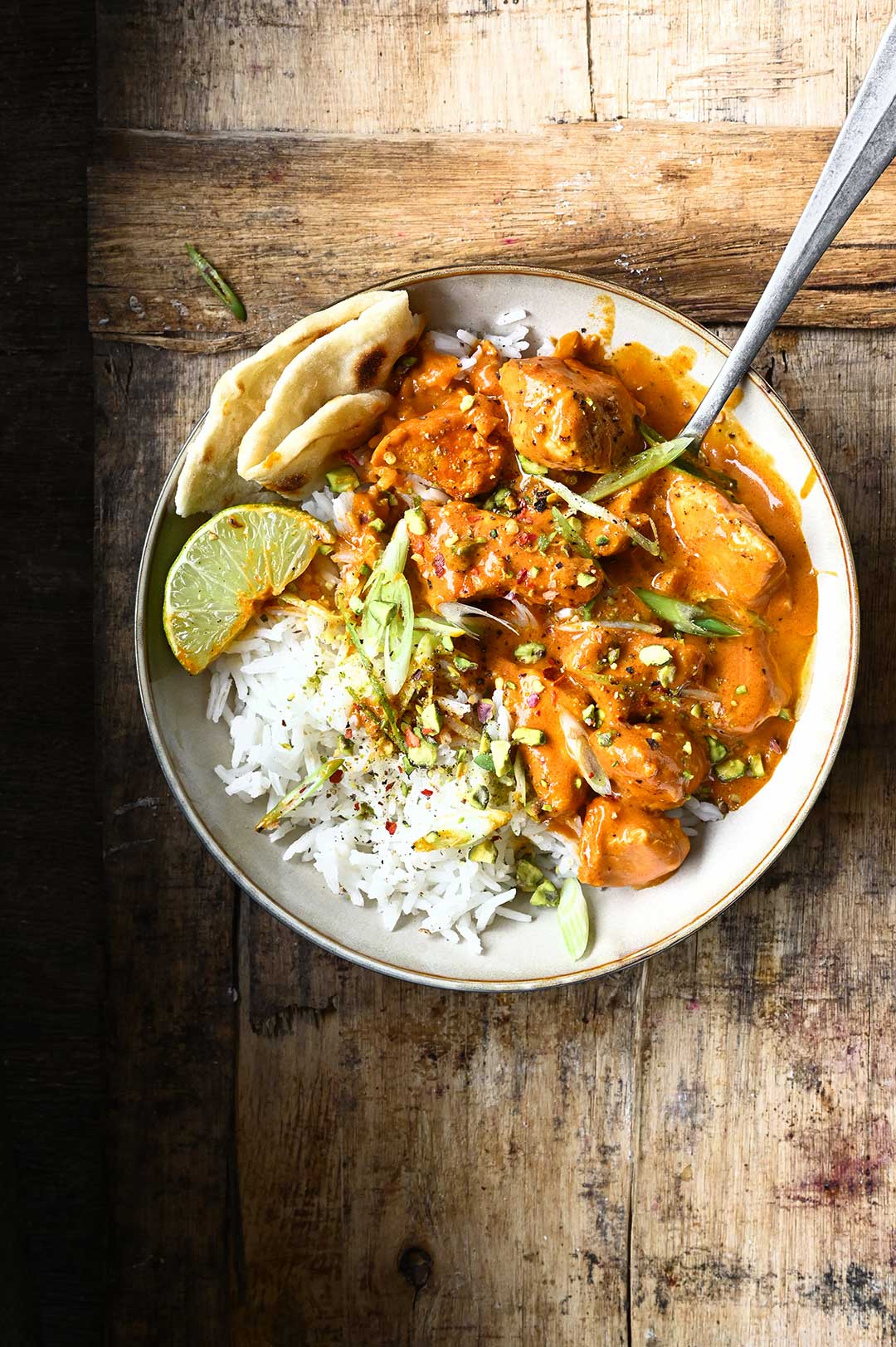 Het geheim van een lekkere curry is uiteraard de saus. Wij voegen een uitgebalanceerde combinatie van kruiden toe aan de saus en maken het extra romig met kokosmelk en boter. Als je het graag wat pittiger hebt, mag je gerust wat extra chilipeper toevoegen aan het eind. Serveer met een frisse komkommersalade besprenkeld met yoghurtdressing.
Bekijk mijn VIDEO om te zien hoe makkelijk je dit gerecht kan maken.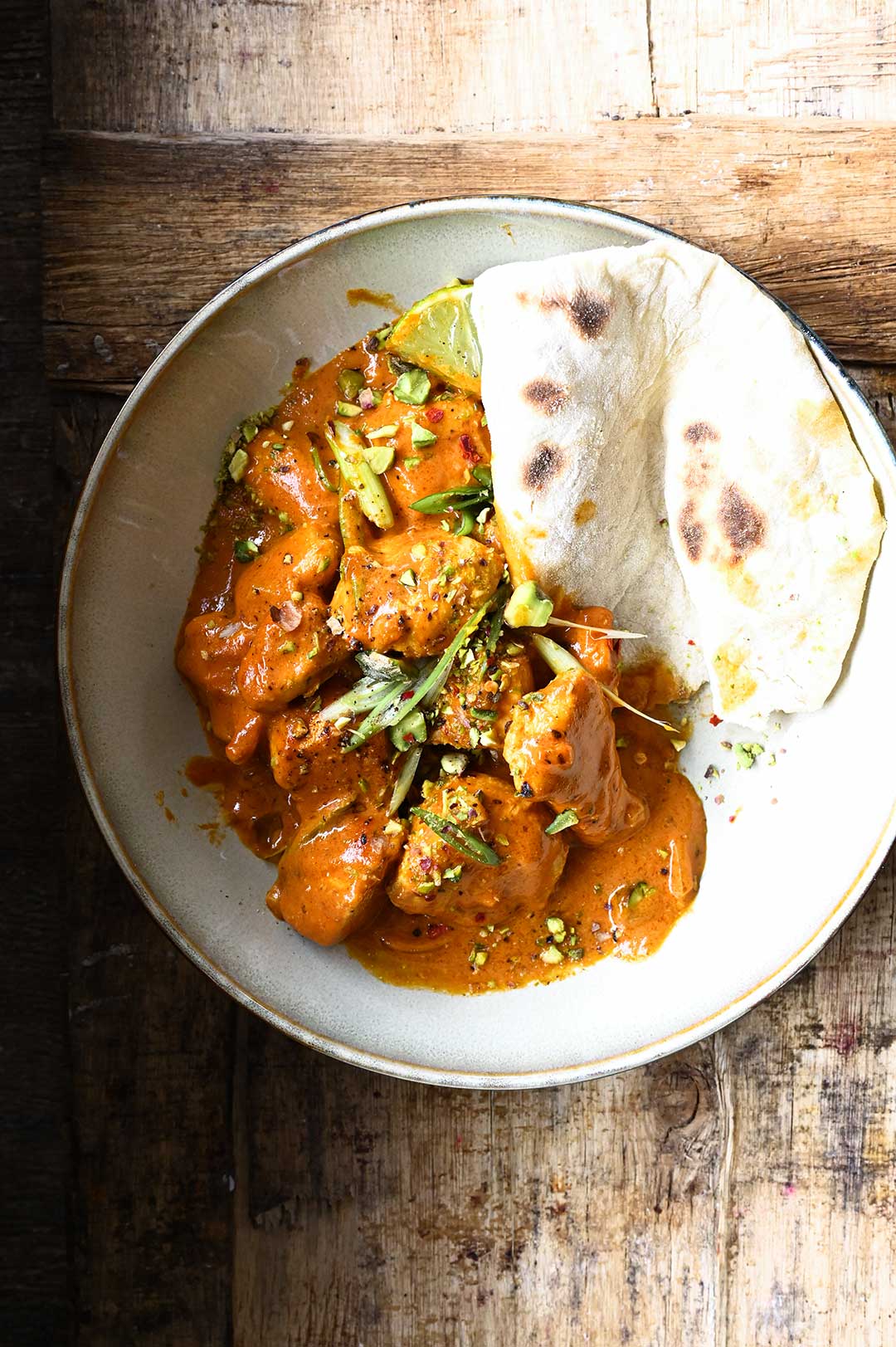 TIPS
– in plaats van kipfilets kan je ook kippendijfilets gebruiken
– als je een vegetarische versie wil maken, kan je de kip door bloemkool vervangen
– voeg wat extra groenten toe aan de saus, zoals spinazie of broccoli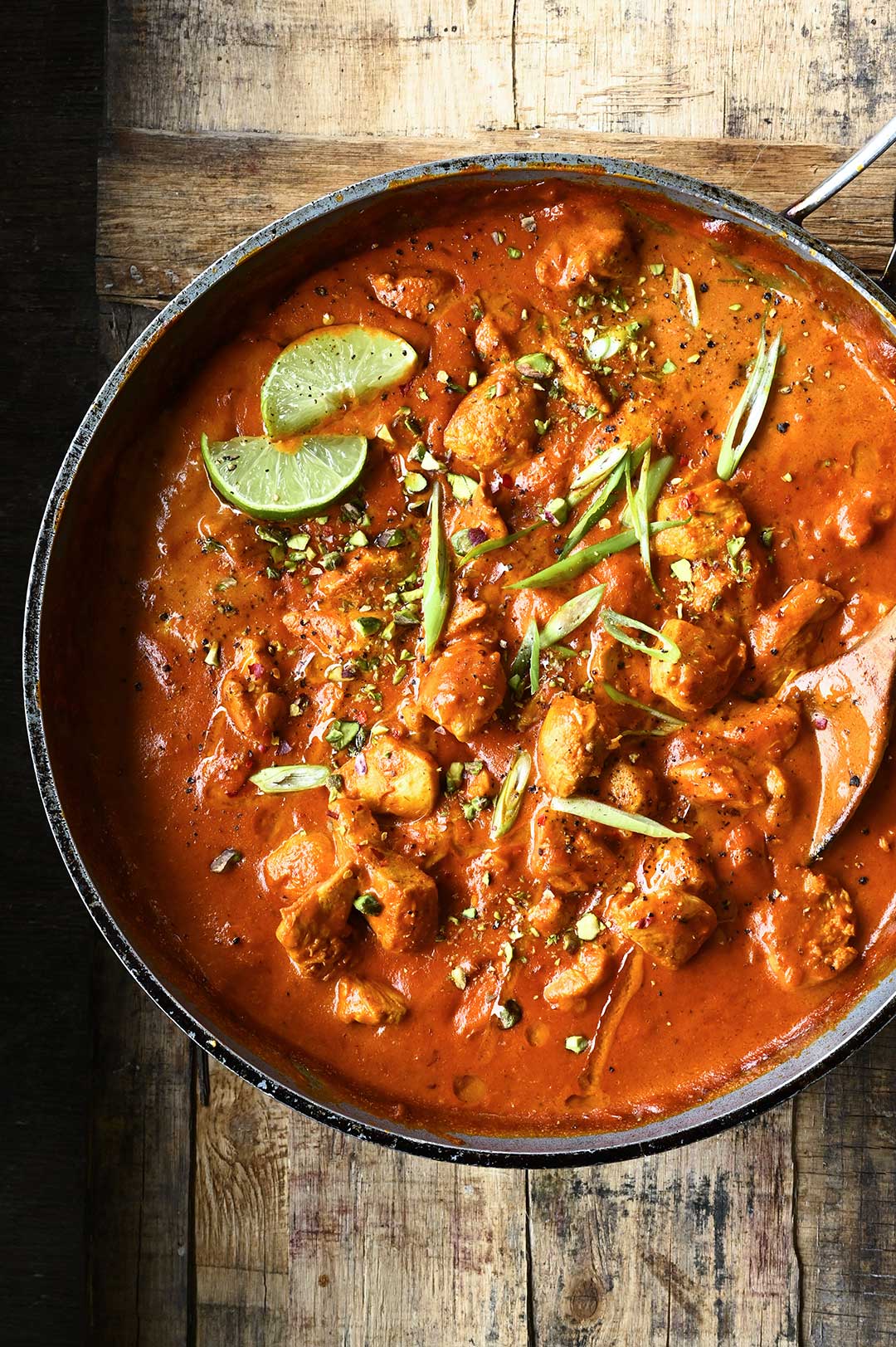 More curry, please! 
Kip in pindasaus
Curry met eieren en aubergine
Thaise kippenballetjes met kokoscurry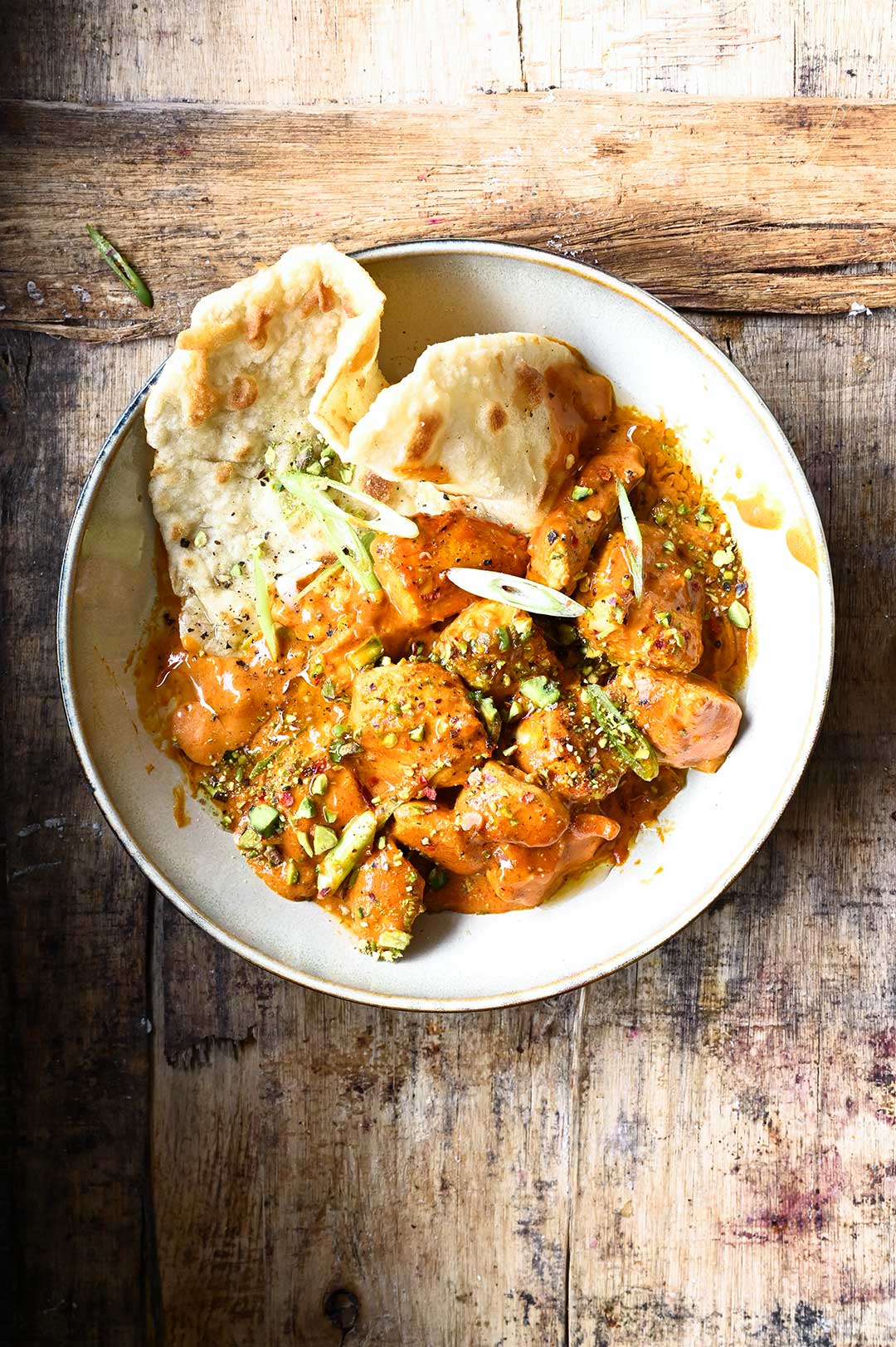 Dit heb je nodig
kip + marinade
700 g kippenborstfilet of kippendijfilet, in stukken van 3-4 cm
4 el natuurlijke volle yoghurt
1 tl elk: zout, gemalen komijn, gemalen koriander, kurkuma, kerriepoeder, cayennepeper, knoflookpoeder
1/4 tl witte peper
saus
3 el plantaardige olie
2 klontjes boter
5 teentjes knoflook, fijngehakt
1 el geraspte gember
1 kleine ui, fijngehakt
1 tl garam masala
1 el rode currypasta
500 ml ongezoete kokosmelk
140 g tomatenpuree
1 tl chilipoeder
2 el limoensap
zout + zwarte peper
voor de afwerking
gehakte pistachenoten
gehakte lente-uitjes
gedroogde chilipeper
koriander
basmatirijst
naan
Zo maak je het
Bekijk mijn VIDEO om te zien hoe makkelijk je dit gerecht kan maken.
Doe de kip samen met alle ingrediënten voor de marinade in een kom. Masseer het yoghurtmengsel in de kip en zet opzij terwijl je alles voor de saus voorbereidt. Je kan de kip ook op voorhand klaarmaken en in de koelkast laten marineren.
Verhit de olie in een grote koekenpan op middelhoog vuur. Bak de kip in twee porties, af en toe roerend, tot deze gebruind is, 5 minuten per portie. Haal uit de pan.
Zet het vuur lager en laat 1 klontje boter smelten. Voeg knoflook, ui en gember toe. Fruit gedurende 3 minuten. Voeg garam masala en chilipoeder toe. Roer tomatenpuree en rode currypasta erdoor. Laat 2 minuten sudderen. Voeg kokosmelk toe en breng aan de kook. Breng op smaak met zout en peper. Doe de kip terug in de pan, samen met 1 klontje boter en limoensap. Breng aan de kook en laat sudderen tot de kip gaar is, 10 minuten. Als de saus te dik wordt, voeg dan een scheutje water toe.
Kook intussen de rijst en bereid de naan.
Serveer de kip met rijst en naan. Bestrooi met lente-uitjes, chilipeper en pistachenoten. Eet smakelijk!