Een hartelijke galette met kaas en champignons. Wat dacht je van balsamico-look champignons, een ultra knapperig deeg en een heerlijke bodem van mozzarella en pecorino kaas?  Onwaarschijnlijk makkelijk te maken met slechts enkele ingrediënten. Doodsimpel maar overheerlijk! Deze galette zou best wel eens één van je favorieten kunnen worden. 
Het is een volbloed crowdpleaser op een feestje en samen met een simpele salade een no-fuzz maaltijd voor vier. Wanneer je kant en klaar deeg gebruikt is deze taart echt makkelijk te maken en klaar in een handomdraai. Decadent en super functioneel!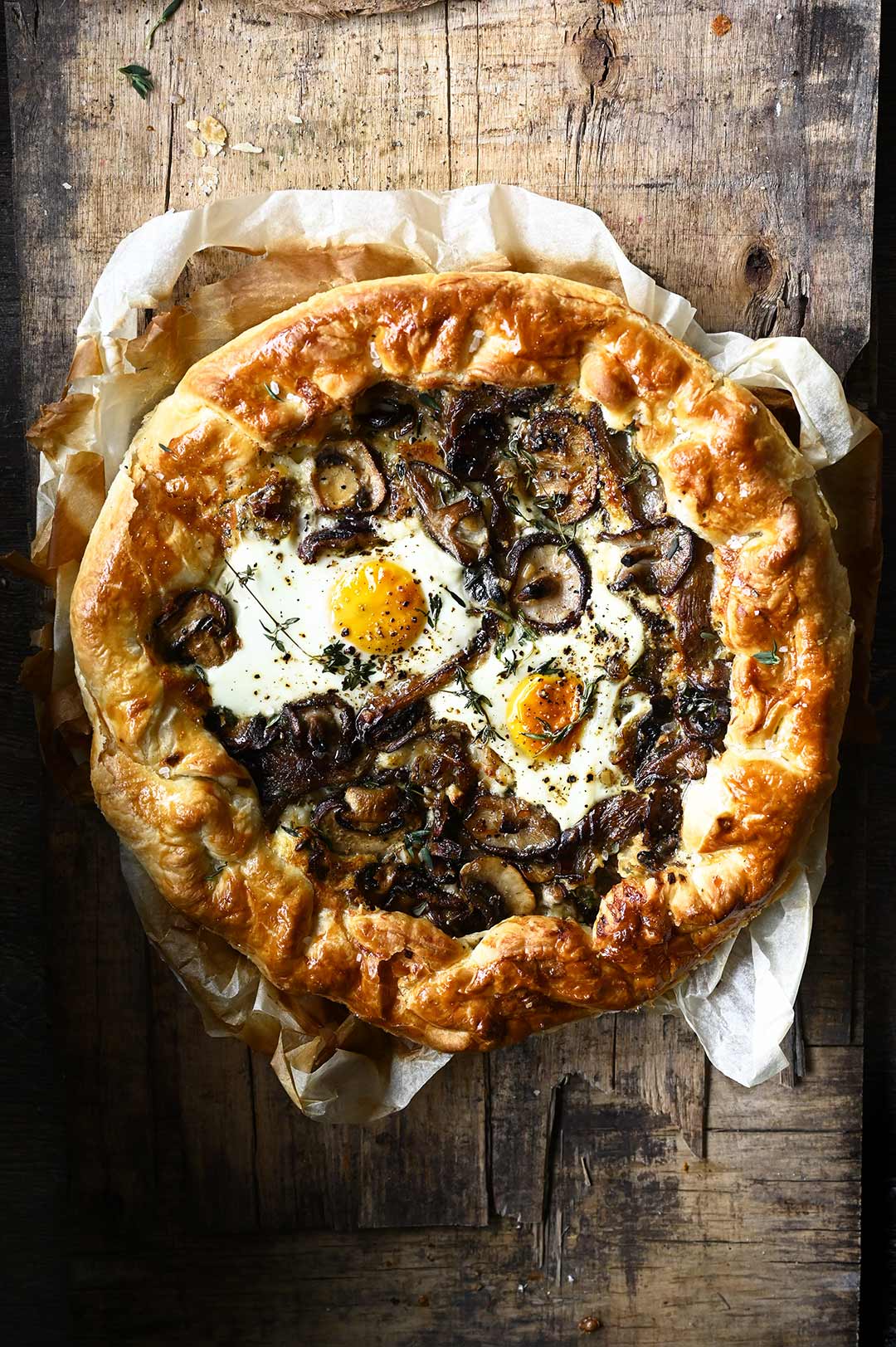 Voordat we de taart samenstellen bakken we de champignons. Op deze manier vermijden we een zompige bodem die doordrenkt is met het vocht van de paddo's, ook maken we van de gelegenheid gebruik om tijdens het bakken balsamicoazijn en look toe te voegen. Als 'finishing touch' breken we enkele eieren over onze galette. Om het beste resultaat te krijgen nestelen we ze mooi in een kuiltje tussen de champignons, hierdoor garen ze traag mee en zullen ze minder snel uitdrogen. Je kan natuurlijk zelf beslissen hoe je jouw ei gebakken wil door gewoon enkele minuten voordat je galette klaar is even de eieren erbij  te doen.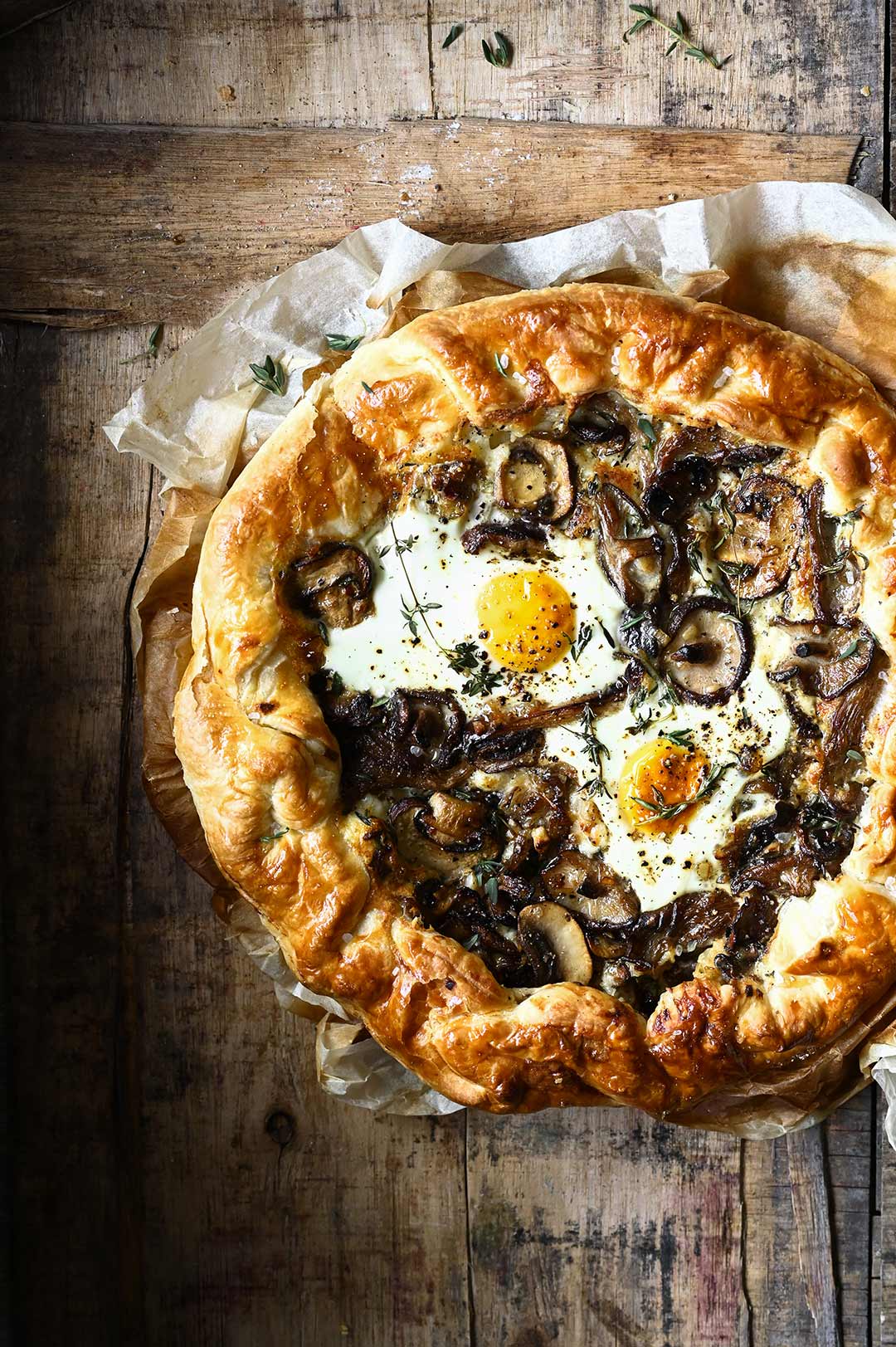 De combinaties zijn eindeloos! Je kan bijvoorbeeld broccoli en prosciutto toevoegen, ook de kruiding kan je volledig afstemmen op je eigen smaak! Hetzelfde geldt voor de paddenstoelen, neem gewoon wat er beschikbaar is in de winkel of op de lokale boerenmarkt, zelfs gewone champignons zullen een heerlijk resultaat geven. Let Op! Sommige merken gebruiken olie ipv boter voor hun kant en klaar deeg. Zorg ervoor dat je kiest voor een deeg met echte boter, hierdoor krijg je een rijkere smaak en een ultra knapperig deeg.
Ga naar mijn WEB STORY om te zien hoe makkelijk je dit gerecht kan maken!

Hungry for more?
Broodjes gebakken met ei, spinazie en feta
Toast champignon met pesto en spiegelei
Toast champignon met room, kip en een eitje
Wil je op de hoogte blijven van mijn nieuwe recepten? Abonneer je dan op mijn NIEUWSBRIEF.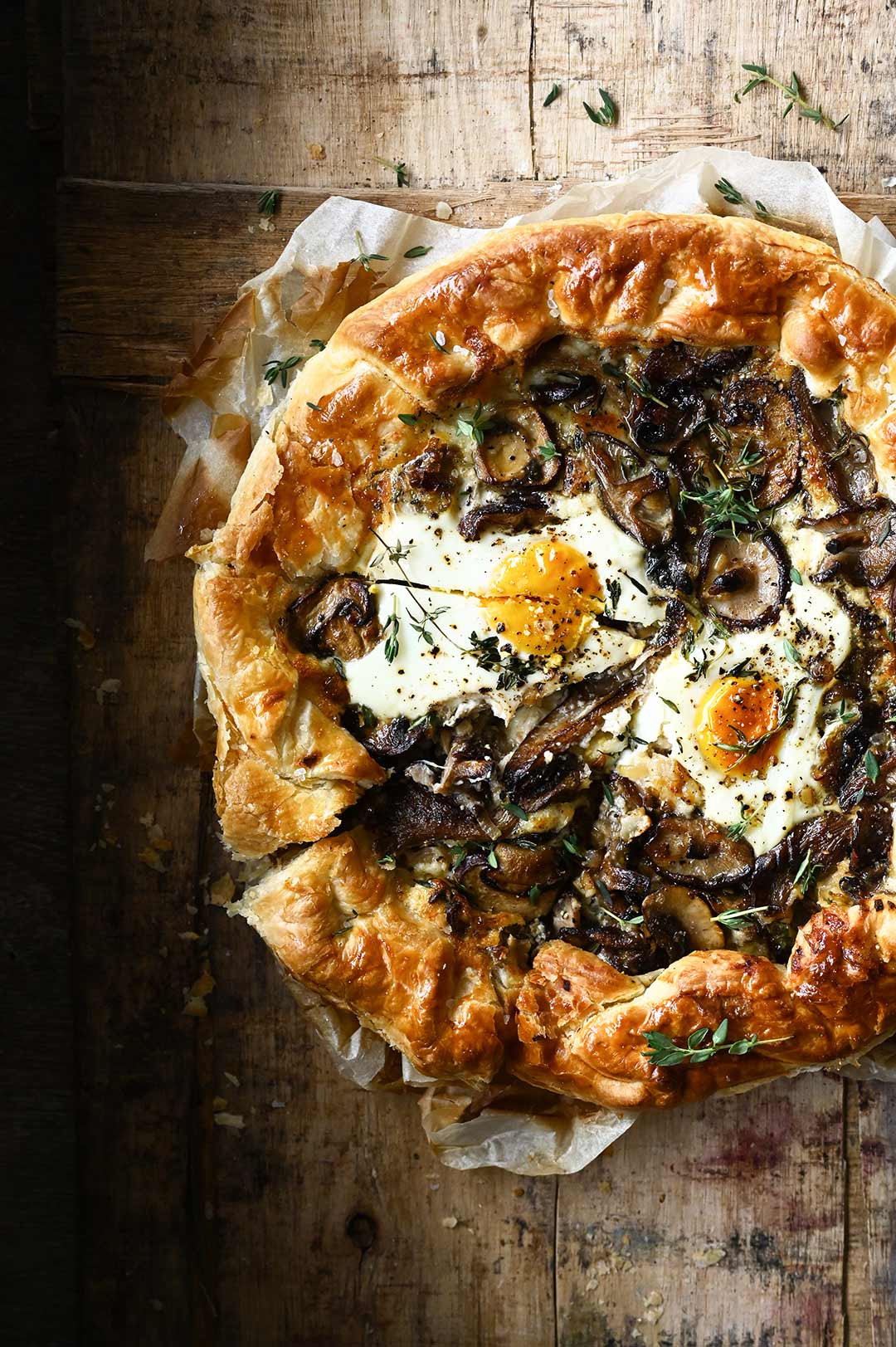 Dit heb je nodig
1 vel bladerdeeg
2 eieren
250 g mix van champignons, in grote stukken gesneden
60 g geraspte Pecorino
60 g geraspte mozzarella
160 ml room 20%
1 sjalot, fijngehakt
4 tenen knoflook, fijngehakt
3 el olijfolie
1 el bloem
2 el balsamico azijn
1/4 tl nootmuskaat
1 el gehakte verse tijm
zout + zwarte peper
1 ei opgeklopt met 1 tl melk, voor de afwerking
…IF YOU LOVE THESE RECIPES … please consider supporting my work for just the cost of a cup of coffee.

Zo maak je het
Verwarm de oven voor op 200°C. Zet een taartvorm van 25 cm klaar.
Meng in een kom pecorino met mozzarella en room. Kruid met zout, peper en nootmuskaat.
Verwarm een grote koekenpan op hoog vuur. Voeg de champignons toe. Bak gedurende 6-8 minuten. De champignons zullen vocht gaan afgeven, voeg dan olijfolie, zout en peper toe. De champignons beginnen te bruinen, voeg nu knoflook en sjalot toe, bak gedurende 2 minuten. Roer de balsamico azijn en tijm erdoor. Zet alles opzij.
Leg het bladerdeeg met bakpapier voorzichtig in de voorbereide taartvorm. Druk het deeg met je vingers in de hoeken van de vorm, snijd de randen niet af. Prik gaatjes in de bodem, verspreid gelijkmatig het kaasmengsel en leg champignons bovenop. Zorg ervoor dat er een holle ruimte is waar je de eieren in kan laten vallen. Leg deze tussen de champignons. Breng op smaak met tijm, zout en zwarte peper.
Klop het ei en de melk in een klein schaaltje.  Bestrijk hiermee het deeg met een kwastje.
Bak gedurende 30-35 minuten tot de galette goudkleurig is. Als je de eieren niet te hard wil laten bakken, voeg ze dan pas 8-10 minuten toe voordat de galette klaar is. Smakelijk!
Ga naar mijn WEB STORY om te zien hoe makkelijk je dit gerecht kan maken!
Als je dit recept uitprobeert, laat dan hieronder een reactie achter of tag mij in je foto's op Instagram met @anna_s_table of met #servingdumplings. Ik kijk ernaar uit!