Een hartelijke galette met asperges en mozzarella. Deze lekkernij is mega makkelijk te maken met slechts enkele ingrediënten. Opgefleurd met wat eieren en een heerlijke kruidenmengeling wordt ze ongetwijfeld een door je gasten regelmatig aangevraagde verwennerij. Deze galette heeft het allemaal, het is een volbloed crowdpleaser op een feestje en samen met een simpele salade een no-fuzz maaltijd voor vier, of serveer het als een smakelijke brunch. Wanneer je kant-en-klaar deeg gebruikt is deze taart klaar in een handomdraai. Decadent en super functioneel!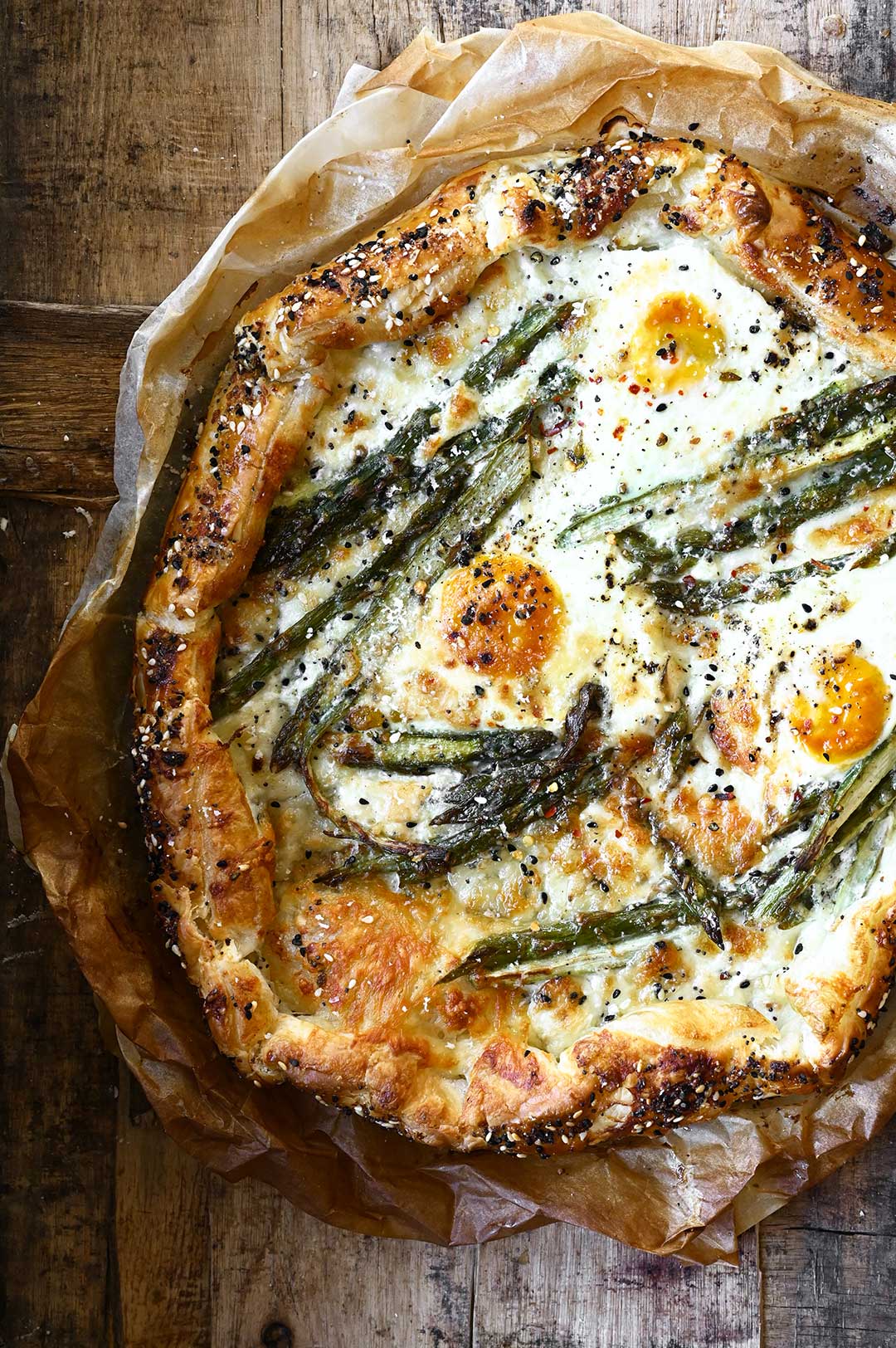 We beginnen met het bakken van de asperges. Dan rollen we het bladerdeeg uit en schikken de mozzarella en de asperges. Als 'finishing touch' breken we enkele eieren over onze galette. En als laatste, maar daarom niet minder belangrijk, een snufje Everything But the Bagel kruidenmengeling en Parmezaanse kaas voor een zoute, scherpe afwerking.
Bekijk mijn VIDEO om te zien hoe makkelijk je dit gerecht kan maken.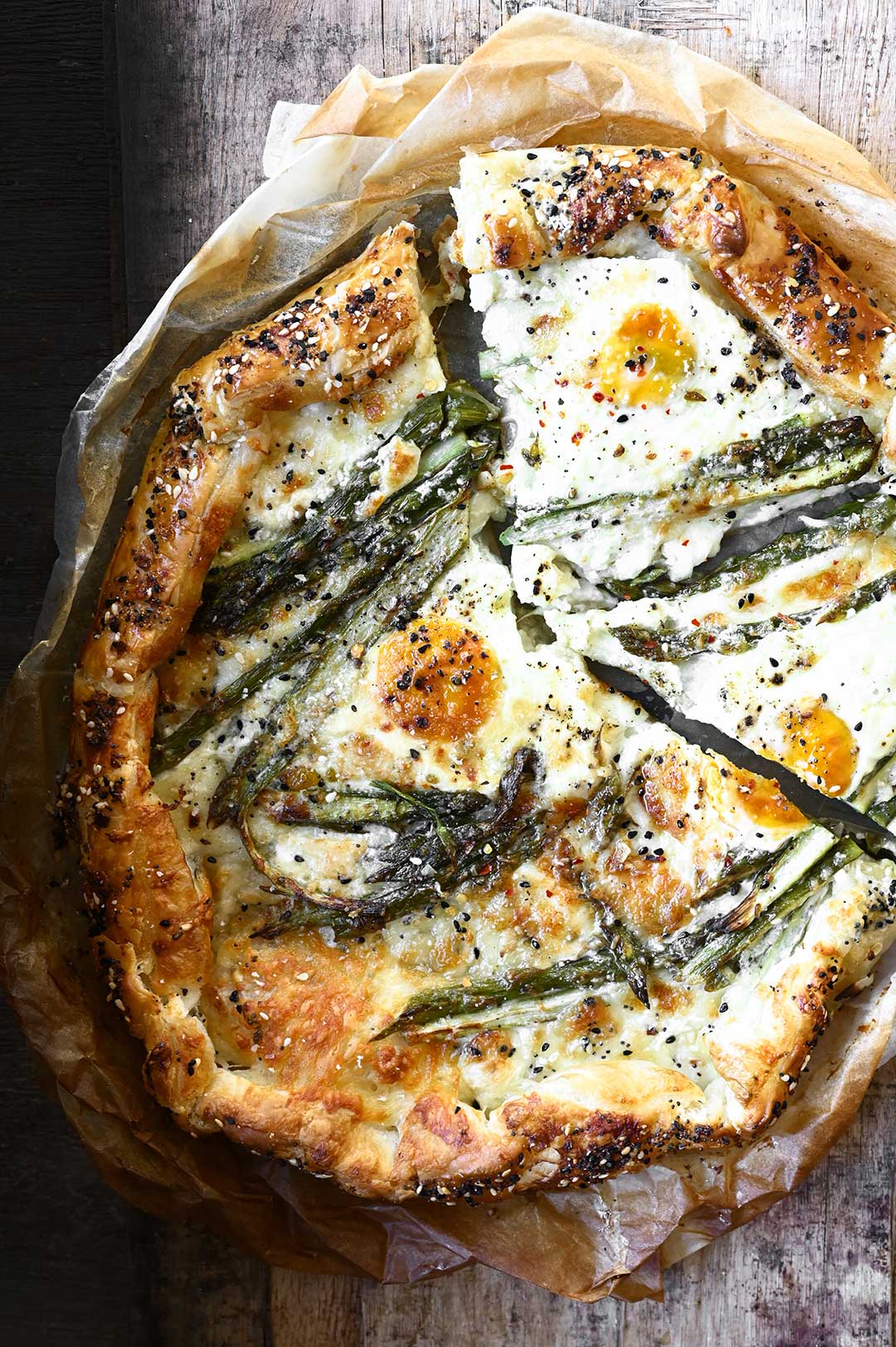 TIPS
– je kan ook zelf beslissen hoe je jouw ei gebakken wil door gewoon enkele minuten voordat de galette klaar is even de eieren erbij te doen
– als je wil, kun je wat gekookte broccoli toevoegen in plaats van asperges om zo een heel ander gerecht te maken
– als je geen "Everything But the Bagel" kruiden kan vinden, kunt je die zelf maken (combineer 1 l wit sesamzaad, zwarte sesam, maanzaad, gedroogde uienvlokken + 1 1/2 tl gedroogde gehakte knoflook + 1 tl zout), bewaar de rest in een potje met deksel
Hungry for more?
Broodjes gebakken met ei, spinazie en feta
Toast champignon met pesto en spiegelei
Hartige galette met kaas en champignons
Dit heb je nodig
1 vel bladerdeeg
200 g groene asperges
1 teentje knoflook, fijngehakt
2 el boter
350 g mozzarella di bufala, in plakjes gesneden of in dunne reepjes gescheurd (of geraspte mozzarella)
2 el geraspte Parmezaanse kaas
3 eieren
1/2 tl rode pepervlokken
1 el Everything But the Bagel kruidenmengeling, zie recept tips
zout + zwarte peper
1 ei opgeklopt met 1 tl melk, voor de afwerking
Zo maak je het
Bekijk mijn VIDEO om te zien hoe makkelijk je dit gerecht kan maken.
Leg de in plakjes gesneden mozzarella-bolletjes op keukenpapier om het te laten uitlekken.
Verwarm de oven voor op 200°C.
Breek het onderste gedeelte van de asperges af. Snijd de asperges in de lengte doormidden en snijd ze vervolgens in twee stukken.
Verhit de boter in een koekenpan op een matig vuur. Voeg de asperges toe, bak ze ongeveer 6 minuten, roer af en toe. Voeg knoflook, zout en peper toe. Laat nog 2 minuten meebakken. Haal van het vuur.
Leg het bladerdeeg op een bakplaat bekleed met bakpapier. Prik de bodem in met een vork, verdeel de kaas in het midden van het deeg en laat een rand van 4 cm over. Voeg de asperges toe. Vouw de randen van het deeg naar binnen over de vulling. Maak drie kleine kuiltjes en laat de eieren erin vallen. Bestrijk het deeg met het losgeklopte ei en bestrooi het met Everything But the Bagel kruidenmengsel. Breng op smaak met zout en zwarte peper. Bestrooi met parmezaanse kaas en rode pepervlokken.
Bak gedurende 30-35 minuten tot de galette goudkleurig is. Als je de eieren niet te hard wil laten bakken, voeg ze dan pas later toe, ongeveer 8-10 minuten voordat de galette klaar is. Smakelijk!