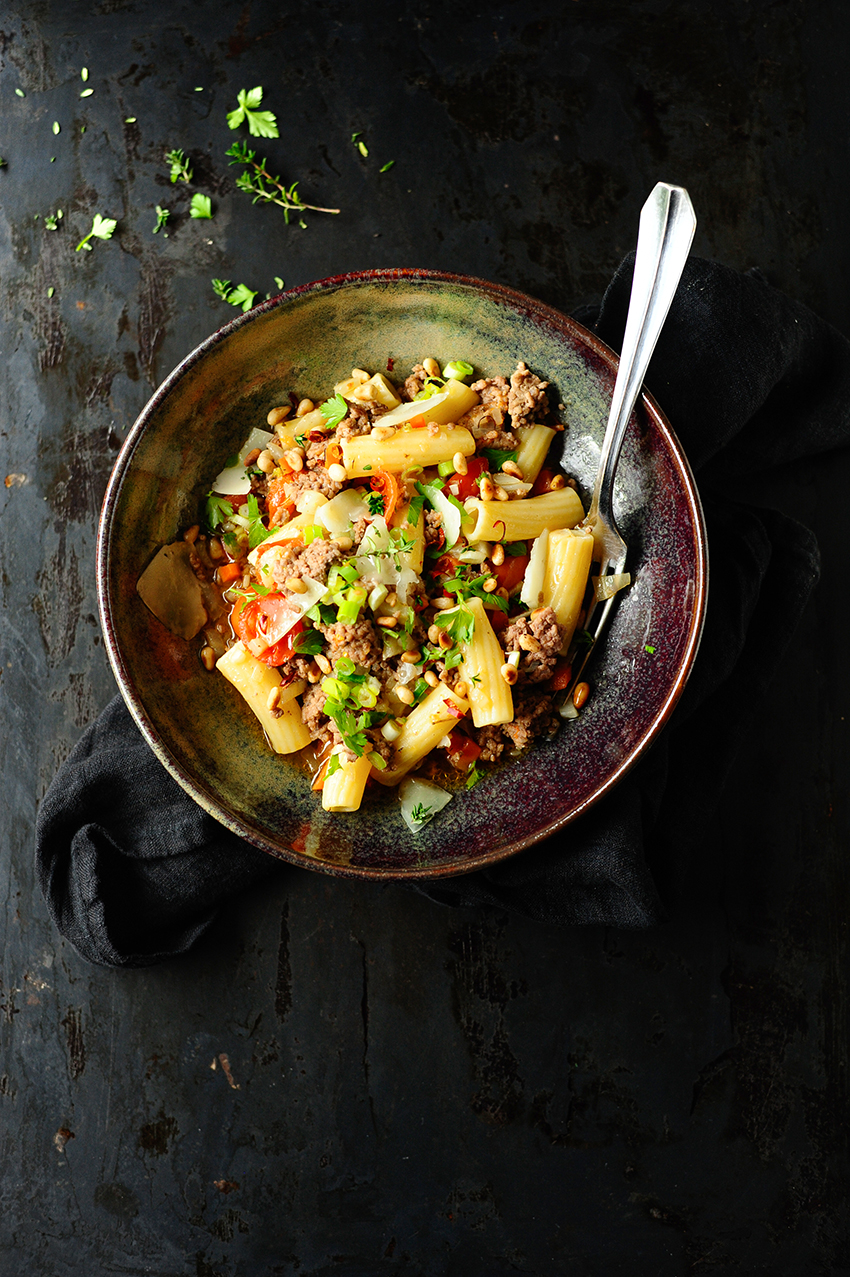 Niets beter dan een grote kom dampende pasta!
Deze pasta met lamsgehakt is makkelijk, snel en hartelijk. Als je er flink wat groentjes en een botersausje bijdoet, dan krijg je een gerecht waar iedereen aan tafel gelukkig van wordt.
Deze pasta met lamsgehakt zit vol kruidige aroma's, is licht en superlekker. Het is een van mijn favoriete gerechtjes met lams! Een echte aanrader, gewoon maken!
Wil je op de hoogte blijven van mijn nieuwe recepten? Abonneer je dan op mijn NIEUWSBRIEF.
Dit heb je nodig
400 g rigatoni of penne
200 g lamsgehakt
200 g rundergehakt
1 venkel, in blokjes gesneden
1 wortel, in blokjes gesneden
150 g kerstomaatjes, gehalveerd
2 versnipperde sjalotten
2 teentjes knoflook, fijngehakt
2 el olijfolie
1 tl tijm
1 tl gemalen komijn
1 tl gerookte paprikapoeder
200 ml runderfond
zout + zwarte peper
1 flinke klont boter
4 el geroosterde pijnboompitten
4 el geraspte pecorino
1 tl gedroogde chiliringen
gehakte peterselie + lente-ui voor de afwerking
Zo maak je het
Breng een grote pot gezouten water aan de kook. Voeg de pasta toe en kook al dente.
Verhit de olie in een grote pan, voeg knoflook en sjalotjes toe, fruit gedurende 5 minuten. Voeg gehakt toe en bak op een hoog vuurtje gedurende 5 minuten, roer af en toe. Voeg venkel en wortel toe, zet het vuur lager en laat 5 minuten bakken. Blus met runderbouillon, voeg tijm, paprikapoeder en komijn toe en breng op smaak met zout en peper. Breng aan de kook en roer de tomaten erdoorheen, laat nog 5 minuten langer sudderen.
Meng de saus met pasta. Bestrooi met chiliringen, peterselie, pijnboompitten en lente-uitjes. Smakelijk!
Als je dit recept uitprobeert, laat dan hieronder een reactie achter of deel je foto's op Instagram en vergeet niet om mij te taggen @anna_s_table. Ik kijk ernaar uit!