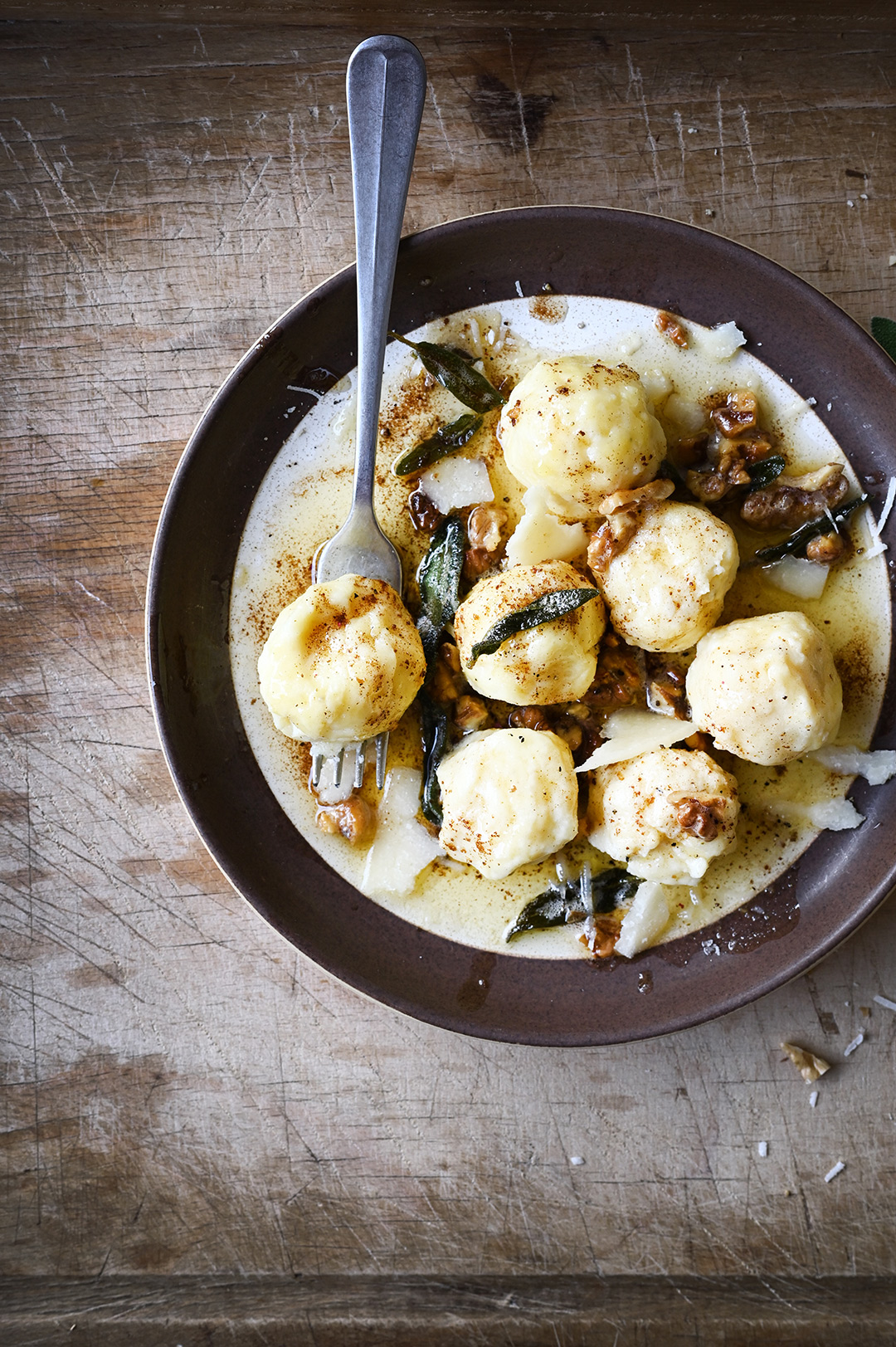 Gnudi, ricotta balletjes met beurre noisette, walnoten en gebakken salieblaadjes. Deze vederlichte wolkjes van ricotta moet je geprobeerd hebben.
Je kan wel raden dat ik, als een echte ravioli-liefhebber, geïntrigeerd was om dit eens uit te proberen. En nu, veel gnudi later, ben ik officieel een grote fan.
Maar wat zijn gnudi precies? De Florentijnse term gnudi, of naakt, verwijst naar hun gelijkenis met ravioli maar dan zonder de pasta. Aka naakte ravioli omdat ze geen schelp van deeg hebben. Gewoon een vrij compact mengsel van ricotta, Parmezaanse kaas en eierdooiers, je kan het een beetje vergelijken met aardappelpuree. Deze zachte, fragiele kleine dingejes worden bedekt met semola, waardoor er een dunne schil ontstaat die net stevig genoeg is om ze bij elkaar te houden tijdens het koken. Het is een delicaat proces, maar je krijgt de heerlijkste lichte kaasballetjes.
Gelukkig zijn ze aanzienlijk sneller te bereiden dan ravioli of gnocchi, dus no worries deze gaan je zeker lukken!
Dit heb je nodig
gnudi
250 g ricotta
2 eierdooiers
70 g geraspte parmezaan
4 el semola
zeste van 1/4 citroen
1/4 tl geraspte nootmuskaat
zeezout + zwarte peper
beurre noisette
100 g roomboter
snufje zout
1 teentje knoflook, fijngehakt
50 g walnoten, gehakt
16 salieblaadjes
alsook
geraspte parmezaan voor afwerking
200 g semola

Zo maak je het
Bedek een fijne zeef met een kaasdoek en zet deze op een kom. Leg de ricotta in de kaasdoek en laat minstens 30 minuten uitlekken.
Doe de ricotta in een kom, meng met de geraspte parmezaan, eidooiers, semola, citroenzeste en nootmuskaat. Breng op smaak met een snufje zout en peper.
Schep porties van de ricotta ter grootte van een walnoot en rol ze vervolgens tot bolletjes. Het deeg kan plakkerig zijn, om het rollen wat te vergemakkelijken kan je je handen bevochtigen.
Doe de semola in een ondiepe ovenschaal. Rol elk balletje door de semola, zet opzij.
Doe de boter en zeezout in een kleine koekenpan.  Laat op middelmatig vuur de boter smelten, roer regelmatig tot het begint te schuimen. Voeg walnoten en knoflook toe, bak gedurende ongeveer 3-4 minuten of tot de noten en knoflook goudbruin zijn. Langzaam zal de kleur van de boter veranderen van lichtgeel naar goudbruin. Voeg de salieblaadjes toe en bak ze nog een 30tal seconden, op laag vuur, tot de salie donkergroen en knapperig is. Haal de pan van het vuur.
Kook de gnudi in een grote pot met gezouten water. Roer af en toe tot ze gaar en zacht zijn, 5-6 minuten.
Serveer de gnudi onmiddellijk met boter, walnoten en salieblaadjes. Werk af met vers geraspte parmezaanse kaas en wat zwarte peper. Smakelijk.