Pannenkoeken, crêpes, dutch baby of havermout pannenkoeken? Ik ben er dol op! 
Er is niets fijner dan je dag te beginnen met pannenkoeken. Elke zaterdag of zondag is het 'pannenkoekendag' bij ons, dan bak ik 's morgens pannenkoeken voor ons en onze zoon.
Deze American-style havermout pannenkoeken zijn eens wat anders dan havermoutpap. Ik combineer ze graag met yoghurt, knapperige geroosterde noten en frambozen. Makkelijk, snel en onweerstaanbaar lekker.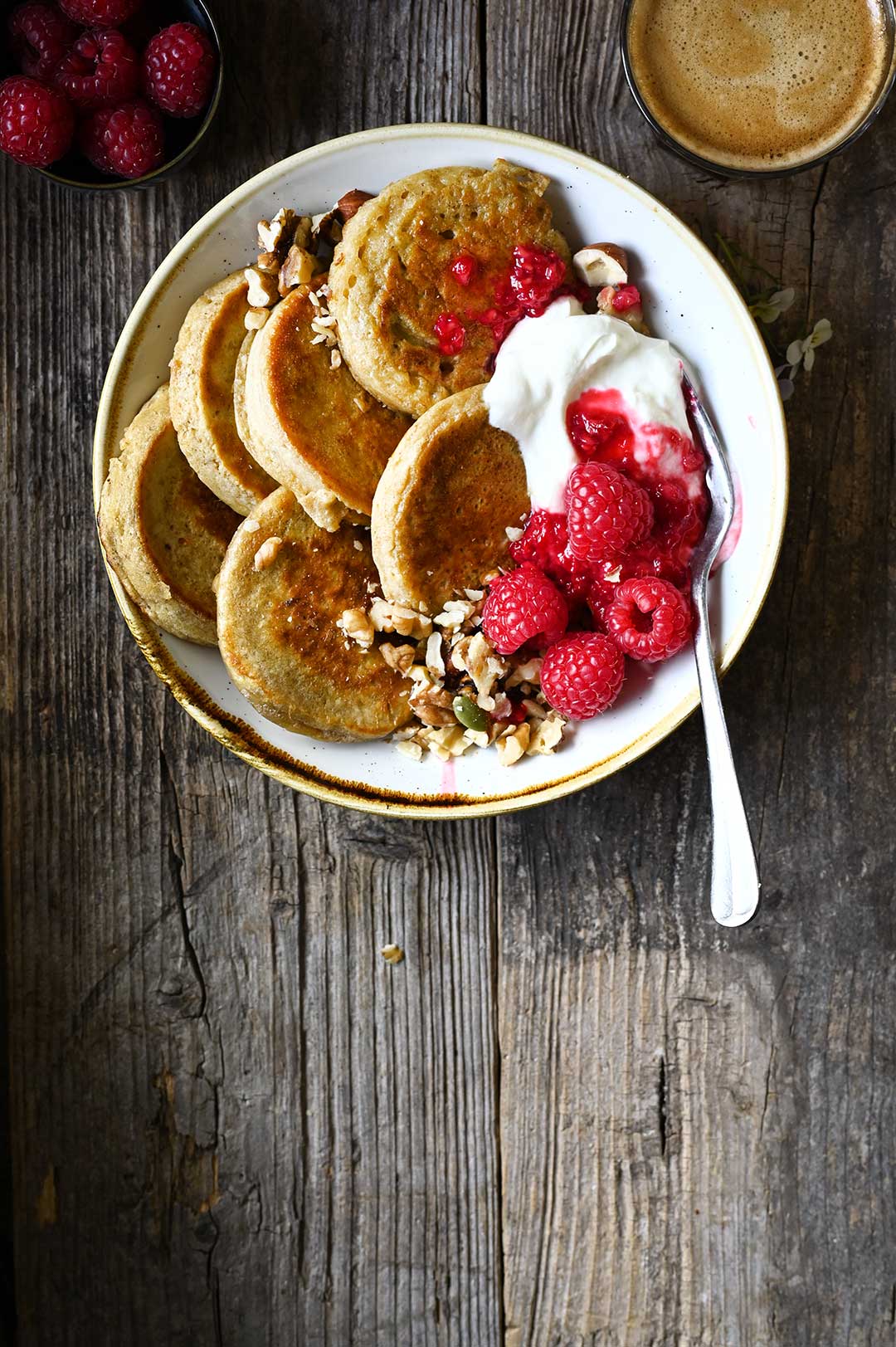 Wil je op de hoogte blijven van mijn nieuwe recepten? Abonneer je dan op mijn NIEUWSBRIEF.
Dit heb je nodig
havermout pannenkoeken
130 g instant havermout
350 ml melk
2 eieren
2 tl bakpoeder
50 g bloem
1 el suiker
1/4 tl zout
boter of plantaardige olie voor het bakken van de pannenkoeken
+
Griekse yoghurt of kokos yoghurt of ricotta
fruit, honing en geroosterde noten voor de afwerking
Zo maak je het
Giet de melk over de havermout. Laat 15 minuten staan.
Voeg de eieren toe en klop ze op, voeg dan bakpoeder, bloem, suiker en zout toe en roer alles door elkaar. Mix dan het beslag met een staafmixer.
Verhit een grote koekenpan, smelt een kleine hoeveelheid boter of olie en schep 2 el beslag voor elke pannenkoek in de pan. Bak op halfhoog vuur tot er luchtbellen ontstaan op de pannenkoeken. Draai om en bak verder goudbruin. Herhaal dit met het resterende beslag.
Serveer met yoghurt, geroosterde noten en fruit. Smakelijk!
Als je dit recept uitprobeert, laat dan hieronder een reactie achter of deel je foto's op Instagram en vergeet niet om mij te taggen @anna_s_table. Ik kijk ernaar uit!