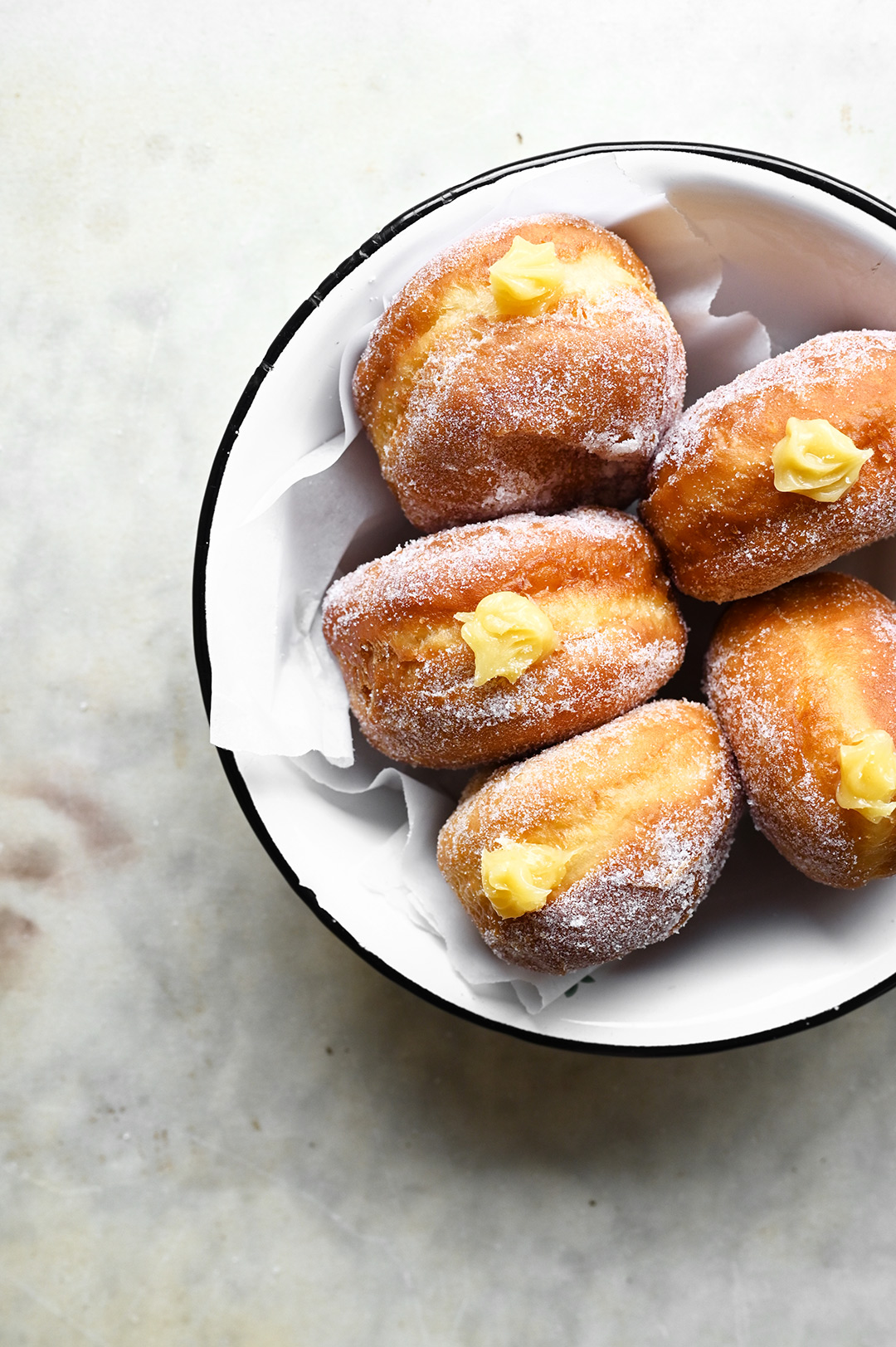 Donuts… voor mij, moeten ze perfect zijn. Natuurlijk, moeten ze in suiker of glazuur gedompeld worden, maar het deeg is best niet te zoet, een licht gistdeeg, dat iets weg heeft van een verse zachte brioche. Met een luchtige binnenkant is essentieel om ruimte te maken voor een overheerlijke vulling.
Dus hier, een recept voor donuts, zoals ik ze het liefst heb. Ze stuiteren als een kussen tussen je vingers, en elke hap laat je verlangen naar meer.
Misschien nog enkele tips: probeer je deeg niet te 'overkneden' en kneed met de hand. Neem de tijd om het deeg te laten rijzen. Gebruik verse gist, in plaats van droge. Bak ze in olie, donuts uit de oven zijn hip, maar niets overtreft 'the real deal'. Bestrooi met suiker of dep ze in glazuur, als vulling kan je zoals mij lemon curd gebruiken, maar gezouten karamel is ook een smaakbom. Dat je best niet wacht tot de volgende dag om ze op te eten, moet ik je waarschijnlijk niet vertellen… Go for it!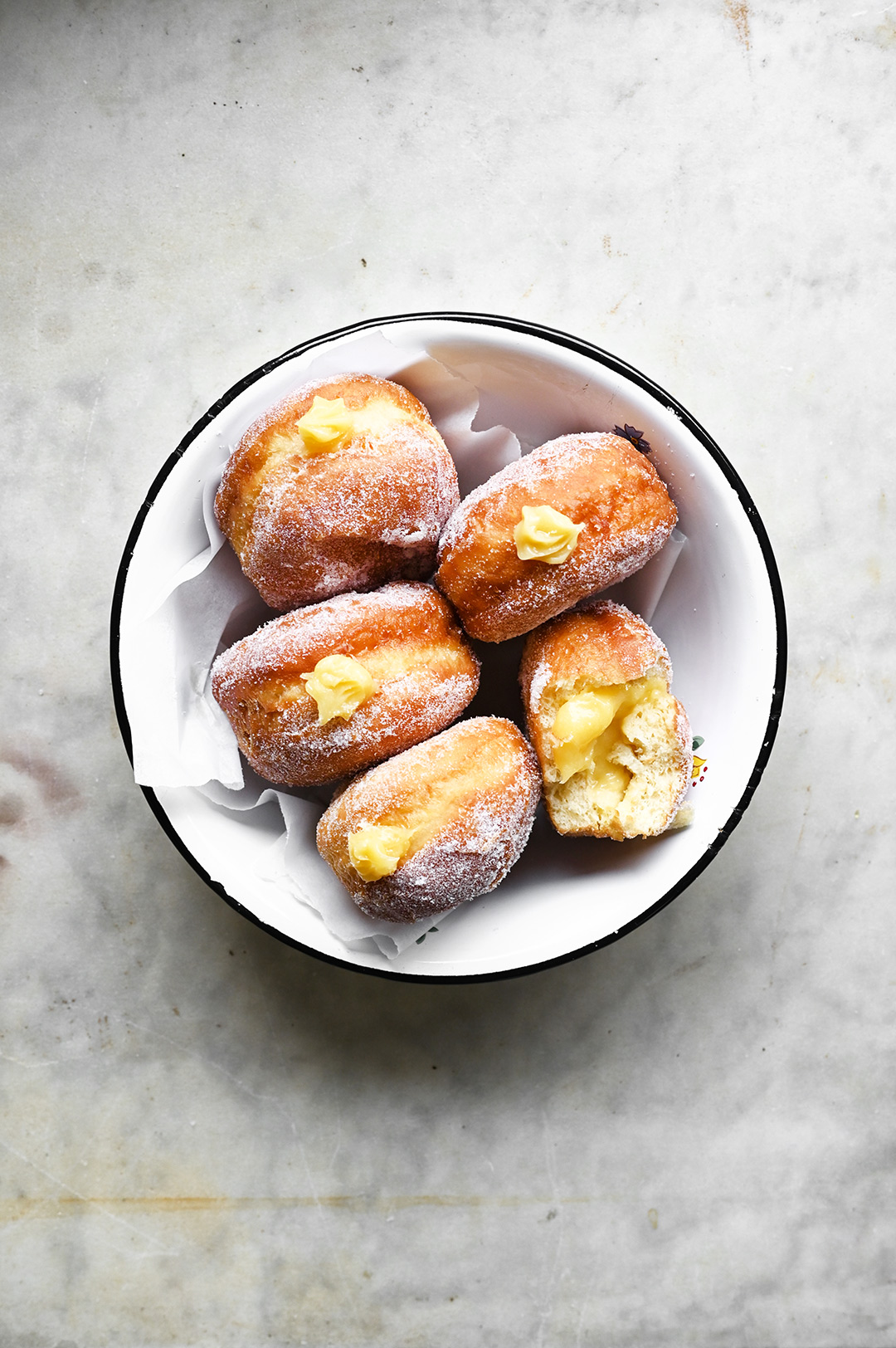 Dit heb je nodig
BELANGRIJK: laat alle ingrediënten op kamertemperatuur komen
donuts
25 g verse gist
120 ml warme volle melk (35C)
1 el honing
2 dooiers
1 ei
4 el suiker
300 g bloem + 2 el extra
snufje zout
35 g zachte boter
lemon curd
2 dooiers
90 g suiker
sap van 1 citroen
zeste van 1/4 citroen
70 g boter
alsook
plantaardige olie, om te bakken
suiker, voor topping (of poedersuiker of glazuur)
Zo maak je het
Als je kiest om de donuts met lemon curd te vullen, maak deze dan eerst. Je kan ze ook vullen met gelei, nutella, gezouten karamel…
Roer de dooiers en de suiker in een glazen kom. Voeg het citroensap en de zeste toe. Plaats de kom op een steelpan met kokend water (au bain marie), maar zorg ervoor dat de bodem van de kom het water niet raakt. Roer om de 5 minuten tot het mengsel ingedikt is, het moet aanvoelen als dikke slagroom. Als het water in je pan begint te koken, draai je het vuur wat zachter. Het water moet zachtjes pruttelen om de curd langzaam te laten indikken, dit duurt ongeveer 30 minuten. Haal de kom van de pan en begin met het toevoegen van de boter, klontje per klontje, roer na elke toevoeging. Dek af met folie en laat opstijven in de koelkast gedurende 2 uur of een nacht.
Meng in een grote kom de gist met de warme melk, 2 el bloem en honing. Laat 30 minuten staan op kamertemperatuur.
Klop ondertussen het ei met de dooiers en suiker tot een luchtige massa. Zeef de bloem, voeg zout en het gistmengsel toe en begin te kneden, gedurende ongeveer 8 minuten. Voeg beetje bij beetje de zachte boter toe en kneed nog 10 minuten verder. Het deeg zal vrij kleverig zijn. Doe het deeg in een geoliede kom en dek het af. Laat rijzen op kamertemperatuur tot het volume verdubbelt is, dit duurt ongeveer 1 uur en 30 minuten.
Haal het deeg uit de kom en vouw het een keer om op een bebloemd oppervlak. Rol het deeg uit tot ongeveer 2 cm dikte. Gebruik een serveerring of een klein glas om donuts uit te snijden. Dek de cirkels af en laat ze 1 uur rijzen op kamertemperatuur.
Verwarm de olie tot ongeveer 170°C. Je kan dit testen met een stukje deeg, als het snel naar het oppervlak stijgt is de olie klaar. Als de donuts te snel beginnen te bruinen, is de olie te heet. Het kan zijn dat je het vuur moet verhogen of verlagen.
Bak de donuts, draai ze halverwege het frituren om, tot ze aan elke kant goudbruin zijn. Laat ze uitlekken op keukenpapier.
Bestrooi ze onmiddellijk aan beide zijden met suiker of dompel ze in glazuur.
Lepel de lemon curd in een spuitzak met een dun spuitmondje. Steek de punt in de donut en knijp voorzichtig de vulling eruit. Knijp langzaam, zodat de vulling de kans krijgt om in de luchtpockets van de donut te komen en deze royaal te vullen. Serveer onmiddellijk.
Donuts kunnen het best meteen worden gegeten. De donuts die je echt niet meer opkan, bewaar je best goed afgedekt op kamertemperatuur, gedurende 1 dag.