Wil je indruk maken op je gasten of ben je op zoek naar een snel en gezond gerecht dat maar 20 minuten in beslag neemt om te maken? Dan is dit jouw droomgerecht.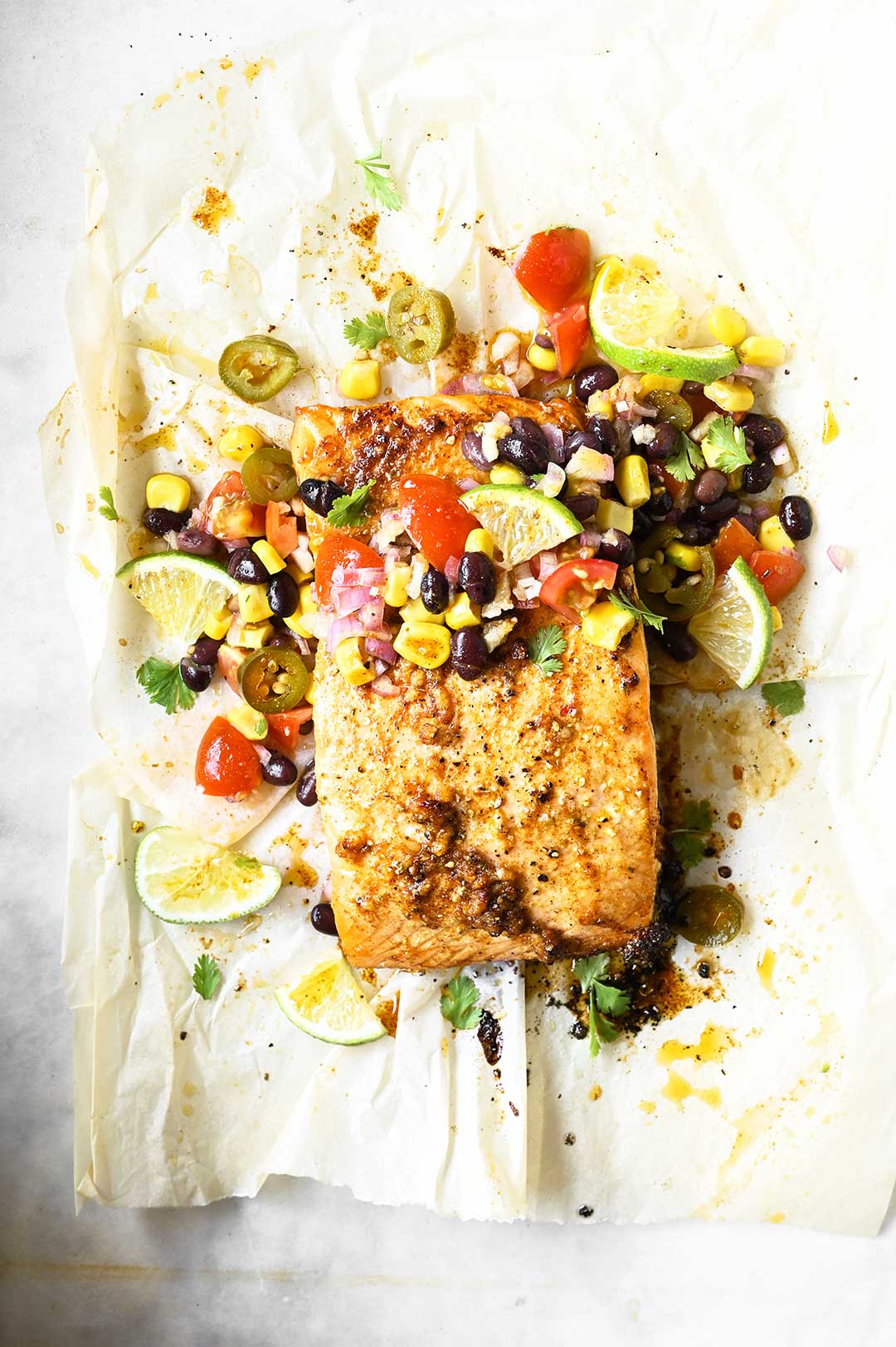 Het enige wat je moet doen is de zalm inwrijven met enchilada kruiden om er authentieke Mexicaanse smaken aan toe te voegen. Dan 15 minuutjes in de oven laten garen, ondertussen maak je de zwarte bonen salsa en alles is klaar. Door de kruiding en de pittige smaken van de salsa breng je dit gerecht naar een ander niveau. Gemaakt met jalapeño, veel limoensap, verse koriander, zwarte bonen, maïs en sappige stukjes tomaat en ui.  
Lekker en makkelijk, vol met kleine verrassende accenten die deze zalmschotel net een beetje specialer maken.
Wat kan je bij dit gerecht serveren? Krielaardappelen gemengd met boter en oregano, of tortilla. Of voeg wat groene sla toe en geniet van het geheel met wat geroosterd brood erbij. Zo simpel!
Doe wat inspiratie op met deze zalmgerechten:
Pasta met gerookte zalm en chorizo
Zalmburgers met mozzarella en asperges
Zalm met za'atar en bloedsinaasappelen
Wil je op de hoogte blijven van mijn nieuwe recepten? Abonneer je dan op mijn NIEUWSBRIEF.
Dit heb je nodig
zalm
1 zalmfilet, 400 g
3 el olijfolie
1 tl van elk: chilipoeder en komijn
1 knoflookteen, gehakt
1/2 tl van elk: oregano, uienpoeder, gerookte paprika, koriander
2 el limoensap
zeezout + zwarte peper
zwarte bonen salsa
150 kerstomaten, in vieren
1 kleine rode ui, gesnipperd
2 el gehakte jalapeños
2 el verse koriander, gehakt
2 el limoensap
2 el olijfolie
1 knoflookteen, gehakt
3 el maïs uit blik
3 el zwarte bonen
zout + zwarte peper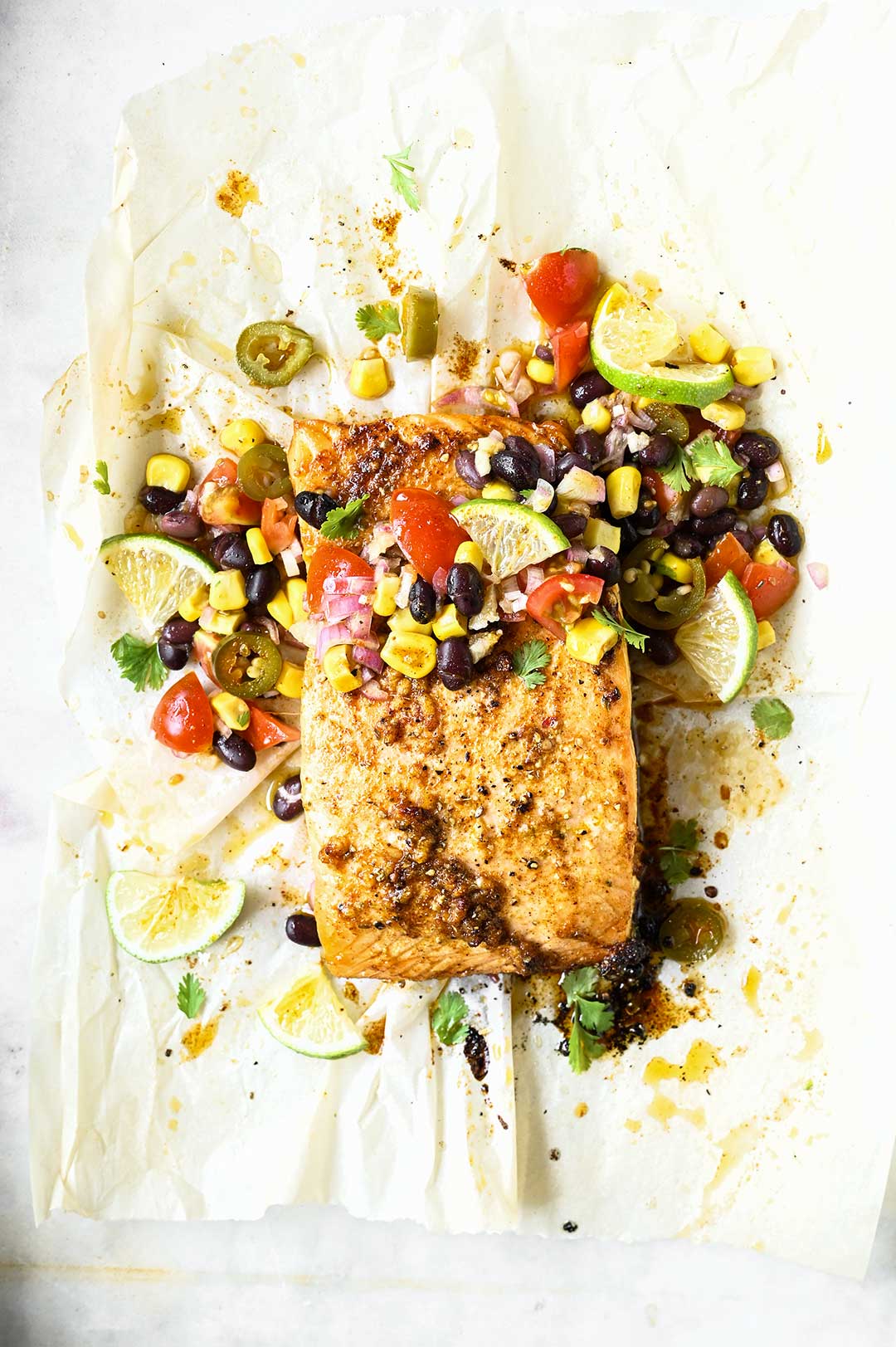 Zo maak je het
Verwarm de oven voor op 200°C.
Meng de kruiden voor de zalm in een kleine kom. Leg de zalm op een bakplaat en wrijf hem in met het kruidenmengsel. Breng op smaak met zout en peper. Bak gedurende 12-15 minuten.
Meng ondertussen de ingrediënten voor de salsa in een kom.
Als de zalm gaar is, haal hem uit de oven en versier met de zwarte bonen salsa. Breng op smaak met wat extra zout en peper, besprenkel met limoensap. Smakelijk.
Als je dit recept uitprobeert, laat dan hieronder een reactie achter of deel je foto's op Instagram en vergeet niet om mij te taggen @anna_s_table. Ik kijk ernaar uit!