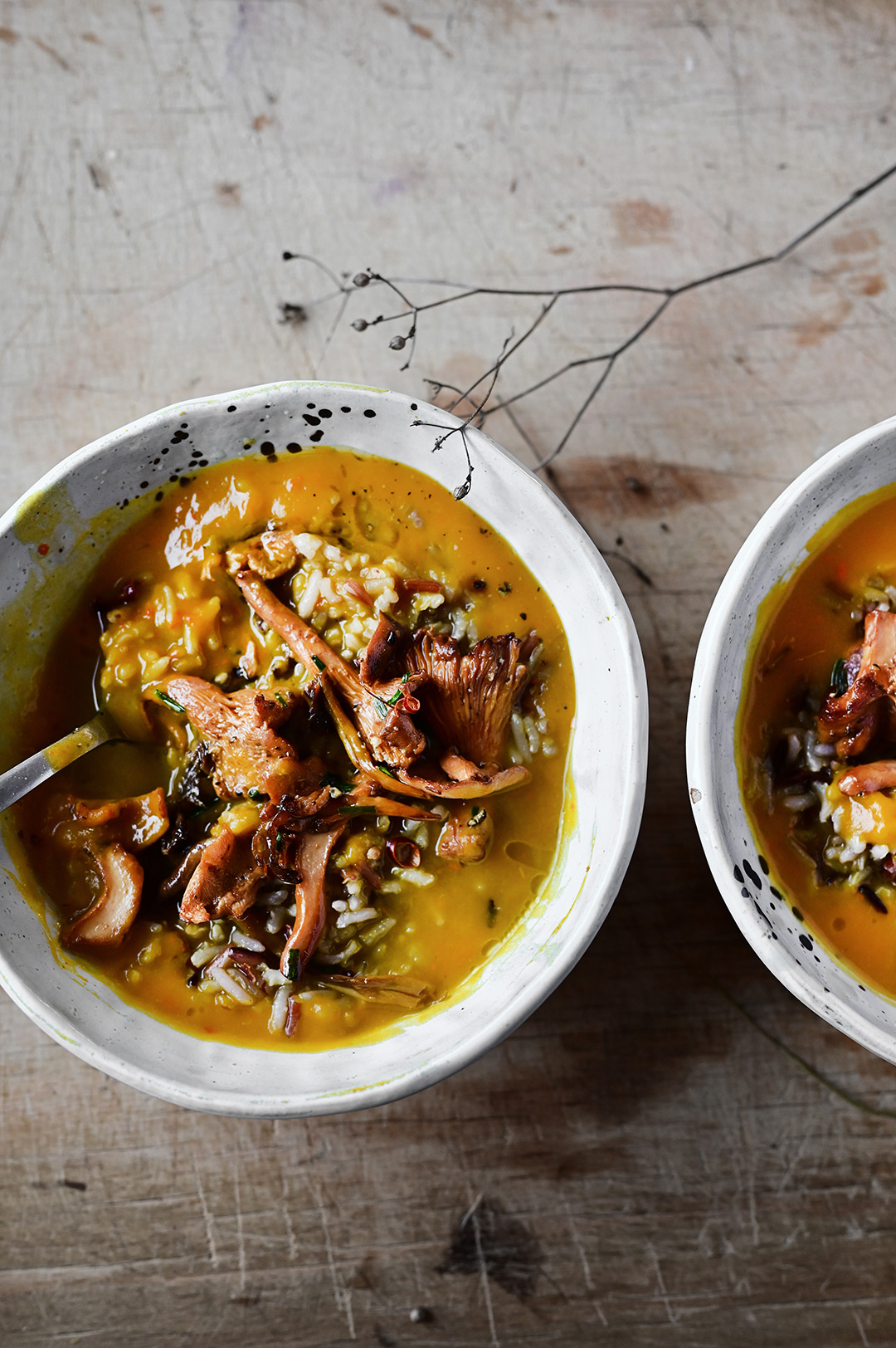 Ook zin in een kommetje dampende maaltijdsoep? Dan is deze geroosterde pompoensoep met wilde rijst en knapperige goud bruine paddenstoelen met miso echt iets voor jou. Het is een heerlijke soep, met een licht Aziatische toets. Stevig, makkelijk te maken en hartelijk.
Hou je van rijst in je soep? (Ik haatte het toen ik klein was) Of misschien heb je het nog nooit eerder geprobeerd? Dan moet je dat zeker eens doen, want eigenlijk is het heerlijk. Misschien heb ik je weten te overtuigen, grijp dan een pompoen en wat wilde rijst, en laten we er samen aan beginnen.
Dit heb je nodig
soep
500 g pompoen, in partjes gesneden
2 kleine uien, in tweeën
4 teentjes knoflook, ongeschild
1/2 tl gedroogde gember
1 L dashi, of groentebouillon
1 el sojasaus
1 el miso
plantaardige olie
zeezout + zwarte peper
miso-paddenstoelen
250 g gemengde wilde champignons, in dikke plakken
2 el plantaardige olie
1 el miso
2 teentjes knoflook, fijngehakt
1 el sojasaus
zwarte peper
finishing touch
250 g wilde rijst, gekookt
chilivlokken

Zo maak je het
Leg de pompoen op een grote bakplaat en besprenkel met een beetje olie. Voeg de ui en de hele teentjes knoflook toe, strooi gedroogde gember, zout en peper over de pompoen. Rooster gedurende 40 minuten op 180°C, of tot de pompoen een zachte en licht gekarameliseerde rand heeft.
Verwarm ondertussen de bouillon in een grote pot. Als de pompoen klaar is, verwijder de pitten (je kan deze apart roosteren) en pers de knoflook uit zijn schil. Voeg alles aan de hete bouillon toe, doe miso en sojasaus erbij. Mix met een staafmixer, voeg een beetje meer water toe als je een dunnere consistentie wilt, breng op smaak met zout en peper.
Verhit de olijfolie in een koekenpan, voeg de paddenstoelen toe en bak ze goudbruin. Roer de knoflook, sojasaus en miso erdoor, breng op smaak met peper.
Schep de soep in kommen, voeg wilde rijst toe, leg er de knapperige paddestoelen op en bestrooi met de chili vlokken. Smakelijk.