Warme zomerdagen en maïs… liefst met boter en een beetje zout. Het is misschien wel de lekkerste manier om deze lekkernij te eten. Ik denk dat we het er allemaal over eens kunnen zijn dat maïs en zomer een perfect match zijn.
De kolven worden in de oven geroosterd met boter en knoflook en vervolgens bestrooid met koriander, pepers en feta, die over de zoete zwartgeblakerde pitten smelt. Dit bijgerecht is zoutig en pittig tegelijk. Het is klaar in ongeveer 30 minuten en je hebt maar één bakplaat nodig.
Geen fan van fetakaas? Geen probleem. Je kan andere kazen gebruiken, en spelen met verschillende soorten pepers.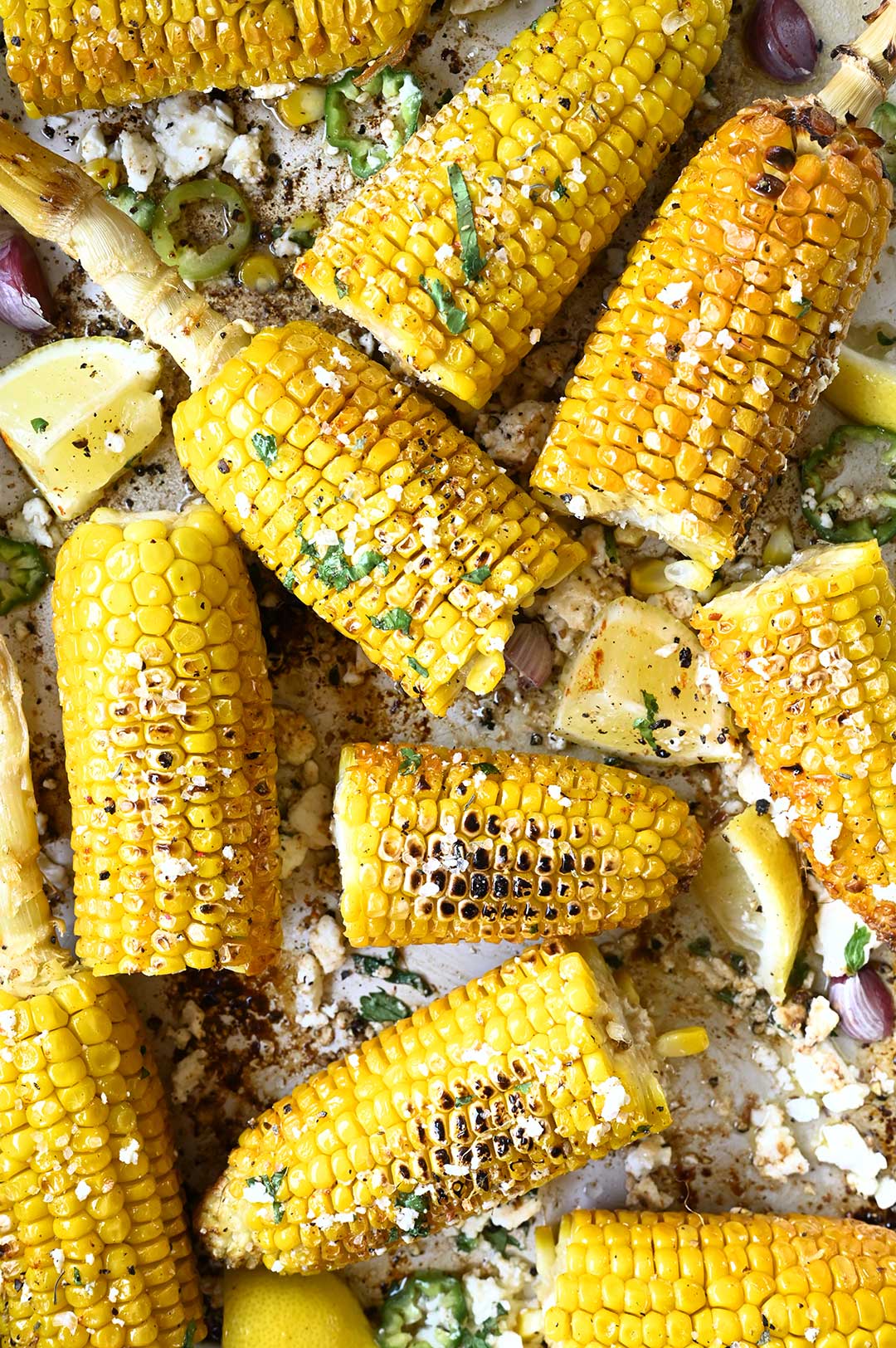 Door maïs te roosteren in de oven ontgrendel je zijn verborgen zoetheid en aardse smaken op een totaal andere manier. De korrels karameliseren en worden knapperig bruin, wat voor een extra laagje smaak zorgt.
Geserveerd met de meest onweerstaanbare toppings is dit een perfecte side dish voor zomerse avonden of gewoon als tussendoortje, zeker als je de maïs met zoveel smaak kan inpakken. Veel plezier ermee!
Tip: Je kan de maïskolven ook grillen op je barbecue of koken in gezouten water, vervolgens inwrijven met knoflookboter en bestrooien met feta, chili en koriander. 
Ga naar mijn Instagram Highlights om te zien hoe makkelijk je deze kan maken!
Nog meer recepten met maïs:
Frisse maïs salade met pindadressing
Salade van boerenkool met pruimen en granaatappel
Maïssoep met jalapeños
Wil je op de hoogte blijven van mijn nieuwe recepten? Abonneer je dan op mijn NIEUWSBRIEF.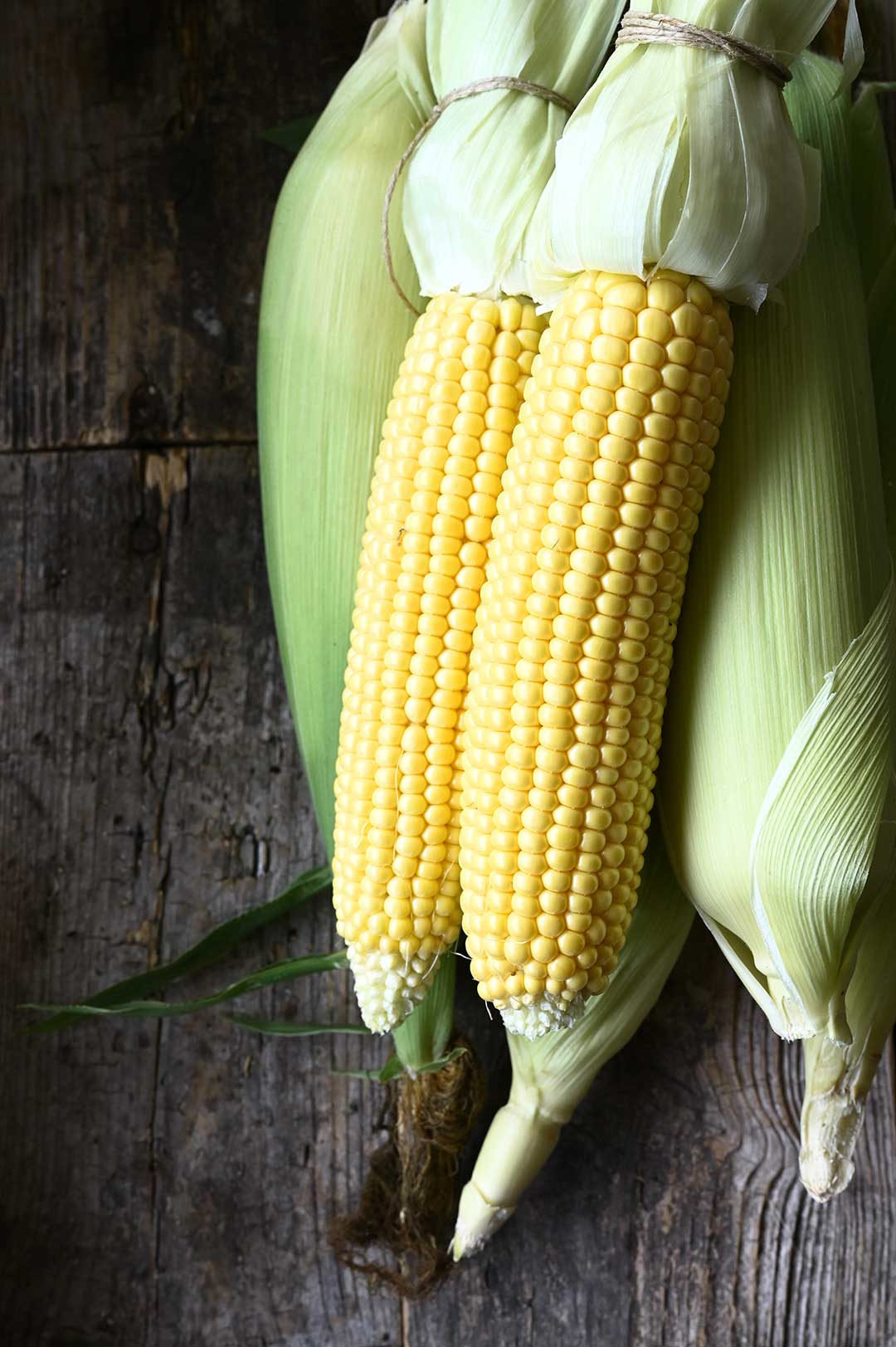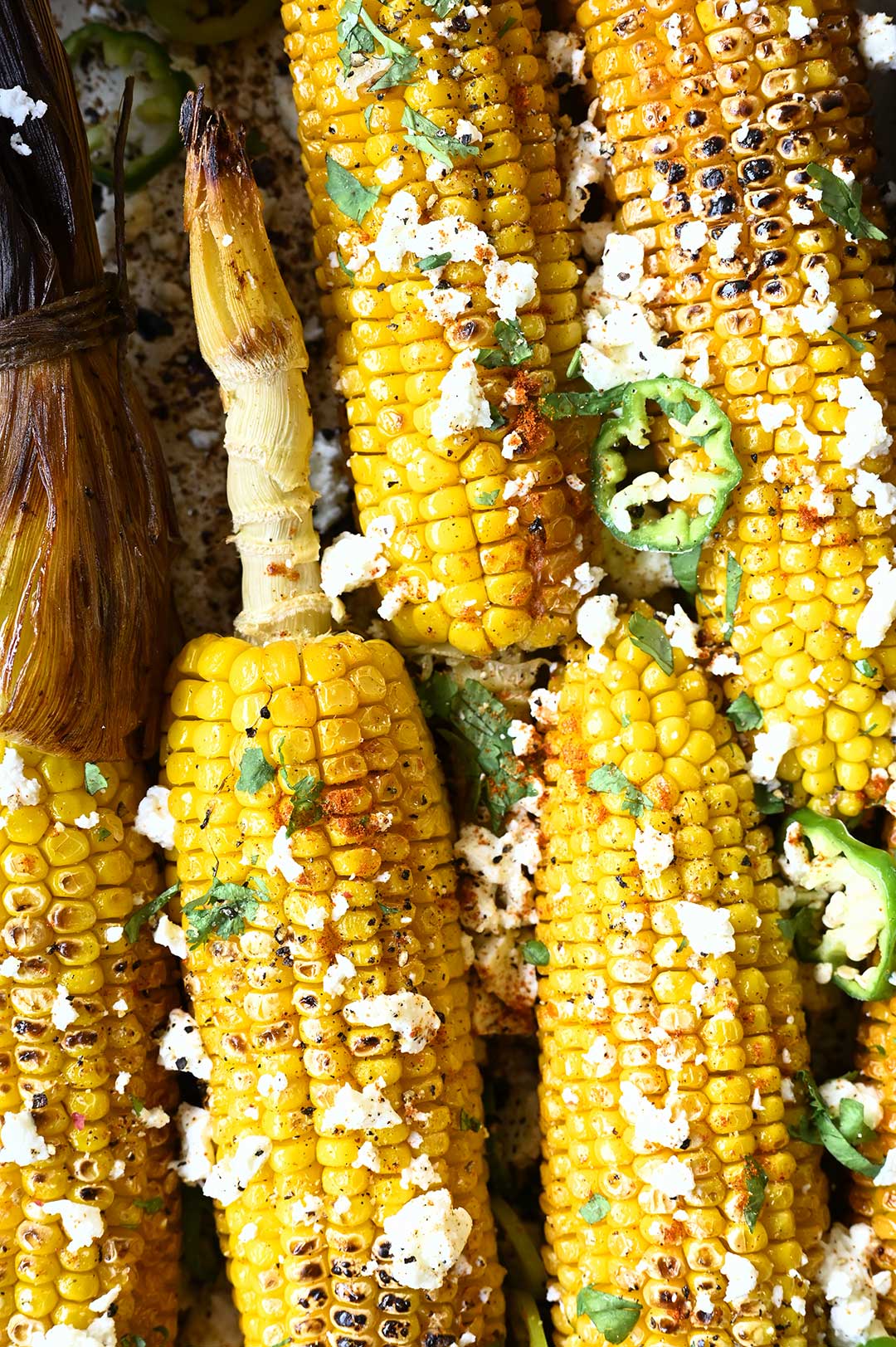 Dit heb je nodig
4 maïskolven, zonder blad en schoon geborsteld
100 g roomboter, gesmolten
2 tenen knoflook, geperst
1/2 tl gerookt paprikapoeder
zout + zwarte peper
toppings
50 g feta, verkruimeld
chilipepers
1 el gehakte koriander
1 citroen, in plakjes gesneden
fleur de sel + zwarte peper
Zo maak je het
Verwarm de oven voor op 230°C.
Leg de maïskolven op een bakplaat, overgiet met de gesmolten boter, voeg knoflook toe en bestrooi met gerookte paprika, zout en peper. Rooster gedurende 20-25 minuten, draai halverwege om.
Haal de kolven uit de oven, bestrooi met de verkruimelde feta, koriander en pepers. Kruid met fleur de sel en zwarte peper. Serveer met citroenschijfjes. Veel plezier!
TIP: Je kan de kolven ook op de barbecue grillen of koken, daarna overgieten met de knoflookboter, feta, koriander en pepers.
Ga naar mijn Instagram Highlights om te zien hoe makkelijk je deze kan maken!
Als je dit recept uitprobeert, laat dan hieronder een reactie achter of deel je foto's op Instagram en vergeet niet om mij te taggen @anna_s_table. Ik kijk ernaar uit!