Gebakken kippenbillen met krielaardappelen en courgette. Met een zachte toets van dragon en frisse citroen, een heerlijk eenpansgerecht. Minimale voorbereiding en geen fancy tricks.
Zeg nu zelf, wie houdt er niet van makkelijke eenpansgerechten? Want laten we eerlijk zijn, niemand is dol op een berg afwas. Dus eenpansgerechtje, laat maar komen.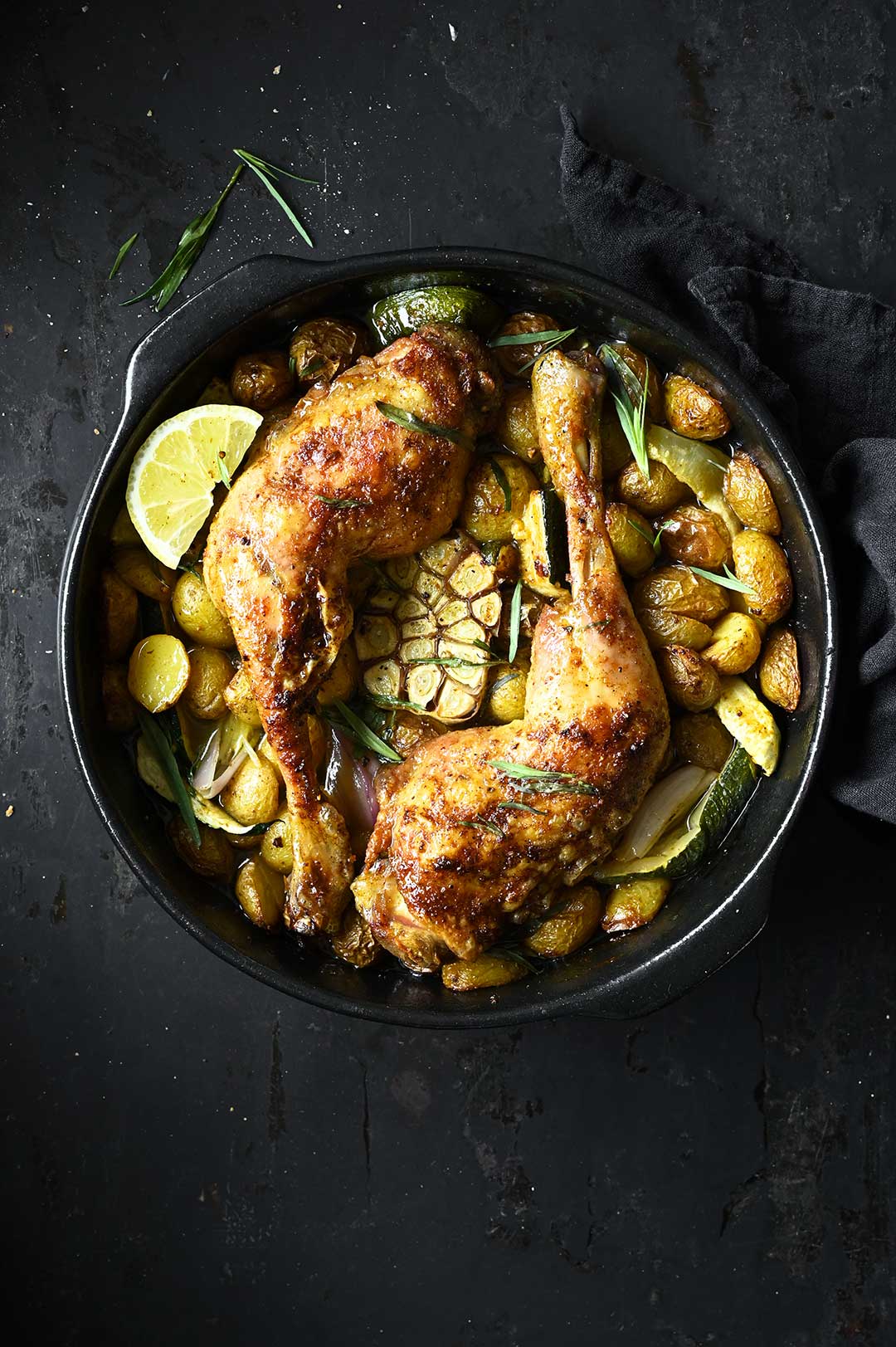 Niets zo lekker als goudbruin gebraden kippenbilletjes omgeven met, zoals wij dat zeggen 'kippensaus'. Als ik droom van geroosterde kip, ziet het er precies zo uit als deze, ongelooflijk knapperig van buiten met heerlijk mals vlees. En aardappelen en courgette, gegaard in de saus die van de kip afdruipt. Hmmmm. Dat is alles wat je nodig hebt om kip-nirvana te bereiken, c'est tout.
Ik beschouw deze kip als mijn zondag-middag-plan van nu af aan.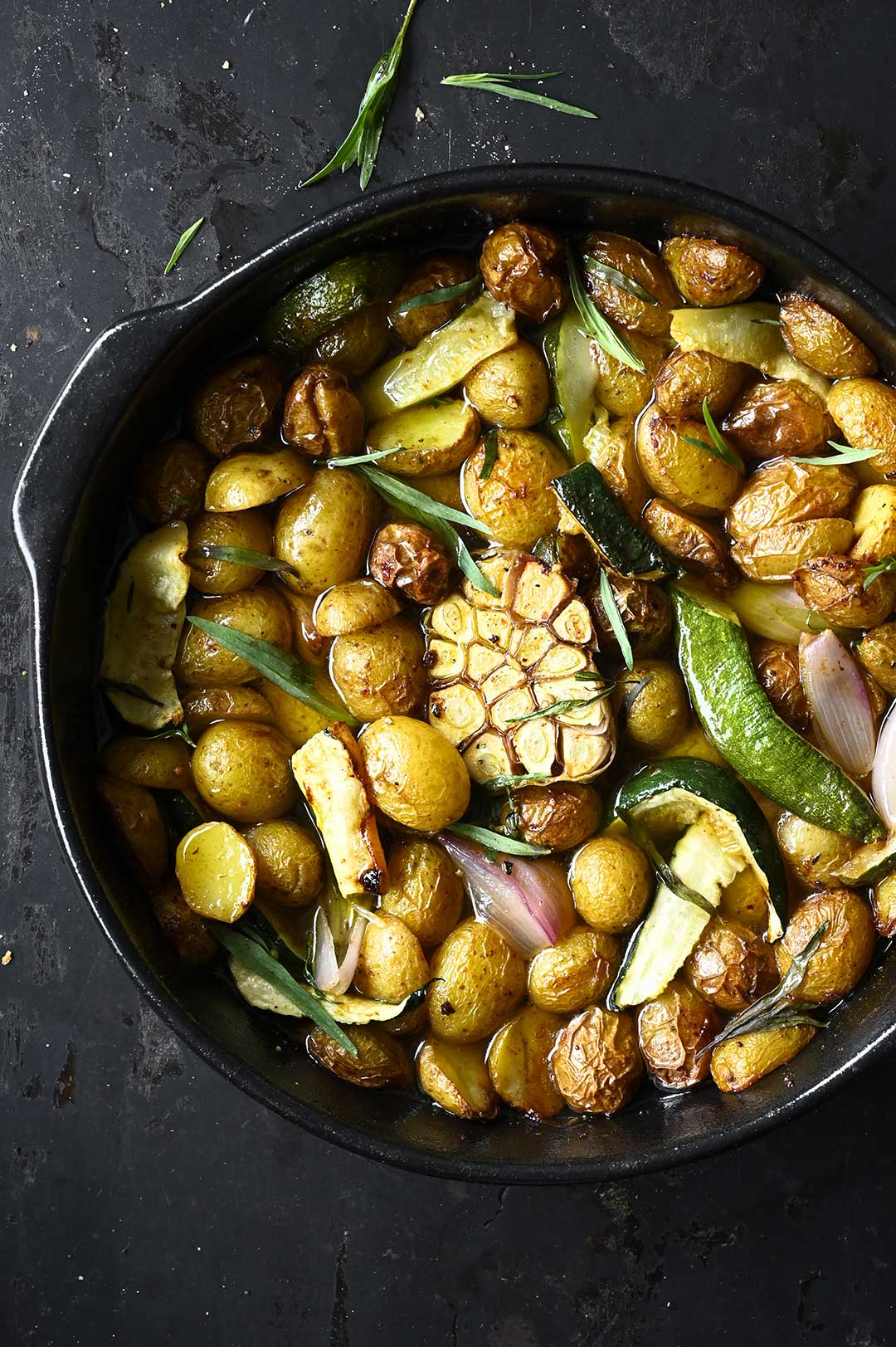 Wil je op de hoogte blijven van mijn nieuwe recepten? Abonneer je dan op mijn NIEUWSBRIEF.
Dit heb je nodig
2 kippenbillen
300 g krielaardappelen
1 courgette
60 g boter
3 el olijfolie
1/2 knoflookbol
2 sjalotten, doormidden gesneden
sap van 1/2 citroen
1 el gehakte dragon
zeezout + zwarte peper
gerookte paprikapoeder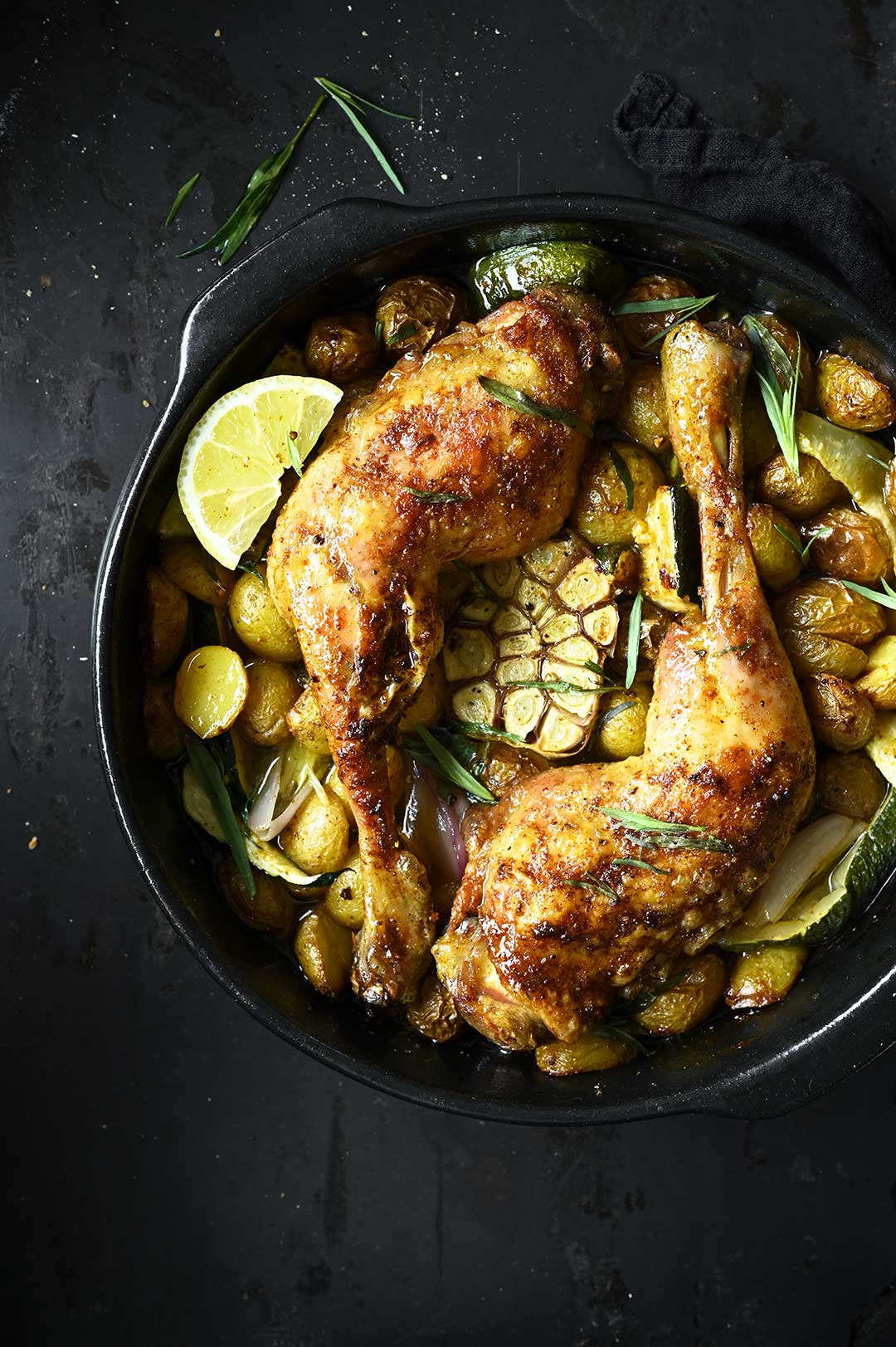 Zo maak je het
Verwarm de oven voor op 200°C.
Smelt de boter en meng met olijfolie.
Neem een diepe ovenvaste schotel. Schik de aardappelen en roer er 3 eetlepels boter doorheen. Nestel de knoflook in het midden, breng op smaak met zout, peper en paprikapoeder. Besprenkel de kip met citroensap en breng royaal op smaak met zout, peper en gerookte paprikapoeder. Leg de kip ondersteboven op de aardappelen en besprenkel met de helft van de gesmolten boter. Rooster de kip gedurende 30 minuten.
Draai vervolgens de kip om met het vel naar boven, besprenkel met de rest van de gesmolten boter en rooster gedurende 20 minuten. Besprenkel de kip af en toe met de jus uit de ovenschaal, voeg eventueel wat water toe.
Snij ondertussen de courgette in de lengte in 4 stukken, dan in 5 cm lange stukjes. Haal de schotel uit de oven, schik de courgette tussen de aardappelen. Voeg sjalot en dragon toe. Zet terug in de oven en braad nog 20 minuten verder of tot de billen mooi gebruind en gaar zijn, en de aardappelen mals.
Haal de schotel uit de oven, draai de knoflook met de gesneden kant naar beneden en gebruik de achterkant van een lepel om de knoflook zachtjes eruit te drukken, waardoor het sap in de saus komt. Garneer met verse dragon. Heerlijk!
Als je dit recept uitprobeert, laat dan hieronder een reactie achter of deel je foto's op Instagram en vergeet niet om mij te taggen @anna_s_table. Ik kijk ernaar uit!