Wie vindt geroosterde wortelgroenten ook zo onweerstaanbaar?! Ze zijn makkelijk te bereiden, veelzijdig en heerlijk. Er zijn zoveel dingen die je ermee kan doen….. voeg er wat jonge saladeblaadjes, geroosterde noten of gegrilde halloumi aan toe en je geeft het gerecht al dadelijk wat meer textuur. Maar ze zijn ook heerlijk bij geroosterde kip of gewoon met rijst, als side salad of met hummus.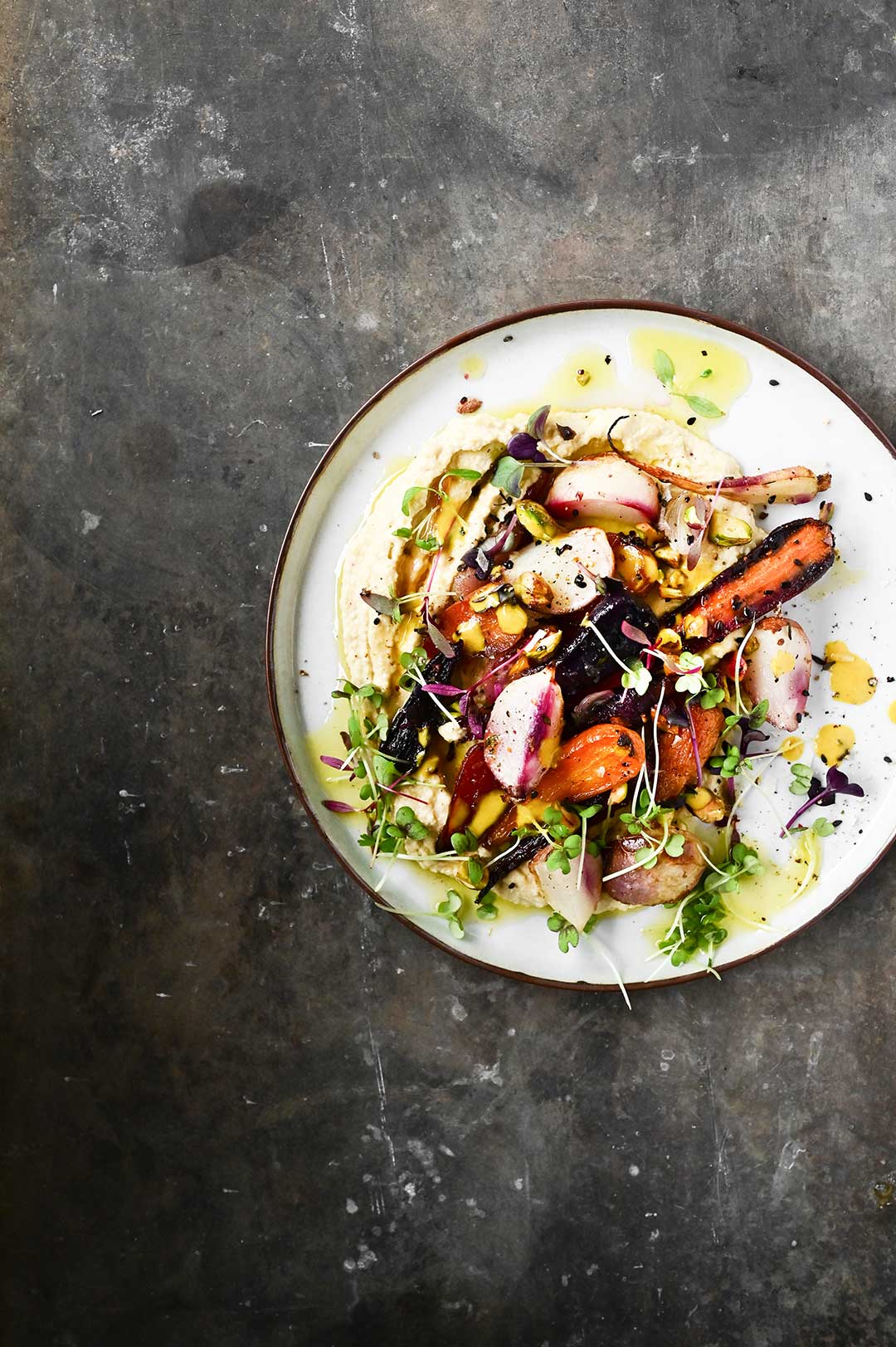 Ik dacht dat deze raapjes en worteltjes geroosterd met ahornsiroop, knoflook en pistachenoten geweldig zouden smaken gedurende deze winterdagen. Ik heb de knoflookteentjes ongepeld geroosterd, waardoor ze hun vocht en smaak bewaren, en de gehakte sjalotjes maken dit eenvoudig gerecht compleet. Serveer met hummus en een romige kurkuma-tahinsaus (deze is absoluut hemels!). Neem een vork en val aan!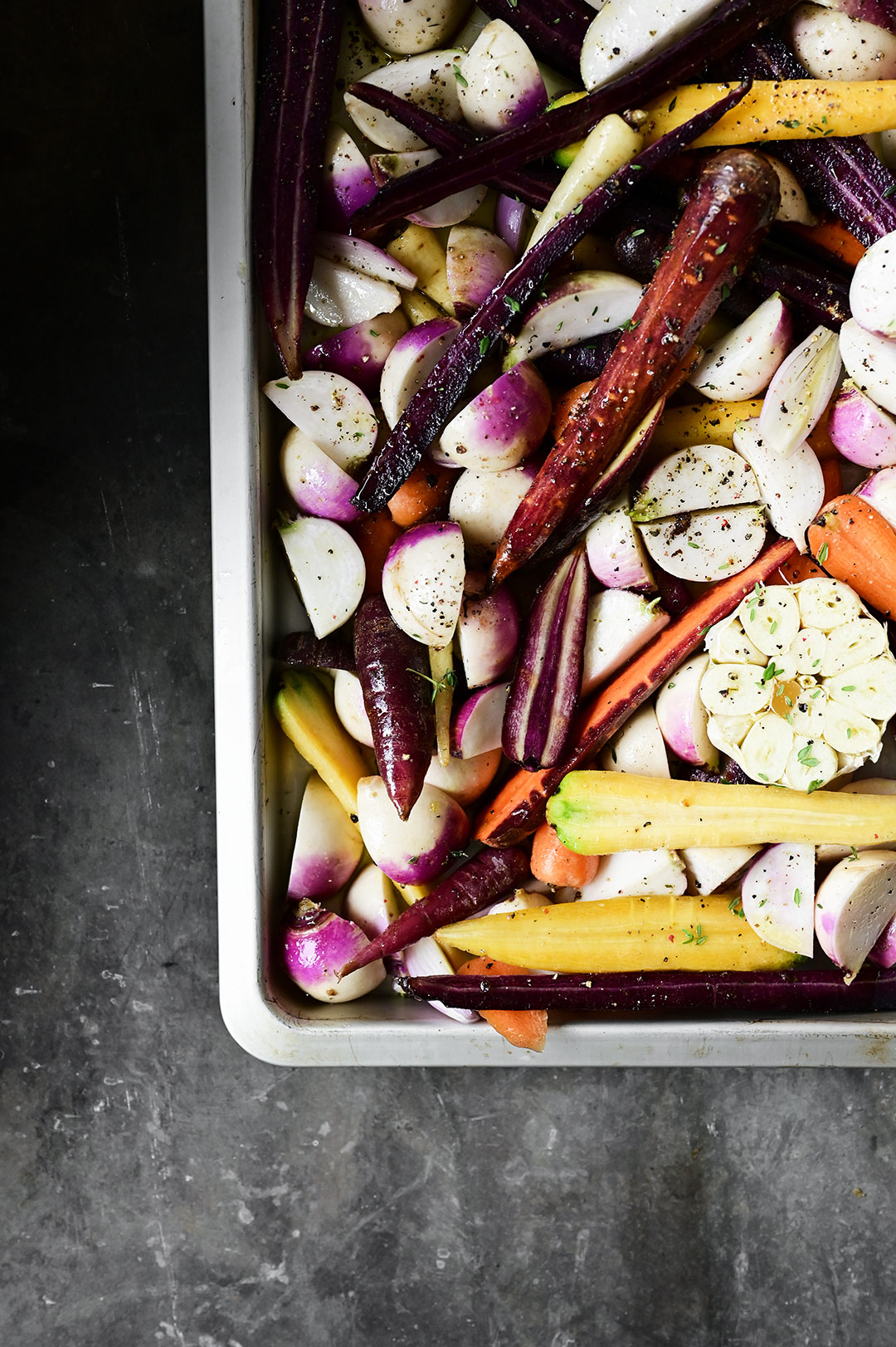 Dit heb je nodig
geroosterde wortelgroenten
500 g wortelgroenten (raapjes, wortelen in verschillende vormen en kleuren,….)
8 teentjes knoflook
2 sjalotten, doormidden gesneden
2 el ahornsiroop
5 el olijfolie
4 takjes verse tijm
1 el citroensap
40 g gehakte pistachenoten
zeezout + zwarte peper
tahini-kurkumasaus
50 ml tahini
2 tl citroensap
2 tl sojasaus
2 tl kurkuma
1 tl ahornsiroop
50 ml water
1 geroosterd teentje knoflook, gepeld
zeezout + zwarte peper
hummus
240 g kikkererwten uit blik
2 el Griekse yoghurt
1/2 tl gemalen komijn en koriander
1 tl tahini
2 el olijfolie
1 el sesamolie
2 geroosterde knoflookteentjes, gepeld
1 tl citroensap
zeezout + zwarte peper
finishing touch
enkele druppels citroensap
1 el zwarte sesamzaad
micro greens
chilipeper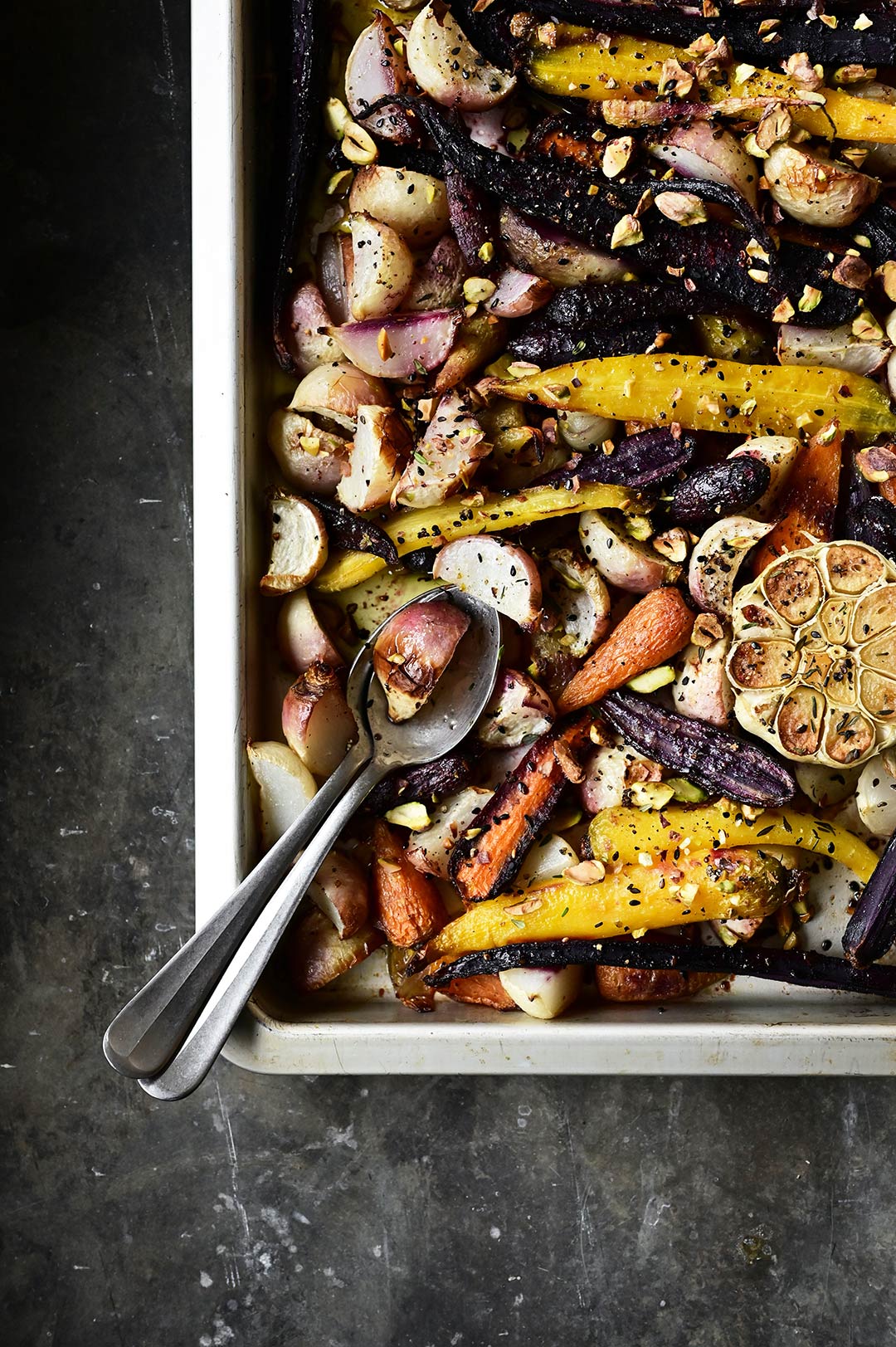 Zo maak je het
Schil en snijd de wortelen doormidden. Snijd de kleine raapjes doormidden, de grotere in kwartjes. Meng de groenten met de ongeschilde knoflookteentjes, sjalotten, olijfolie, ahornsiroop, tijm en citroensap. Breng op smaak met zout en peper. Bak gedurende 20 minuten op 190°C. Haal uit de oven, roer, bestrooi met pistachenoten en bak nog 10-15 minuten, of tot de groenten lichtbruin zijn.
Giet de kikkererwten af, meng met alle andere ingrediënten in een keukenmachine en mix tot een romige puree.
Meng alle ingrediënten voor de tahinsaus samen in een kom.
Serveer de geroosterde groenten met hummus, tahinsaus en micro greens. Bestrooi met chilipeper en zwarte sesam, besprenkel met olijfolie en citroensap. Kruid met extra peper en zout naar smaak. Smakelijk!