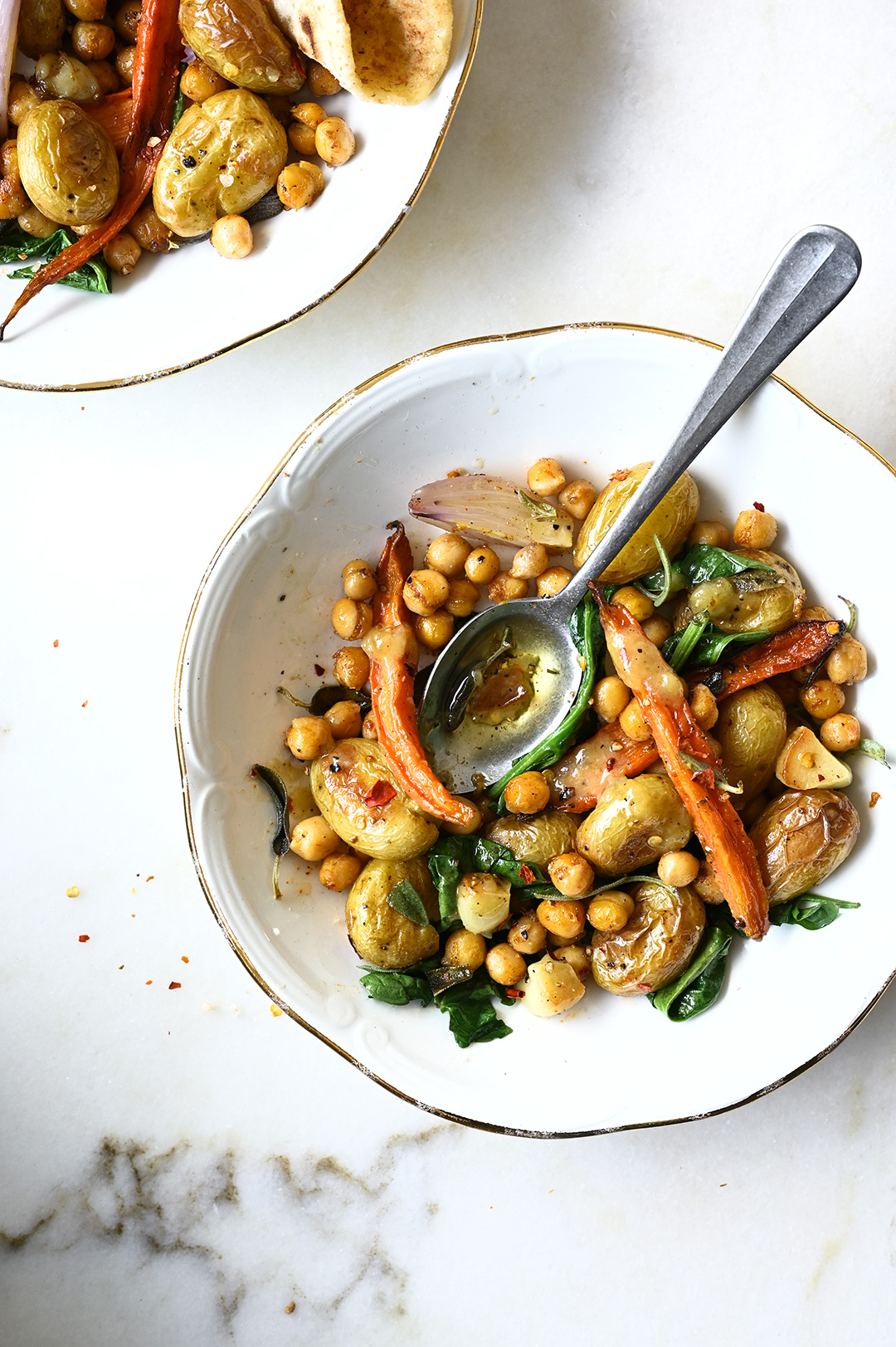 Wedden dat je van deze geroosterde aardappelsalade met kikkererwten niet kan afblijven.
Het is ook een geweldige manier om de restjes uit je koelkast op te gebruiken. 
Door de aardappelen te roosteren krijgt de salade meer smaak, dan wanneer ze gekookt zijn. Je begint met de aardappelen en wortelen te roosteren, dan voeg je wat gekruide kikkererwten toe en ga je door met roosteren totdat de kikkererwten knapperig zijn en de groenten super mals.
Ik hou er ook van om extra knoflook in de bakplaat te leggen, om daarna in andere gerechten te gebruiken. Geroosterde knoflook is perfect om bij een avocado-toast te doen, toe te voegen aan hummus of te gebruiken in een saladedressing. 
Deze salade is uitstekend koud of warm, en bijna net zo goed de volgende dag. De lichte honing-mosterddressing met geroosterde knoflook is wat deze salade zo bijzonder maakt. En door de dressing te mengen met de aardappelen terwijl deze nog warm zijn, zorg je ervoor dat alle smaken vrijkomen.
Hopelijk krijgen sommigen van jullie zin om deze salade te maken, je kan natuurlijk ook andere groenten zoals aubergine of courgette gebruiken. Begin met de basis van aardepelen-kikkererwten-dressing en voeg er seizoensgebonden elementen aan toe die je bij de hand hebt. Serveer met zelfgemaakt flatbread! Zalig!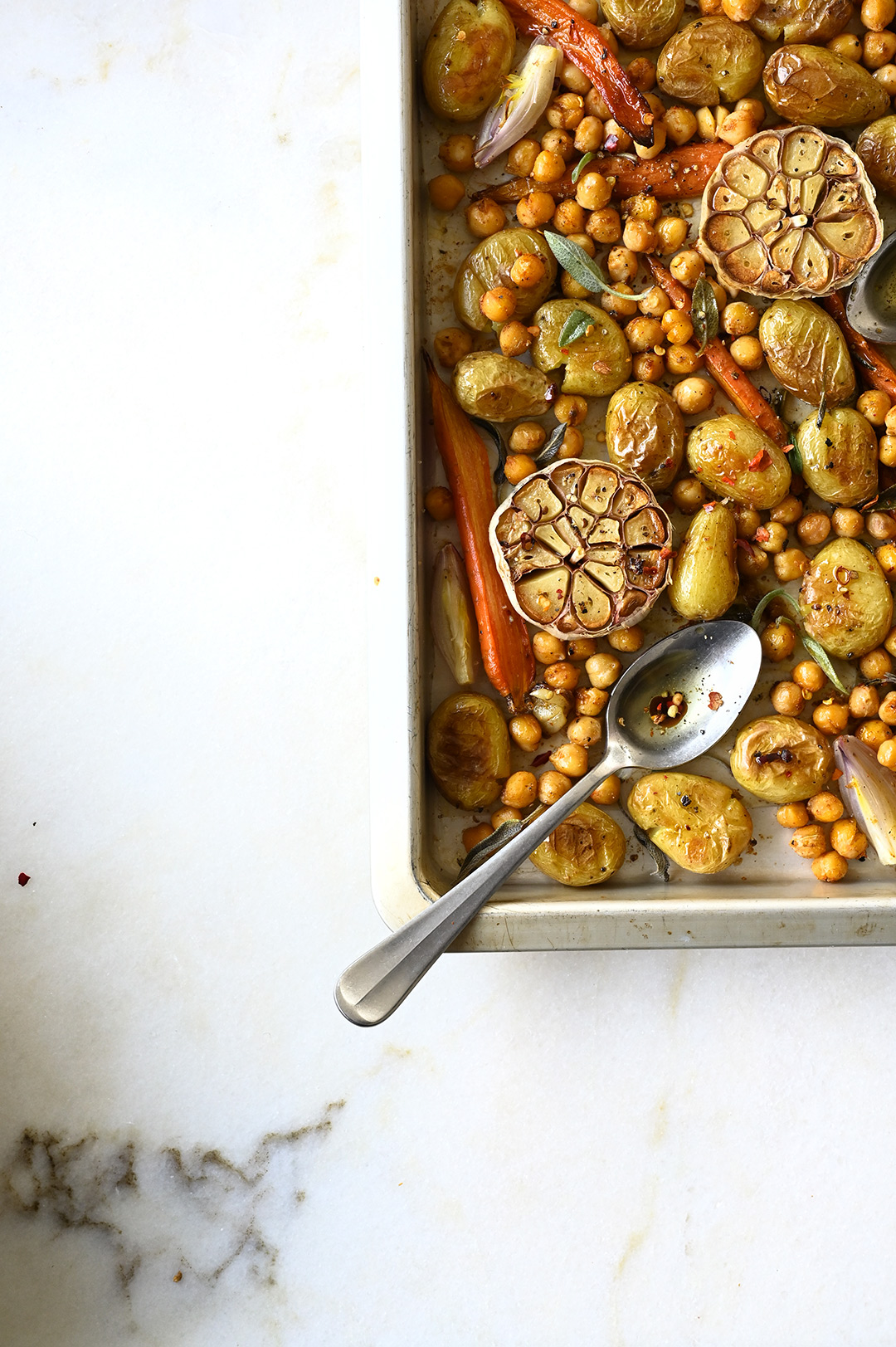 Dit heb je nodig
geroosterde aardappelen
150 g krielaardappelen
4 wortelen, geschild en in de lengte doorgesneden
1 hele knoflookbol, doormidden gehalveerd
2 sjalotten, geschild en in de lengte gehalveerd
3 el olijfolie
1 el citroensap
zeezout + zwarte peper
kikkererwten
1 blikje kikkererwten, afgegoten
1 el olijfolie
1 tl zoete paprika
1 tl komijn
1 tl koriander
1 tl versgeraspte gember
zeezout + zwarte peper
salieblaadjes
dressing
1/3 glas olijfolie
2 el citroensap
1 el balsamico azijn
1 tl mosterd
1 tl honing
2 geroosterde teentjes knoflook, gepureerd
zeezout + zwarte peper
alsook
50 g spinazie
gedroogde chili, om te bestrooien
flatbread, om op te dienen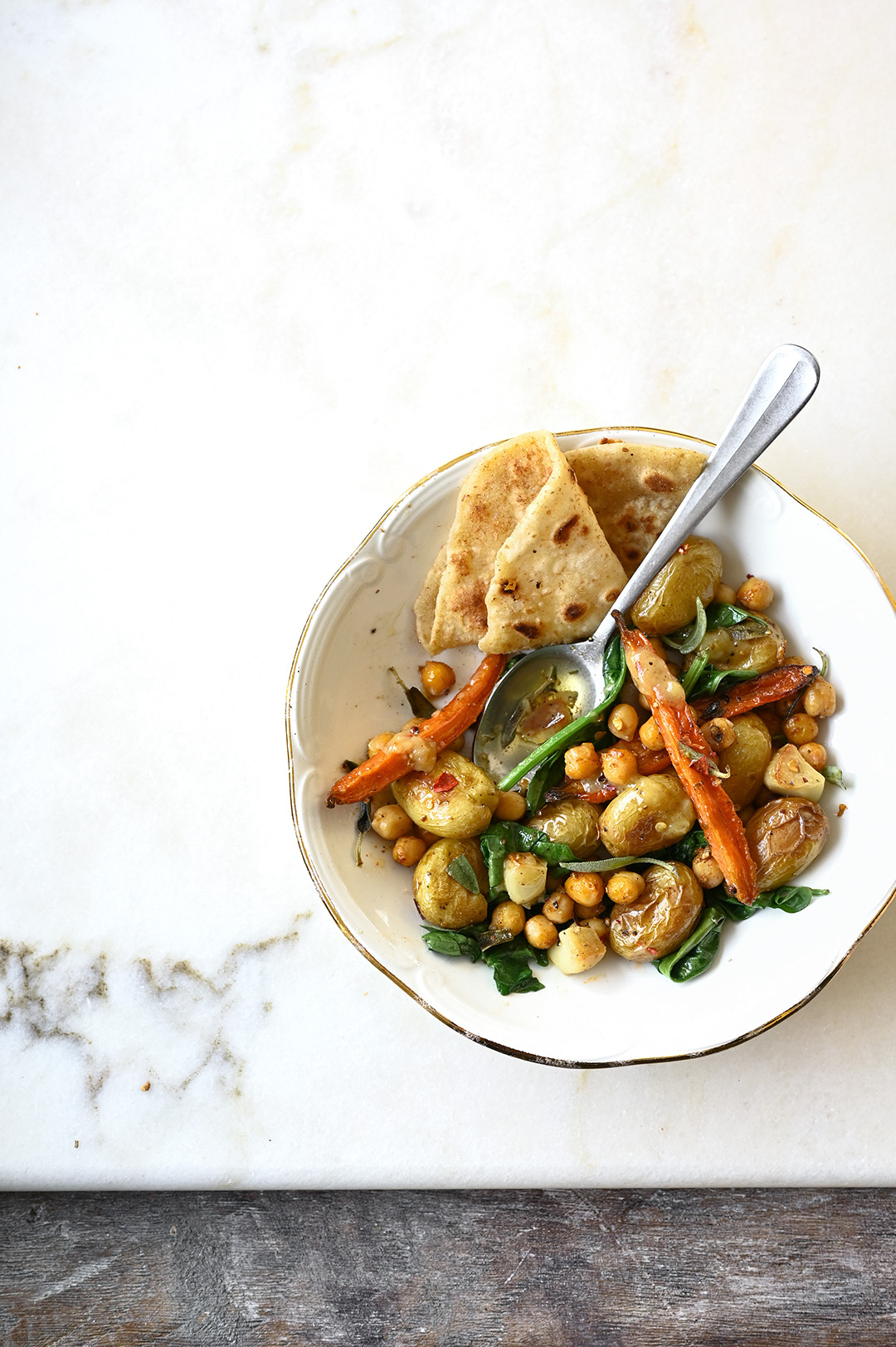 Zo maak je het
Verwarm de oven voor op 200°C.
Meng de aardappelen, wortelen en sjalotten met olijfolie op een grote bakplaat. Kruid met zout en peper. Besprenkel met citroensap en leg de gehalveerde knoflookbol tussen de groenten, bak gedurende 15-20 minuten, de baktijd hangt af van de grootte van de aardappelen.
Meng ondertussen de kikkererwten met olijfolie, gember, paprikapoeder, komijn, koriander en een snufje zout en peper. Haal de aardappelen uit de oven en schep de kikkererwten rond de groenten. Bestrooi met salieblaadjes. Doe het geheel terug in de oven en rooster gedurende 10-15 minuten of tot de kikkererwten knapperig zijn.
Meng de ingrediënten voor de dressing, en voeg 2 gepureerde geroosterde knoflookteentjes toe. Bewaar de rest van de knoflook in de koelkast om te gebruiken in andere gerechten of dressings.
Doe de warme groenten in een grote kom samen met de spinazie. Giet de dressing eroverheen en roer tot de aardappelen volledig bedekt zijn en de spinazie lichtjes verwelkt. Bestrooi met chili, serveer warm of koud met flatbread of toast ingesmeerd met geroosterde knoflook. Smakelijk!