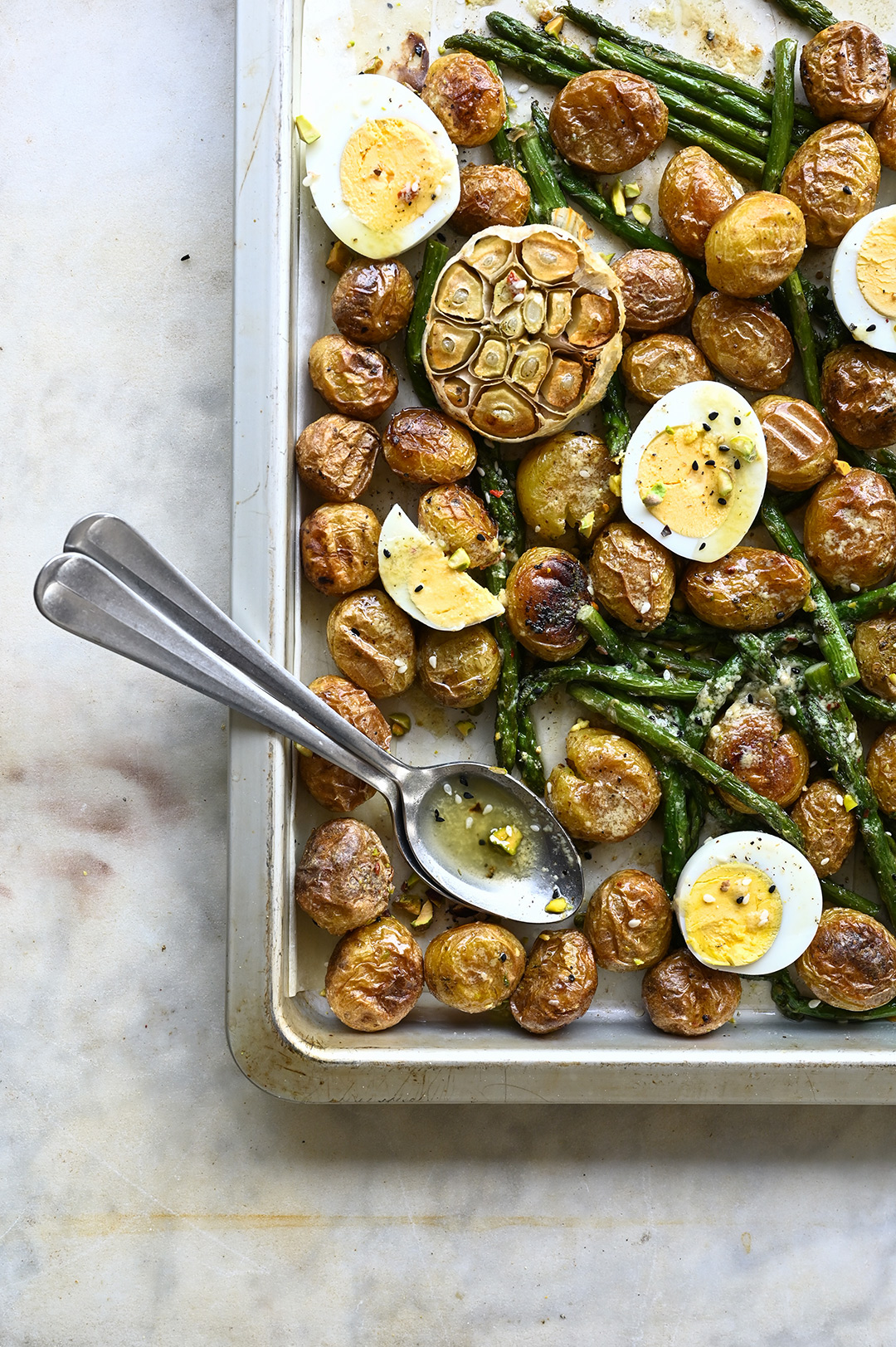 Zin in een serieus lekkere salade? Aardappelsalades vind je in veel vormen en combinaties, maar ik weet zeker dat deze alle juiste vakjes aanvinkt. Zacht geroosterde aardappelen, asperges, pistachenoten en eieren. Allemaal gemengd in een tahini-mosterddressing met een vleugje za'atar.
Warmer weer betekent dat ik meer salades en groenten eet. Dit recept weerspiegelt alles wat ik lekker vind in een ideale salade: hartelijk, extra textuur en een pittige balans. Ik rooster altijd de aardappelen voor mijn salades en meng ze met een dressing dadelijk nadat ik ze uit de oven heb gehaald, zodat alle smaken kunnen vrijkomen.
Deze salade past bij zowat alles wat je maar kan bedenken om mee te serveren, het maakt een perfecte lunch of bijgerecht. Maar eigenlijk is het de bedoeling om deze salade zonder extraatjes te serveren. Ja, deze lentesalade is een volwaardige maaltijd in één hap. Het is licht, en vol met smaken en textuur.
Maar zelfs met goede ingrediënten is een geweldige salade slechts zo goed als de dressing, en deze dressing is iets wat je gaat willen gebruiken op al je salades.
Zachte aardappelen, eieren, geroosterde asperges, knapperige pistachenoten en een romige dressing, ja graag.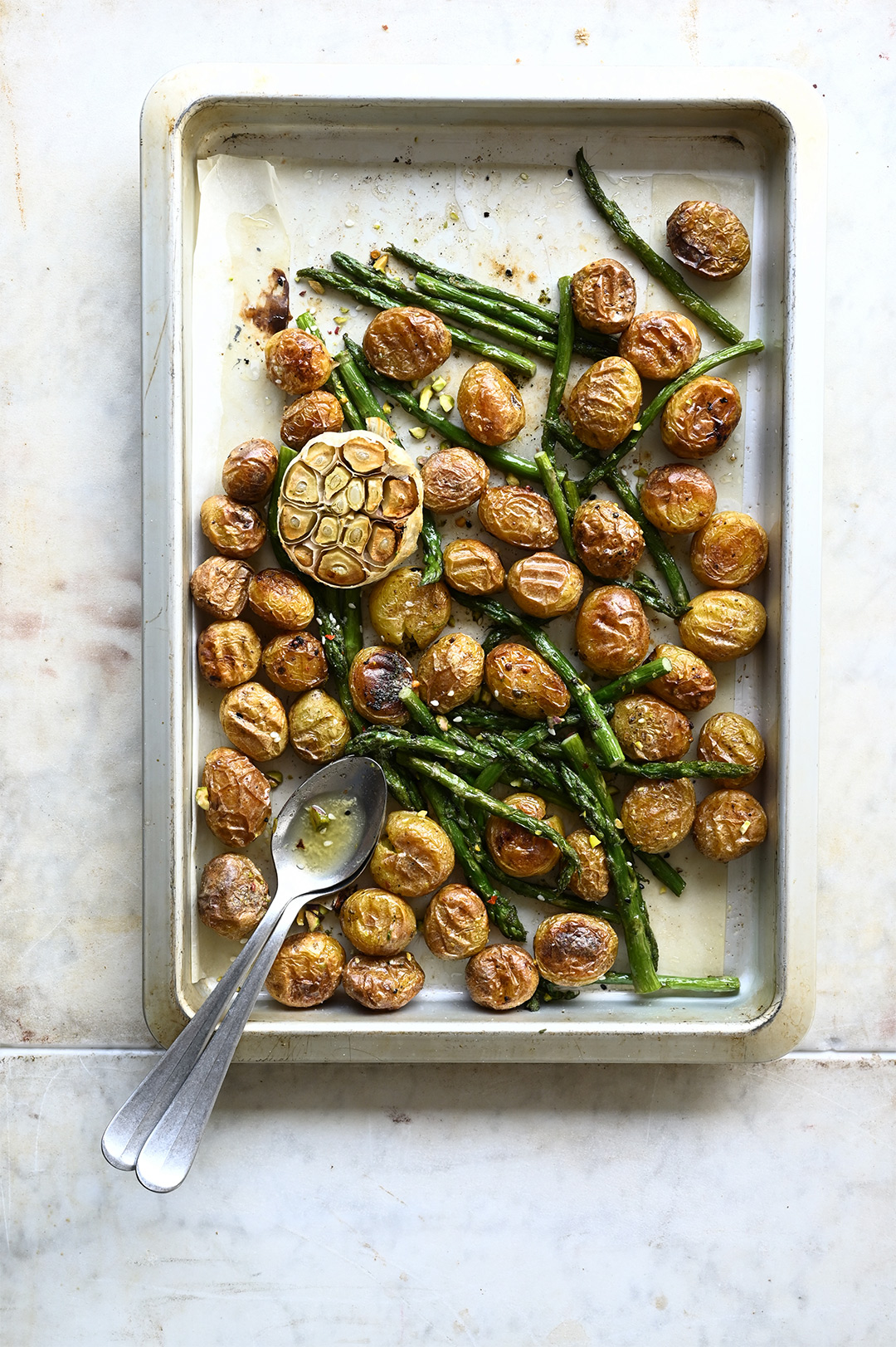 Wil je op de hoogte blijven van mijn nieuwe recepten? Abonneer je dan op mijn NIEUWSBRIEF.
Dit heb je nodig
salade
500 g krielaardappelen
150 groene asperges
3 el olijfolie
1 el citroensap
zeezout + zwarte peper
1 tl za'atar
2 el gehakte pistachenoten
1/2 tl gedroogde chilipepers
4 hardgekookte eieren
dressing
2 el citroensap
2 tl mosterd
1 knoflookteen, geraspt
3 el olijfolie
1 tl tahini
1 tl za'atar
zeezout + zwarte peper
1 el appelazijn
1/2 tl gedroogde chilipeper
1 tl honing

Zo maak je het
Verwarm de oven voor op 200°C.
Meng de aardappelen met olijfolie op een grote bakplaat. Kruid met zout en peper. Besprenkel met citroensap en bak gedurende 20-25 minuten, de baktijd hangt af van de grootte van de aardappelen.
Haal de aardappelen uit de oven en voeg de asperges, za'atar, chili en pistachenoten toe. Meng onder de aardappelen. Zet terug in de oven en rooster gedurende 10-15 minuten of tot de asperges gaar zijn.
Meng de ingrediënten voor de dressing in een kommetje.
Doe de warme groenten in een grote kom. Giet de dressing eroverheen en roer tot de aardappelen volledig bedekt zijn. Doe de eiren erbij, breng op smaak met zout en peper en serveer warm. Smakelijk!
Als je dit recept uitprobeert, laat dan hieronder een reactie achter of deel je foto's op Instagram en vergeet niet om mij te taggen @anna_s_table. Ik kijk ernaar uit!