Vandaag wil ik redelijk groot nieuws met jullie delen. Het blijkt dat mijn blog genomineerd is voor de Saveur Blog Awards 2019!! Ik ontdekte dit per ongeluk, in een comment op Instagram. Eerst dacht ik dat het om een vergissing ging, maar al snel realiseerde ik me dat het echt was. Ik voel mij gevleid, deze blog is een werk van zoveel passie en het is een eer om tussen zoveel getalenteerde finalisten te staan. Ik ben iedereen ongelooflijk dankbaar die mij genomineerd heeft.
Als jullie ook maar een minuutje de tijd hebben, kan je naar de stempagina van het Saveur-magazine doorklikken, naar beneden scrollen tot 'Most Inspired Weeknight Meals' stemmen op Serving Dumplings en onderweg enkele nieuwe blogs ontdekken. Je mag zo vaak stemmen als je wilt tot 18 oktober. Duizendmaal bedankt!
We gaan dit fantastisch nieuws met een heerlijk receptje vieren. Namelijk met deze gekarameliseerde pruimen gestoofd in boter met kaneel en rum. Je kan ook brandy, slivovitz, sinaasappellikeur, e.a. gebruiken…. laat gewoon je fantasie de vrije loop. Serveer rechtstreeks uit de pan met een bolletje vanille-ijs. Je weet niet wat je overkomt na de eerste hap! Ik beloof het!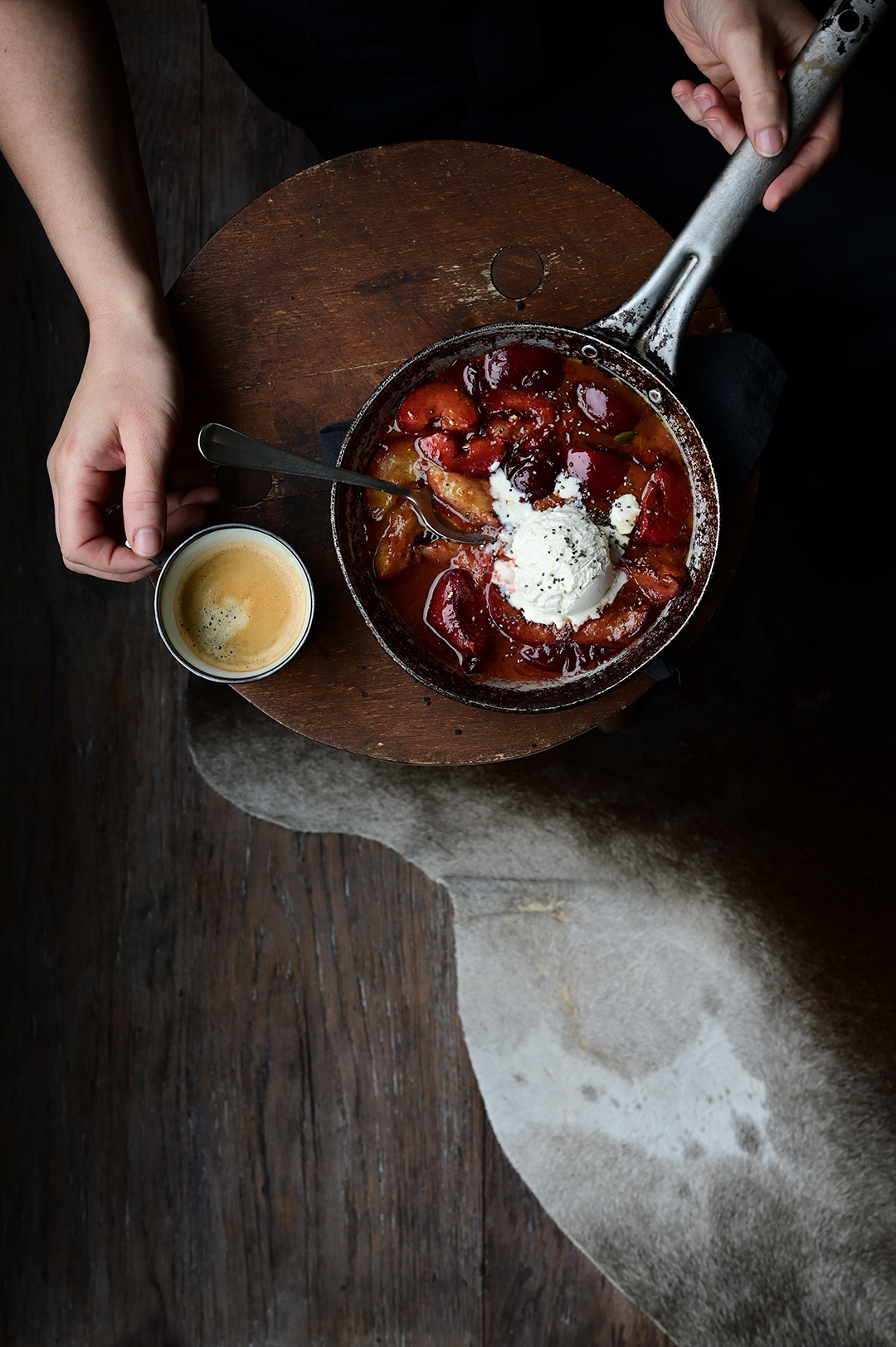 Dit heb je nodig
5 rijpe pruimen, pitten verwijderd en in kleine stukken gesneden
1 klontje boter
1 el bruine suiker
1/2 tl kaneel
1/2 tl geraspte gember
1 tl citroensap
2 el rum of brandy, slivovitz, sinaasappellikeur….
1 bolletje vanille-ijs
Zo maak je het
Verhit de boter in een koekenpan op een middelhoog vuur. Voeg de pruimen, bruine suiker, kaneel en gember toe. Besprenkel met citroensap en rum. Laat 6 tot 8 minuten zachtjes koken, of tot de pruimen zacht beginnen te worden. Let op dat je ze niet te lang laat koken. Onmiddellijk opdienen met een bolletje vanille-ijs. Smakelijk!