Een eenpansgerecht met mega veel verborgen smaken. De balletjes zijn gemaakt van rundergehakt en gemengd met ricotta, daarna gegaard met orzo en aubergine in een tomaten-paprikasaus.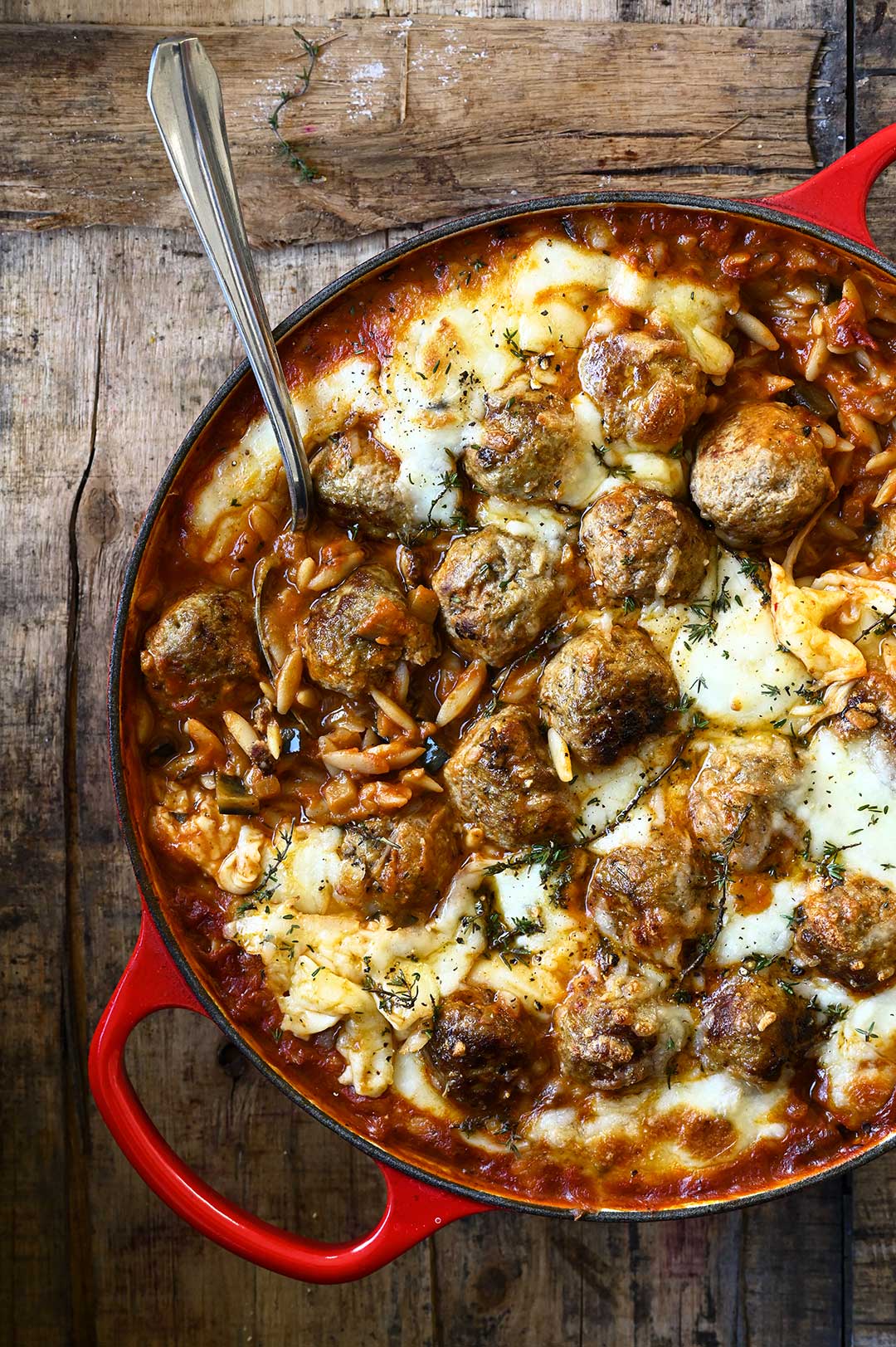 We mengen ricotta en broodkruimels onder het vlees, hierdoor krijgen je gehaktballen een perfecte bite.
Als de balletjes klaar en gebakken zijn, fruiten we de sjalot en de knoflook, hierna voegen we de aubergine toe. Daarna gaat de orzo erbij en de tomatensaus met geroosterde paprika's, deze zijn een must. Ze voegen een subtiele zoetheid toe, die je met geen enkel ander ingrediënt kan bekomen. We doen er ook wat tomatenconcentraat bij, zo krijgen we een een rijke saus, die smaakt alsof hij uren heeft staan pruttelen.
We doen de gehaktballen terug in de pan en als finishing touch voegen we mozzarella toe. Nu nog alles een paar minuten in de oven. En daar heb je het… een lekker gerechtje. Yep, en maar één pan. Bekijk mijn VIDEO om te zien hoe makkelijk je dit gerecht kan maken!
TIP: Je kan de orzo weglaten en dit gerecht serveren met spaghetti of wat brood. Je kan de aubergine ook inruilen voor courgette, of maak het zonder de kaas. It's up to you.
Andere favorieten:
Eenpansgerecht met orzo, aubergine en courgette
Gegratineerde pasta bolognese
Ovenschotel met pasta en geroosterde groentjes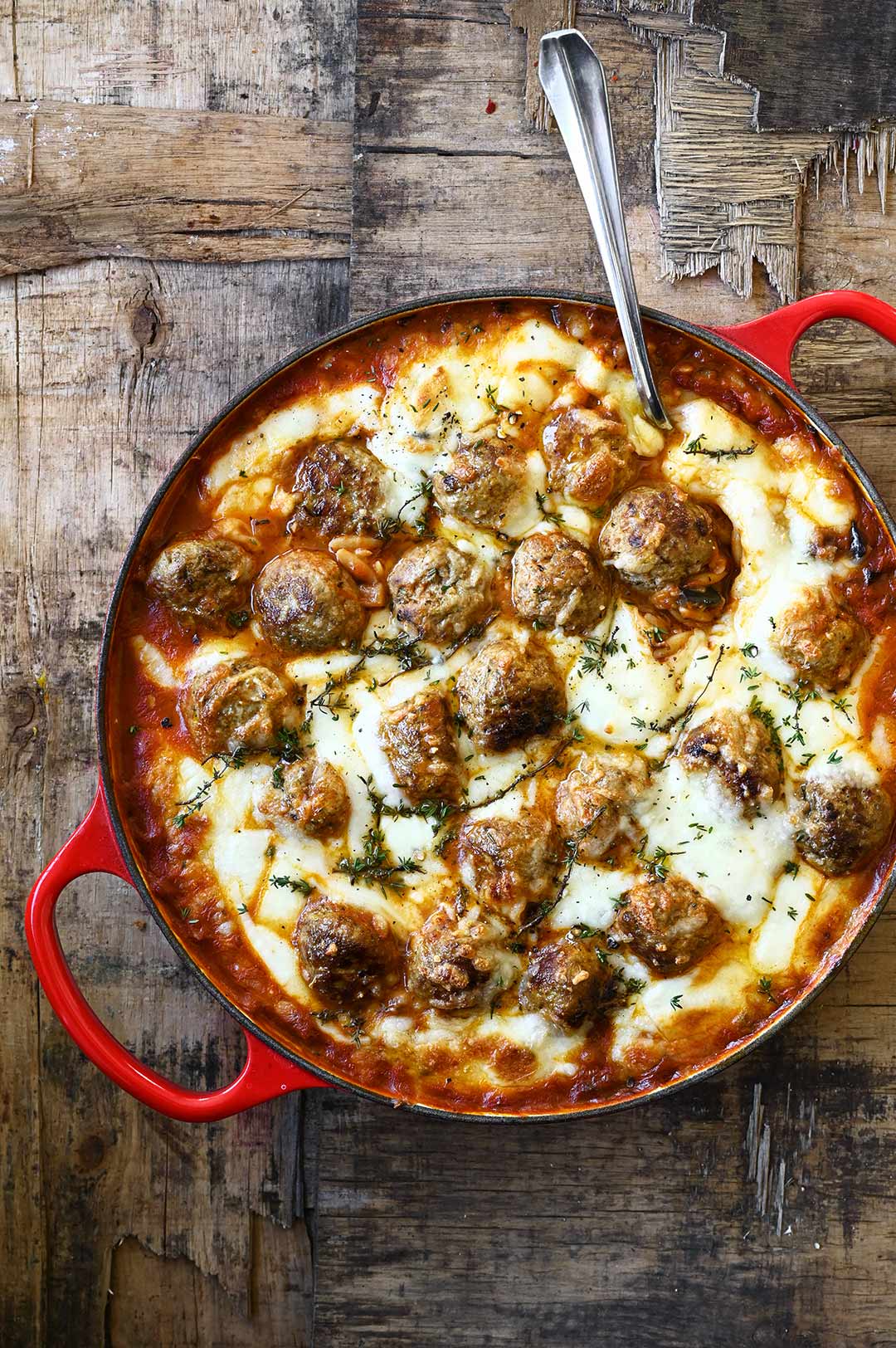 Wil je op de hoogte blijven van mijn nieuwe recepten? Abonneer je dan op mijn NIEUWSBRIEF. 
Dit heb je nodig
200 g orzo
150 g geraspte mozzarella
1 aubergine, in kleine blokjes gesneden
1 blik tomatenblokjes
1 potje geroosterde paprika's, zonder olie
1 sjalot, fijngehakt
3 tenen knoflook, fijngehakt
2 el tomatenconcentraat
250 ml kippenbouillon
1 tl van elk: gerookte paprika, gedroogde oregano, gedroogde tijm, gedroogde basilicum, gedroogde rode chili
zout + zwarte peper
verse tijm
olijfolie
gehaktballen
500 g rundergehakt
1 ei
3 el broodkruimels
2 el melk
3 el ricotta
1 tl elk: gerookte paprikapoeder, gedroogde oregano, komijn
1 teentje knoflook, fijngehakt of geraspt
Zo maak je het
Doe in een blender de tomatenblokjes, bouillon, geroosterde paprika's en het tomatenconcentraat. Mix tot een gladde massa.
Doe de broodkruimels en melk in een grote kom en meng goed onder elkaar. Zet het geheel 5 minuten opzij.
Snij ondertussen de aubergine, sjalot en knoflook fijn.
Voeg het vlees, ei, knoflook, ricotta, kruiden, zout en peper toe aan de broodkruimels. Meng het geheel met je handen en rol tot balletjes.
Verhit in een grote ovenvaste koekenpan 3 el olijfolie op matig vuur. Bak de gehaktballen aan alle kanten, haal ze uit de koekenpan en zet opzij.
Voeg in dezelfde koekenpan sjalot en knoflook toe, fruit gedurende 2-3 minuten. Voeg 3 el olijfolie toe en vervolgens de blokjes aubergine. Bak 5 minuten, doe dan de orzo erbij. Roer en bak nog gedurende 1 minuut. Doe de tomatensaus erbij, bestrooi met zout, peper en de kruiden. Breng het geheel aan de kook, dek af en laat op zeer laag vuur 8 minuten sudderen of tot de saus licht ingedikt is. Roer af en toe met een houten lepel. Voeg indien nodig een beetje water toe.
Verwarm ondertussen de oven voor op 200°C.
Leg de gehaktballen terug in de pan, laat 5 minuten sudderen of tot de orzo al dente is. Bestrooi met mozzarella en verse tijm. Plaats in de oven totdat de mozzarella smelt en goudkleurig is geworden, ongeveer 10 minuten. Smakelijk!
Bekijk mijn VIDEO om te zien hoe makkelijk je dit gerecht kan maken!
AND… IF YOU LOVE THESE RECIPES … please consider supporting my work for just the cost of a cup of coffee.

Als je dit recept uitprobeert, laat dan hieronder een reactie achter of tag mij in je foto op Instagram met @anna_s_table of #servingdumplings. Ik kijk ernaar uit!