Een eenpansgerecht met gehaktballetjes, orzo en feta pesto… een overheerlijk, makkelijk te maken maaltijd met een verleidelijk knoflookaroma. De heldere smaak van olijven en frisse ietwat zoute feta zijn een onweerstaanbare aanvulling op de gehaktballetjes. Echt een gerecht waarvan iedereen aan tafel zal kunnen genieten. Geweldig voor een doordeweekse avond, maar chique en uniek genoeg om te serveren tijdens een etentje voor vrienden.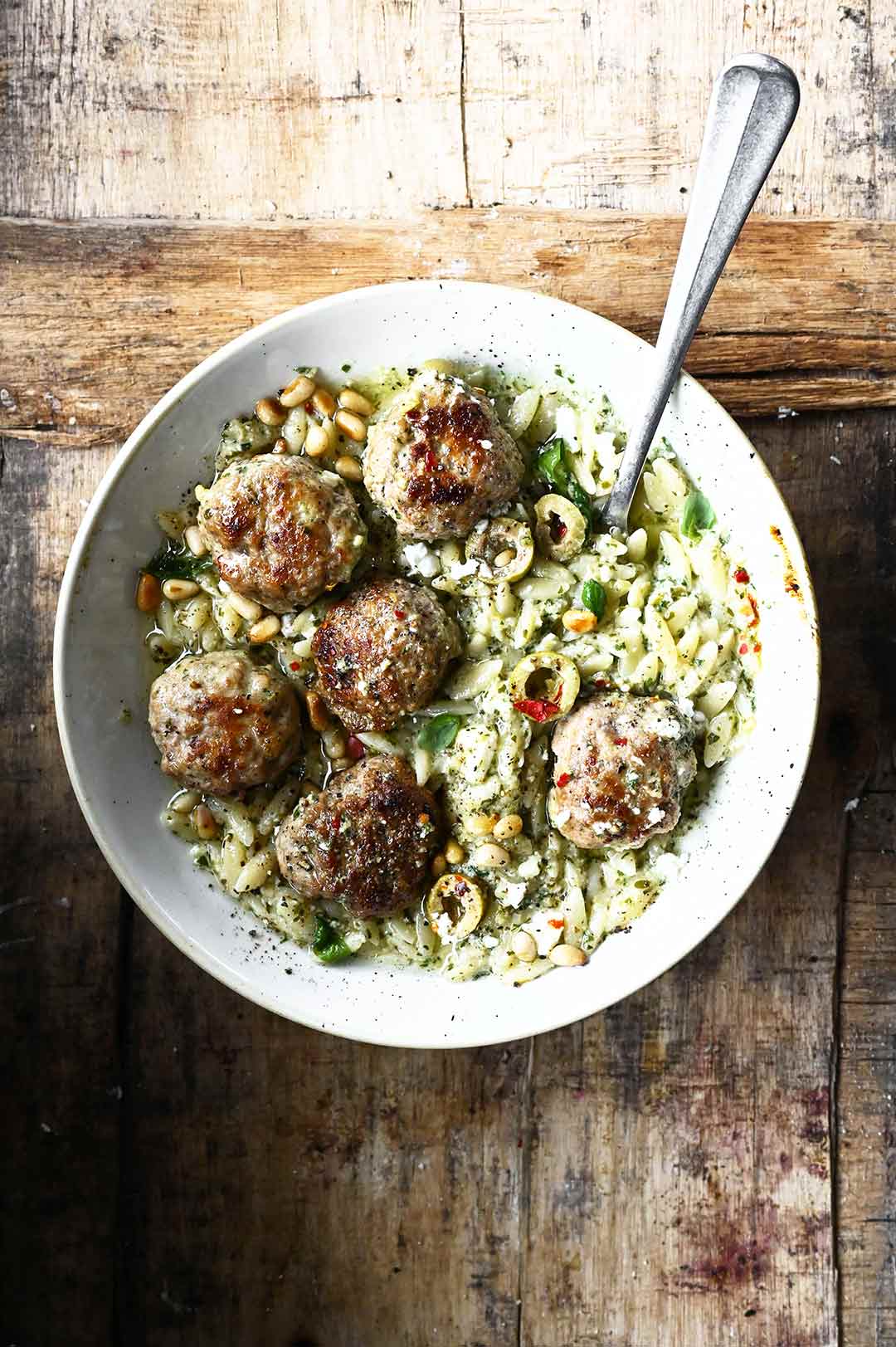 De uit de Griekse keuken geïnspireerde pesto tilt dit gerecht naar een hoger niveau. Het is eenvoudig te maken, maar de smaken zijn ronduit onweerstaanbaar. We mixen de feta met basilicumblaadjes, pijnboompitten en groene olijven. Even later, als de orzo klaar is en de gehaktballetjes gaar, roeren we de pesto eronder en laten we de feta erin smelten om zo een heerlijke saus te verkrijgen. Serveer met een salade en bereid je voor om weggeblazen te worden.
Bekijk mijn VIDEO om te zien hoe makkelijk je dit gerecht kan maken.
NOTITIES
– je kan dit gerecht ook makkelijk zonder vlees klaarmaken
– vervang het rundvlees door scampi's of gegrilde vis
– wat het vlees betreft, je kan ook kippengehakt of gemengd gehakt gebruiken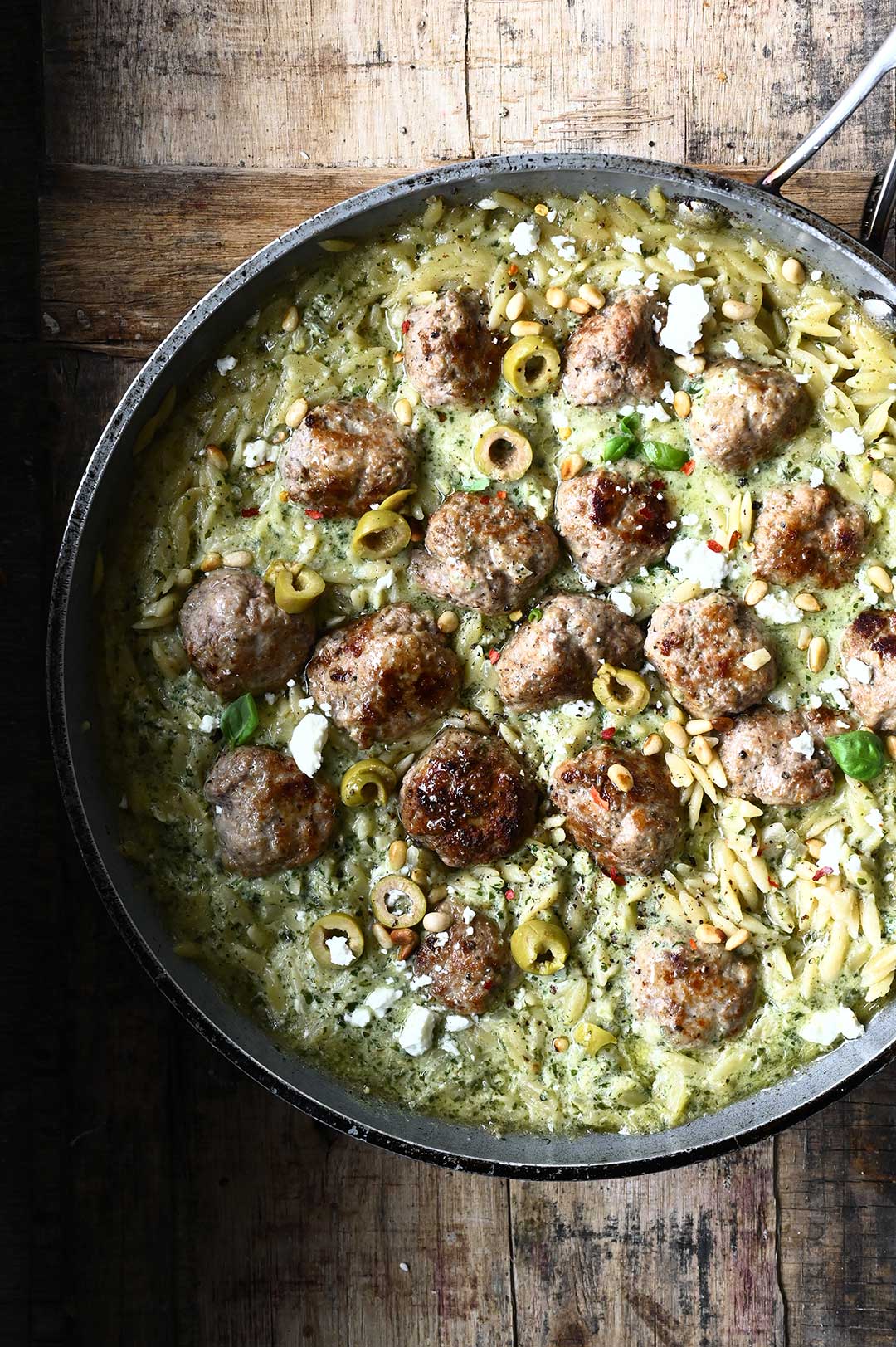 Meer makkelijke gerechten:
Gehaktballen met orzo in tomaten-paprikasaus
Kipfilet met Parmezaan, spinazie en orzo
Pasta met romige bolognese en geroosterde paprika
Dit heb je nodig
200 g orzo
750 ml kippenbouillon
4 teentjes knoflook, fijngehakt
1 kleine ui, fijngehakt
3 el olijfolie
30 g boter
50 g verbrokkelde feta, voor de afwerking
2 el gehakte groene olijven, voor de afwerking
3 el geroosterde pijnboompitten, voor de afwerking
gedroogde rode chili, voor de afwerking
gehaktballetjes
500 g rundergehakt
1 ei
3 el paneermeel
2 el melk
1 tl van elk: gedroogde salie, gedroogde oregano, knoflookpoeder, zout, zwarte peper
pesto
40 g verse basilicum
60 g groene olijven
150 g verbrokkelde feta
20 g geroosterde pijnboompitten
120 ml olijfolie
1 el citroensap
1/4 tl zout
1/2 tl zwarte peper
Zo maak je het
Bekijk mijn VIDEO om te zien hoe makkelijk je dit gerecht kan maken.
Doe de feta, pijnboompitten, groene olijven, olijfolie, citroensap, zout en peper in de keukenmachine. Mix tot de ingrediënten net gecombineerd zijn. Voeg de basilicum toe en mix kort.
Doe de broodkruimels en de melk in een grote kom en meng goed. Zet het geheel 5 minuten opzij. Voeg het vlees, ei en de kruiden toe. Meng het geheel met je handen en rol tot balletjes.
Verhit in een grote koekenpan met antiaanbaklaag de boter en 1 eetlepel olijfolie op middelhoog vuur. Voeg de gehaktballetjes toe en bak ze bruin, ongeveer 8-10 minuten, waarbij je ze 2-3 keer omdraait. Leg op een bord.
Verhit in dezelfde koekenpan 2 el olie op laag vuur. Voeg ui en knoflook toe en fruit 2-3 minuten. Voeg de orzo toe en bak nog 1 minuut. Giet de kippenbouillon erbij. Breng aan de kook en laat ongeveer 12 minuten sudderen, roer regelmatig. Roer dan de feta pesto erdoor en leg de gehaktballetjes terug in de pan. Laat ongeveer 5 min meekoken.
Serveer met pijnboompitten, gehakte olijven en verbrokkelde feta. Strooi er wat rode pepervlokken over. Eet smakelijk!