Een bolognese saus onder een laagje mozzarella. Met aubergine en rundvlees, een makkelijk te bereiden gerecht voor het hele gezin.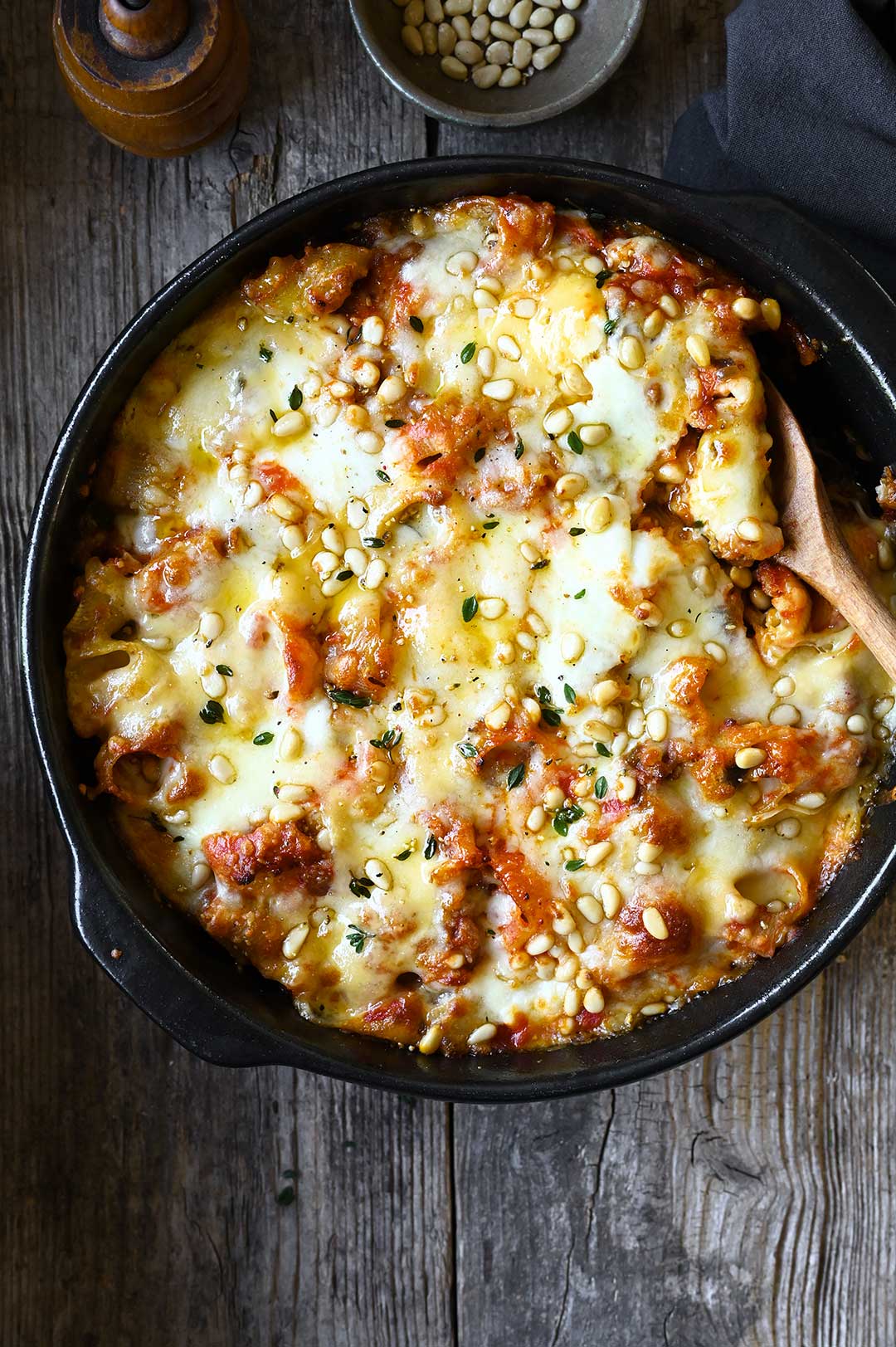 De basis voor dit gerecht is een eenvoudige versie van de klassieke bolognese saus. Aan de saus heb ik aubergine toegevoegd, wat zorgt voor een delicate smaak en een zachte textuur. Een scheutje kippenbouillon geeft extra smaak en zorgt ervoor dat het rundergehakt erin kan garen zonder uit te drogen.
De pastaschotel wordt afgewerkt met veel mozzarella en daarna gegratineerd. Twee woorden. Echt zalig.
Dit is een van die gerechten waar iedereen van kan houden en die iedereen zonder veel moeite kan maken.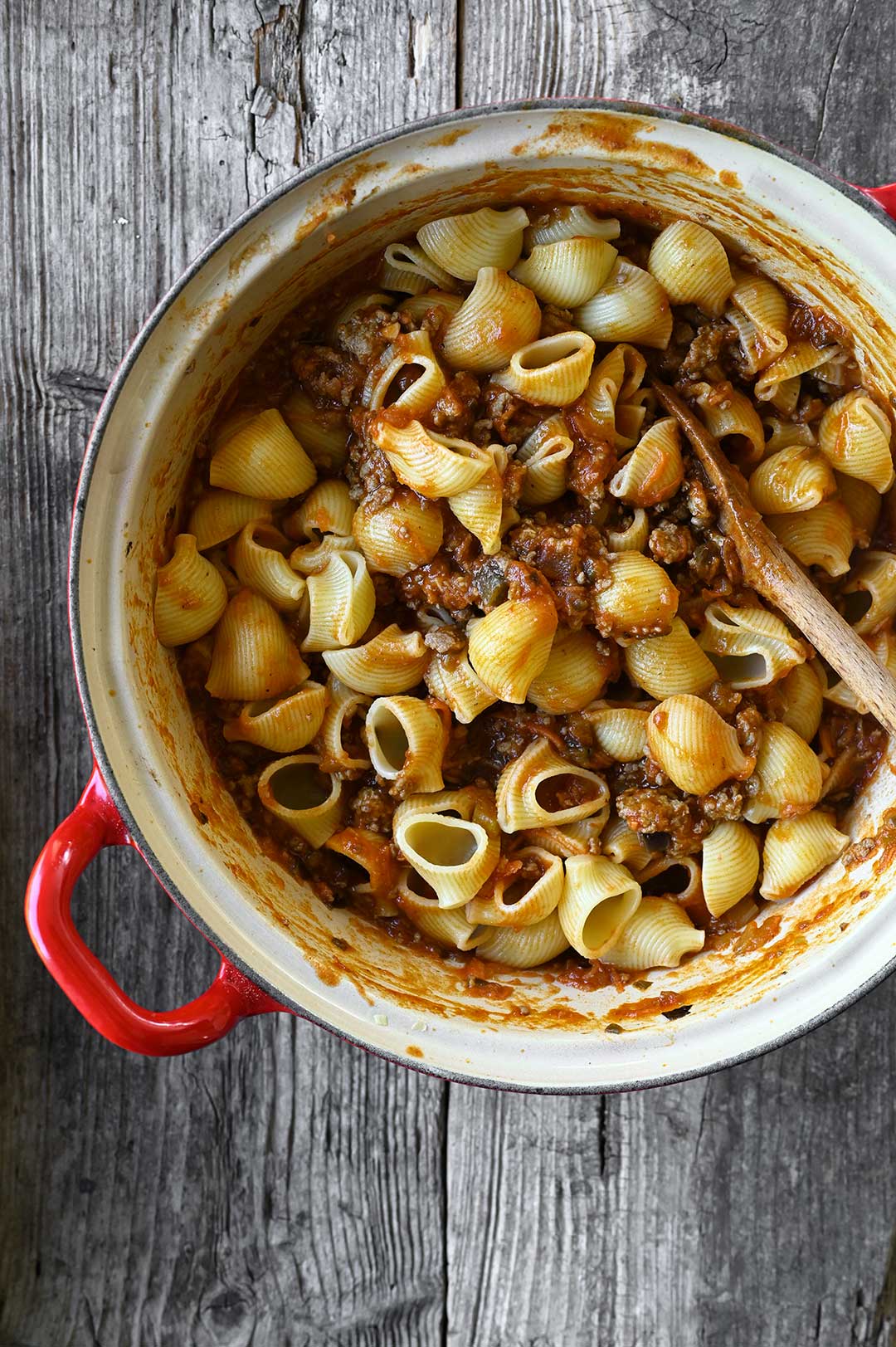 Als je aan je 'summer body' aan het werken bent:) of gewoon niet van gesmolten kaas houdt, serveer de pasta dan met de saus en wat vers geraspte parmezaanse kaas zonder de extra mozzarella. Super hartig, makkelijk en lekker.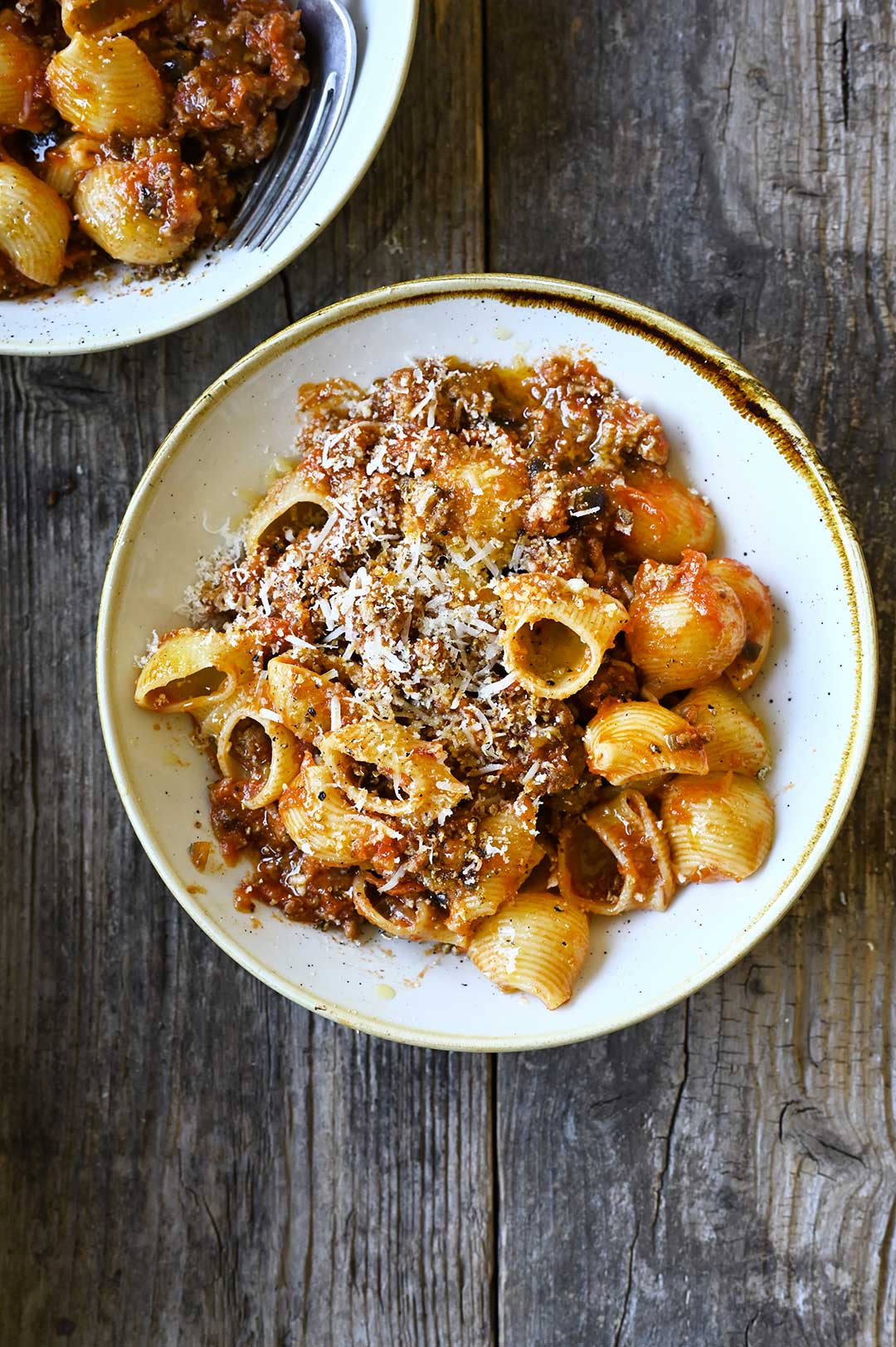 Wil je op de hoogte blijven van mijn nieuwe recepten? Abonneer je dan op mijn NIEUWSBRIEF.
Dit heb je nodig
bolognesesaus met aubergine
500 g rundergehakt
1 aubergine, in kleine blokjes
1 ui, fijngesneden
2 tenen knoflook, gehakt
3 el olijfolie
1 groene selder, fijngehakt
1 wortel, fijngehakt
500 ml tomatensaus
400 ml kippenbouillon
1/2 tl gemalen komijn, koriander, paprikapoeder
zeezout + zwarte peper naar smaak
+
250 g pasta
150 g geraspte mozzarella
1 bal mozzarella, in stukken
pijnboompitten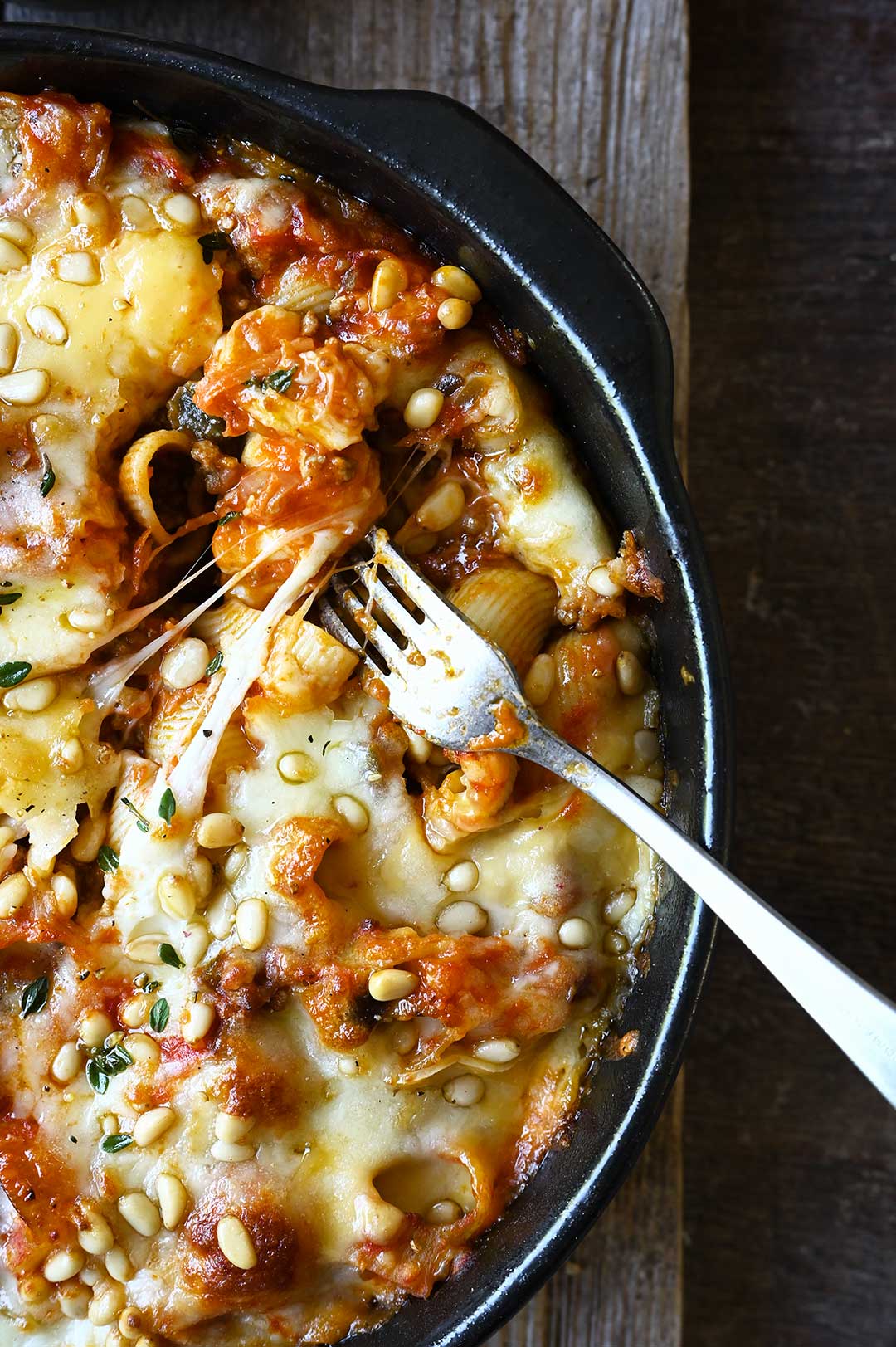 Zo maak je het
Verwarm de olie in een brede pan en fruit de de ui, knoflook en selder op een matig vuurtje gedurende 5 minuten. Doe de aubergine en de wortel erbij. Bak ongeveer 10 minuten en roer regelmatig, nog steeds op middelmatig vuur.
Roer de komijn, koriander en paprika erdoor. Zet het vuur hoog, voeg het gehakt toe en gebruik een vork om het een beetje te breken. Draai het vuur terug naar middelmatig en laat het 10 minuten rustig bakken, terwijl je af en toe roert, tot het vlees gaar is. Voeg kippenbouillon toe en laat 10 minuten sudderen. Voeg dan de tomatensaus toe, breng op smaak met zout en peper en laat nog 10 minuten verder sudderen.
Breng ondertussen een pot gezouten water aan de kook en kook de pasta 1 minuut minder dan beetgaar volgens de aanwijzingen op de verpakking.
Meng de pasta met de saus en doe de pasta in een ingevette ovenschaal. Strooi de mozzarella erover en bak 10 minuten op 200°C, tot de kaas gesmolten en mooi goudbruin is. Smakelijk!
Als je dit recept uitprobeert, laat dan hieronder een reactie achter of deel je foto's op Instagram en vergeet niet om mij te taggen @anna_s_table. Ik kijk ernaar uit!