Een dip van feta met pittige honing. Of je nu op zoek bent naar iets speciaals om te serveren als snack bij een drankje of als appetizer voor je volgende dinner party, deze dip is een absolute crowdpleaser. Zo makkelijk te maken en klaar in een handomdraai. We kloppen de feta op tot een romige dip en brengen de honing op smaak met gedroogde rode chili en knoflook. Serveer met knapperig pitabrood, crackers of rauwe groenten en je hebt een super funky voorgerechtje waar iedereen dol op zal zijn.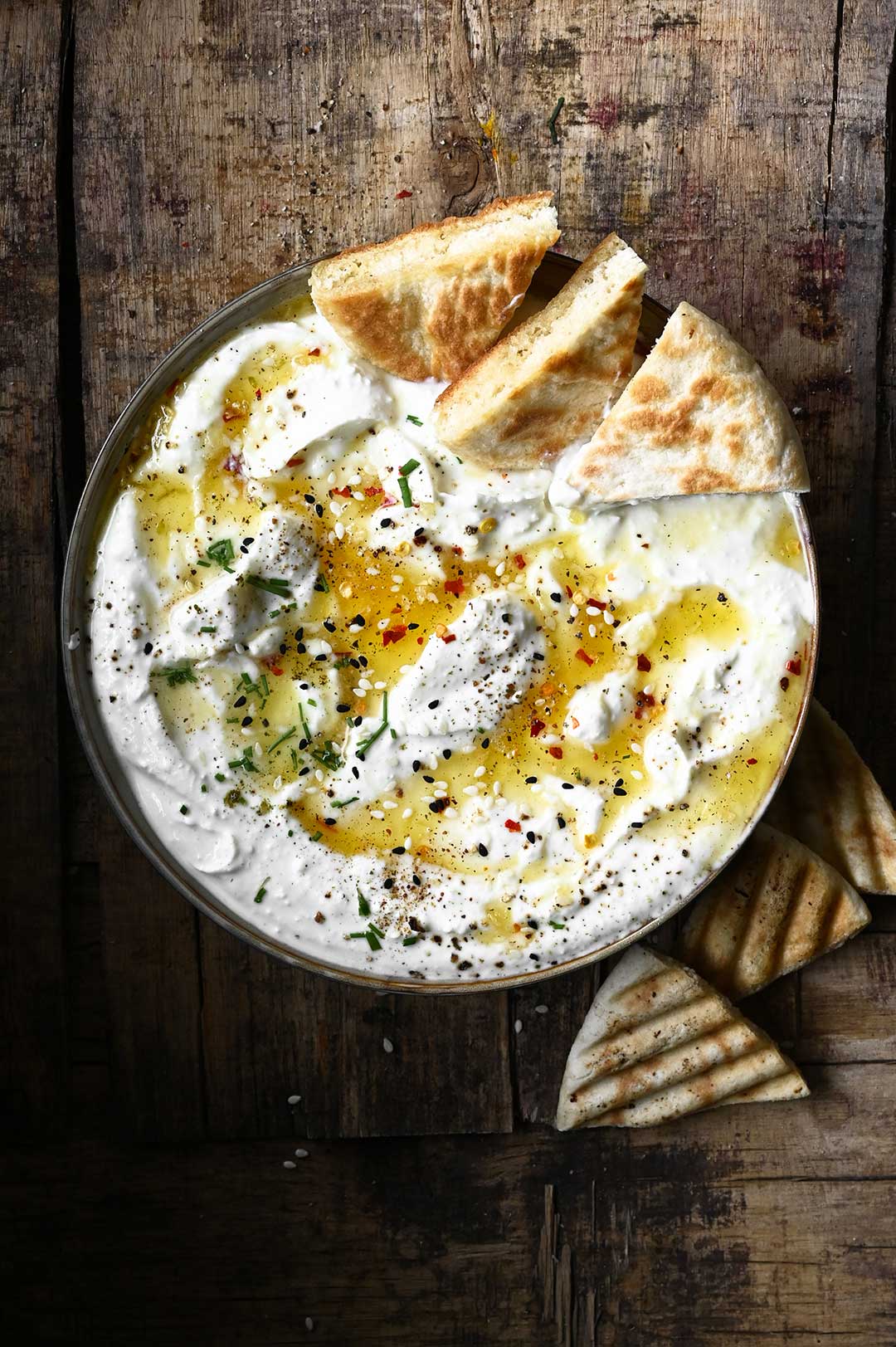 De beste dipsauzen zijn meestal diegenen die ongecompliceerd zijn, net daarom kiezen we voor deze dip slechts enkele ingrediënten. We gebruiken hier niets anders dan feta, ricotta, zure room en honing. Maar het resultaat is werkelijk heel bijzonder. Je zal ongetwijfeld telkens opnieuw teruggaan voor een nieuwe dip. Het is onwaarschijnlijk, maar mochten er alsnog restjes zijn kan je ze gebruiken als sandwichspread of als een saladedressing.
Ga naar mijn WEB STORY om te zien hoe makkelijk je deze dip kan maken!
Wil je op de hoogte blijven van mijn nieuwe recepten? Abonneer je dan op mijn NIEUWSBRIEF.

Dit heb je nodig
200 g feta
100 g ricotta
50 g zure room
zout + zwarte peper
+
5 el honing
1 el olijfolie
1 knoflookteentje, fijngehakt
2 el citroensap
1 tl gedroogde rode chilipeper
zout + zwarte peper
voor de afwerking
gehakte bieslook (optioneel)
1 tl za'atar
1 tl zwarte en witte sesamzaadjes
pitabrood, naan of rauwe groenten
Zo maak je het
Feta, ricotta en zure room zouden best voor gebruik op kamertemperatuur zijn.
Doe de feta, ricotta en zure room in je keukenmachine. Breng op smaak met zout en peper. Mix tot een romige massa, ongeveer 2-3 minuten. Proef, voeg indien nodig zout en peper toe.
Verhit de olijfolie in een pannetje. Voeg knoflook toe, fruit op een zeer laag vuurtje, ongeveer 1 minuut. Zet het vuur uit. Roer er honing, citroensap en gedroogde chilipeper onder. Breng op smaak met zout en peper.
Serveer de opgeklopte feta besprenkeld met de pittige honing. Werk af met bieslook, za'atar, sesamzaadjes, wat extra vers gemalen zwarte peper en gedroogde chilipeper. Serveer met pitabroodjes, naan of rauwe groenten.
Restjes kunnen gebruikt worden als sandwichspread of als saladedressing.
Ga naar mijn WEB STORY om te zien hoe makkelijk je deze dip kan maken!
…IF YOU LOVE THESE RECIPES … please consider supporting my work for just the cost of a cup of coffee.

Als je dit recept uitprobeert, laat dan hieronder een reactie achter of tag mij in je foto's op Instagram met @anna_s_table of met #servingdumplings. Ik kijk ernaar uit!