Dit is niet zomaar een cheesecake, oké, het is misschien supersimpel, maar het is een cheesecake waar je niet vanaf kan blijven. Met een krokant korstje en een luchtige, smeuïge vulling boordevol blauwe bessen en een frisse citroentoets.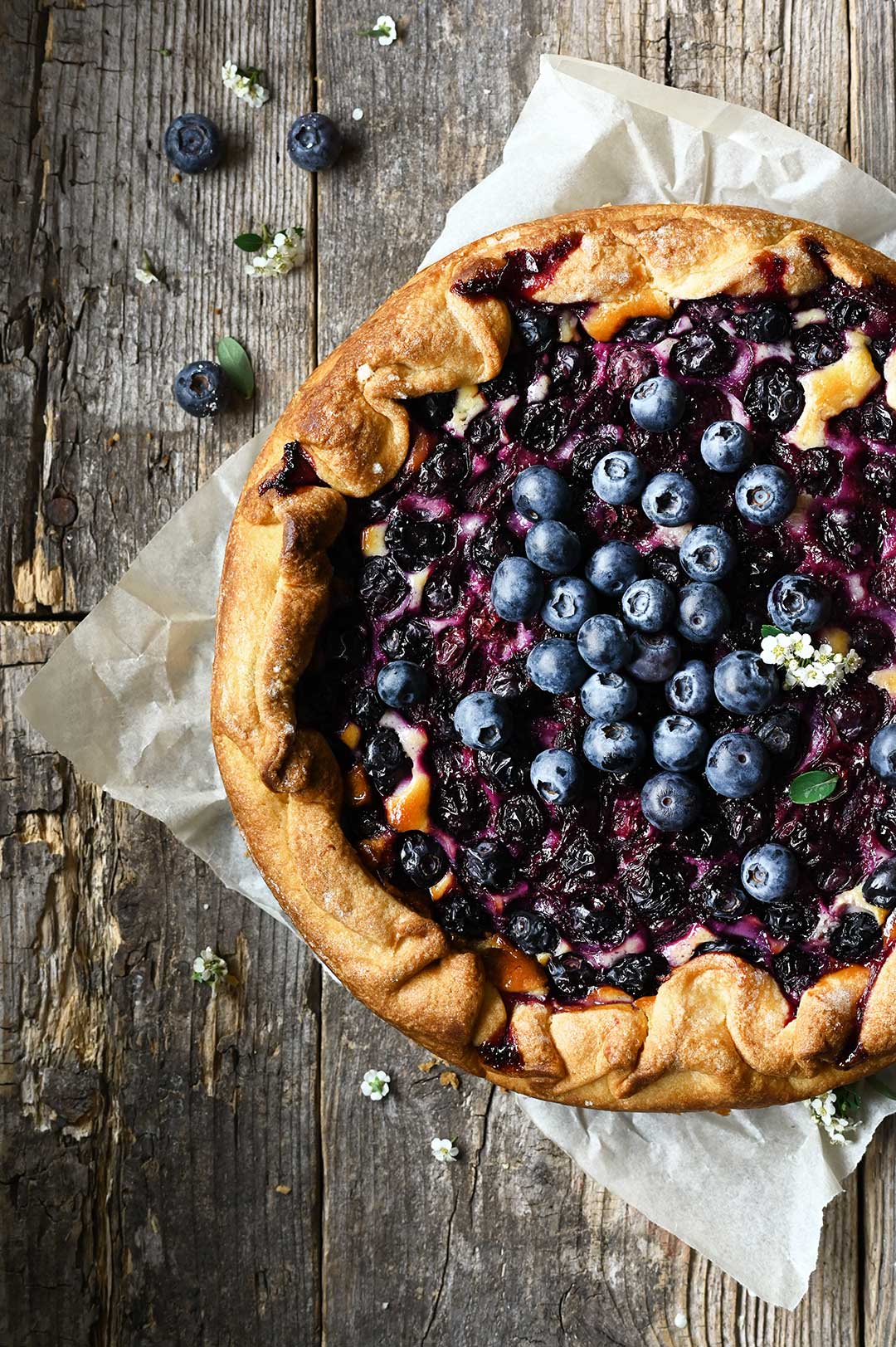 Het heerlijk krokante kruimeldeeg geeft een zalig knapperige toets aan deze cheesecake, net zoals een galette, rustiek en dus perfect imperfect. Maar vanaf het moment dat je de romige vulling proeft, die boordevol sappige bosbessen zit, vergeet je onmiddellijk deze onvolmaaktheid. Een kaastaart die je absoluut op kamertemperatuur moet eten zodat hij op je tong kan smelten.
Zulk een cheesecake hebben we allemaal nodig in ons leven. Nieuwe vrienden maken kan ontzettend leuk zijn, toch?!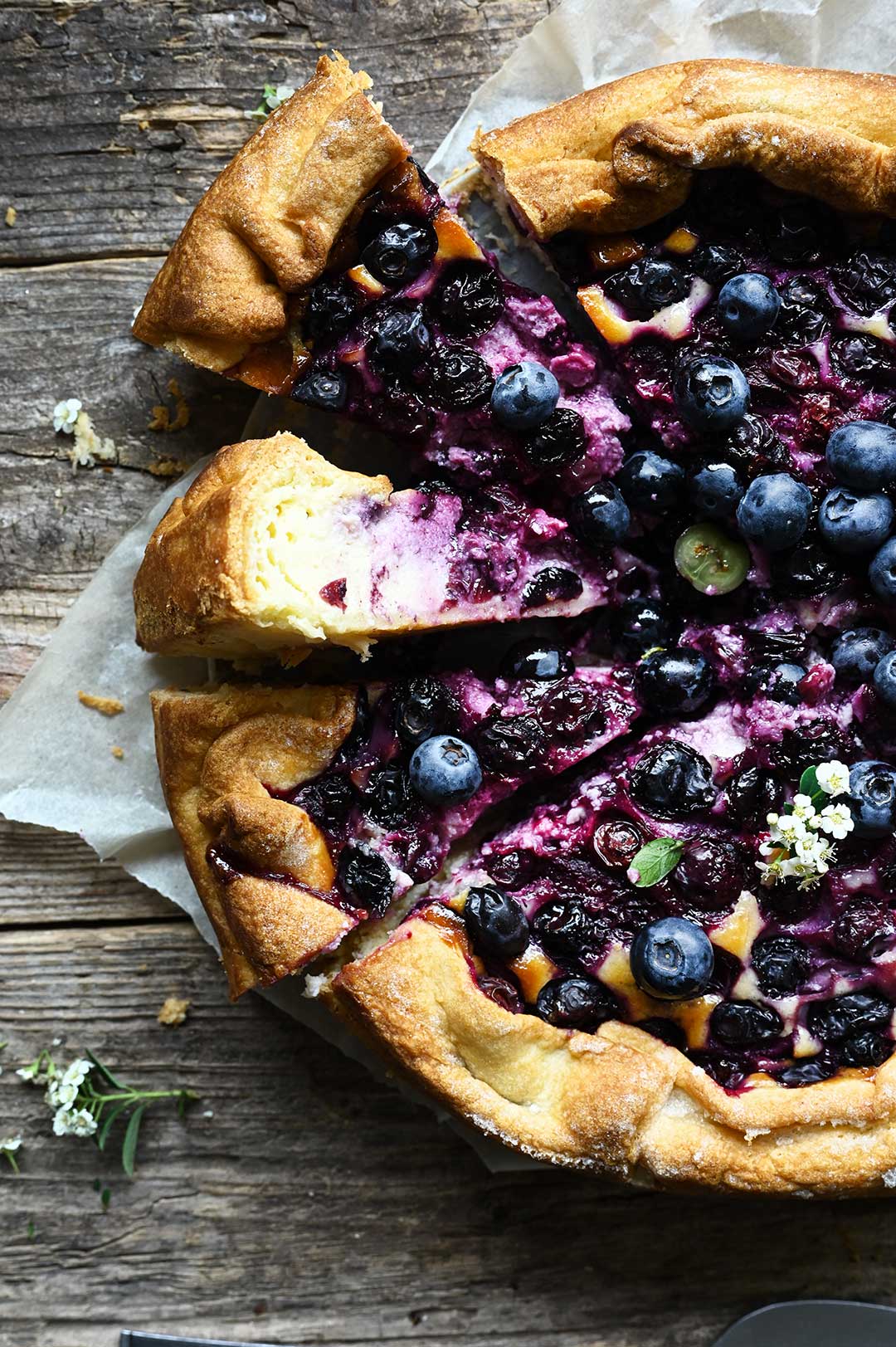 Een belangrijke extra tip: de roomkaas, yoghurt en eieren moeten op kamertemperatuur zijn, anders wordt het beslag klonterig.
Ga naar mijn Instagram Highlights om te zien hoe ik deze cheesecake maak!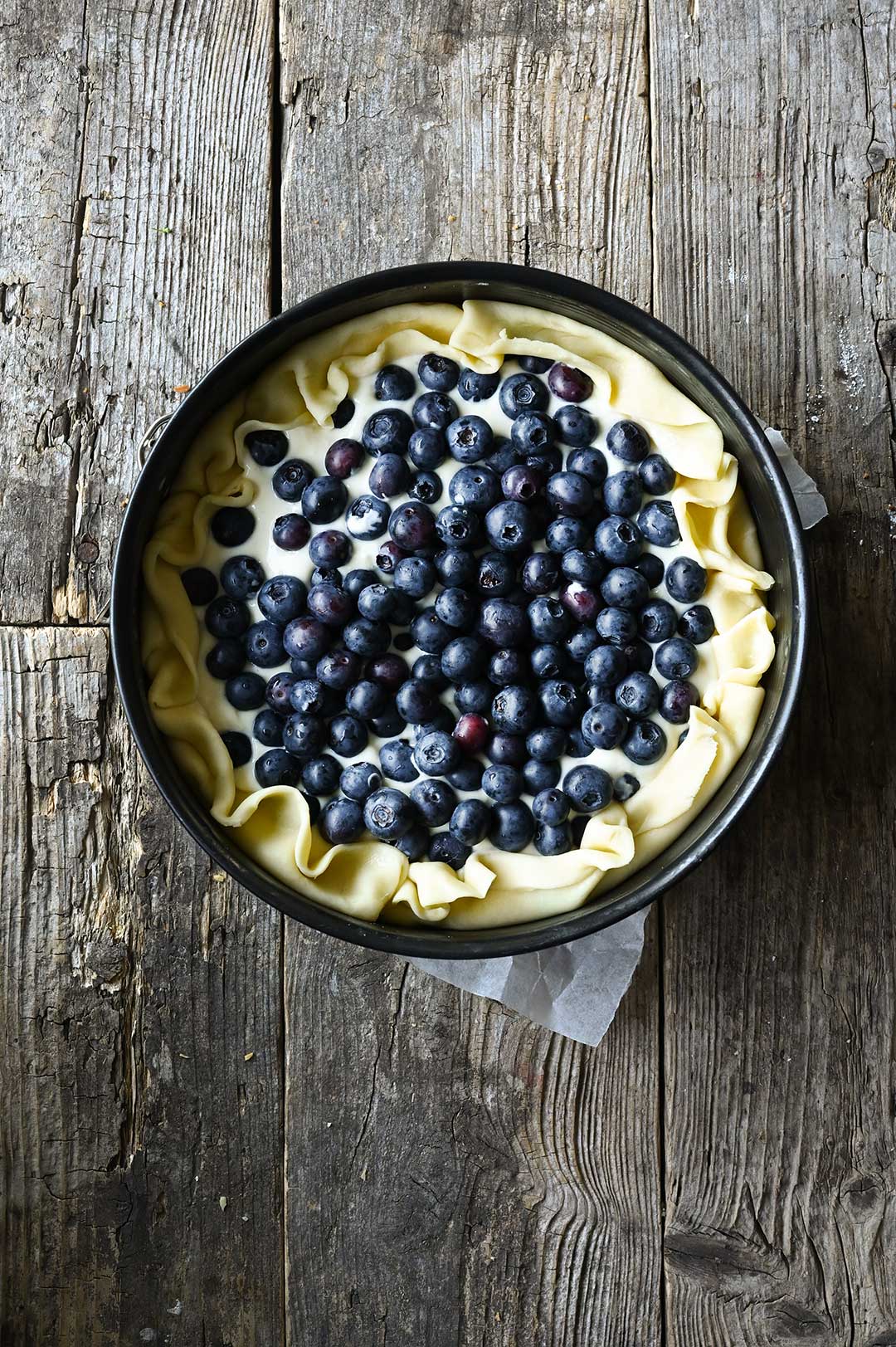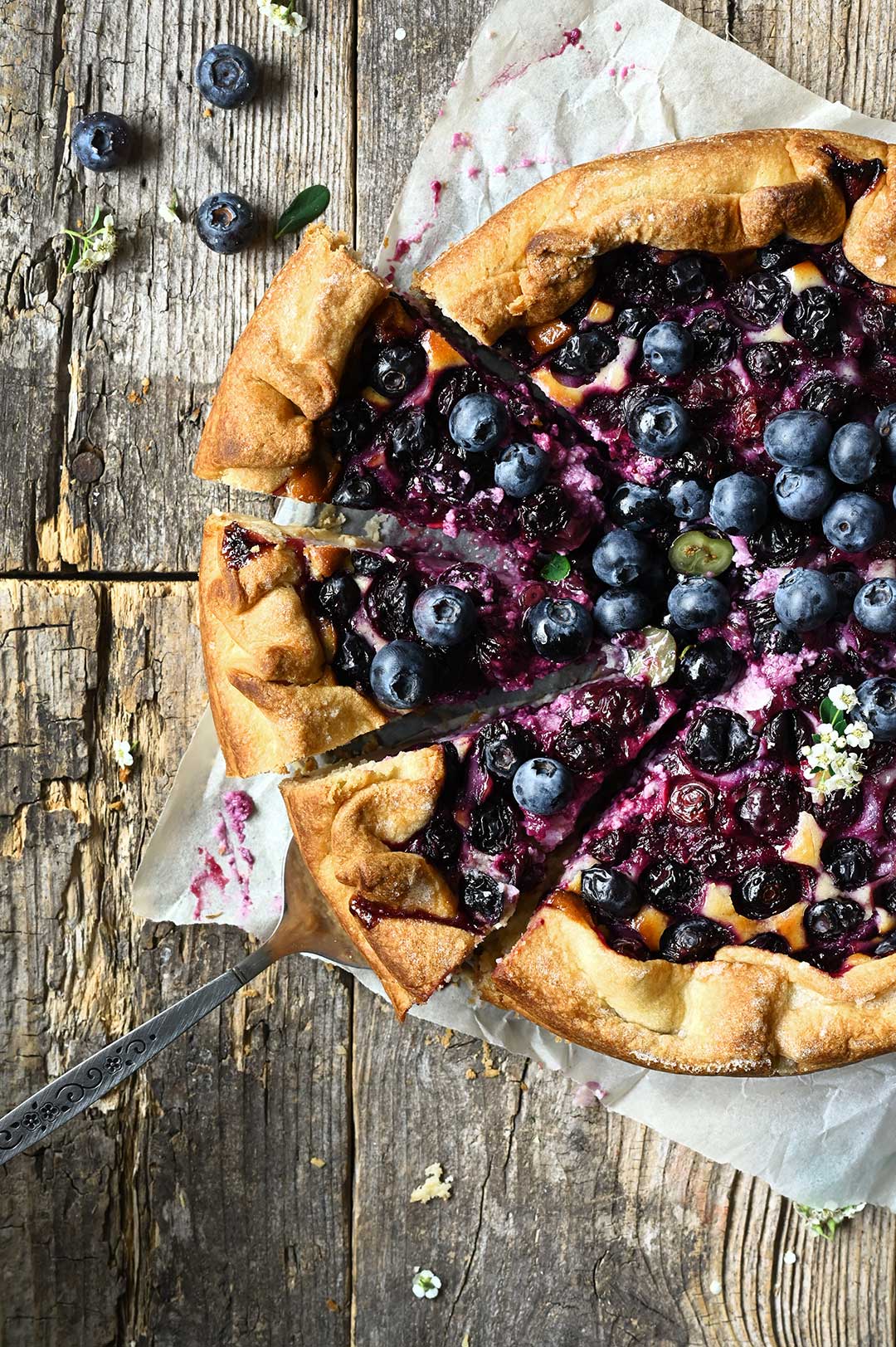 Wil je op de hoogte blijven van mijn nieuwe recepten? Abonneer je dan op mijn NIEUWSBRIEF.
Dit heb je nodig
alle ingrediënten voor de vulling moeten op kamertemperatuur zijn
kaasvulling
470 g roomkaas (zoals Philadelphia)
160 g suiker
2 eieren
100 g Griekse yoghurt
2 el maïszetmeel
1 tl citroen zeste
sap van 1/2 citroen
1 tl vanille-extract
300 g blauwe bessen
+
1 vel kruimeldeeg, zelfgemaakt of kant-en-klaar
1 ei + 1 tl melk
grove suiker voor de afwerking
Link voor zelfgemaakt kruimeldeeg.
Zo maak je het
Verwarm de oven voor op 180°C.
Bekleed een springvorm van 22 cm met bakpapier en smeer de zijkanten in met boter.
Klop in een middelgrote kom de roomkaas met yoghurt, suiker en eieren tot een luchtig beslag. Klop daarna het maïszetmeel, vanille-extract, citroensap en zeste erdoor.
Schik het kruimeldeeg voorzichtig in de springvorm. Druk het deeg met je vingers in de hoeken van de vorm, snijd de randen niet af. Prik gaatjes in de bodem, giet de kaasvulling erin en voeg de bosbessen toe.
Leg de randen van het deeg losjes over de vulling.
Klop het ei en de melk in een klein schaaltje.  Bestrijk hiermee het deeg met een kwastje. Bestrooi met grove suiker.
Plaats de cheesecake in de oven en bak gedurende 65 minuten goudbruin. Zet vervolgens de oven uit, open de deur en laat de taart in de oven afkoelen. Eenmaal volledig afgekoeld, haal de taart uit de vorm. Probeer niet de hele taart in één keer op te eten!
Deze kaastaart is eigenlijk de tweede dag nog beter, dus je kan hem een dag van tevoren maken en een nachtje laten afkoelen.
Ga naar mijn Instagram Highlights om te zien hoe ik deze cheesecake maak!
Als je dit recept uitprobeert, laat dan hieronder een reactie achter of deel je foto's op Instagram en vergeet niet om mij te taggen @anna_s_table. Ik kijk ernaar uit!