Een heerlijke curry met kokosmelk, aubergine en eitjes. Romig, hartelijk, een beetje spicy en klaar in ongeveer 30 minuten. Een smaakvolle maaltijd, met een 'bulletproof' recept ideaal om een gewone doordeweekse dag toch net dat tikkeltje specialer te maken.
Beeld je in, de smaak van kokosmelk en aubergine afgerond met knoflook in combinatie met kruiden. Dompel er nog enkele gekookte eieren in en serveer met naan! Hou je vast want je staat op het punt weggeblazen te worden!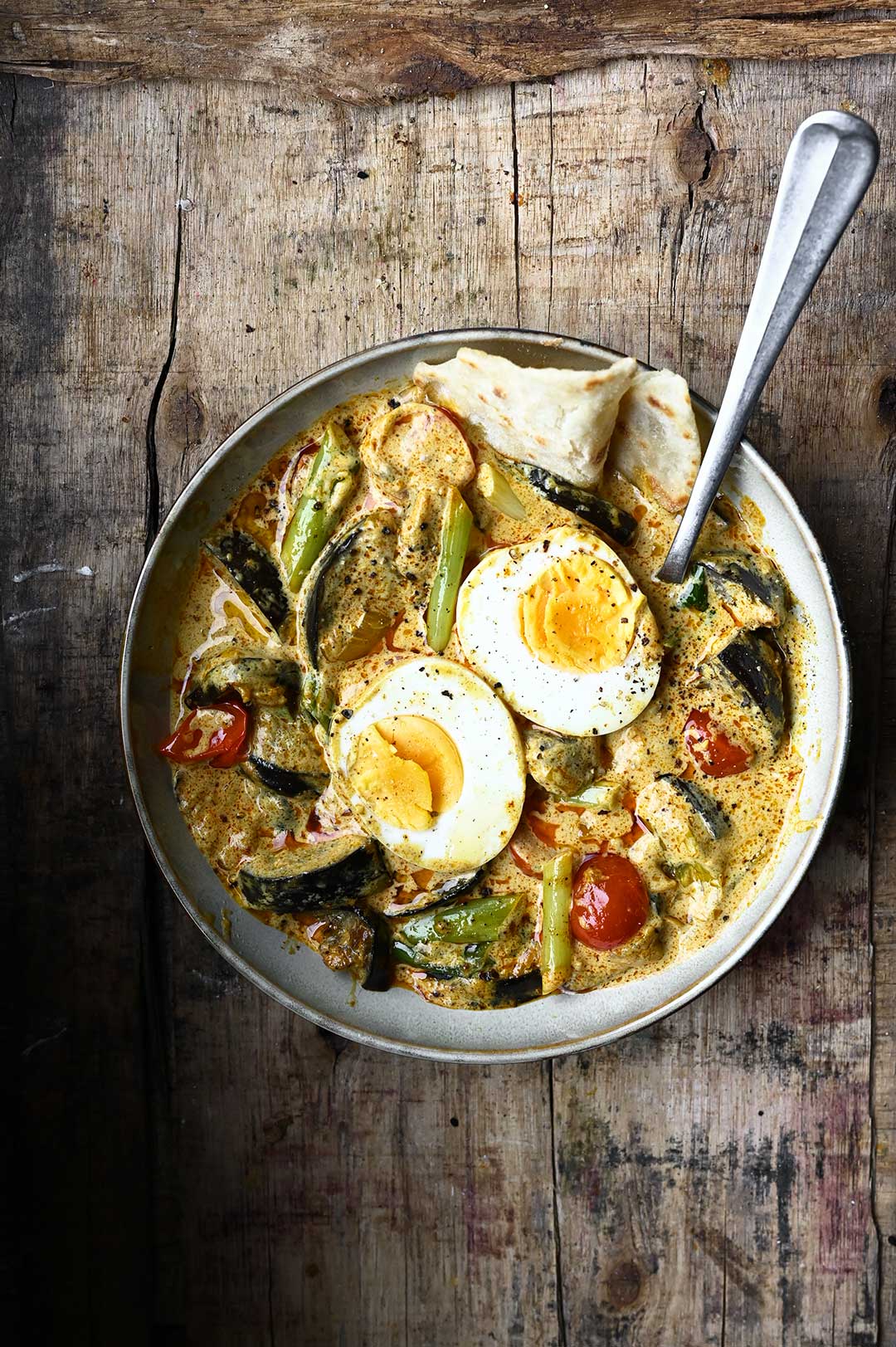 Dit is een heel veelzijdig gerecht en aanpasbaar aan elk seizoen, sla de aubergine of de tomaten over en voeg in plaats daarvan blokjes pompoen, spinazie, broccoli, bloemkool, zoete aardappel of courgette toe. Jij beslist! Bekijk mijn VIDEO om te zien hoe makkelijk je dit gerecht kan maken!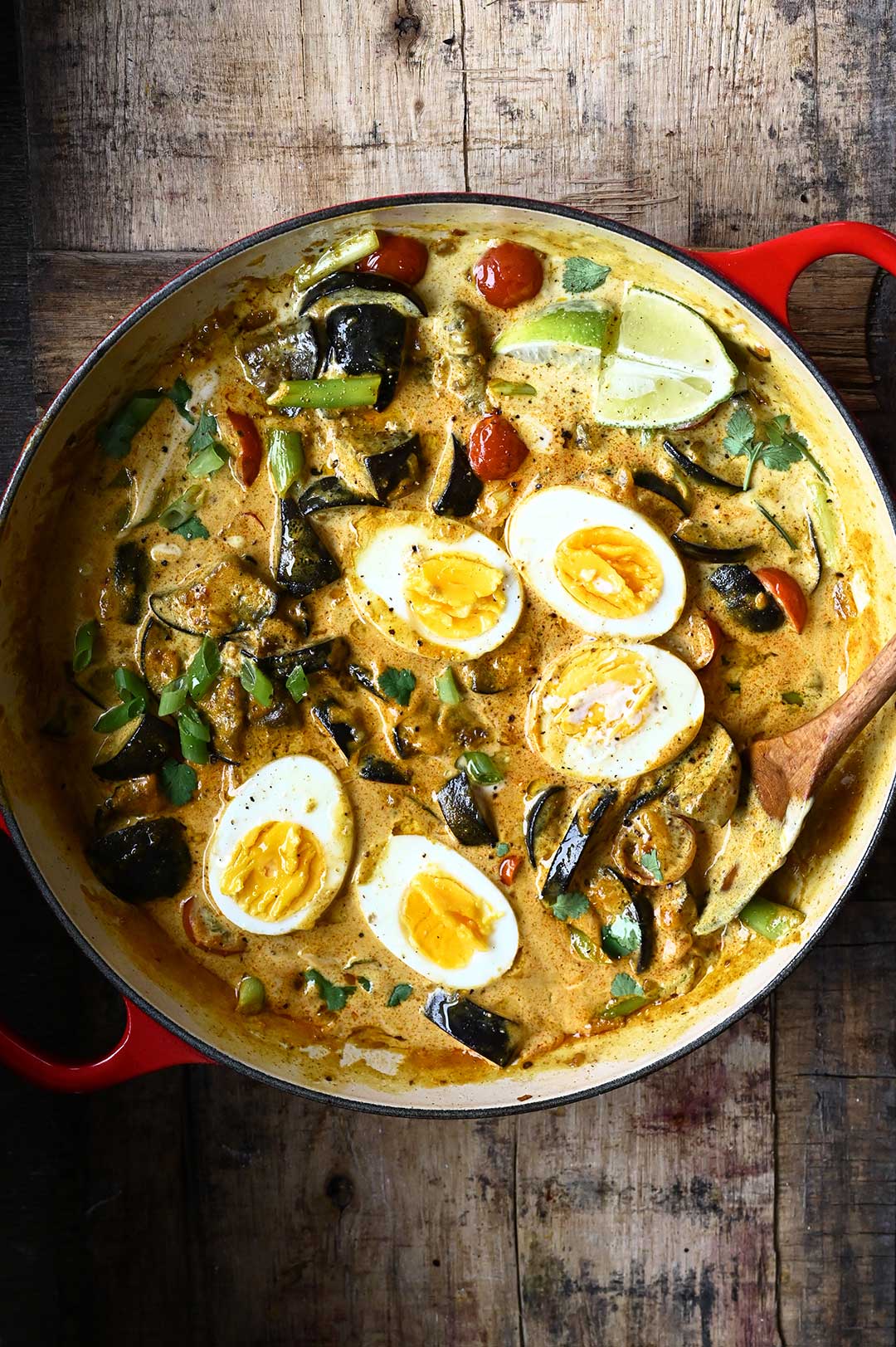 Meer makkelijke gerechten:
Kip in pindasaus
Bloemkool Kung Pao
Kabeljauw in kokossaus met asperges en wasabi
Wil je op de hoogte blijven van mijn nieuwe recepten? Abonneer je dan op mijn NIEUWSBRIEF.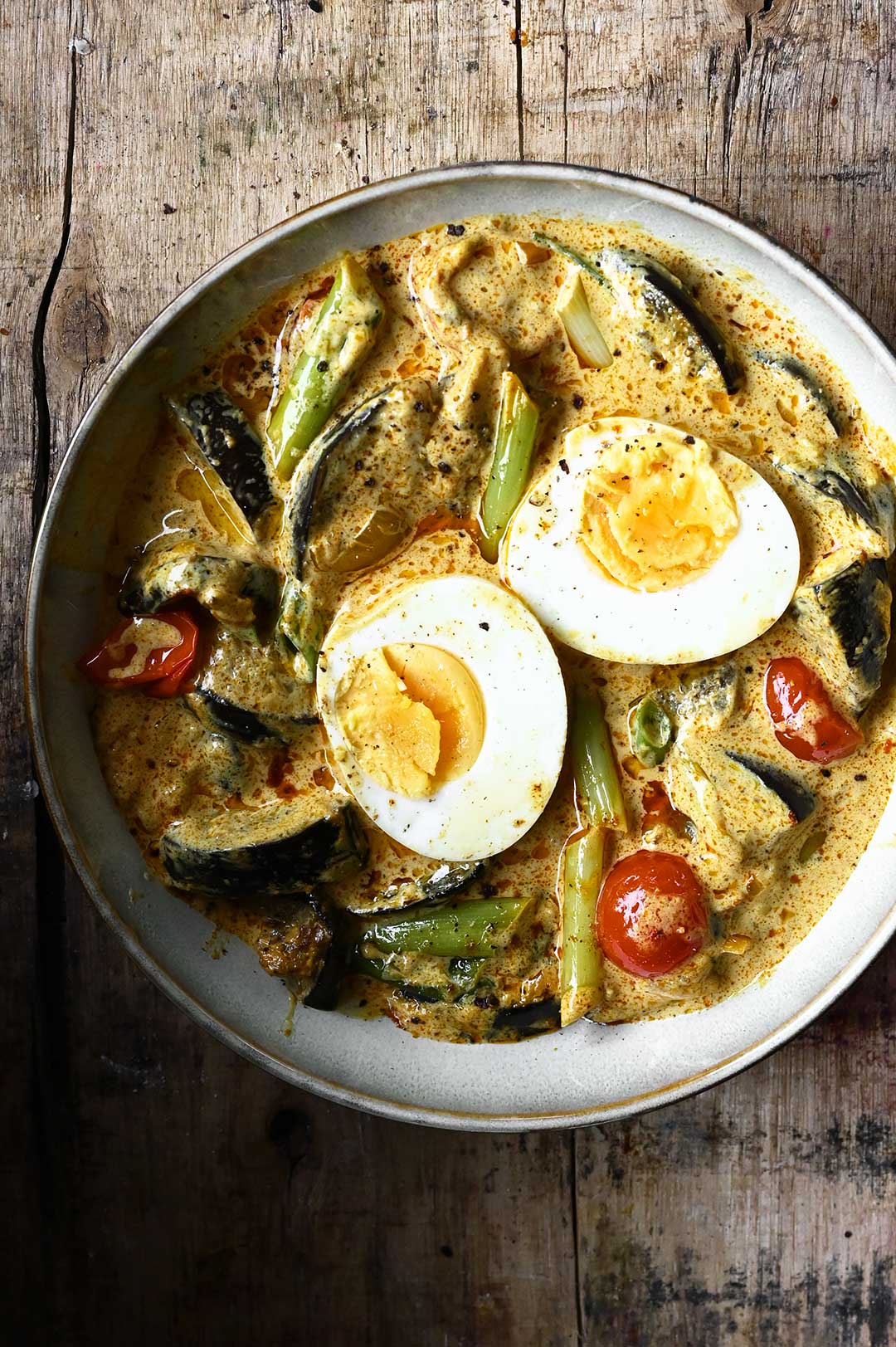 Dit heb je nodig
1 grote aubergine, in hapklare stukken gesneden
100 g kerstomaten, gehalveerd
4 tenen knoflook, fijngehakt
1 kleine ui, fijngesneden
1 el geraspte gember
3 el kokosolie, of plantaardige olie
1 blikje (400 ml) ongezoete kokosmelk
2 el limoensap
1 el rode currypasta
5 lente-uitjes, gehakt
4 eieren, hardgekookt
zout + zwarte peper
koriander, voor het serveren (optioneel)
kruidenmengsel
1 tl elk: gemalen kurkuma, gemalen koriander, gemalen komijn, gerookt paprikapoeder
2 tl cayennepeper
Zo maak je het
Meng alle ingrediënten voor het kruidenmengsel in een kommetje.
Breng in een kleine kookpot water aan de kook, leg de eieren er voorzichtig in en laat gedurende 10 minuten sudderen. Spoel de eieren onder koel water en zet even opzij.
Verhit 1 el kokosolie in een grote pan op middelhoog vuur. Voeg aubergine toe, bak tot deze goudbruin en gaar is, maar laat hem niet te lang bakken (hij mag niet uit elkaar vallen) ongeveer 10-15 minuten. Verlaag het vuur als de aubergine donkerbruin begint te worden en voeg indien nodig 1 el kokosolie toe. Haal uit de pan en leg op een bord.
Als de pan te droog is, voeg dan nog eens 1 el kokosolie toe. Doe knoflook, gember en ui erin. Fruit op een zacht vuurtje gedurende 1 minuut, voeg de kruiden toe en laat nog 1 minuut verder fruiten. Roer de kerstomaatjes en lente-uitjes erdoorheen en laat het geheel 2 minuten bakken. Doe de aubergine terug in de pan. Kruid met zout en zwarte peper. Giet de kokosmelk erover, breng zachtjes aan de kook, zet het vuur lager en voeg rode currypasta toe. Laat sudderen, totdat de curry begint in te dikken, ongeveer 10 minuten. Haal van het vuur en voeg limoensap toe. Proef en voeg zout en zwarte peper toe.
Pel en halveer de eieren. dompel ze in de curry, laat alles 5 minuten staan.
Verdeel dan de curry over de kommen en serveer met koriander of lente-uitjes. Heerlijk met naan of rijst. Geniet ervan! Bekijk mijn VIDEO om te zien hoe makkelijk je dit gerecht kan maken!
…IF YOU LOVE THESE RECIPES … please consider supporting my work for just the cost of a cup of coffee.

Als je dit recept uitprobeert, laat dan hieronder een reactie achter of tag mij in je foto's op Instagram met @anna_s_table of met #servingdumplings. Ik kijk ernaar uit!