Een frisse citroencake met blauwe bessen en crumble van lichtbruine suiker. Dit is een taart die we allemaal zouden moeten maken. Luchtig, zacht en zoet. Een zomers gebak met een duizelingwekkende hoeveelheid bosbessen en een buitenaards lekkere crumble. Mag ik zeggen dat dit echt een van mijn favorieten is?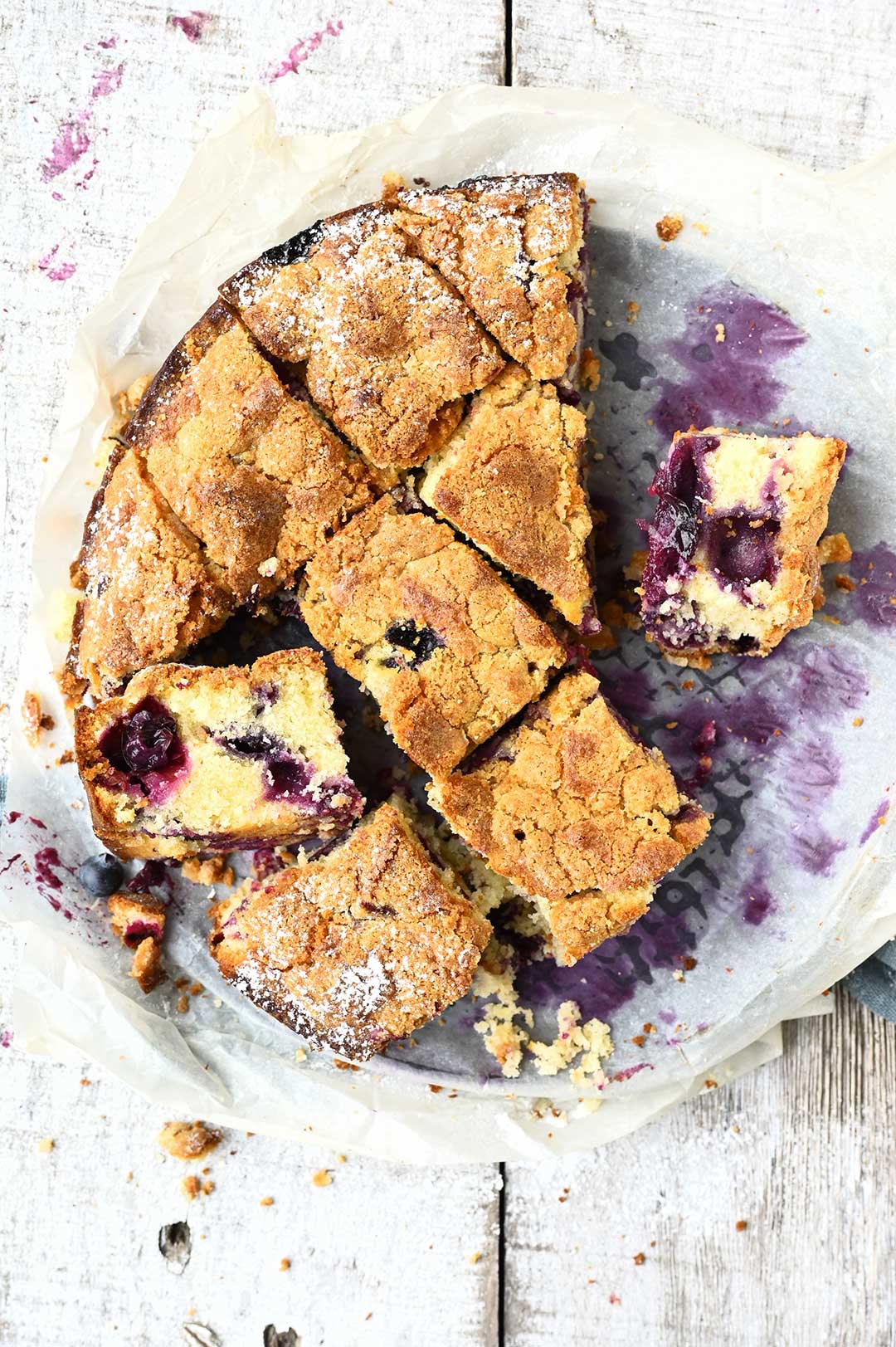 Er zijn een aantal dingen aan deze cake die het verschil maken. Eerst de crumble, het geeft extra smaak en textuur, is echt knapperig en bakt zich mooi in het beslag, zo heb je geen kans dat hij er vanaf kruimelt wanneer je de cake snijdt.
Ten tweede gebruik ik veel bosbessen, want ik hou van zomerse taarten overladen met bessen. 
Dan het beslag, het is redelijk vast en zo blijft het fruit op zijn plaats, de bosbessen zinken op die manier niet helemaal naar de bodem. Oh, en ik hou ervan om de zeste samen met de suiker op te kloppen, de korrel van de suiker wrijft optimaal de citroensmaak eruit.
Dit is echt een heerlijke cake die met de dag beter wordt… maar veel geluk daarmee.
Op zoek naar meer makkelijke taartjes? Hier een paar favorieten.
Yoghurtcake met aardbeien en amandelen
Cheesecake met blauwe bessen
Ricotta cake met aardbeien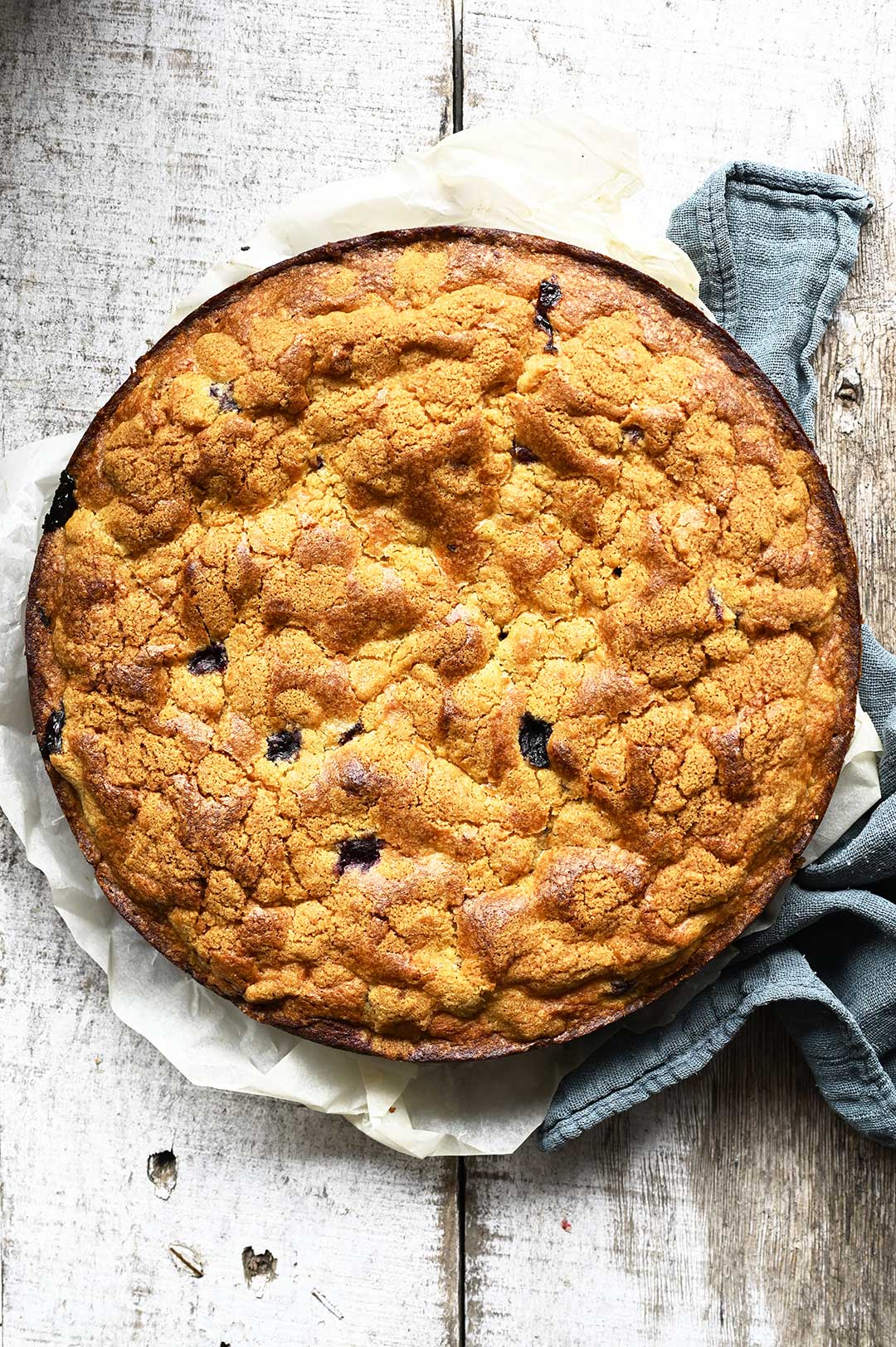 Wil je op de hoogte blijven van mijn nieuwe recepten? Abonneer je dan op mijn NIEUWSBRIEF.
Dit heb je nodig
crumble
40 g lichtbruine suiker
50 g roomboter
50 g bloem
cake
300 g blauwe bessen
180 g bloem
160 g roomboter
200 g kristalsuiker
2 eieren
2 tl bakpoeder
1/4 tl  zout
zeste van 1 citroen
sap van 1/2 citroen
2 el melk
1 tl vanille-extract
bloemsuiker, voor de afwerking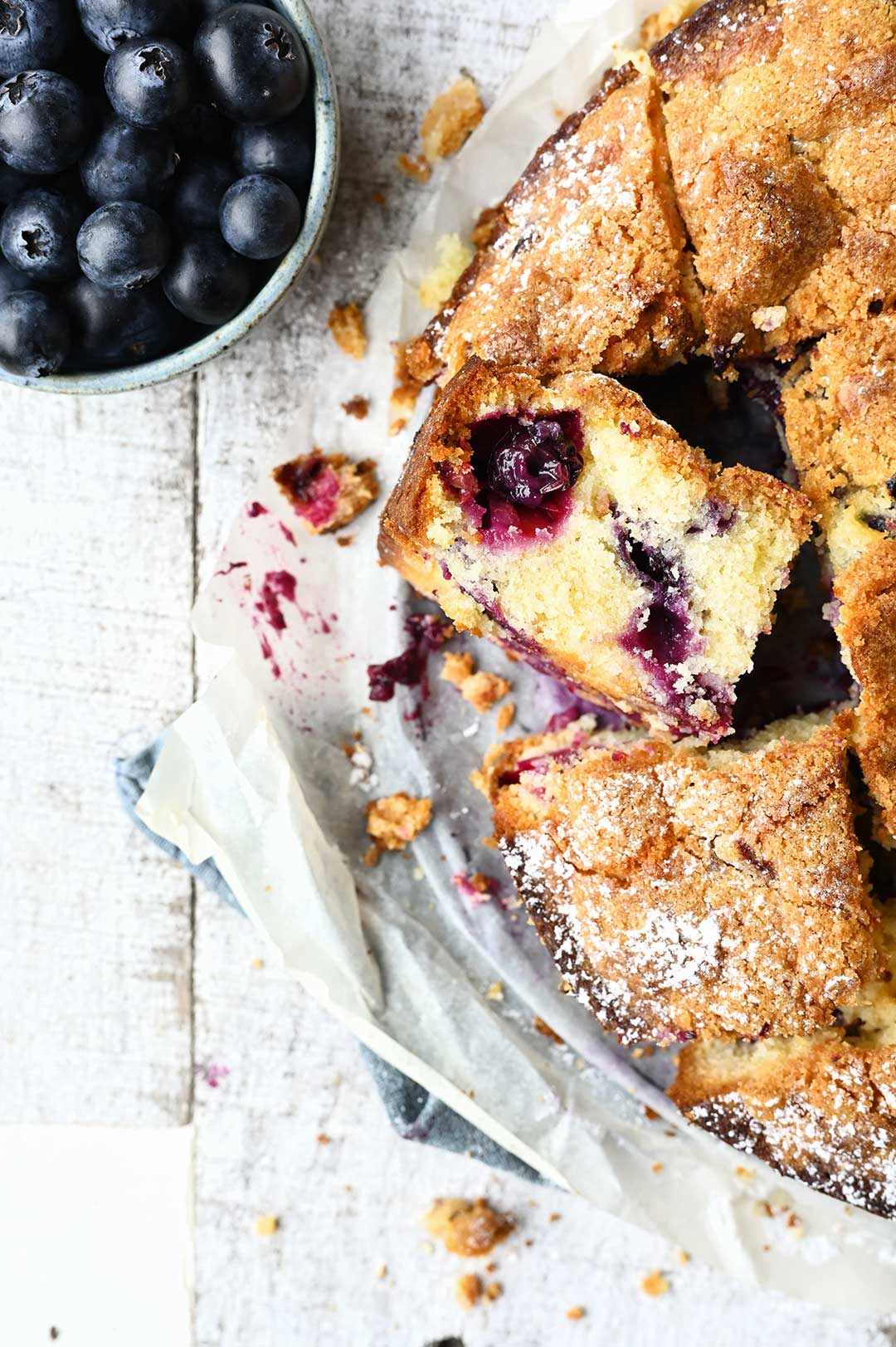 Zo maak je het
Verwarm de oven voor op 180°C.
Bekleed een springvorm van 24 cm doorsnede met bakpapier en vet de zijkanten in met boter.
Maak in een kleine kom de crumble door de bloem, suiker en boter met je vingertoppen te mengen. Zet opzij.
Klop in een grote kom de boter, suiker en zeste tot een licht en luchtig beslag. Voeg de eieren een voor een toe. Voeg vervolgens vanille, melk, bakpoeder en citroensap toe, mix. Zeef de bloem en mix tot het helemaal opgenomen is in het mengsel. Het beslag zal redelijk vast zijn. Spatel de bessen eronder.
Doe het beslag in de vorm en strijk de bovenkant glad met je spatel. Bestrooi met de crumble. Bak 50-55 minuten goudbruin of tot een tester droog eruit komt. Laat afkoelen in de springvorm op een rooster. Bestrooi met bloemsuiker. Smakelijk.
Tip: De taart houdt zich afgedekt tot drie dagen op kamertemperatuur en wordt met de dag lekkerder.
Als je dit recept uitprobeert, laat dan hieronder een reactie achter of deel je foto's op Instagram en vergeet niet om mij te taggen @anna_s_table. Ik kijk ernaar uit!