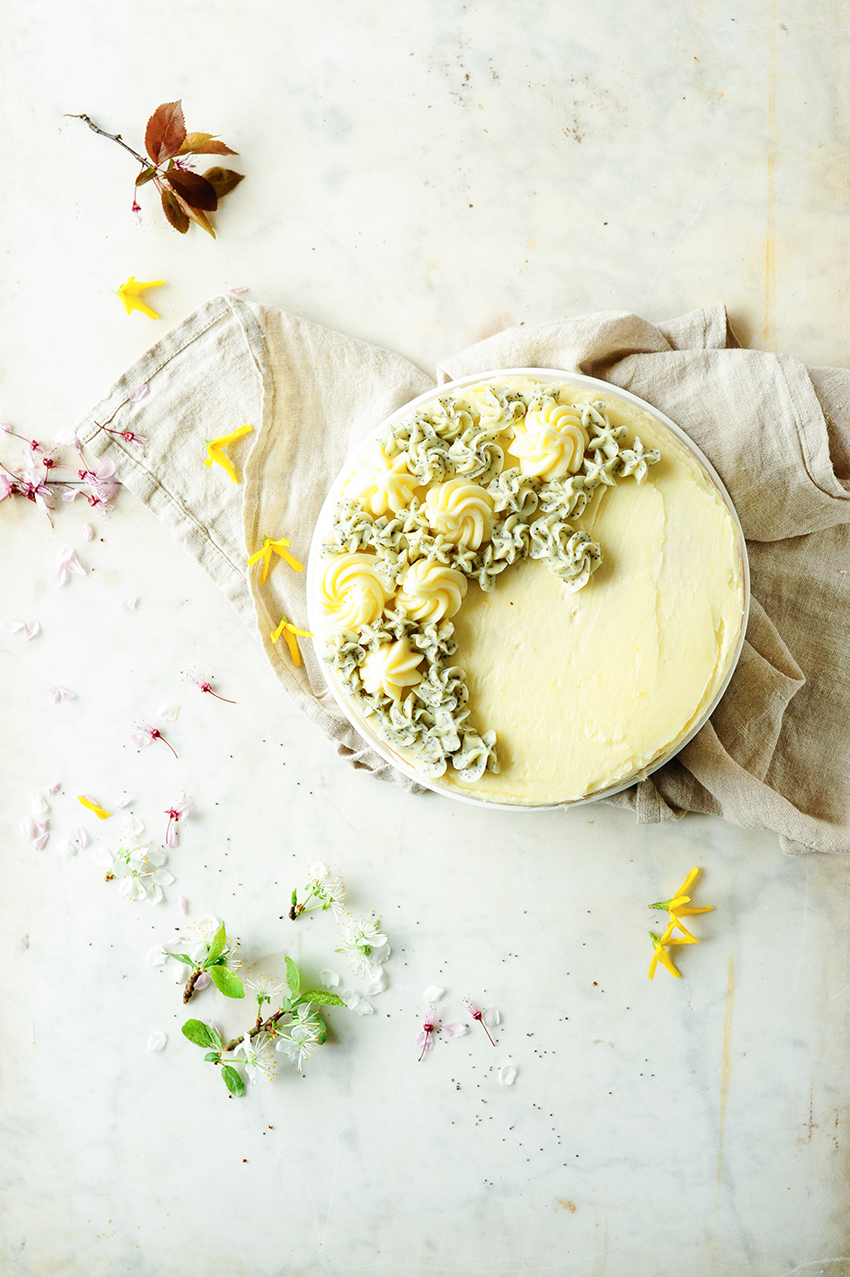 Dit is een echte lentetaart, het heeft alles wat me doet denken aan de lente – zowel in kleuren als in smaken. Het heeft een lichte biscuit met citroen en maanzaad, gestoofde rabarber en de beste citroen botercrème. Deze taart is geweldig, de citroensmaak ontploft in je mond, hij is geweldig voor in het weekend en al zeker voor Pasen, omdat de feestdagen beter smaken met zoetigheden als deze.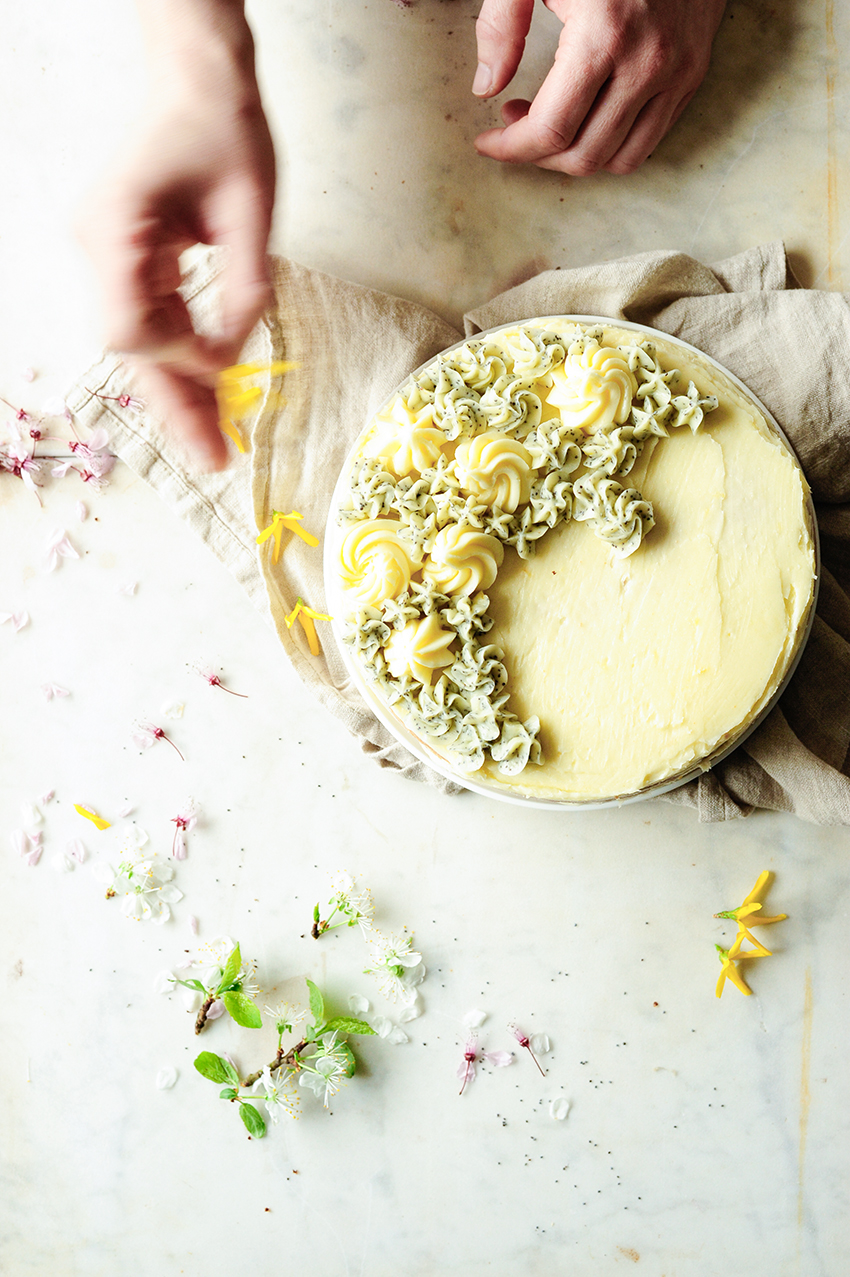 Dit heb je nodig
de biscuit met citroen en maanzaad
90 g bloem
50 g aardappelzetmeel
150 g suiker
4 bio eieren
1/2 tl bakpoeder
zeste van 1 bio citroen
sap van 1/2 citroen
snuifje zout
zaadjes van 1/2 vanillestokje
1 el maanzaad
de rabarber
400 g rabarber
200 g suiker
1/2 tl kardemom
1/2 tl kaneel
citroen botercrème
250 g boter
450 g poedersuiker
zeste en sap van 1 bio citroen
1 tl maanzaad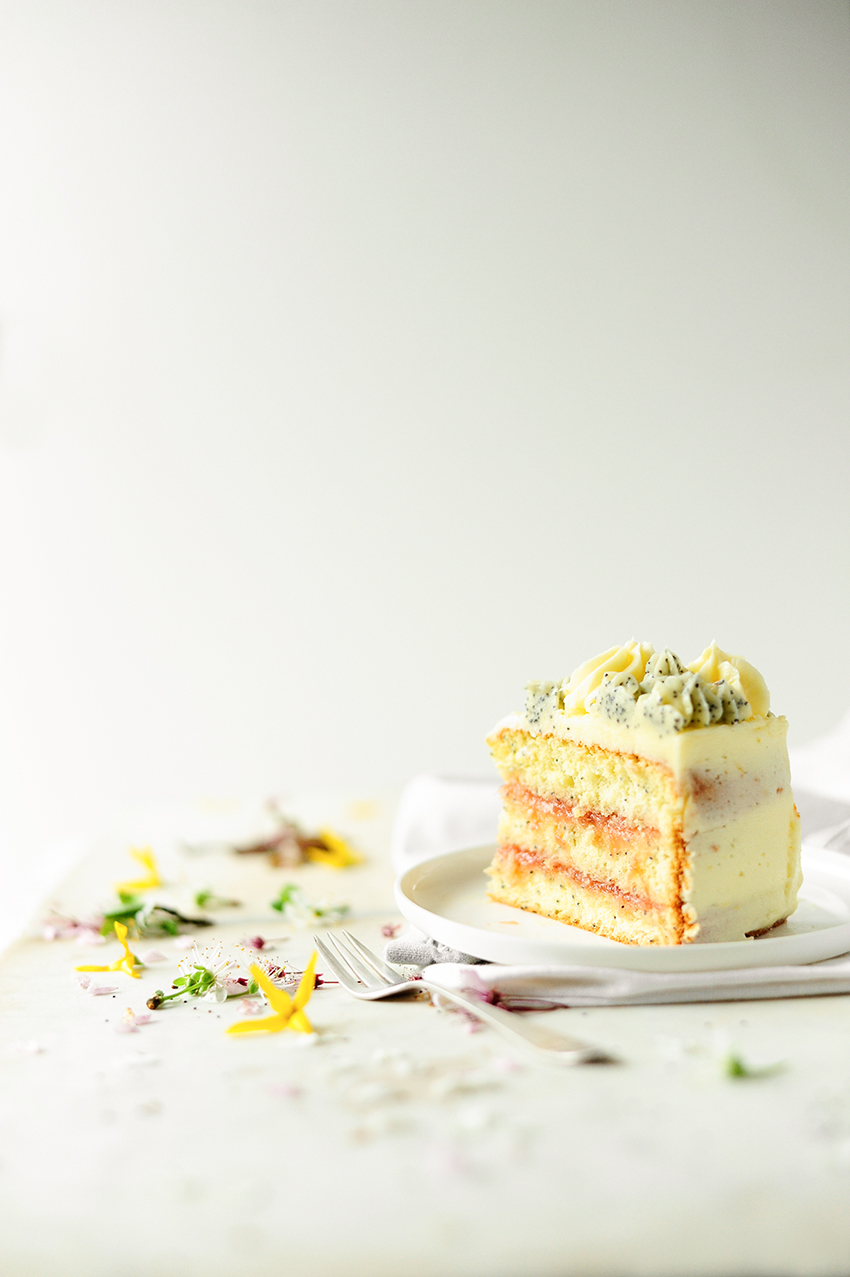 Zo maak je het
de biscuit
Meng de bloem met het aardappelzetmeel en het bakpoeder. Scheid de eieren en klop de eierdooiers op met de helft van de suiker tot een zeer licht en luchtig mengsel. Klop de eiwitten stijf, voeg dan geleidelijk het zout en de rest van de suiker toe, blijf voortdurend kloppen tot een stijf en glanzend mengsel. Voeg de eidooiers toe en roer voorzichtig met een spatel. Voeg vanillezaadjes, maanzaad, zeste en citroensap toe. Zeef dan de droge ingrediënten erin en roer voorzichtig met een spatel.
Bekleed een 18 cm springvorm met bakpapier en vet de zijkanten in met boter. Giet het beslag erin en bak ongeveer 35-40 minuten op 170°C, controleer met een satéstokje door in het midden te prikken. Laat volledig afkoelen.
de gestoofde rabarber
Snijd de rabarber in stukjes, doe het in een pan, voeg suiker, kardemom, kaneel en het overgebleven vanillestokje toe. Breng aan de kook, zet het vuur lager en laat gedurende 30 minuten stoven, roer  af en toe. Haal van het vuur en laat volledig afkoelen.
citroen botercrème
Doe de boter in de kom van je keukenmachine en klop tot een lichte en luchtige massa. Voeg langzaam de suiker toe terwijl je blijft kloppen. Voeg tenslotte de zeste en het citroensap toe.
Snijd de taart in drie gelijke lagen, plaats de eerste laag op een bord of een taartenstaander, verspreid de helft van de rabarber, plaats de tweede laag en verdeel de rest van de rabarber. Plaats de derde laag en bedek de bovenkant en de zijkanten van de taart met een dun laagje botercrème. Meng de rest van de overgebleven botercrème met een theelepel maanzaad en versier de taart. Laat gedurende 30 minuten opstijven in de koelkast of tot ze klaar is om te serveren. Smakelijk!