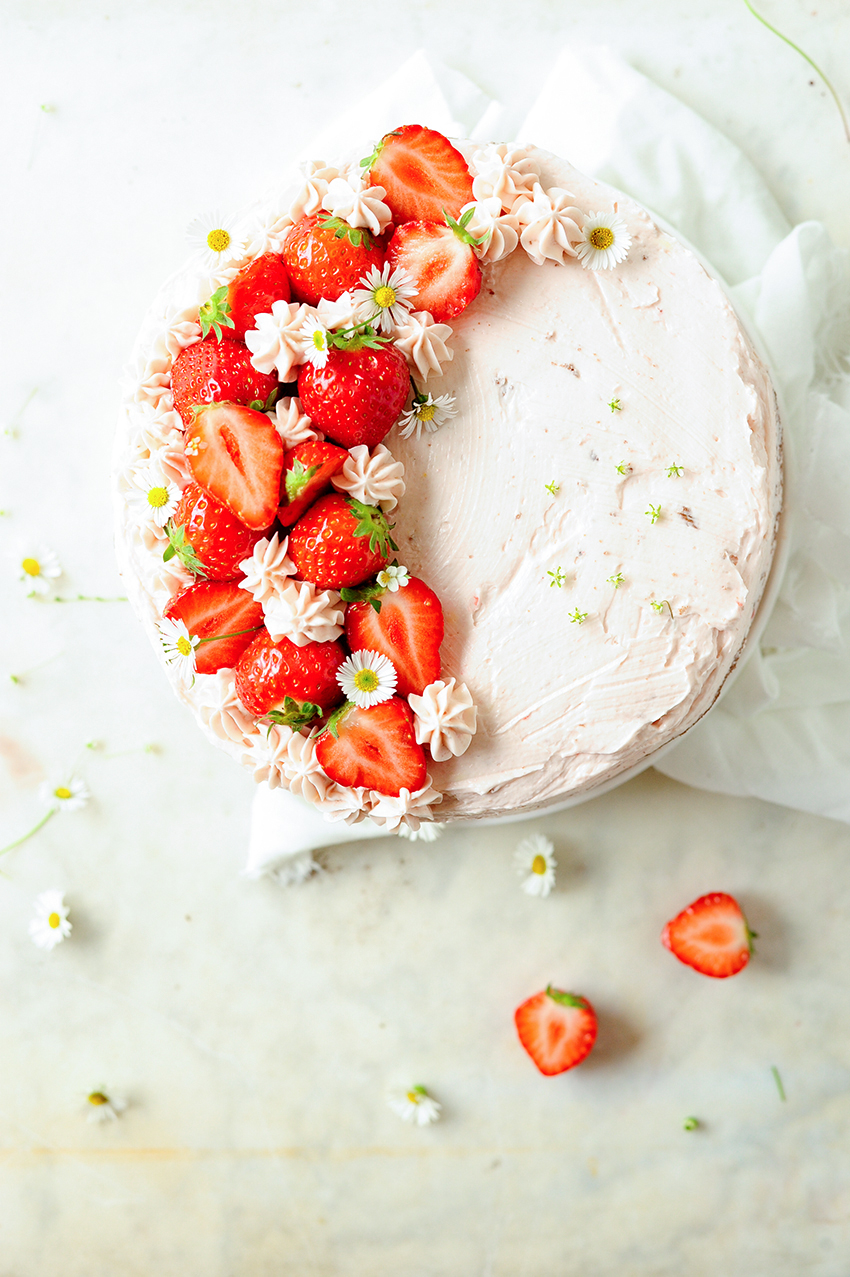 Chocolade en aardbeien is een overheerlijke combinatie. Daarom past deze chocoladetaart perfect bij de verse aardbeien en de frisse aardbei-mascarponecrème. Deze taart is licht, lekker en makkelijk te maken, het is het perfecte dessert waar vrijwel iedereen van kan genieten.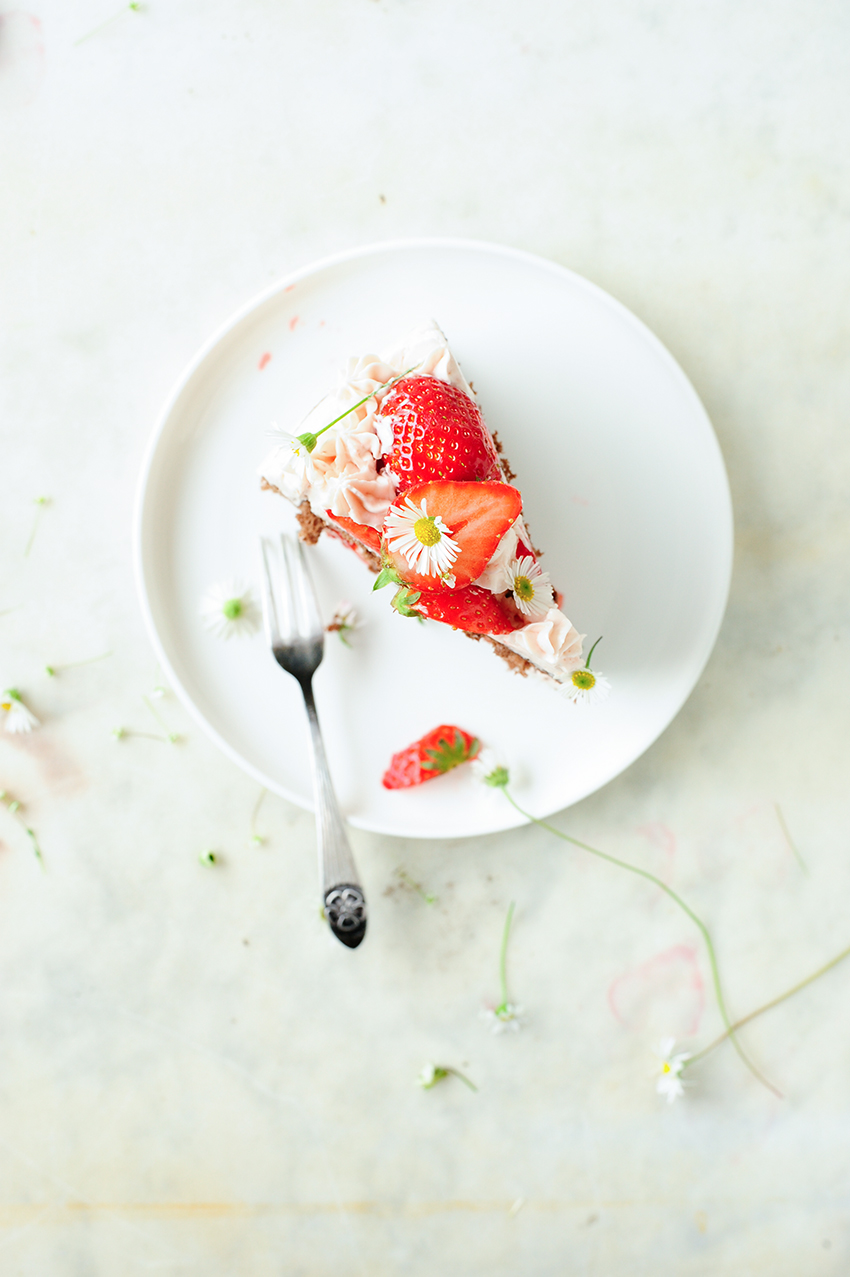 Wil je op de hoogte blijven van mijn nieuwe recepten? Abonneer je dan op mijn NIEUWSBRIEF.
Dit heb je nodig
zorg dat alle ingrediënten op kamertemperatuur zijn
de chocoladebiscuit
50 g patisseriebloem
50 g aardappelzetmeel
4 biologische eieren
40 g cacaopoeder
1/2 tl bakpoeder
150 g fijne suiker
de aardbei-mascarponecrème
200 g aardbeien
200 g zachte boter
200 g mascarpone
350 g fijne suiker
1 tl vanille extract
1 el citroensap
zeste van 1/2 citroen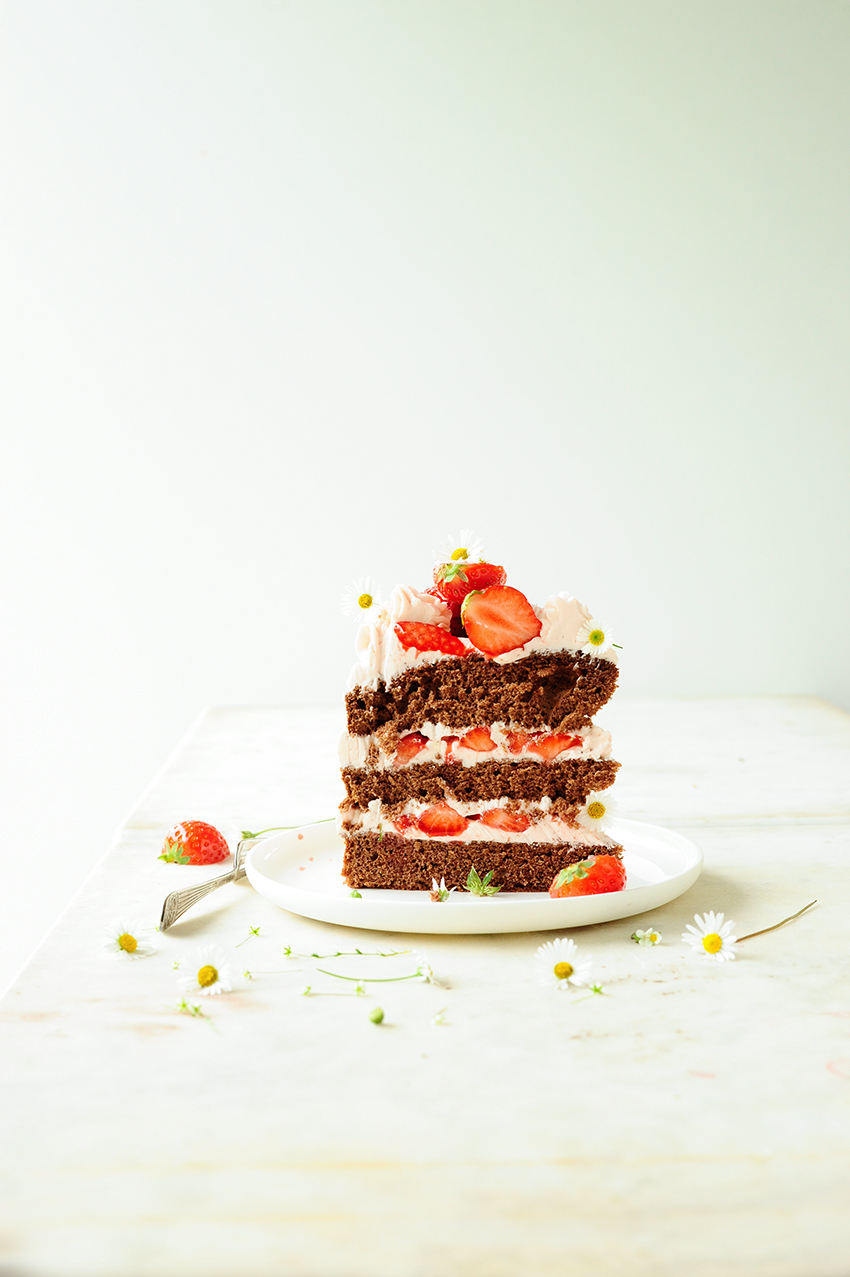 Zo maak je het
Meng de bloem met aardappelzetmeel, bakpoeder en cacaopoeder.
Scheid de eieren en klop de eierdooiers op met de helft van de suiker tot een zeer licht en luchtig mengsel. Klop de eiwitten stijf, voeg dan geleidelijk de rest van de suiker toe, blijf voortdurend kloppen, tot een stijf en glanzend mengsel. Voeg de eidooiers toe en roer voorzichtig met een spatel. Zeef dan de droge ingrediënten erin en roer voorzichtig met een spatel.
Bekleed een springvorm van 20 cm met bakpapier en vet de zijkanten in met boter. Giet het beslag erin en bak ongeveer 35-40 minuten op 170°C, controleer door in het midden te prikken met een satéstokje. Laat volledig afkoelen.
Ondertussen maak je de mascarponecrème. Doe de aardbeien in een pannetje en kook gedurende 15 minuten op een laag vuurtje. Druk door een fijne zeef in een kom en laat afkoelen.
Doe de boter in de kom van je keukenmachine en klop gedurende 10 minuten tot een lichte en luchtige massa. Voeg langzaam de suiker toe terwijl je blijft kloppen. Voeg tenslotte de mascarpone, aardbeien, zeste en het citroensap toe. Klop nog 5 minuten verder tot een egale massa.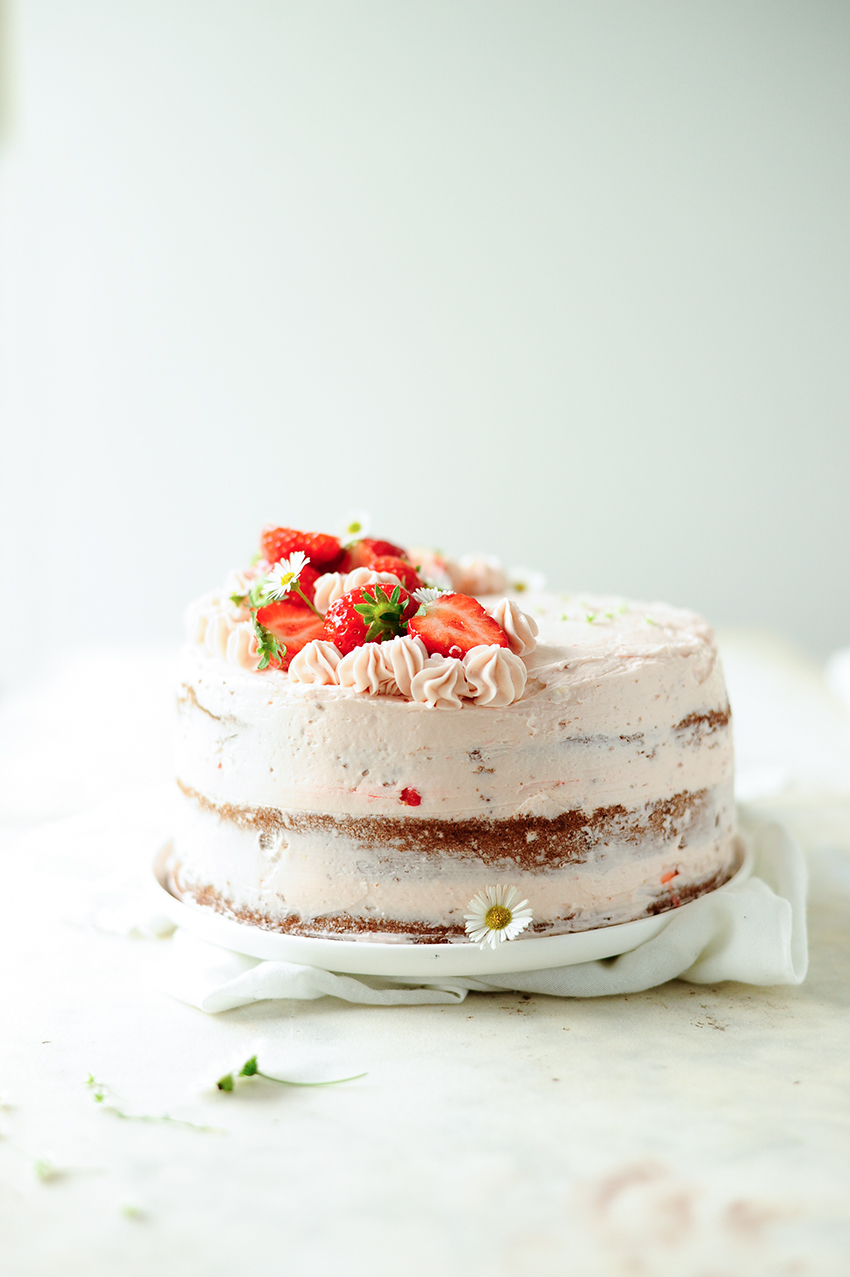 Snijd 200 g aardbeien in kleine blokjes.
Snijd de taart in drie gelijke lagen, plaats de eerste laag op een bord of een taartenstaander, verspreid 3 el mascarponecrème en de helft van de aardbeien. Plaats de tweede laag, verspreid de mascarponecrème en de rest van de aardbeien. Leg de derde laag erop en bedek de bovenkant en de zijkanten van de taart met een dun laagje crème,  versier met de aardbeien en de resterende mascarponecrème. Laat gedurende 30 minuten opstijven in de koelkast of tot ze klaar is om te serveren. Smakelijk!
Als je dit recept uitprobeert, laat dan hieronder een reactie achter of deel je foto's op Instagram en vergeet niet om mij te taggen @anna_s_table. Ik kijk ernaar uit!