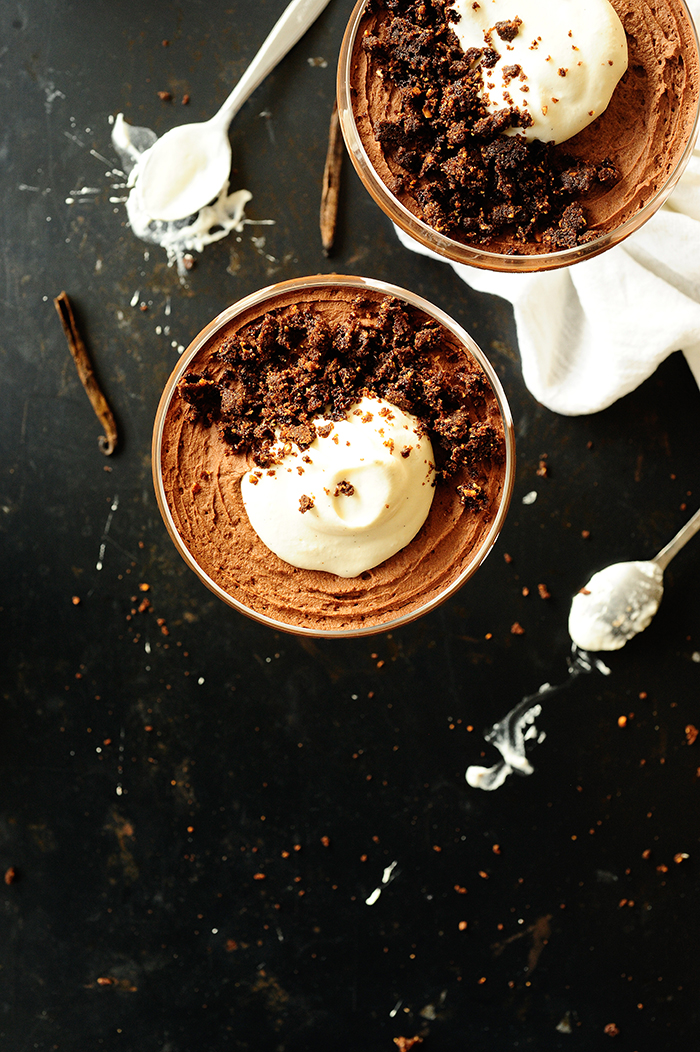 Een heerlijke chocolademousse met Baileys, versierd met een krokante chocolade-amandelcrumble.
In plaats van eieren, gebruikte ik het vocht dat overblijft als je kikkererwten afgiet, het heet aquafaba en laat zich hetzelfde opkloppen als eiwit. Deze chocolademousse is extreem licht en zonder toevoeging van extra suiker. 
Dit heb je nodig
chocolademousse zonder eieren
200 g pure chocolade
100 ml vocht van kikkererwten
100 ml volle room of koude kokosroom
4 eetlepels Baileys
amandelcrumble
50 g poedersuiker
30 g gehakte amandelen
20 g bloem
1 el cacaopoeder
20 g boter
snufje zout
alsook
50 ml volle room of koude kokosroom
1 tl suiker
zaadjes van 1 vanillestokje
bereiding
Laat de chocolade smelten in een microgolfoven of au bain-marie, voeg Baileys toe en meng. Laat afkoelen.
Giet het vocht van de kikkererwten in een kom en klop tot een vast schuim. Hiervoor kan je een elektrische mixer of een keukenmachine gebruiken.
Klop de room stijf en spatel het voorzichtig onder het schuim. Voeg geleidelijk de chocolade met Baileys toe. Giet in hoge glazen en laat een uur opstijven in de koelkast.
In de tussentijd maak je de crumble. Meng hiervoor alle ingrediënten in een kom. Plaats op een bakplaat bekleed met bakpapier en bak in de oven gedurende 10 minuten op 180 graden.
Klop de resterende room stijf, voeg de poedersuiker en vanillezaadjes toe.
Dien de chocolademousse op met een toefje vanille slagroom en verbrokkelde crumble.
Smakelijk!