Deze romige panna cotta met pindakaas is niet alleen makkelijk en snel te maken, hij is ook zo verbijsterend lekker dat je ongetwijfeld zal verlangen naar een tweede portie. O ja, hij is ook zeker niet overdreven zoet en is gemaakt met net genoeg gelatine om hem bij elkaar te houden. Afwerken doen we met opgeklopte mascarpone en fijngehakte chocolade. 
Panna cotta heeft het allemaal, het is makkelijk, snel en praktisch foolproof. Als je het nog niet kent of het is de eerste keer dat je het maakt, zal je merken dat het anders is dan pudding. Het wordt gemaakt met gelatine in plaats van eieren, je hebt geen waterbad nodig en er gebeurt ook niks in de oven. We verhitten de ingrediënten, voegen gelatine toe, de koelkast in, klaar!
Bekijk mijn VIDEO om te zien hoe makkelijk je dit gerecht kan maken.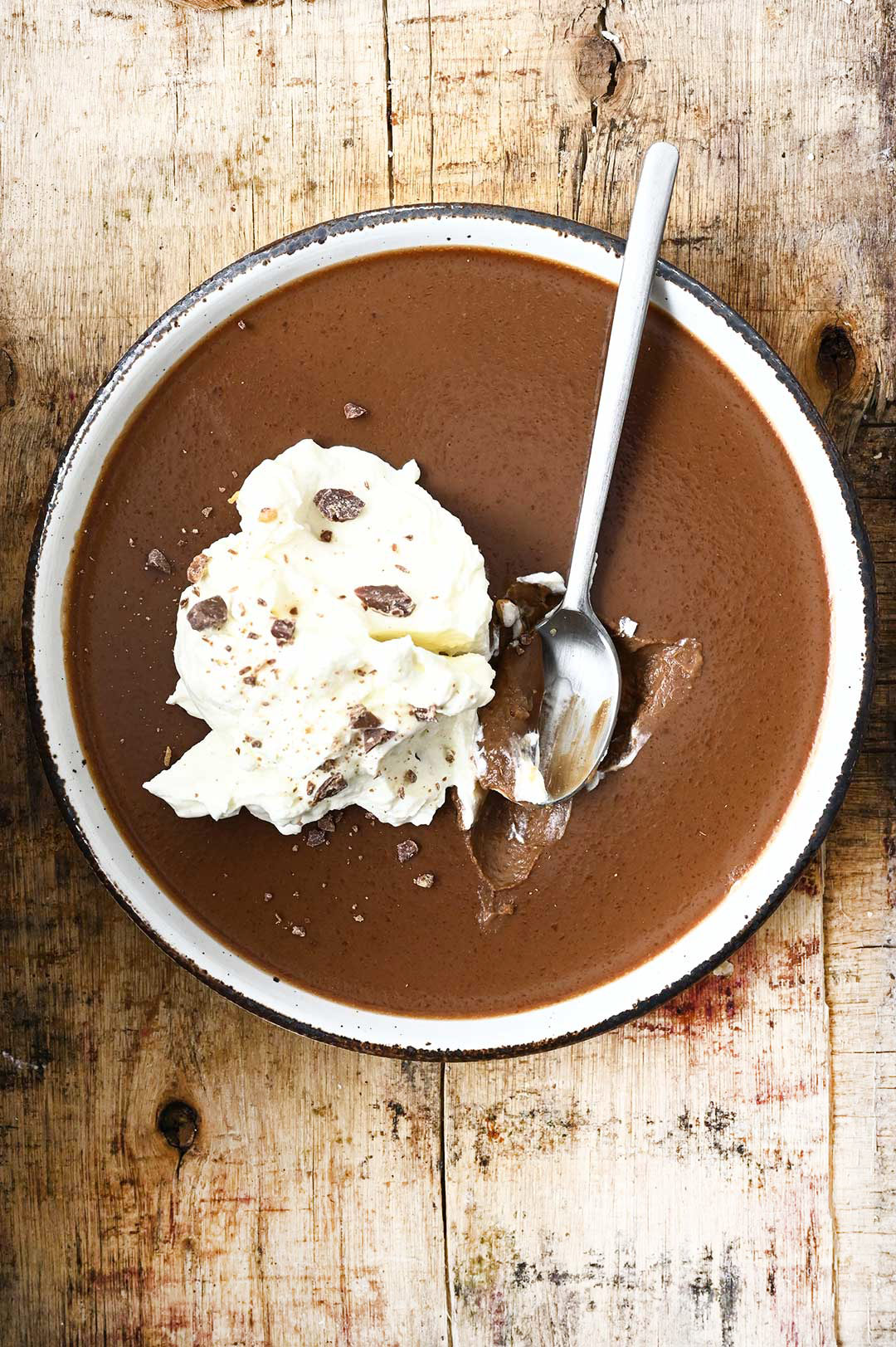 NOTITIES
– het is belangrijk om pindakaas zonder stukjes te gebruiken
– in plaats van chocolade kan je ook geroosterde pinda's, gehakte amandelen of cacaopoeder gebruiken

Meer makkelijke gerechten:
Panna cotta met boterkoekjes en gezouten caramel
Tartelettes met yoghurt panna cotta en aardbeien
Perentaartjes met amandelen
Dit heb je nodig
panna cotta
250 ml volle melk
200 ml  volle room
100 g pure chocolade 70%, fijngehakt
100 g pindakaas zonder stukjes
50 g suiker
1 el sterke espresso
1 tl vanille-extract
1 gelatineblaadje
opgeklopte mascarpone
200 ml volle room
100 g mascarpone
2 opgehoopte eetlepels bloemsuiker
Zo maak je het
Bekijk mijn VIDEO om te zien hoe makkelijk je dit gerecht kan maken.
Week het gelatineblaadje in een kom met koud water gedurende 5-10 minuten.
Doe de melk, room, pindakaas, chocolade, vanille, espresso en suiker in een middelgroot steelpannetje. Verwarm op middelhoog vuur, zonder het aan de kook te brengen. Roer regelmatig, ongeveer 3 minuten tot de chocolade is opgelost. Haal van het vuur.
Knijp al het water uit de gelatine en voeg toe aan de warme panna cotta, roer tot de gelatine is opgelost.
Giet daarna de panna cotta in kleine kommetjes of kopjes. Laat opstijven in de koelkast gedurende 2-3 uur of een hele nacht.
Klop voor het serveren de room met mascarpone en suiker. Mix op lage snelheid tot een licht en luchtig mengsel.
Serveer de panna cotta met een toefje opgeklopte mascarpone. Versier met chocolade of geroosterde pinda's, of beide. Smakelijk!