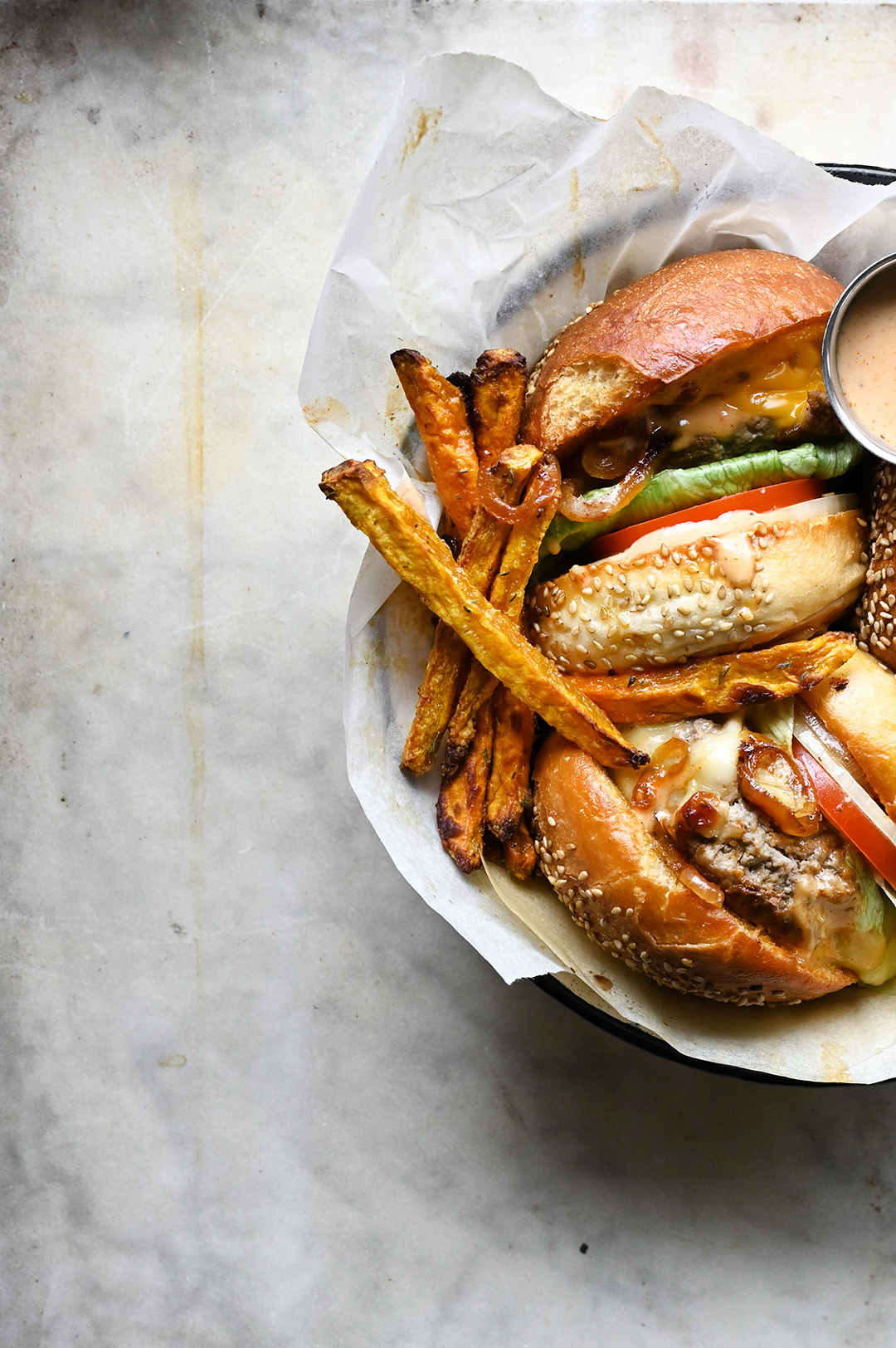 Het bekendste fastfood gerecht van de Amerikaanse keuken maak je gewoon zelf. Een sappige rundsburger met gesmolten kaas, een zoet-pikante jalapeño saus, gekarameliseerde uien en frietjes van zoete aardappel, zo decadent en zo lekker.
Dit zouden weleens de perfecte burgers kunnen zijn, geschroeid aan de buitenkant en toch zacht in het midden. Voor meer smaak, bak ik ze graag in gezouten boter samen met uien in de pan. Achteraf grill ik de broodjes in dezelfde pan waarin ik de hamburgers heb gebakken. Zo nemen ze het vet en de aromas van de burgers op.
Dan de saus… een hemelse combinatie van zoet, zuur, romig en pikant. Elke smaak brengt de andere in balans. Hij is heerlijk op hamburgers, salades of frieten. En past perfect bij geroosterde groenten. 
En de zoete aardappelfrietjes… Heerlijk gekruid, hartelijk en zoet tegelijk. Knapperig aan de buitenkant, maar zacht van binnen. Deze zijn verslavend. 
Ik hoop dat je deze burgers maakt, een echte aanrader! Zalig.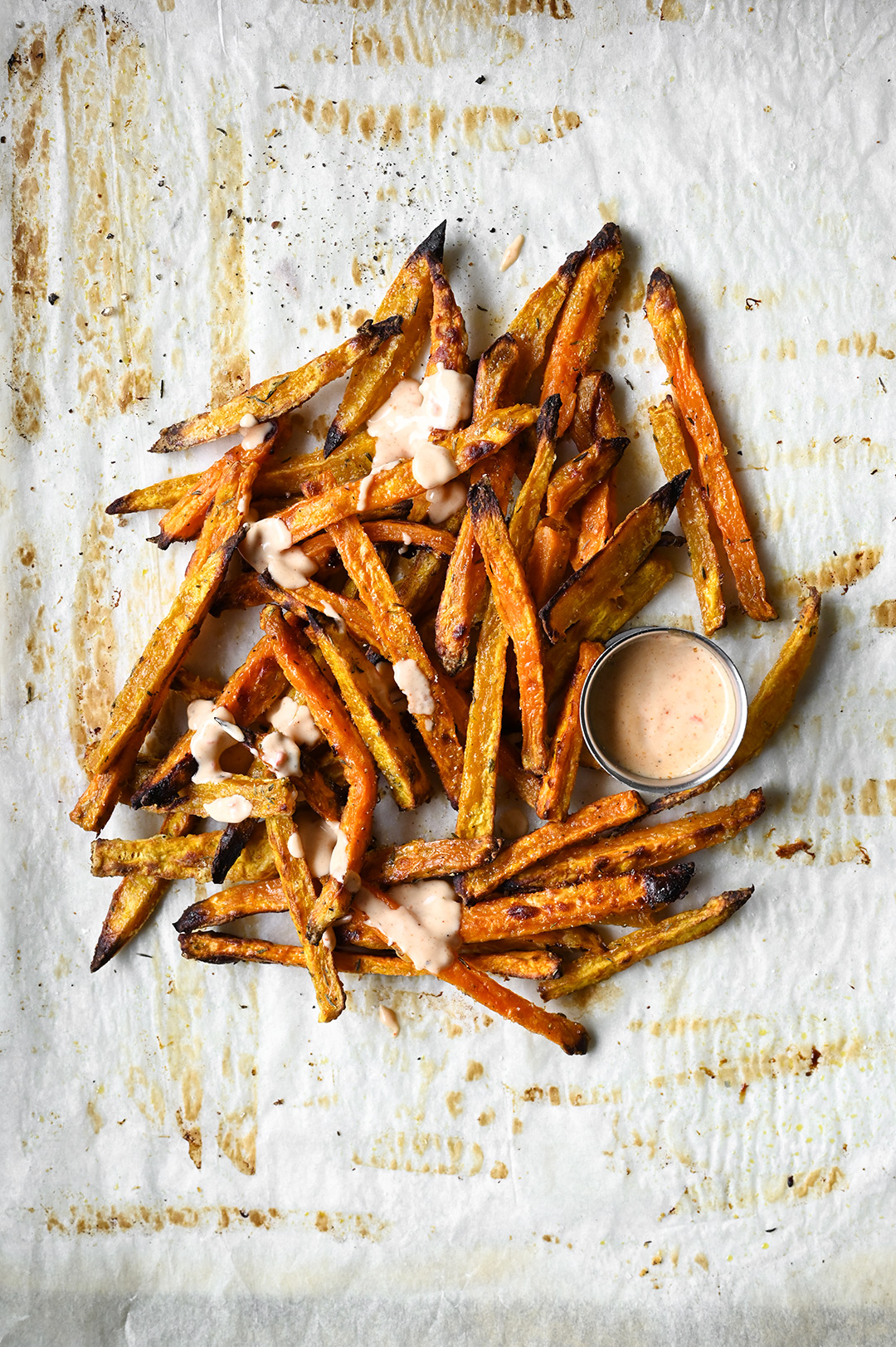 Dit heb je nodig
hamburgers
500 g gemalen rundvlees
1 el volle room
1 tl uienpoeder
zeezout + versgemalen zwarte peper
1 grote ui, zo dun mogelijk gesneden
2 klontjes gezouten bakboter
4 plakjes tomaat
4 bladeren ijsbergsla
4 plakken cheddarkaas
4 zachte hamburger-broodjes
jalapeño saus
4 el mayonaise
1 el ketchup
2 el whisky
1 tl worcestershire sauce
1 el fijngehakte jalapeños
1 tl mosterd
1/2 tl gerookte paprikapoeder
1 tl honing
2 tenen knoflook, fijngehakt
1/2 tl uienpoeder
zoete aardappelfrieten
2 middelgrote zoete aardappelen, geschild en in frieten van 1 cm gesneden
3 el olijfolie
1 tl tijm
1 tl cayennepeper
1 tl knoflookpoeder
1 tl gerookte paprika
2-3 el aardappelzetmeel
zeezout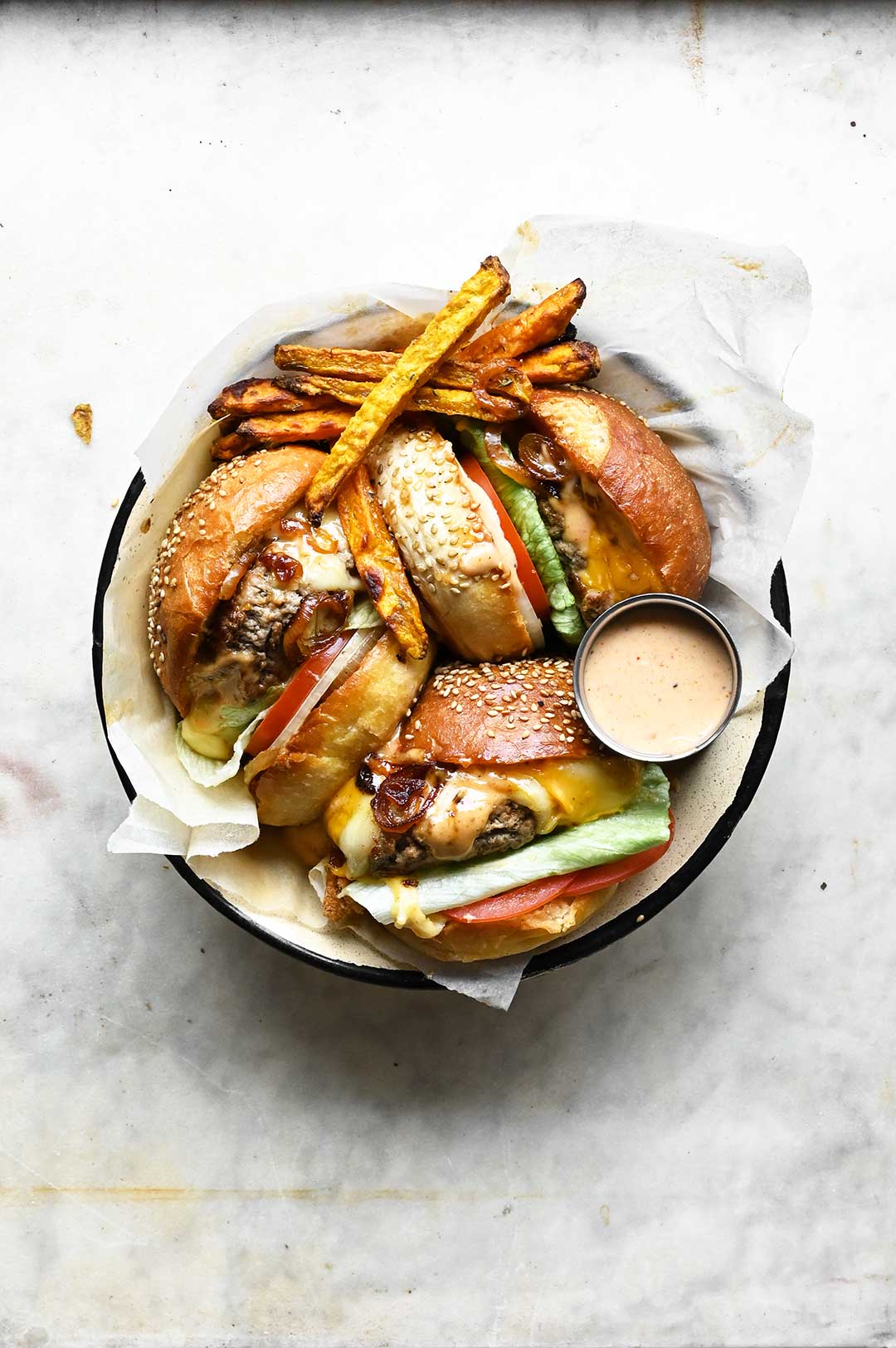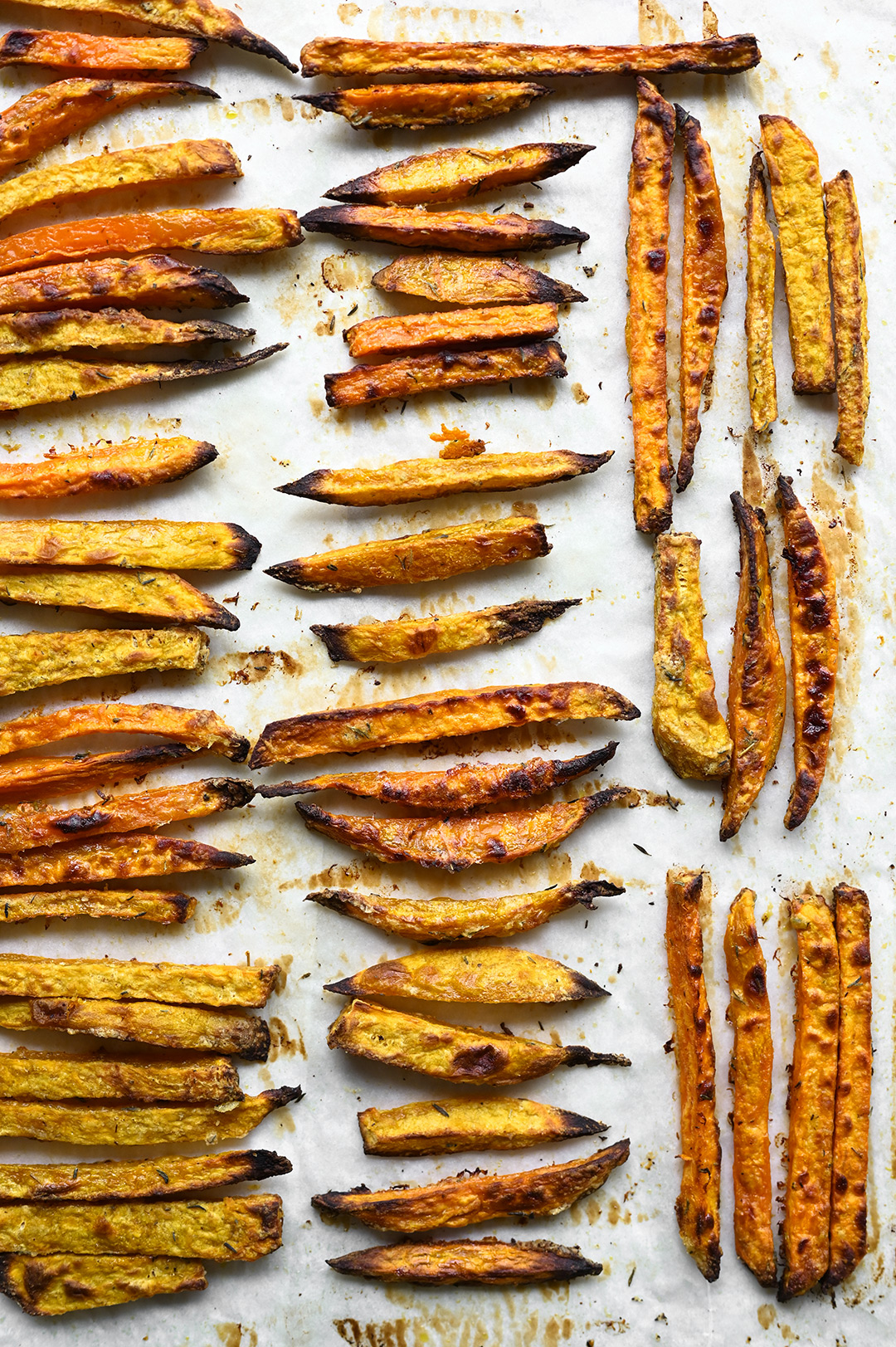 Zo maak je het
Maak eerst de frieten. Verwarm de oven voor op 220°C. Plaats de zoete aardappelen in een grote kom gevuld met ijswater, laat 5 minuten staan. Laat ze uitlekken en leg ze tussen twee schone keukendoeken. Masseer een beetje, ze moeten zo droog mogelijk zijn. Doe ze in een droge kom, meng met tijm, cayennepeper, knoflookpoeder, gerookte paprika en aardappelzetmeel, breng op smaak met zout. Verdeel de frieten in een gelijkmatige laag op een bakplaat. Indien nodig, verdeel de frieten over 2 bakplaten. Bak gedurende 15-20 minuten, draai om en bak nog 10-15 minuten verder. De zoete aardappelen moeten mals zijn, maar toch knapperig van buiten.
Meng alle ingrediënten voor de saus in een kom.
Meng het rundvlees met room, uienpoeder, zout en peper. Verdeel in 4 gelijke stukken. Draai het vlees met beide handen tot bolletjes. Druk elke bal plat tot een 2 cm dikke burger. Je kan hiervoor een serveerring of een koekje-snijder gebruiken.
Verwarm een grote, zware koekenpan op hoog vuur. Smelt de boter, voeg de burgers en de dun gesneden ui toe. Bak, zonder ze aan te raken, tot de randen gebruind zijn, ongeveer 3 minuten. Draai ze vervolgens om en leg op elke burger een plakje kaas. Bak gedurende 2 minuten, nog steeds op hoog vuur. De burgers zijn dan medium gebakken, gekarameliseerd aan beide zijden, maar nog steeds sappig van binnen.
Doe de hamburgers op een bord. Plaats nu de broodjes in dezelfde koekenpan, met de opengesneden kant naar beneden, bak op een middelhoog vuur tot ze goudkleurig en knapperig zijn.
Stel je hamburgers samen. Spreid telkens een eetlepel van de saus op de onderste helft van de broodjes. Leg er een plakje tomaat en sla op, dan een burger en gekarameliseerde ui. Doe er terug een eetlepel saus op, sluit af met het broodje en serveer met zoete aardappelfrieten en wat extra saus. Smakelijk!