Champignonroomsoep met miso en Parmezaanse kaas. Als je een liefhebber bent van champignons moet je deze zeker eens proberen. Geserveerd met een topping van heerlijk krokant gebakken paddenstoelen in knoflook, tijm en gedroogde chili, is dit een volbloed klassieker die je zal doen wegdromen.
Deze heerlijke soep is verrassend makkelijk te maken en heeft echt alle eigenschappen om een vaste plaats te veroveren op je maaltijdplanner. Om zijn rijke smaak te bekomen gebruiken we voor deze soep een mix van champignons en paddenstoelen. De miso en parmezaan op hun beurt voegen net dat tikkeltje extra karakter toe en de knapperige topping van gebakken paddenstoelen mix met tijm brengen alles naar een nieuwe hoogte.
Voeg boerenkool, witte bonen, krielaardappelen of rijst toe voor een fantastische maaltijdsoep. Je kan het serveren als voorgerecht of als hoofdgerecht met wat knapperig brood.
Ga naar mijn WEB STORY om te zien hoe makkelijk je deze SOEP kan maken!
Ook lekker:
Geroosterde pompoensoep met wilde rijst en miso paddenstoelen
Dikke kippensoep met orzo
Aziatische paddenstoelensoep met noedels
Wil je op de hoogte blijven van mijn nieuwe recepten? Abonneer je dan op mijn NIEUWSBRIEF.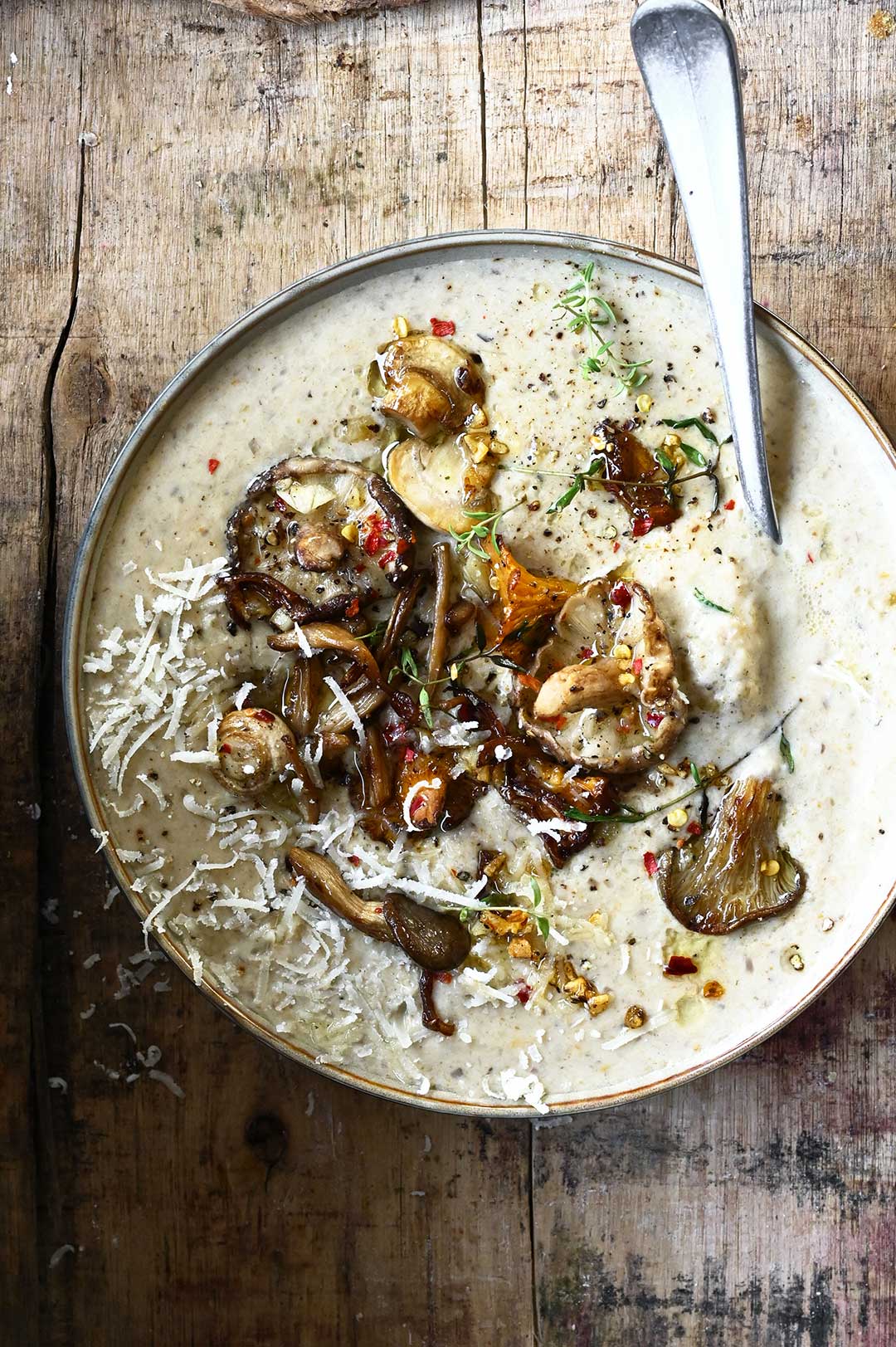 Dit heb je nodig
soep
600 g champignons, een mix van shiitake, oesterzwammen, paddenstoelen, cantharellen, gewone en/of bruine champignons, in stukken gesneden
olijfolie
3 el bloem
2 kleine uien, fijngesnipperd
4 tenen knoflook, fijngehakt
1 el citroensap
1 groene selder, fijngehakt
1 wortel, in stukken gesneden
1 tl van elk: tijm, marjolein, gerookt paprikapoeder
2 el witte miso pasta
1 L groentebouillon (niet te zout)
250 ml  volle room, light room of volle melk
60 g geraspte Parmezaan, meer voor de afwerking
zeezout + zwarte peper
topping
200 g champignons, een mix van shiitake, oesterzwammen, wilde paddenstoelen of cantharellen, in stukken gesneden
3 el olijfolie
30 g roomboter
1 teentje knoflook, fijngehakt
1/4 tl zout
1/2 tl versgemalen zwarte peper
1/2 tl gedroogde rode chili, meer naar smaak
4 takjes verse tijm
Zo maak je het
Verhit 3 el olie op hoog vuur in een grote soeppot. Voeg 1/2 van de paddenstoelen toe en bak gedurende 5 minuten. Ze zullen vocht gaan afgeven, voeg dan 3 el olijfolie toe en breng op smaak met zout en zwarte peper. Bak gedurende 1-2 minuten, of totdat de champignons beginnen te bruinen. Haal uit de pot. Voeg nu de resterende paddenstoelen toe, herhaal het proces, bak totdat ze beginnen te bruinen en breng op smaak met zout en peper. Haal ze dan uit de pot.
Verhit in dezelfde pot 3 el olijfolie, voeg ui en knoflook toe. Fruit op een laag vuurtje. Voeg wortel en selder toe, bak nog 2 minuten mee. Doe de gebakken paddenstoelen terug in de pot, voeg gerookte paprika, zwarte peper, tijm en marjolein toe. Roer de bloem erdoor. Giet vervolgens de groentebouillon erover. Roer er citroensap en miso door en breng het geheel aan de kook. Dek af en laat gedurende 15 minuten sudderen.
Maak ondertussen de topping. Verwarm een koekenpan op hoog vuur. Voeg de paddenstoelen toe en bak gedurende 5 minuten. Wanneer ze vocht beginnen af te geven, voeg 3 el olijfolie toe. Bak 1-2 minuten, totdat ze beginnen te bruinen en knapperig worden. Verlaag het vuur, voeg boter en knoflook toe. Roer tot de boter gesmolten is en de knoflook zacht is geworden. Breng op smaak met zout, zwarte peper en gedroogde chili. Voeg tijm toe, haal van het vuur.
Haal de soep van het vuur, voeg room en geraspte Parmezaanse kaas toe. Pureer met een staafmixer tot een romige soep. Proef en voeg indien nodig zout en peper toe.
Serveer met de knapperig gebakken paddenstoelen, geraspte Parmezaanse kaas, wat extra zwarte peper en gedroogde chili. Smakelijk!
Ga naar mijn WEB STORY om te zien hoe makkelijk je deze SOEP kan maken!
…IF YOU LOVE THESE RECIPES … please consider supporting my work for just the cost of a cup of coffee.

Als je dit recept uitprobeert, laat dan hieronder een reactie achter of tag mij in je foto's op Instagram met @anna_s_table of met #servingdumplings. Ik kijk ernaar uit!