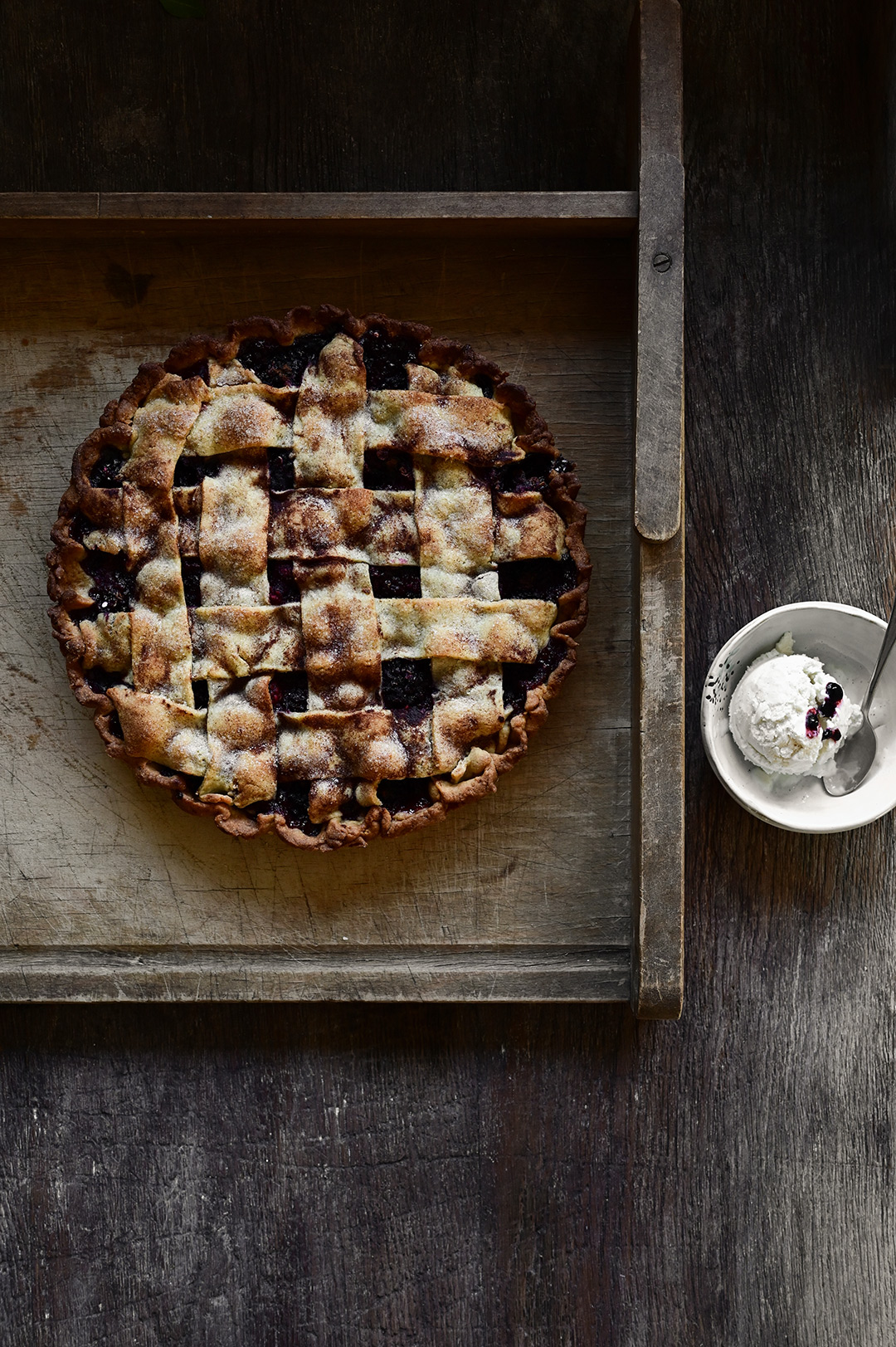 Bramentaart om het bessenseizoen af te sluiten.
De herfst heeft iets magisch, de dagen worden korter maar zijn nog steeds helder, de lucht is fris en de temperaturen dalen een beetje, maar zijn nog steeds comfortabel. Dit is mijn favoriete seizoen en ik realiseer me net dat ik de allerlaatste bramen en frambozen in mijn tuin heb geplukt. Ze waren perfect rijp en smeekten gewoon om in een taart te worden gegooid. 
Dit is een taart die je niet dagelijks tegenkomt  omdat er een lekker laagje frangipane aan toevoegt is. Deze delicate amandelvulling past perfect bij de bessen.
De truc voor een perfecte taart is om het sap van de bessen net genoeg te binden, dus ik meng het fruit met haver om het sap op te nemen in plaats van zetmeel te gebruiken.
Deze taart is echt geweldig, met zijn perfect knapperige korst, een dun laagje boterachtige frangipane en de heerlijke bessen. Wat er ook gebeurt, je moet hem proeven.
Dit heb je nodig
deeg
200 g bloem
60 g speltbloem
120 g koude boter
1 groot ei
80 g bloemsuiker
20 g vanillesuiker
snuifje zout
frangipane
60 g gemalen amandelen
45 g zachte boter
45 g suiker
1/2 tl aardappelzetmeel
1 eidooier
zaadjes van 1/2 vanillestokje
1 el amandellikeur
bramenvulling
500 g bramen (het kan een mix van bramen met frambozen of bosbessen zijn)
80 g suiker
50 g instant haver
1 el citroensap
1/2 tl kaneel
to finish
1 ei opgeklopt met 1 el melk
bruine suiker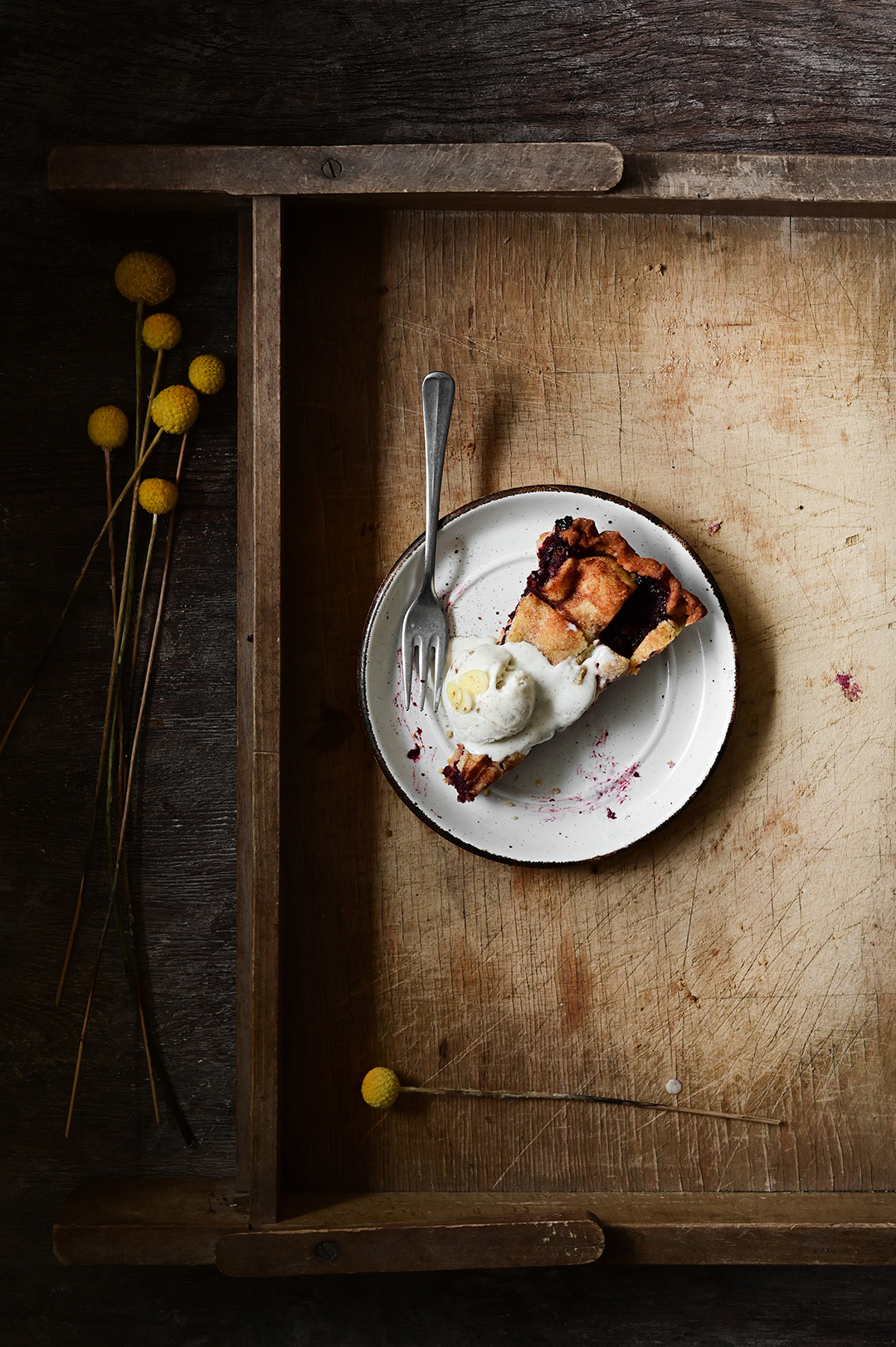 Zo maak je het
Meng de suiker met de boter, bloem en een snuifje zout. Voeg het ei toe, kneed het deeg en vorm een bol. Verdeel het deeg in twee stukken, het een iets groter dan het ander. Verpak het deeg in vershoudfolie en laat minstens 30 minuten rusten in de koelkast.
Maak ondertussen de vulling voor de frangipane. Meng de boter met de suiker, voeg de rest van de ingrediënten toe en roer tot een gladde massa.
Meng de bessen met de suiker, haver, kaneel en citroensap. Zet opzij.
Haal het deeg uit de koelkast. Beboter en bebloem een taartvorm van 23 cm doorsnede. Rol het grotere stuk deeg uit tot een grote cirkel en leg het in de vorm. Vouw de randen en prik op de bodem met een vork. Verdeel de frangipane over de taartvorm en bedek deze met de bramennvulling.
Rol het tweede deel van het deeg uit tot een vel en snijd het in reepjes, leg de latjes in een raster over de bramenvulling.
Bestrijk de bovenkant van de taart met het opgeklopt ei en bestrooi met bruine suiker. Bak gedurende 45 minuten op 180°C. Haal de taart uit de oven en laat volledig afkoelen vooraleer te serveren met vanille-ijs. Smakelijk!