Een bolognese saus met zachte stukjes pompoen. Geserveerd met ricotta voor een romige touch. Een makkelijk te bereiden gerecht voor het hele gezin.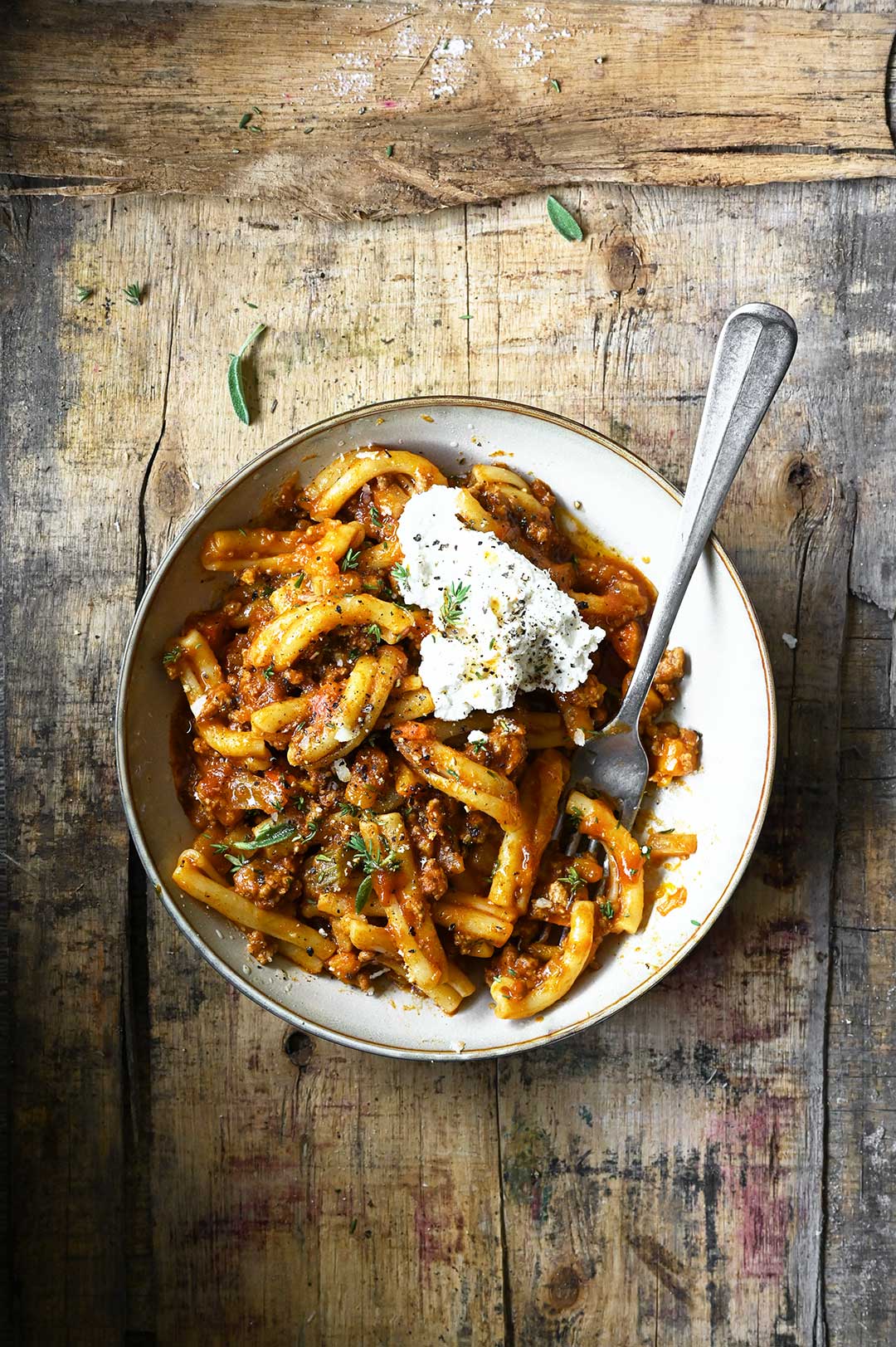 De saus bereiden we in laagjes. We beginnen met het fruiten van de ui en de knoflook. Daarna voegen we pompoen en venkel toe. Wanneer je nog nooit eerder pompoen in je saus hebt gedaan, kan je je best voorbereiden op een heerlijke verrassing. Pompoen heeft een milde en een licht zoete smaak. Venkel op zijn beurt fleurt het rundvlees op met een subtiele en verfijnde ondertoon.
Dan voegen we het rundvlees toe en bakken tot het gebruind is. Liever geen rundvlees? Je kan ook varkens-, kippengehakt of tofu gebruiken om het te vervangen.
Vervolgens blussen we het geheel met wat runderbouillon, deze zorgt ervoor dat het rundergehakt erin kan garen zonder uit te drogen. Het zorgt ook voor een rijkere smaak, maar je kan het door kippen- of groentebouillon vervangen als je een mildere smaak verkiest.
Als laatste laten we alles sudderen met tomatensaus. Het enige wat overblijft is gekookte pasta eronder roeren en serveren met romige ricotta. Een echt instant upgrade.
Bekijk mijn VIDEO om te zien hoe makkelijk je dit gerecht kan maken.
Andere gerechten met pompoen:
Pasta met geroosterde pompoen en zure room
Parelcouscous met geroosterde pompoen en granaatappel
Aardappelwafels met geroosterde pompoen en cantharellen
Dit heb je nodig
400 g pasta
600 g rundergehakt
500 g pompoen, in blokjes gesneden, met schil, zonder zaadjes
750 ml tomatensaus
400 ml runderbouillon (of kippen- of groentebouillon)
2 sjalotten, fijngehakt
3 tenen knoflook, fijngehakt
1 kleine of 1/2 grote venkelknol, in kleine blokjes
1 selderijstengel, fijngehakt
3 el olijfolie
1 tl van elk: gedroogde tijm, salie, marjolein, gerookte paprika, gedroogde rode chilipeper
1 laurierblad
1 el tomatenpuree
zeezout + zwarte peper
125 g ricotta, opgeklopt met 1 el olijfolie, 1 el geraspte parmezaan, zout + zwarte peper
tijm + gedroogde rode chilipeper, voor de afwerking
Zo maak je het
Bekijk mijn VIDEO om te zien hoe makkelijk je dit gerecht kan maken.
Verhit de olie in een grote pot op een laag vuurtje. Fruit hierin ui, knoflook en selderij gedurende 5 minuten. Voeg de blokjes pompoen toe en laat ze ongeveer 5 minuten bakken. Voeg venkel toe, bak nog 5 minuten verder.
Zet het vuur wat hoger en voeg het rundergehakt toe. Laat 10 minuten bakken, roer af en toe, tot het vlees gebruind is. Roer de kruiden eronder, breng op smaak met zout en peper. Blus met runderbouillon en doe het laurierblad erbij, laat 10 minuten sudderen. Voeg vervolgens de tomatensaus en het tomatenconcentraat toe. Dek af, laat gedurende 10 minuten sudderen of tot de pompoen gaar is.
Breng ondertussen een pot met gezouten water aan de kook en kook de pasta al dente.
Serveer met ricotta, gedroogde rode chilipeper en tijm. Smakelijk!