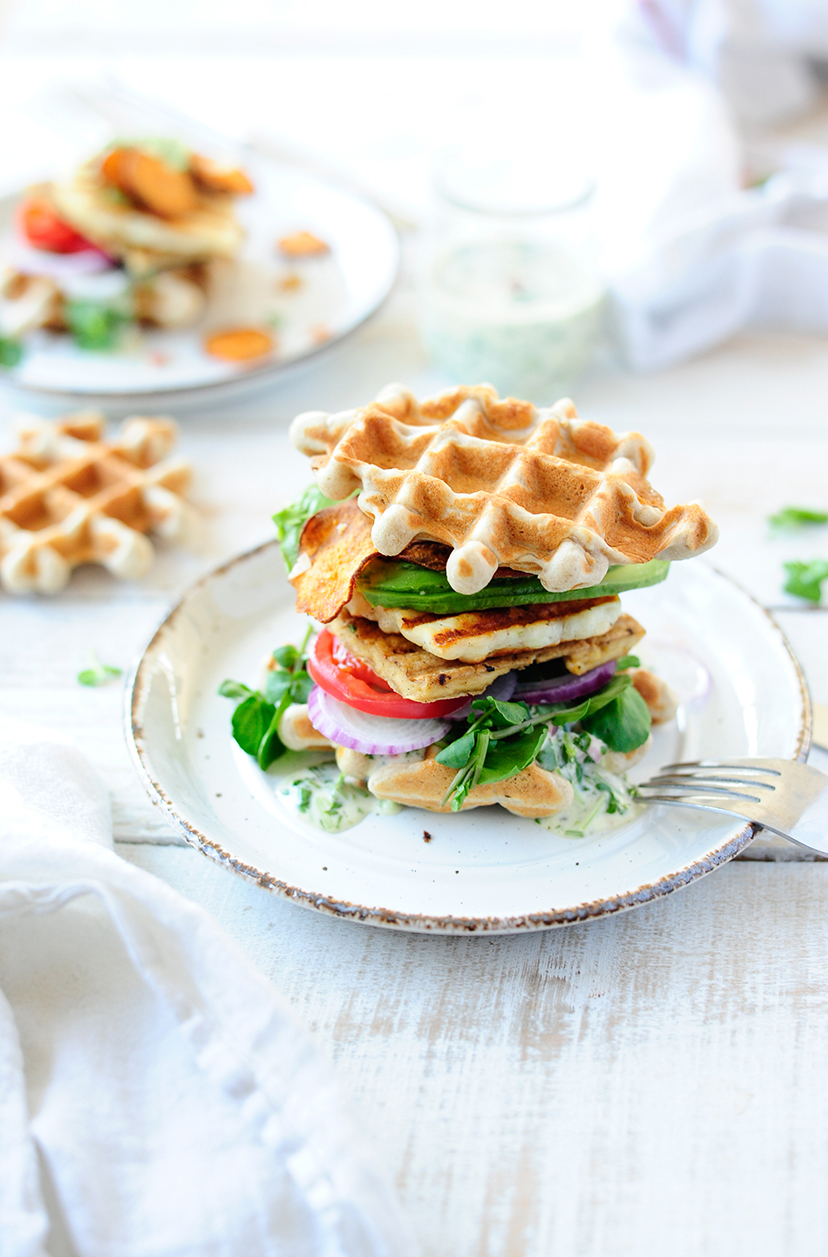 Verbazingwekkende boekweitwafels met krokante zoete aardappelchips, gegrilde halloumi en tofu, met een royale sheut chimichurri aioli. Het is geweldig voor de brunch of een heerlijke lunch. Het wordt pas echt onweerstaanbaar met plakjes rijpe avocado en en een beetje waterkers.
Dit heb je nodig
de boekweitwafels
200 g boekweitbloem
50 g haver
2 el bakpoeder
250 ml melk
2 bio eieren
50 ml Griekse yoghurt
60 g boter, gesmolten
zout
de zoete aardappelchips
1 zoete aardappel
1 eetlepel olie
zeezout
de chimichurri aioli
1 bosje koriander, fijngehakt
1/2 bundel  verse peterselie, fijngehakt
4 teentjes knoflook, geperst en fijngesneden
1 sjalot, fijngesneden
2 el olijfolie
3 el mayonaise
1 el gehakte rode jalapenos
1 el citroensap
zout en zwarte peper
alsook
200 g halloumi
200 g tofu
2 el olijfolie
1 avocado, in dunne plakjes
1 tomaat, in dunne plakjes
1 rode ui, in dunne plakjes
waterkers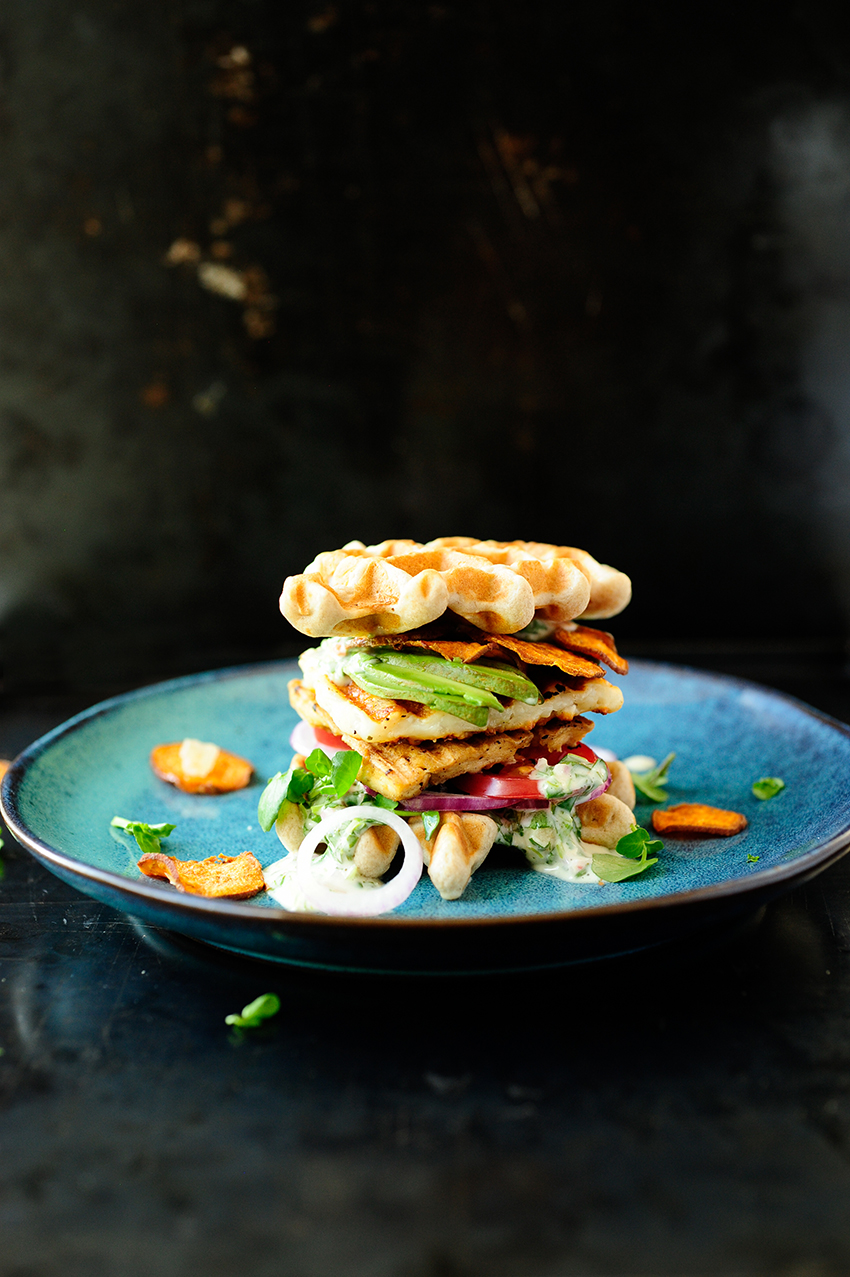 Zo maak je het
Was en snijd de zoete aardappel in dunne plakjes (zorg dat ze ongeveer dezelfde dikte hebben) met behulp van een mandoline of een zeer scherp mes. Doe in een kom en roer met olijfolie en zout. Verdeel over een bakplaat, zo dicht mogelijk bij elkaar en bak 10 minuten op 160°C. Draai ze om en bak 15-20 minuten goudbruin, afhankelijk van de dikte van de chips.
Breek de eiren in een kom en klop ze los met het zout. Voeg vervolgens het bakpoeder, bloem, melk, boter en yoghurt toe en meng tot een gladde massa. Laat 10 minuten staan.
Giet het beslag in het wafelijzer en bak goudbruin.
Meng alle ingrediënten voor de chimichurri saus in een kom.
Snijd de halloumi en tofu in dunne plakjes. Besprenkel de tofu met olijfolie en breng op smaak met zout en peper. Vet een hete grillpan in met olijfolie en leg de plakjes halloumi en tofu erin. Bak tot ze goudbruin zijn.
Schik de warme wafels op borden, giet een eetlepel van de saus erover en leg er waterkers, tomaat, ui en plakjes gegrilde halloumi en tofu op. Voeg vervolgens de avocado toe en bestrooi met de knapperige chips. Besprenkel met meer chimichurri saus en dek af met een tweede wafel. Smakelijk!