Bloemkool Kung pao is een pittig vegetarisch roer-bak gerecht, een heerlijk hartelijke maaltijd om samen met rijst of noedels te serveren. Bloemkoolroosjes met net genoeg bite, shiitakes en knapperige cashews in een sausje met goed wat knoflookteentjes.
Om de saus te maken hebben we enkel makkelijk te vinden Aziatische ingrediënten zoals sojasaus, rijstazijn en sesamolie nodig en natuurlijk look en gemalen Sichuan peperkorrels. Afwerken doen we met een handvol crunchy cashews en vers gesnipperde lente-uitjes. Boem klaar!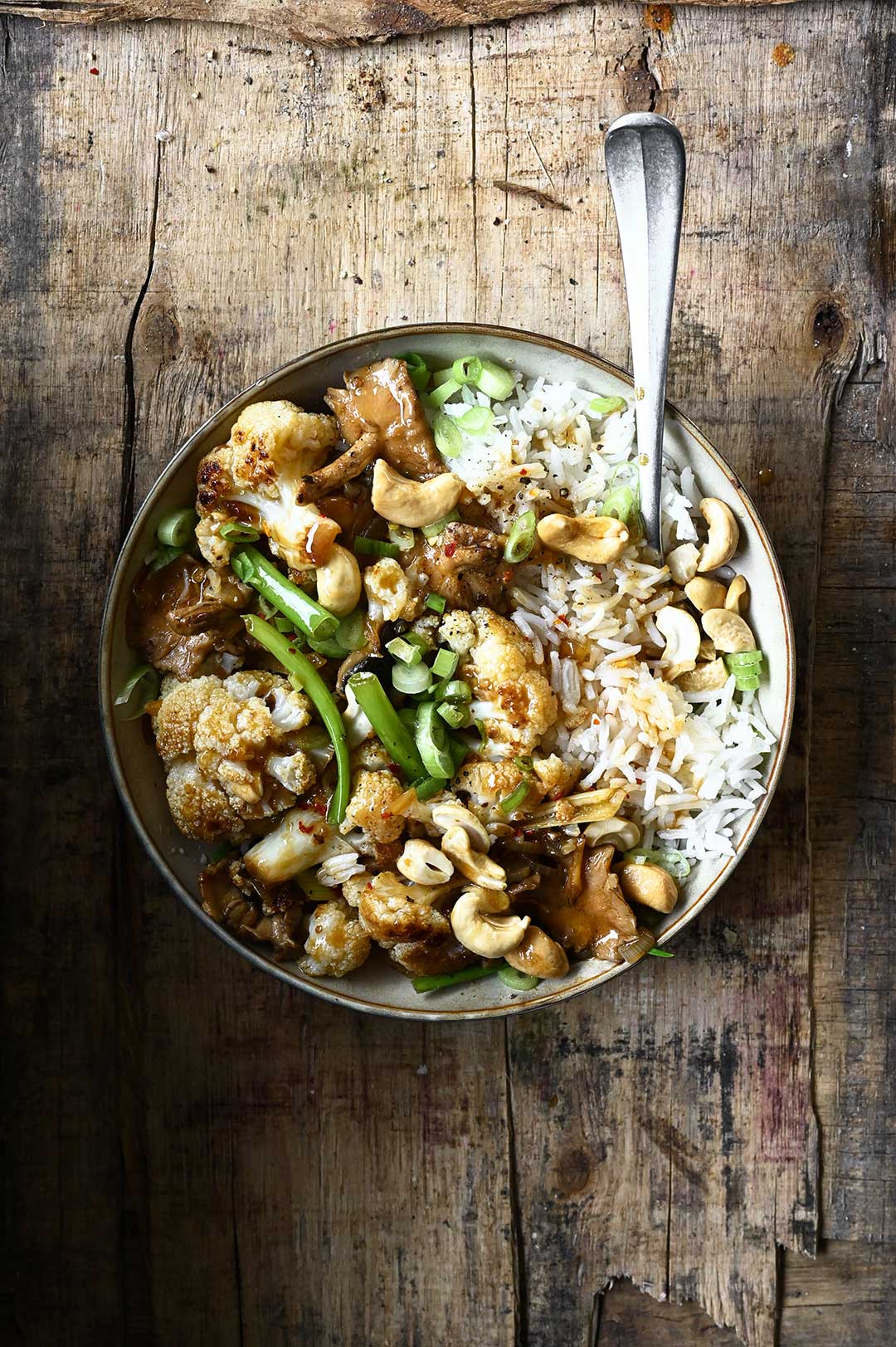 Dit super makkelijk te maken smaakbommetje kan je serveren als bijgerecht, een volledige maaltijd met jasmijn rijst, gestoomde sushi rijst of udon noedels, jij beslist!
Kan je geen cashewnoten vinden? Vervang ze gewoon door pindanoten.
Ga naar mijn VIDEO om te zien hoe makkelijk je dit gerecht kan maken.
Meer makkelijke wokgerechten:
Pikante wok met scampi en szechuanpeper
Wok met runderreepjes en shiitakes
Wok met aubergine en halloumi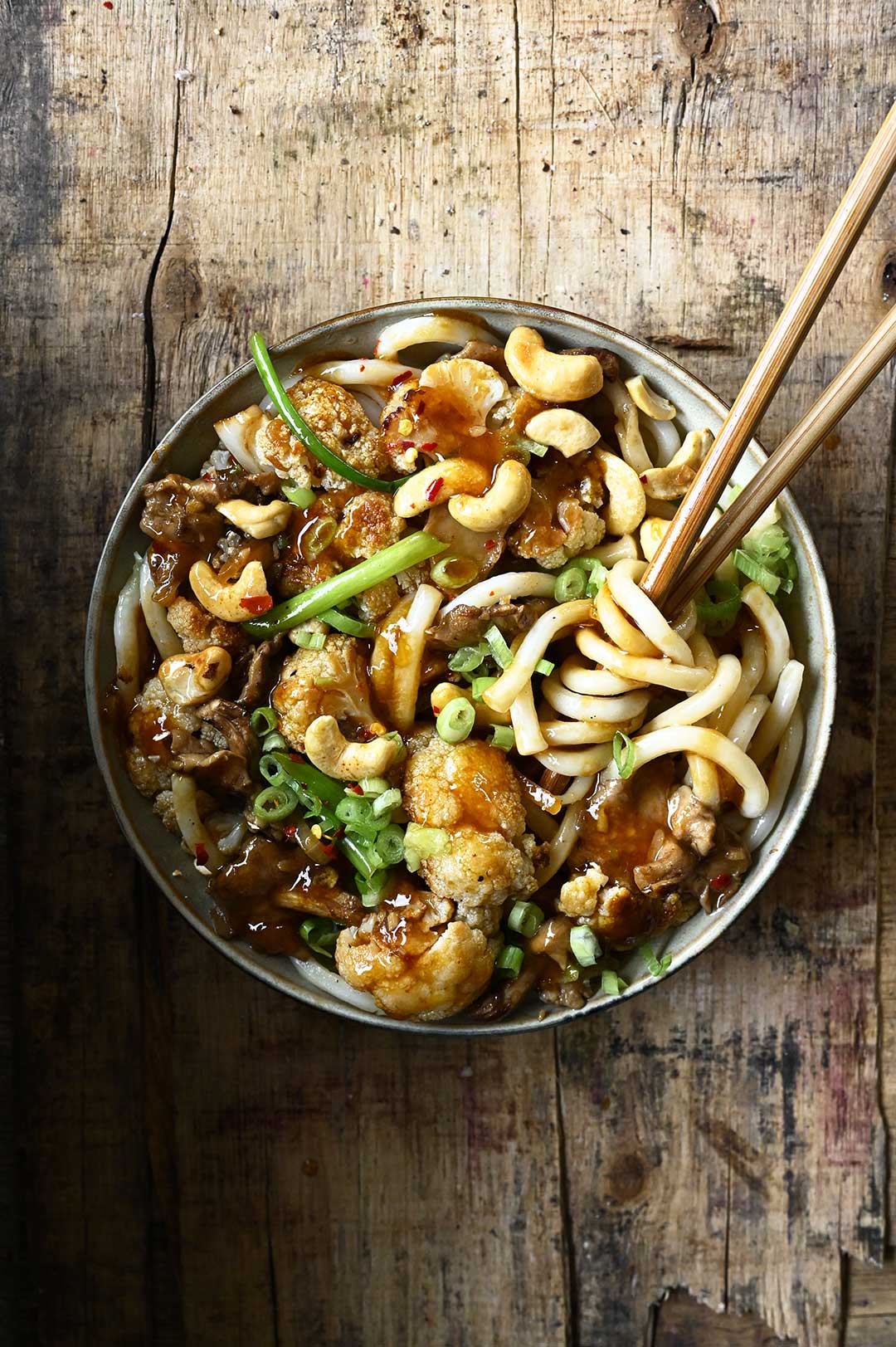 Dit heb je nodig
bloemkool + marinade
1 kleine bloemkool, in roosjes
3 el arachideolie
1 tl rijstazijn
2 el sojasaus
1 el sesamolie
kung pao saus
60 ml sojasaus
4 el rijstazijn
1 el sambal, minder of meer naar eigen smaak
2 el bruine suiker
60 ml water
2 el geroosterde sesamolie
1/4 tl witte peper
1 tl versgemalen zwarte peperkorrels
2 tl maïszetmeel
om te wokken
100 g shiitakes, in kleine stukjes gescheurd
3 el arachideolie
4 tenen knoflook, fijngehakt
1 kleine ui, in dunne plakjes
1 tl geraspte gember
1 tl verbrijzelde Sichuan peperkorrels
1 tl gedroogde chilipepers, fijngehakt
voor de afwerking
6 lente-uitjes, fijngehakt
geroosterde cashewnoten
gestoomde rijst of udon noedels
Zo maak je het
Ga naar mijn VIDEO om te zien hoe makkelijk je dit gerecht kan maken.
Verwarm de oven voor op 230C (450F).
Snij de bloemkool in roosjes. Snij de grotere roosjes in tweeën, maar maak ze niet te klein, ze krimpen nog in de oven.
Meng de ingrediënten voor de marinade, voeg bloemkoolroosjes toe. Roer alles onder elkaar. Leg de roosjes op een bakplaat en rooster gedurende 15 minuten.
Kook de noedels of rijst volgens de aanwijzingen op de verpakking.
Zorg dat alle ingrediënten klaarstaan, gesneden of gehakt zijn.
Meng de ingrediënten voor de saus in een kleine kom.
Wanneer de bloemkool klaar is. Verhit de wok op een hoog vuur tot deze gloeiend heet is en begint te dampen.Voeg 1 el arachideolie toe, dan de shiitakes en roerbak gedurende 2 minuten. Haal uit de wok.
Verhit 2 el arachideolie op hoog vuur. Voeg knoflook, ui, gember, Sichuan peper, zwarte peper en gedroogde chilipeper toe. Roerbak ongeveer 1 minuut. Voeg bloemkool toe, roerbak nog 1 minuut. Doe de shiitakes terug in de wok en giet de saus erbij. Roerbak nog ongeveer 1 minuut. Roer de cashewnoten erdoor.
Dien onmiddellijk op met gehakte lente-uitjes met rijst of met noedels. Smakelijk!