Een super makkelijk te maken, maar onwaarschijnlijk lekkere appel yoghurtcake met pistachenoten.  Om hem te maken heb je slechts 1 kom nodig. En geloof het of niet, de voorbereiding duurt slechts 15 minuten, dan 60 minuten in de oven en klaar! Minimale moeite en maximum resultaat! Kan het nog beter?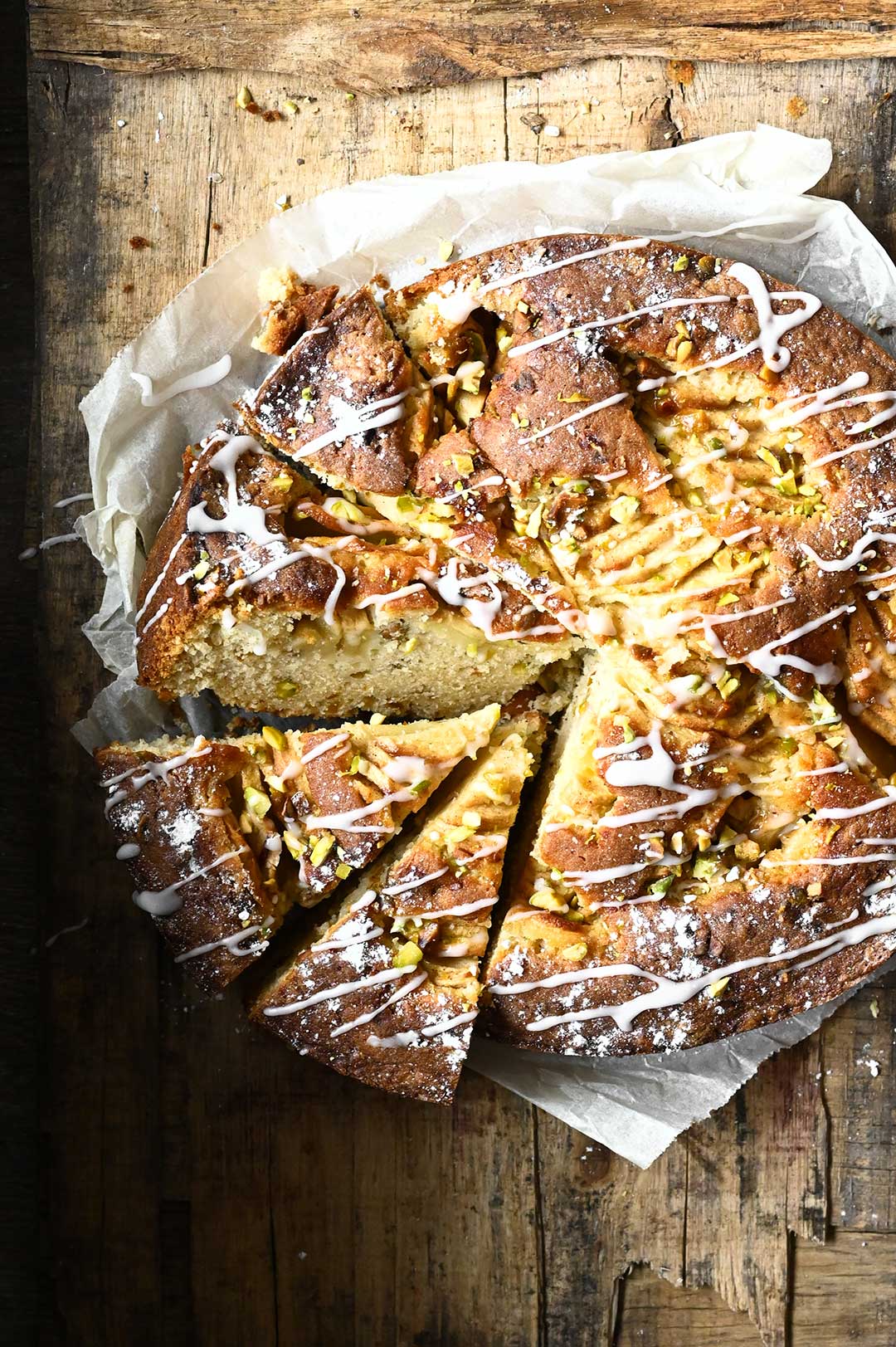 Hoezeer je ook van cake kan genieten, laten we eerlijk zijn, je bent hier ook voor de verse appels. De bovenkant van deze taart is dan ook bezaaid met verse appels die geborsteld zijn met kaneelhoning. Na het bakken besprenkelen we de cake nog even met citroenglazuur.
Om een mooie textuur en de best mogelijke smaak te verkrijgen raad ik aan om volle Griekse yoghurt te gebruiken. Geen pistachenoten? Gebruik walnoten of pecannoten.
Bekijk mijn VIDEO om te zien hoe makkelijk je deze cake kan maken.
Dit vind je misschien ook leuk:
Cobbler met pruimen en bruine suiker
Luchtige marmercake met kokos
Amandeltaart met amaretto-peren en gember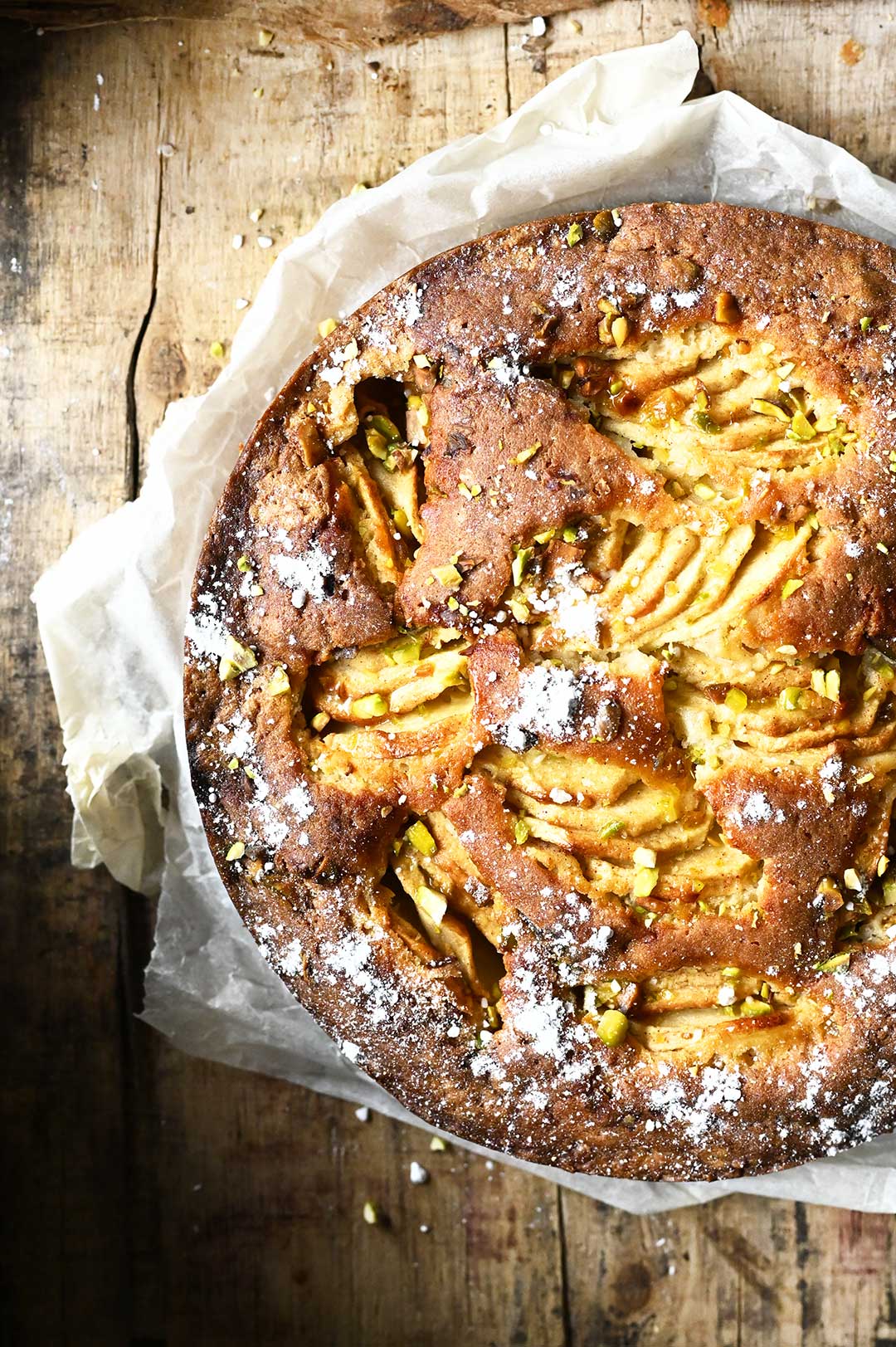 Dit heb je nodig
zorg dat alle ingrediënten op kamertemperatuur zijn
3 appels, ik gebruikte Jonagold
140 g roomboter
300 g suiker
2 eieren
1 tl vanille-extract
2 el citroensap
280 g volle Griekse yoghurt
300 g patisserie bloem
2 tl bakpoeder
1/2 tl bicarbonaat
1/4 tl zout
1/2 tl kaneel
70 g gehakte ongezouten pistachenoten
+
1 klontje roomboter, gesmolten
1 el honing
1/2 tl kaneel
citroenglazuur
1/3 kopje poedersuiker
1 el citroensap
Zo maak je het
Bekijk mijn VIDEO om te zien hoe makkelijk je deze cake kan maken.
Verwarm de oven voor op 165°C. Bekleed een springvorm van 24 cm doorsnede met bakpapier en vet de zijkanten in met boter.
Meng bloem met bakpoeder en bicarbonaat. Zet opzij.
Schil de appels en snij in dunne plakjes.
Meng de gesmolten boter met honing en kaneel in een kleine kom.
Klop in een grote kom, met behulp van een handmixer, boter en suiker tot een licht en luchtig beslag. Voeg de eieren één voor één toe. Voeg zout, vanille, kaneel en citroensap toe. Mix.
Zeef 1/2 van het bloemmengsel in de kom en doe er daarna 1/2 van de Griekse yoghurt bij. Klop tot het net gemengd is. Voeg de rest van de bloem toe, gevolgd door de resterende Griekse yoghurt. Mix zorgvuldig tot een homogeen beslag. Spatel de fijngehakte pistachenoten eronder.
Stort het beslag in de cakevorm en strijk glad. Duw de appelschijfjes in de cake. Bestrijk de appels met het honing-botermengsel. Bak gedurende 60-70 minuten of tot een tester droog eruit komt. Laat afkoelen op een rooster. Lepel het citroenglazuur over de cake. Smakelijk!